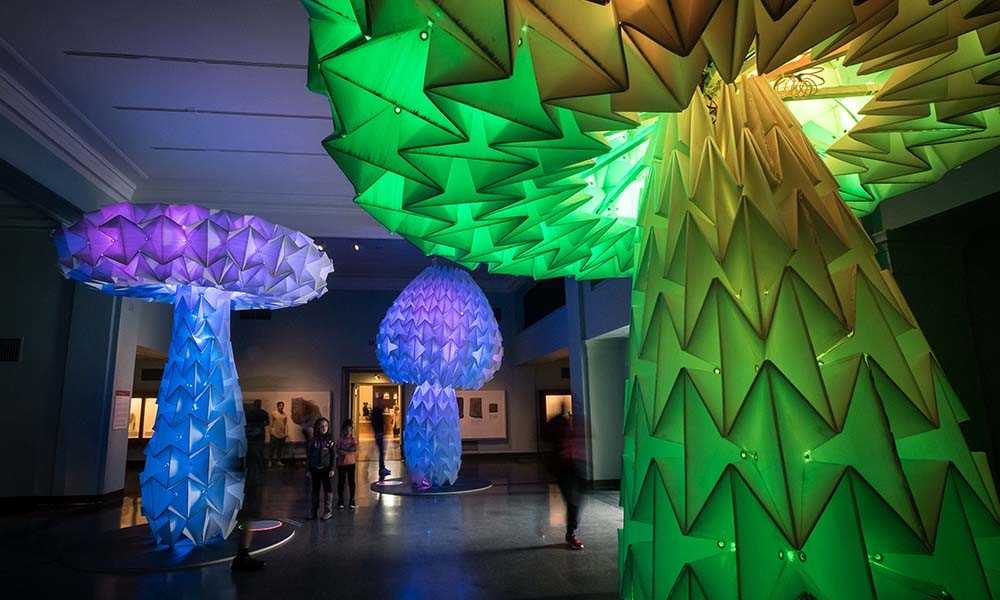 Cincinnati Magazine: UC's role in Burning Man art exhibit
UC associate professor Samantha Krukowski discusses collaborative temple project for Cincinnati Art Museum exhibition
Burning Man attracts more than 70,000 participants from all over the globe who gather in the desert outside Reno, Nevada. This thriving temporary metropolis is a hotbed of artistic expression and innovation through its shared principles. Both a cultural movement and an annual event, Burning Man is one of the most influential happenings in contemporary American art and culture.
The Cincinnati Art Museum's latest exhibit, "No Spectators: The Art of Burning Man," features immersive room-sized installations, mutant art vehicles, creative costuming, films, jewelry and more inspired by the annual community gathering.
Just as museumgoers are expected to interact with the artwork, the Cincinnati community has been encouraged to participate with the exhibition's arrival as well. University of Cincinnati associate professor Samantha Krukowski and students from the College of Design, Architecture, Art, and Planning were inspired to lead an ambitious building project to create the element most associated with Burning Man: the Temple. Krukowsi spoke to Cincinnati Magazine about UC's involvment in the project.
"[The project] turned into this lovely thing that involved DAAP and the community," Krukowski says of the tower, which is built using invasive honeysuckle harvested on the museum's grounds. Volunteer students and community members have spent weeks building the structure, modeled after the different variations of the Temple built at Burning Man through the years, which is traditionally burned as a ceremonial cleansing to mark the end of the weeklong event. The Cincinnati honeysuckle temple currently resides on the northwest side of CAM but, in keeping with tradition, will be burned after the exhibition has closed.
Read the full article in Cincinnati Magazine and listen to Krukowski talk more about the project on the magazine's podcast, Inside the Issue.
1
UC Learning Lab inspires College of Medicine to SIT
November 29, 2023
In a convergence of academic integration, the University of Cincinnati's renowned colleges — Design, Architecture, Art, and Planning, Lindner College of Business, College of Engineering and Applied Sciences and College of Medicine — recently joined forces at the 1819 Innovation Hub for an ideation session that exemplifies the institution's commitment to interdisciplinary collaboration.
2
National media highlight newest US World Heritage site
November 28, 2023
For nearly two decades, professor emeritus John Hancock helped lead a team of archaeologists, historians and Native American scholars, including staff at the National Park Service and Ohio History Connection, to have the Hopewell earthworks recognized on par with other World Heritage sites such as the Great Wall of China and Stonehenge.
Debug
Query for this