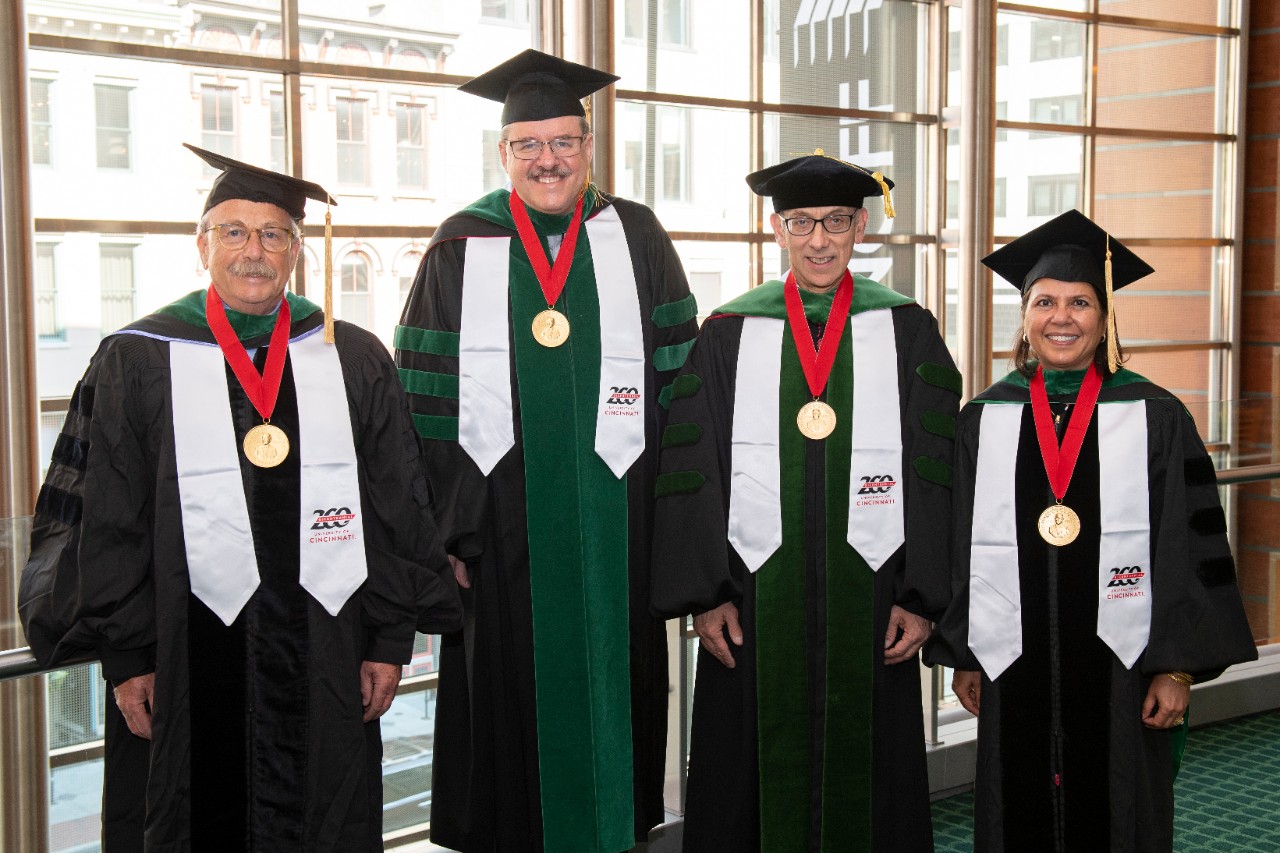 College of Medicine Awards Four Drake Medals at Honors Day
Two alumni and two faculty members receive the college's highest honor
Two alumni and two current faculty members received Daniel Drake Medals, the highest honor awarded by the UC College of Medicine, at the school's Honors Day ceremonies on Saturday, May 18. The Drake Medal honors living alumni and faculty for outstanding achievements in biomedical science as evidenced by major significant contributions to medical research or for a distinguished career as a clinician-teacher.
Receiving Drake Medals were Stephan Grupp, MD, PhD, a 1987 graduate of the College of Medicine; Gurjit Khurana Hershey, MD, PhD, a UC professor of pediatrics; Myles Pensak, MD, the college's senior associate dean for clinical affairs; and Marvin Slepian, MD, a 1981 College of Medicine graduate.
The Drake Medals were first awarded in 1985 to celebrate the bicentennial of the birth of Daniel Drake, MD. In 1819 Drake founded the Medical College of Ohio, the forerunner of the UC College of Medicine, and served as the school's first dean. Drake also established the Cincinnati College in 1819 and two years later received a charter for Cincinnati's Commercial Hospital and Lunatic Asylum, which is today's University of Cincinnati Medical Center.

Stephan Grupp, MD, PhD

Grupp is the chief of the Cellular Therapy and Transplant Section, director of the Cancer
Immunotherapy Frontier Program and medical director of the Cell and Gene Therapy Lab at the Children's Hospital of Philadelphia (CHOP). He also serves as director of translational research at the Center for Childhood Cancer Research and is the Yetta Deitch Novotny Professor of Pediatrics at the University of Pennsylvania Perelman School of Medicine.
After graduating from the UC College of Medicine, Grupp did his pediatric residency at Boston Children's Hospital, a fellowship in pediatric hematology/oncology at the Dana Farber Cancer Institute in Boston and additional postdoctoral work in immunology at Harvard University. He then joined the faculty at the Harvard Medical School, where he remained until 1996 when he joined CHOP.

Grupp's primary area of clinical research is the use of chimeric antigen receptor (CAR) T and other engineered cell therapies in relapsed pediatric cancers. He led all of the pediatric acute lymphoblastic leukemia (ALL) trials of CTL019 (now approved as Kymriah™), including the largest and most successful engineered T cell therapy clinical trial conducted to date, as well as the global registration trial for CTL019. As a result of this work, he presented the Clinical Perspective at the July 2018 Food and Drug Administration Oncologic Drugs Advisory Committee meeting, at which reviewers voted 10-0 for recommendation of approval for Kymriah in pediatric ALL, the first-ever FDA-approved personalized cellular gene therapy for advanced B-cell leukemias in children and young adults.
His primary laboratory interest is the development of new cell therapy treatments for pediatric cancers. His basic science lab has studied cell therapy, signal transduction and novel therapies in ALL and other pediatric cancers. Dr. Grupp has pioneered new strategies for stem cell transplantation. He developed and led clinical trials that established tandem stem cell transplantation (two separate transplant procedures) as a standard of care for children with high-risk neuroblastoma. Additionally, he helped develop and lead clinical trials that resulted in FDA approval of a new treatment for veno-occlusive disease, a deadly complication of stem cell transplantation.

Grupp has received numerous awards and honors, including the van Bekkum Prize from the European Bone Marrow Transplantation Society (2014), the Oski Lectureship and Award from the American Society of Pediatric Hematology/Oncology (2015), the Fred Saunders Lectureship and Award from the Canadian Blood and Marrow Transplant Society (2015), Philadelphia Citizen Diplomat Award (2018) and the William Osler Patient Oriented Research Award (2018).

Gurjit Khurana Hershey, MD, PhD

Khurana Hershey is an endowed professor of pediatrics at Cincinnati Children's Hospital and the UC College of Medicine, and the director of the Division of Asthma Research. She is board certified in pediatrics and allergy and immunology and is an active clinician, educator and researcher. Khurana Hershey has devoted her career to clinical investigation using a combination of epidemiologic, basic, translational and clinical research to answer fundamental questions regarding the environmental and genetic factors that contribute to the development of childhood asthma and the mechanisms by which these factors interact and contribute to disease. She serves on the National Advisory Allergy and Infectious Disease Council. She also served on the Board of Directors of the American Board of Allergy and Immunology and the Editorial Board of the Journal of Allergy and Clinical Immunology for six years.
She is the director of the National Institutes of Health-funded Medical Scientist (MD/PhD) Training Program (MSTP) at the University of Cincinnati. Since she assumed this leadership role in 2012, the program has grown from 43 students in 2012 to 64 students currently, a 33% increase. She successfully reinstated NIH funding for the MSTP and doubled the number of slots. There has been a 51% increase in applications to the MSTP during her tenure, including a 178% increase in minority applications. Overall, the number of under-represented minority students in the MSTP has more than doubled, and the number of disadvantaged/disabled students in the program has increased by 80%.

Khurana Hershey has a proven track record in team science and managing large interdisciplinary research programs including as principal investigator of an NIH U19 Asthma and Allergic Diseases Cooperative Research Center (AADCRC) for the last 13 years. She is the Cincinnati principal investigator of the NIH Inner City Asthma Consortium and the Environmental Child Health Outcomes Program. She has also successfully directed the state-wide Ohio Childrens' Hospital Research Collaborative Asthma Initiative, which includes the six major children's hospitals in Ohio.

Khurana Hershey is an internationally recognized expert in pediatric asthma, allergy and immunology and environmental health. During the past two decades, she has established several large innovative longitudinal population cohorts focused on asthma and allergic disorders including the first U.S. cohort of children with atopic dermatitis.

Myles Pensak, MD
Pensak is the Helen Bernice Broidy Chair of the Department of Otolaryngology–Head and Neck Surgery at the UC College of Medicine. He also is a professor of neurosurgery and holds additional leadership roles as senior associate dean for clinical affairs at the College of Medicine, CEO of UC Physicians and chief of physician services at UC Health.
A recognized international authority of diseases of the ear and skull base, he is a board-certified neurotologist and otolaryngologist, and is an active member of the American Academy of Otolaryngology-Head and Neck Surgery, the Otologic and Neurotologic Societies and the American Laryngological, Rhinological and Otological Society (The Triological Society).
Pensak received his medical degree from New York Medical College in 1978 and completed his surgical residency at the State University of New York Upstate Medical Center in Syracuse and his otolaryngology residency at the Yale University School of Medicine. After completing a fellowship in otology and neurotology at the Otology Group at Vanderbilt University, he was recruited to the UC College of Medicine in 1984 to develop along with the Department of Neurosurgery a skull base program. Pensak was named to lead the Department of Otolaryngology in December 2004, making him the longest currently tenured chair at the College of Medicine.
From 2008 to 2009, Pensak served as president of The Triological Society, only the second physician from the College of Medicine to hold this prestigious office following Christian R. Holmes, MD, (1908-1909). Pensak also has served as a board and senior examiner for the American Board of Otolaryngology-Head and Neck Surgery and subspecialty certification in neurotology.
Pensak is the recipient of both the American Academy of Otolaryngology-Head and Neck Surgery Honor Award and the Distinguished Service Award. In 1992 he was awarded the acclaimed "Mosher Award" by The Triological Society. Pensak has been an invited lecturer throughout the world. Notably, he was the 2010 James Parkin Distinguished Lecturer at the University of Utah and the 2011 Robert A. Jahrsdoerfer Lecturer at the University of Virginia. He also has published more than 230 scientific articles and book chapters and is the editor or co-editor of eight textbooks, including the last three editions of "Clinical Otology," the definitive text in the field of otology.
Marvin Slepian, MD
Slepian is a cardiologist and researcher who has developed innovative diagnostics and therapeutics for cardiovascular diseases. His work has focused on the development and use of biomaterials for tissue engineering, drug delivery and medical device development.
Slepian is a Regents' Professor at the University of Arizona (UA). He also is professor of medicine, professor and associate department head of biomedical engineering and McGuire Scholar in Innovation and Entrepreneurship, professor of material science and engineering and professor of medical imaging at UA. He recently started and is the director of the Arizona Center for Accelerated Biomedical Innovation, which serves as a university-wide incubator for investigators to work with other experienced innovators to flesh out their ideas, consider next steps in the development of their technologies and access scientific and business resources to move those ideas forward.
After receiving his medical degree in 1981 from the UC College of Medicine, he completed his residency at New York University and then completed a clinical and research fellowship in cardiology and biomedical engineering at Johns Hopkins University School of Medicine and a clinical and research fellowship in interventional cardiology at the Cleveland Clinic.
Slepian is named as an inventor on 52 issued patents and 46 patent applications and co-founded SynCardia Systems, manufacturer of the only total artificial heart approved by the U.S. Food and Drug Administration, Health Canada and the European Economic Area. His lab has developed many novel diagnostics and therapeutics which have found their way into clinical use today, such as drug-eluting stent technologies, stent coatings, polymer paving, surgical antiadhesive barriers, stretchable and biodegradable electronics, wearable technologies, synthetic tissue sealants, myocardial revascularization and cell delivery methods and cardiovascular prosthetic devices, including the total artificial heart.
In addition to SynCardia, Slepian also has been the founder of several other medical device companies including FOCAL, Endotex, Angiotrax, Hansen Medical, Arsenal, 480 BioMedical, and MC10. He has received multiple awards for his academic and translational research activities including: the American Heart Association award for the most significant advance in cardiovascular medicine, the AZBio Pioneer Award for Lifetime Achievement in Biomedical Science Innovation and was recently selected as the 2019 da Vinci Fellow of UA College of Engineering. Slepian is a fellow of the American Institute for Medical and Biological Engineering, a fellow of the National Academy of Inventors, and an elected member of the Roundtable on Biomedical Engineering Materials and Applications of the National Academies of Science, Engineering and Medicine.
Photos/Colleen Kelley/UC Creative Service
1
U.S. News & World Report: PFAS chemicals tied to later puberty...
October 3, 2023
Research out of the University of Cincinnati shows that exposure to PFAs chemicals delays the onset of puberty in girls by an average of five to six months. The research was published in the journal PLOS One. U.S. News & World Report published a story on the study, featuring comments from lead researcher Susan Pinney, MD, of the Department of Environmental and Public Health Sciences.
2
Cincinnati.com: COVID on the rise: Cincinnati doctors weigh in...
October 3, 2023
As cooler fall weather rolls into the Cincinnati region, COVID-19 cases are on the rise and we can expect to see the seasonal impact of the cold and flu season. The Enquirer interviewed Jennifer Forrester, MD, of the Division of Infectious Diseases at the UC College of Medicine, about wearing masks and getting the latest vaccines.
Debug
Query for this