UC-built Temple enhances Burning Man exhibit
Using honeysuckle, a DAAP professor and her students pay tribute to an important aspect of the desert gathering for the Cincinnati Art Museum
An odd swirl of sticks and twine has found its place outside the Cincinnati Art Museum. A University of Cincinnati professor and her students designed and built the structure as a tribute to an annual fest and an exhibition inside the museum's walls.
With "No Spectators: The Art of Burning Man" currently on display at the museum, visitors are transported to Nevada's Black Rock Desert, where tens of thousands gather each year  to create a temporary utopian city guided by Burning Man's 10 Principles. The exhibition includes immersive room-sized installations, mutant art vehicles, creative costuming, films, photos and Burning Man artifacts. Outside the museum, a UC group built the tribute to one of the most important spaces at the event — the Temple.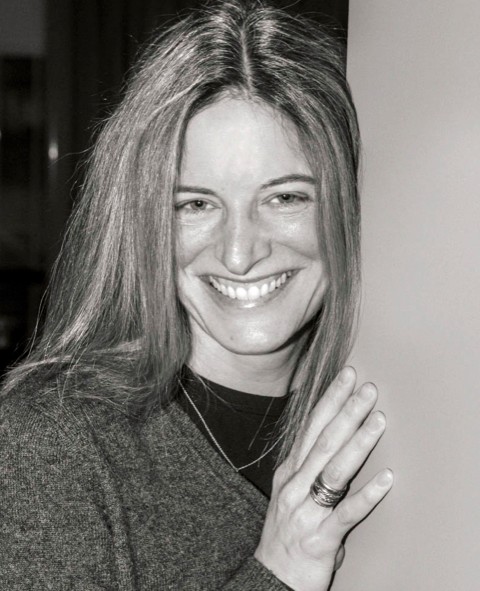 Amid the art, performances and, yes, partying that take place at Burning Man, the Temple is a nondenominational sacred space for "Burners," as attendees often call themselves, to reflect, release and recenter. People write messages on the structure, affix items of importance to its beams or meditate inside. On the last night of the event, like the eponymous Man effigy, the Temple is burned to the ground.
UC Associate Professor Samantha Krukowski knows the importance of both the Temple and the gathering itself because she wrote the book on Burning Man — well, one of them — "Playa Dust," a collection of stories, essays and photos from the event that she says is "so hard to describe yet so worthy of description." She's attended many times, including as a professor with students when she taught a Burning Man design studio for the College of Design at Iowa State University.
Philosophies of Burning Man being brought into the classroom — or the classroom brought into Burning Man — isn't such a crazy thought if you know much about the event. In fact, there are "Burning Academics," and last November there was even an academic symposium in Switzerland to discuss the spread of Burning Man culture. 
Academic excellence is a platform of UC's strategic direction, Next Lives Here.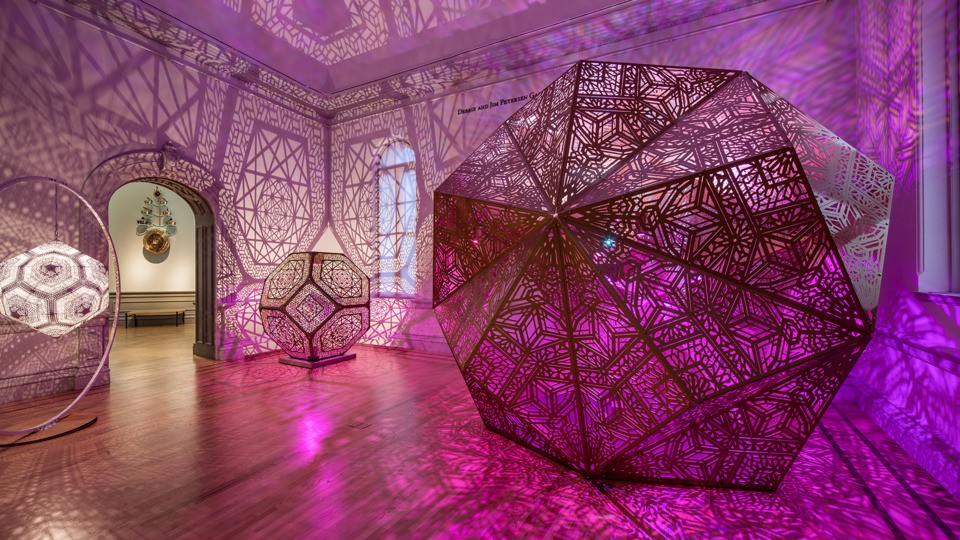 "Burning Man is a really transformative experience," Krukowski says. "It's one of the most radical places I can imagine being. I wish that everybody had the opportunity to go, honestly. It's an extraordinary example of creativity, utopian social planning and urban planning."
"Some of the most incredible artworks and structures I have ever seen have been built out there. And then at the end, everything gets taken away or burned. It's an amazing impermanent city of some 80,000 people. Impermanence and creativity have been really important to my research and my own design process. Burning Man makes you ask why humans make things and what they are for. Why do we create, how long does what we make last and how long is long enough? What is important and what is fame?"

Krukowski was thrilled to learn that the "No Spectators" exhibit would be making its way from the Renwick Gallery of the Smithsonian American Art Museum in Washington, D.C., to the Cincinnati Art Museum before making its final stop at Oakland Museum of California.
"I thought it was fascinating that Cincinnati of all places in the country would be the only other city to host the exhibition between the two coasts," she says.
Krukowski connected with the museum's director and staff, who were interested in incorporating an educational component with students and faculty from UC's College of Design, Architecture, Art, and Planning. "Interestingly, I don't think anybody ever proposed an effigy — a man to burn — but the museum was looking for people to design and build a Temple," she says.
This spring, Krukowski led a landscape architecture studio for students to do just that. The interdisciplinary group included undergraduate horticulture students and graduate students studying architecture, sculpture and landscape architecture. Together with her colleague from Syracuse University, Zeke Leonard, and volunteers from the community (including Professor Stephen Meyer of UC's College-Conservatory of Music and local contractor Chris Haas), the class designed and built a Temple using a pesky and plentiful material familiar to most Ohioans: invasive Amur honeysuckle.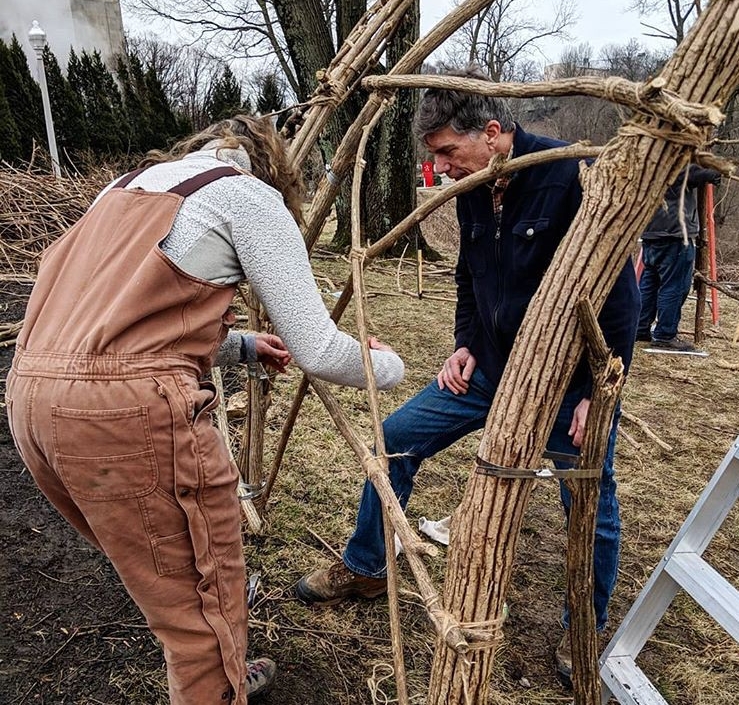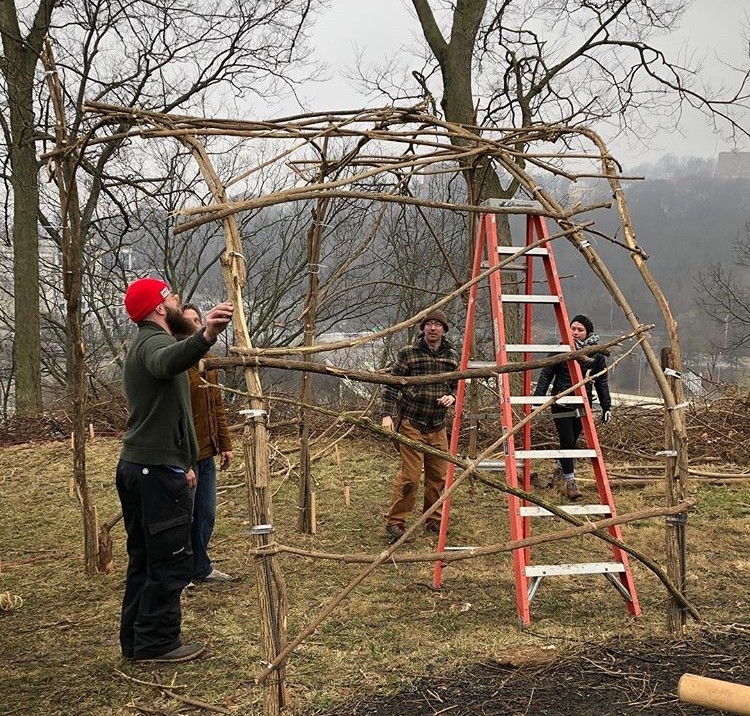 Students and volunteers begin to build the Temple outside of the Cincinnati Art Museum. Photos/provided
The Cincinnati Art Museum is currently clearing brush for a planned extended staircase called The Art Climb that will be built to connect the nearby intersection of Eden Park Drive and Gilbert Avenue up to the museum. This project involves removing plenty of invasive honeysuckle from the museum grounds. Krukowski had previously worked with the plant to build a structure for a conference she organized for DAAP in 2018, the National Conference on the Beginning Design Student. It seemed like a fitting, free and sustainable material for the Temple, one that could be shown to be useful and not only something to be considered yard waste.

After a design charrette and competition, the group used the honeysuckle removed from the museum's land plus more harvested from around Cincinnati to make the Temple come to life. The course was held over just a few weekends, and the Temple was completed after the semester ended.
But just because honeysuckle is readily available doesn't make it easy to work with.
"When you make drawings in advance of a build project, everything looks very logical, but honeysuckle is not very logical," Krukowski explains. "It's a very disobedient material that has its own curves, straightnesses, abilities and failure points. With a small group of people, many of whom had no design experience coming in, we managed to get a beautiful structure up and it's pretty amazing what we were able to accomplish from late January to late April."
While the Temple — located on the northwest side, just outside the museum entrance — is technically complete, the idea is that visitors will continue to add on to the structure, whether that be weaving in more honeysuckle, hanging a personal item or attaching a note. While many of the works inside the museum are not to be touched, the Temple exists to be engaged with. And that's reflective of the event itself.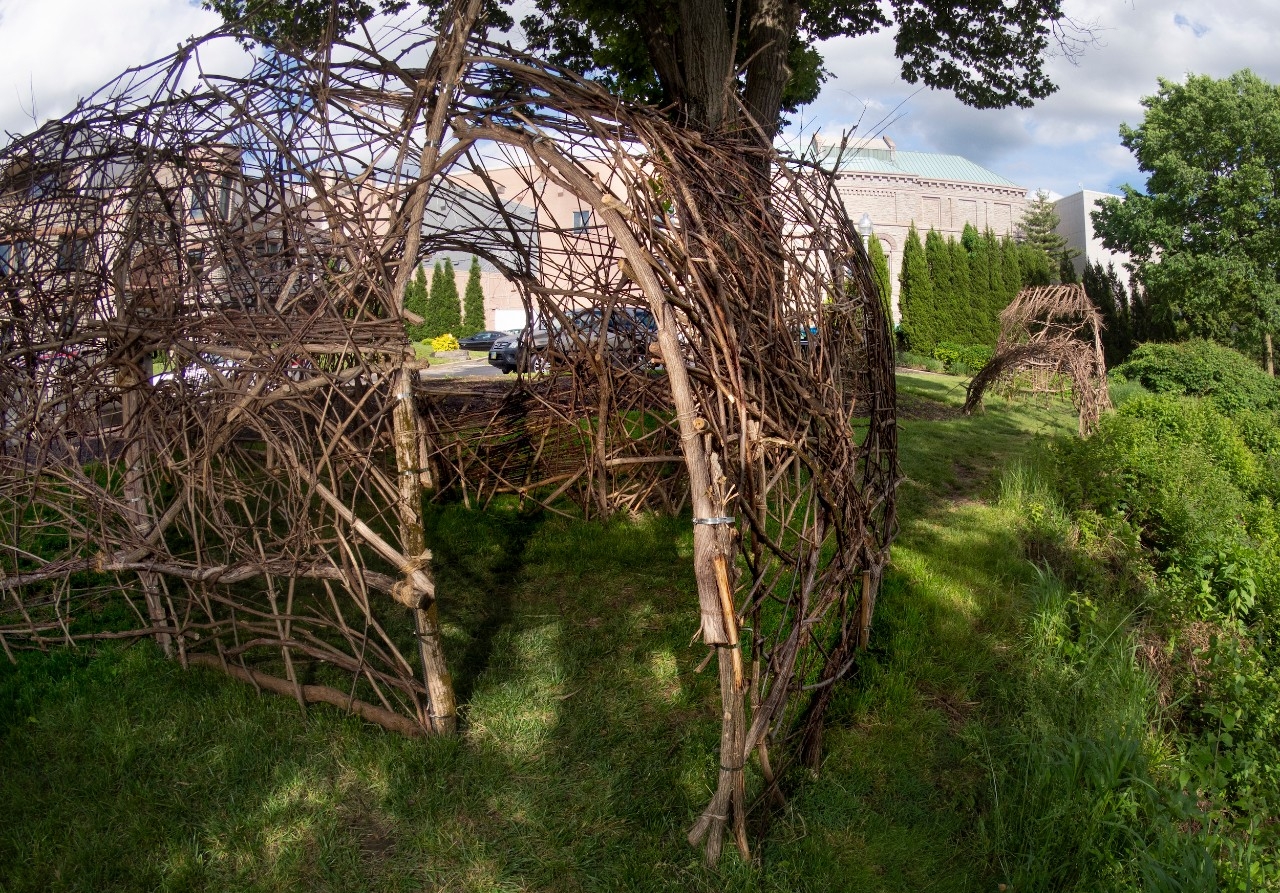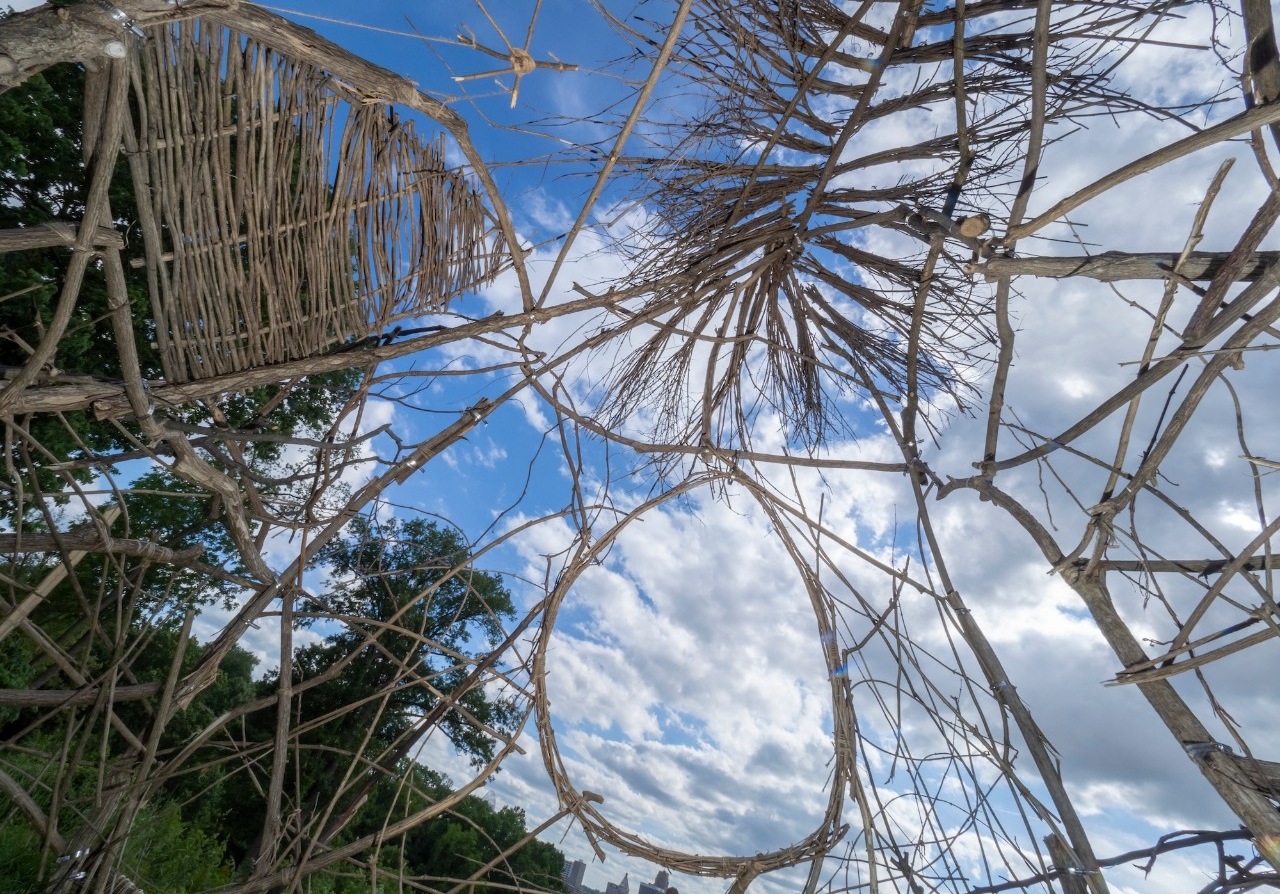 No two angles of the Temple are the same. Photo/Jay Yocis/UC Creative Services
"You can go to Burning Man and do just about anything, but the whole point is that you should participate in the event and be radically self-expressive. If you do it right, you go there with an intention to be part of the infrastructure of the city. Whether you're a performer, you're making food for people, you're setting up a theme camp or you're making artwork, the idea is not to just go out and watch. If everyone went out as a spectator, Burning Man wouldn't ever be what it is."

Burning Man co-founder Crimson Rose will be at the Cincinnati Art Museum to give a public lecture on June 6. It's Krukowski's hope that Rose will consecrate the Temple that evening — to hold some kind of public ceremony to open the structure and help people understand its meaning.
Another principal of Burning Man is "leave no trace," which is why many of the structures are burned at the end of the event. Krukowski is working with the museum to organize a Temple burn at the conclusion of the exhibit this fall. The return of Cincinnati's Blink light festival in October just might be the perfect opportunity, and Krukowski says she is working to find a way to burn the structure on a barge floating down the Ohio River.

"The Temple Burn is one of the most moving experiences at Burning Man."
Featured image at top: The completed Temple outside the museum awaits additions from visitors. Photo/Jay Yocis/UC Creative Services
Next Lives Here
Discover UC's commitment to Next Lives Here, the strategic direction with designs on leading urban public universities into a new era of innovation and impact.
Interested in DAAP?
Learn more about the programs in UC's College of Design, Architecture, Art, and Planning and apply online.
1
UC Learning Lab inspires College of Medicine to SIT
November 29, 2023
In a convergence of academic integration, the University of Cincinnati's renowned colleges — Design, Architecture, Art, and Planning, Lindner College of Business, College of Engineering and Applied Sciences and College of Medicine — recently joined forces at the 1819 Innovation Hub for an ideation session that exemplifies the institution's commitment to interdisciplinary collaboration.
2
National media highlight newest US World Heritage site
November 28, 2023
For nearly two decades, professor emeritus John Hancock helped lead a team of archaeologists, historians and Native American scholars, including staff at the National Park Service and Ohio History Connection, to have the Hopewell earthworks recognized on par with other World Heritage sites such as the Great Wall of China and Stonehenge.
Debug
Query for this