CCM Jazz Studies named inaugural college affiliate of the acclaimed Jazz at Lincoln Center
When the JALC Orchestra with Wynton Marsalis embarks on its next international residency, the world-renowned big band will be accompanied by nearly two dozen CCM students and faculty members
Jazz at Lincoln Center has named the University of Cincinnati College-Conservatory of Music's Department of Jazz Studies as its inaugural College Affiliate, a distinction reserved for the country's top-ranked jazz programs. Led by Grammy Award-winning trumpeter and composer Wynton Marsalis, the Jazz at Lincoln Center Orchestra (JALCO) will invite a premier student ensemble on tour for educational residencies through this new program.
For the initial installment of this program, the CCM Jazz Orchestra directed by Professor Scott Belck, DMA, will join Marsalis and the JALCO for an international residency in São Paulo, Brazil, from June 22-30. The residency will provide participants with an unprecedented level of real-world performance and teaching experience in an international setting.
Nine undergraduate and 10 graduate students will participate in the trip, alongside Belck and fellow CCM faculty members Craig Bailey, Steve Allee and Kimothy Pensyl. During the intensive week-long program, CCM's students and faculty will work with JALCO members, perform in São Paulo schools, perform at the US Consulate and serve as the opening band on a number of JALCO concerts at venues around the city.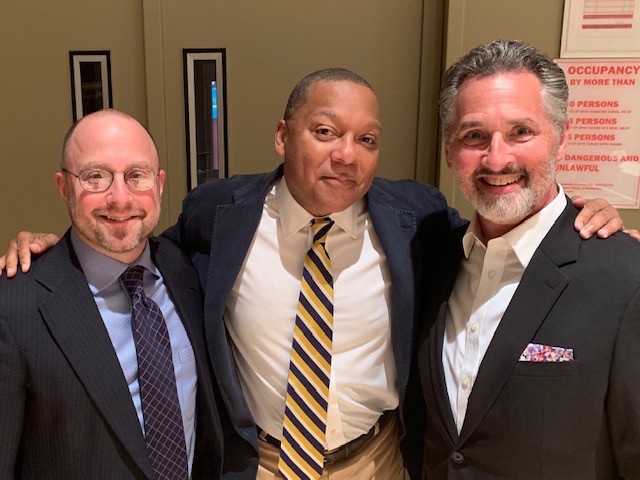 "We want our students and faculty to be part of a global network of alumni and artists — to experience other cultures, other languages and other ways of looking at and creating art," says CCM Dean Stanley E. Romanstein. "CCM is cultivating these opportunities so we can provide students with more hands-on learning experiences that prepare them to take the next steps in their lives and careers."
Throughout this landmark residency, the JALCO and CCM Jazz Orchestra will appear in performances, a Jazz for Young People concert, clinics, and workshops in performance halls and schools throughout São Paulo. The two orchestras will also demonstrate jazz's rich history of collaboration by performing with Brazilian musicians and exploring the melding of Afro-Latin influences with improvisation and jazz harmony.
CCM is cultivating these opportunities so we can provide students with more hands-on learning experiences that prepare them to take the next steps in their lives and careers.
Stanley E. Romanstein
Education is central to JALC's mission and its official College Affiliate ensembles will take part in education activities, master classes and performances throughout the selected residencies. Following a parallel schedule with the JALCO, the college affiliate ensemble will perform in educational and public performances. The program will culminate with the ensemble opening for the Jazz at Lincoln Center Orchestra in concert.
About Jazz at Lincoln Center
Jazz at Lincoln Center is a 501(c)3 not-for-profit organization, which is part of New York's Lincoln Center for the Performing Arts. Founded in 1987, its mission is to entertain, enrich and expand a global community for jazz through performance, education and advocacy.
Representing the totality of jazz music, Jazz at Lincoln Center's mission is carried out through four elements – educational, curatorial, archival, and ceremonial – capturing, in unparalleled scope, the full spectrum of the jazz experience. It produces an annual concert season in Rose Theater and the Appel Room and nightly concerts at Dizzy's Club, all located in at Frederick P. Rose Hall on the 5th floor of the Time Warner Center in New York City's Columbus Circle.
Hailed as the "finest big band in the world today" by The Telegraph, the Jazz at Lincoln Center Orchestra, led by Wynton Marsalis, is made up of 15 of the finest soloists, ensemble players, and arrangers in jazz music today. Learn more by visiting www.jazz.org/about.
About the CCM Jazz Orchestra
The CCM Jazz Orchestra is the CCM's premier big band. Under the direction of CCM Professor of Jazz Studies Scott Belck, the acclaimed ensemble performs a wide variety of styles including historical swing, bebop, post-bop, fusion, Latin and avant-garde. Special emphasis is placed on the idiom's great art-music composers such as Thad Jones, Bill Holman and Bob Brookmeyer. The ensemble also focuses on projects like the annual Essentially Ellington Festival sponsored by Jazz at Lincoln Center and on the performance of student arrangements.
Concerts have included historical tributes to Woody Herman and Stan Kenton, as well as composer residency programs featuring artists like Maria Schneider, Jim McNeely, Slide Hampton, Tim Hagans, Kenny Wheeler and many others as guest conductors and performers.
The CCM Jazz Orchestra has been invited to appear at numerous professional festivals and educational conferences, and has been featured on several radio broadcasts. Many internationally recognized artists have performed as soloists with the CCM Jazz Orchestra, including Eddie Daniels, John Fedchock, Frank Foster, Curtis Fuller, Kenny Garrett, Joe Henderson, Ahmad Jamal, Dave Liebman and Joshua Redman.
The CCM Jazz Orchestra's recent recording projects have included original collaborations with modern creative innovators. In Search of Garaj Mahal is a recording of new original arrangements performed by student and alumni members of the CCM Jazz Orchestra with guitar virtuoso Fareed Haque, which was released on the Harmonized Record label in 2016. That same program was performed live at Dizzy's Club Coca-Cola in Jazz at Lincoln Center and was also featured as the opening night main stage performance at the Jazz Education Network's international conference in 2016. Nobody Does it Better: The CCM Jazz Orchestra Does Bond featuring trumpeter, composer and arranger Steven Bernstein was released in 2017 to glowing reviews. Duke Ellington's Nutcracker Suite will be released later this year.
In 2012, the CCM Jazz Orchestra recorded a live concert performance for public television (An Evening with Gerald Wilson, National Endowment of the Arts Jazz Master). This hour-long video special featured the CCM Jazz Orchestra with Wilson conducting, interspersed with commentary and anecdotes by the composer.
Offering both bachelor and master of music degrees, the Jazz Studies program at CCM teaches the fundamentals of classical music, stylistic elements of each historical jazz period, strategies for enhancing originality, techniques of electronic media and today's cutting-edge trends that defy categorization.
By receiving a wide musical perspective and the command of a broad jazz language, the student is equipped to pursue a future in jazz music. At the same time, this thorough course of study serves as the best preparation for related careers in commercial music. Learn more at ccm.uc.edu/jazz.
____________________
Featured image at top: The CCM Jazz Orchestra performs under the direction of Professor Scott Belck at the 2016 Moveable Feast gala fundraiser. Photo/UC Creative Services.

1
Local 12: UC startup gains approval for trials
May 30, 2023
A startup founded by four University of Cincinnati physicians gained FDA approval to move forward with clinical trials for its portable system that can detect brain injuries, Local 12 reported.
2
Mission not impossible
May 30, 2023
UC's School of Criminal Justice offers pathways to career placements with the U.S. Secret Service through connections and experience-based learning. Meet the students who found work experience through internships and alumni that hold career positions in the federal law enforcement agency.
3
WCPO: Asian American and Pacific Islander Heritage Month series
May 28, 2023
Two faculty members and one student have been profiled by WCPO-TV as part of a series celebrating May as Asian American and Pacific Islander Heritage Month (AAPI). These segments feature the stories of UC Law's Dr. Jenn Dye, CCM's Dr. Thomas Gamboa and fourth-year student Aashka Raval.
Debug
Query for this