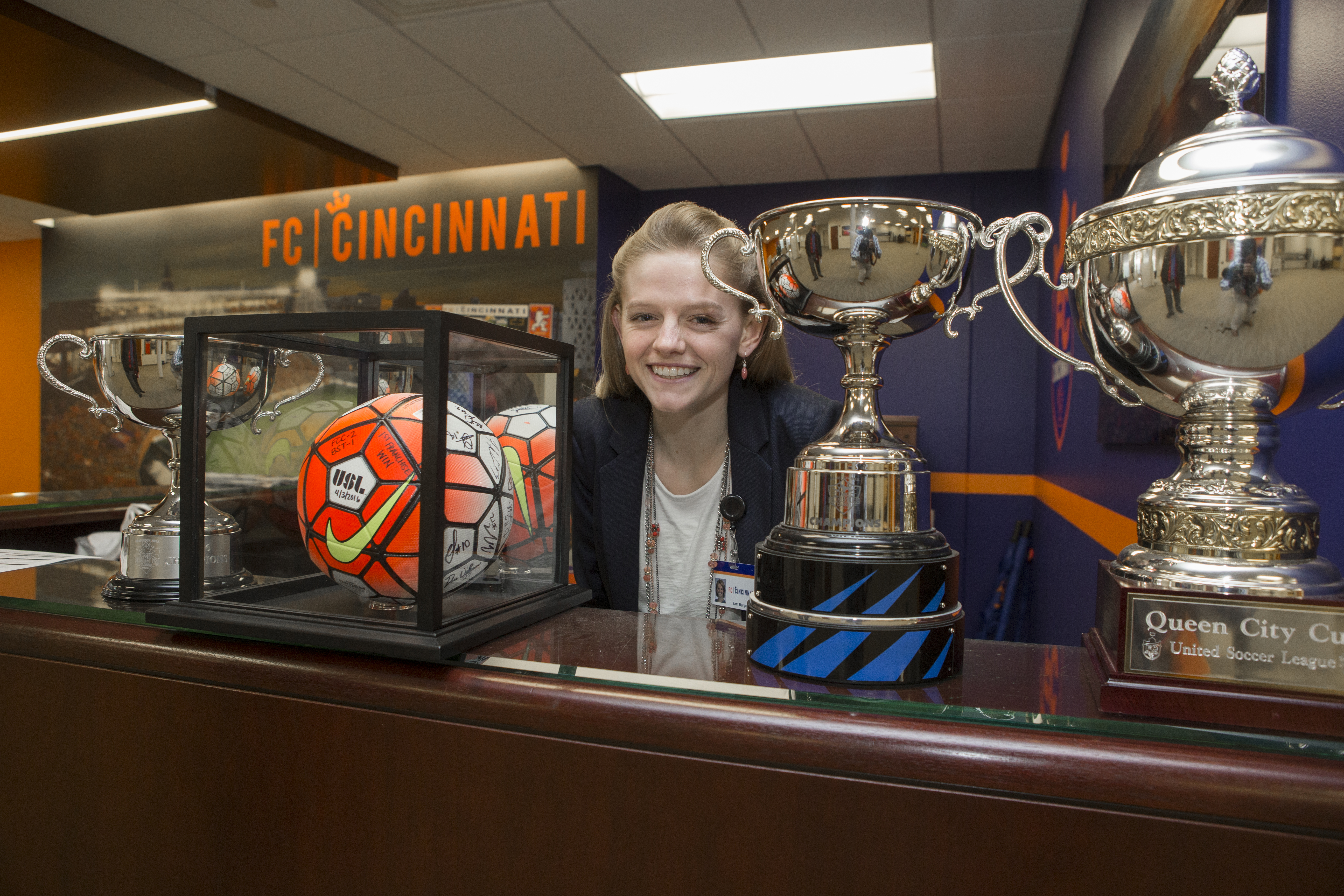 Article has no nextliveshere tags assigned
Article has no topics tags assigned
Article has no colleges tags assigned
Description is empty
Article has no audiences tags assigned
Article has no units tags assigned
Contacts are empty
These messages will display in edit mode only.
UC A&S communication co-op gives students real-world experience
Just ask Samantha Burgess from FC Cincinnati

By Michelle Flanagan
Current and prospective college students know the struggle: it's not enough to simply have a degree anymore. To be competitive in the marketplace, real, hands-on experience is needed – the more, the better.
At many schools, these experiences are already factored in for some science-heavy majors, such as engineering, through the co-op program.

But the Communication department in the University of Cincinnati McMicken College of Arts and Sciences has a co-op program, too. An optional track available to students who are pursuing a Bachelor of Arts in Communication, accepted students participate in professional development coursework and complete three semesters of full-time, paid cooperative education work by the time they graduate. And, unlike many of the other co-op programs at UC, sophomores who enter the program can complete all required coursework and their three rotations within just four years.

What does all this mean for students? For alumna Sam Burgess, it landed her her dream job working for FC Cincinnati.
Burgess graduated in April 2018 with a BA in Communication and a minor in Organizational Leadership. After two co-op rotations with FC Cincinnati, she became a full-time employee in September 2018.
While Burgess credits UC as a whole with helping her figure out what she wanted to do, she points to the co-op program as being the most beneficial. "Without it, I don't know where I would be today," she said. "My co-op advisor, Annie Straka, was awesome and did an excellent job of helping students find a position. I am so grateful for her and everything she did to push me towards my goals."
Straka, associate professor and director of Multidisciplinary Initiatives, explains that the co-op program begins with a professional development course that helps students prepare for the job search and explore their personal and professional skills and interests. Then, students are supported and advised throughout their job search, with the goal of completing two full-time semesters of paid work. The third experience can either be a third semester of work or an alternative form of experiential learning, such as study abroad or a course-based experience. Lastly, students enroll in an online reflection course during their co-op experiences.
"Sam was an enthusiastic and committed student from the start," said Straka. "She was eager to develop as a professional and approached her first job search with optimism, determination, and an open mind."
While her first co-op was working as an advising assistant at the College of Arts and Sciences, it's her second co-op where that determination in the search really paid off.
"In the fall of 2016, my co-op advisor put me into contact with Greg Harrell, an adjunct instructor at UC and director of sales for FCC," Burgess explains. "At the time of our introduction, he was looking for sales reps for the upcoming season. I had a basic phone interview, followed by a face-to-face interview, followed by waiting."
During that waiting period, Burgess continued to apply and interview for other companies, ultimately turning down three other offers. She didn't want to settle in order to just "have a job" and instead held out for FCC.
"Then, one day while I was at the gym, I got an email saying I had been selected to be a seasonal sales representative for FC Cincinnati. Right then and there, in the middle of my workout, I burst into tears. A wave a relief and excitement fell over me. The wait was finally over," Burgess remembers.
Working with FCC introduced Burgess to her passion for professional sports. "Being around like-minded individuals who value competition, service, and energetic environments is amazing because they constantly push me to succeed and challenge me to think in creative ways," Burgess said.
"Similar to my time at UC, working for FCC has reiterated the importance of patience and flexibility. In a start-up company, the only constant is change. Being able to roll with the punches and keep your eye on the prize is a true skill. I have yet to perfect this skill, but I keep it in the back of my mind at all times and use it to fuel my performance."
After all of this experience – both in and out of the classroom – what's the best advice she ever received and wanted to pass on to students?
"Always follow up with an email. Whether it's a professor who met with you during office hours, or an advisor who helped you create your class schedule, follow up with an email and say thank you. They will remember."
Featured image above: A&S Communication alumna Samantha Burgess at work for FC Cincinnati. Photo: UC / Joseph Fuqua II