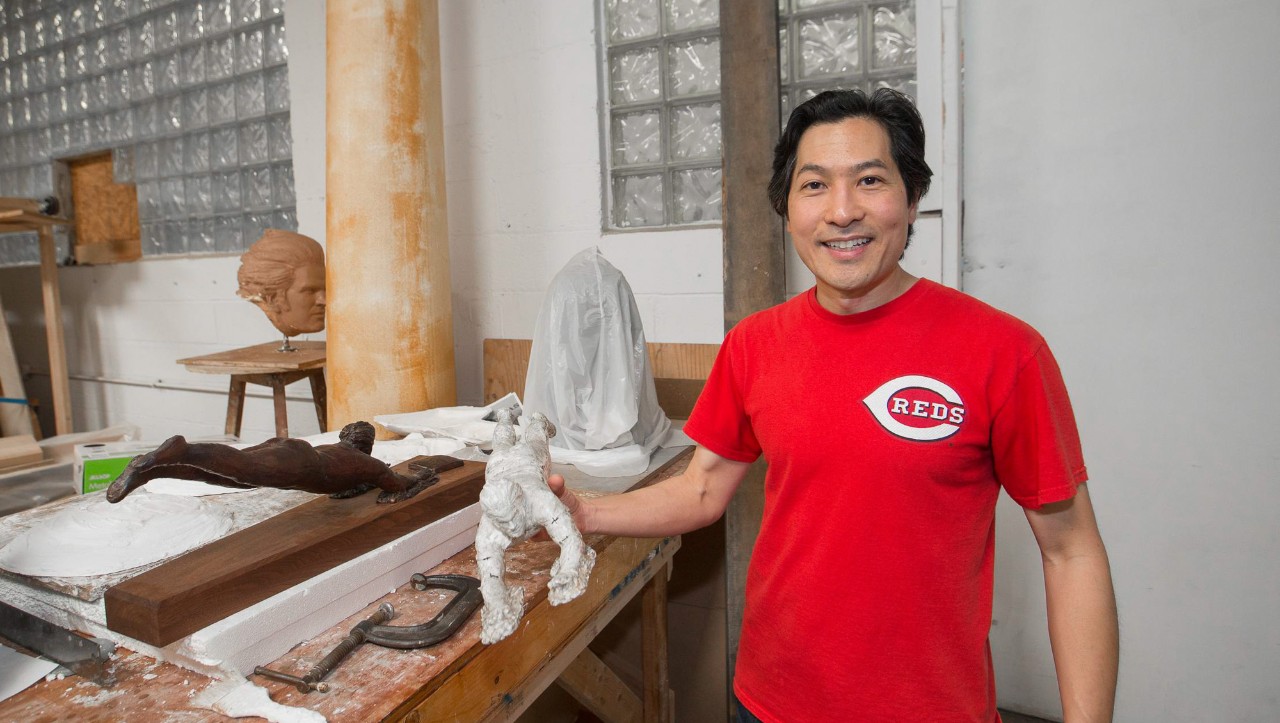 Sculptor's work informed by UC education
Tom Tsuchiya studied ancient Greek and Roman civilizations while pursuing his classics degree at the University of Cincinnati
Tom Tsuchiya's bronze sculptures at Great American Ball Park portray the Cincinnati Reds' most noteworthy players in dynamic action poses: Johnny Bench rising from his stance to gun down a would-be base stealer; Pete Rose diving headfirst to avoid a tag; Joe Morgan lunging forward, elbows locked, as he prepares to steal second base. These are the players as their fans remember them.
Having commissioned eight sculptures from Tsuchiya already, it was only natural that the Reds would turn to him to create something to honor the 150th anniversary of the inaugural season of the Cincinnati Red Stockings, baseball's first professional team. But unlike Rose, Bench and the other players whose likenesses Tsuchiya has sculpted, that team and its members are unknown to all but the most avid sports historians.
"With guys like Pete, Johnny and Joe Nuxhall, anyone who was born or grew up around here following the Reds knows them, so there's an emotional connection," Tsuchiya says. "With the 1869 Red Stockings, they really don't. People have heard about the team itself being the first professional baseball team, but they really don't know much else about them."
Tsuchiya (A&S, Classics '95) knew that in order to draw people in, any monument honoring the team would need to have a functional aspect. For inspiration, he looked back to his University of Cincinnati education and his studies of the ancient Greek and Roman civilizations, which honored their heroes by constructing small shrines dedicated to them. The 1869 Red Stockings Pavilion is a monument where people can come to learn about and reflect on the accomplishments of the heroes it honors, the fathers of professional baseball — like a modern-day "heroon" or shrine dedicated to an ancient Greek or Roman hero.
"In Greek and Roman times, people would come to these places to escape from their daily lives — they would enter into this special world, a different world where they can experience this special moment in tribute to their heroes," Tsuchiya says. "That's what I wanted to do here. That was my inspiration."
Bronze relief portraits of the team's players and key executives line the outside edge of the domed roof of the 22-feet-tall, 16-feet-wide, gazebo-like structure, forming a sort of crown — an appropriate homage to the Queen City and its team, which took on all comers from coast to coast as it went undefeated in the 57 games it played in its inaugural season. Inscriptions on the inside of the roof include the lyrics to the Red Stockings club song, as well as quotes attributed to club president Aaron Champion and team captain Harry Wright, the latter of which echoed Julius Caesar's boast, "Veni, vidi, vici" — "I came, I saw, I conquered" — in the team's scorebook at the conclusion of their first season.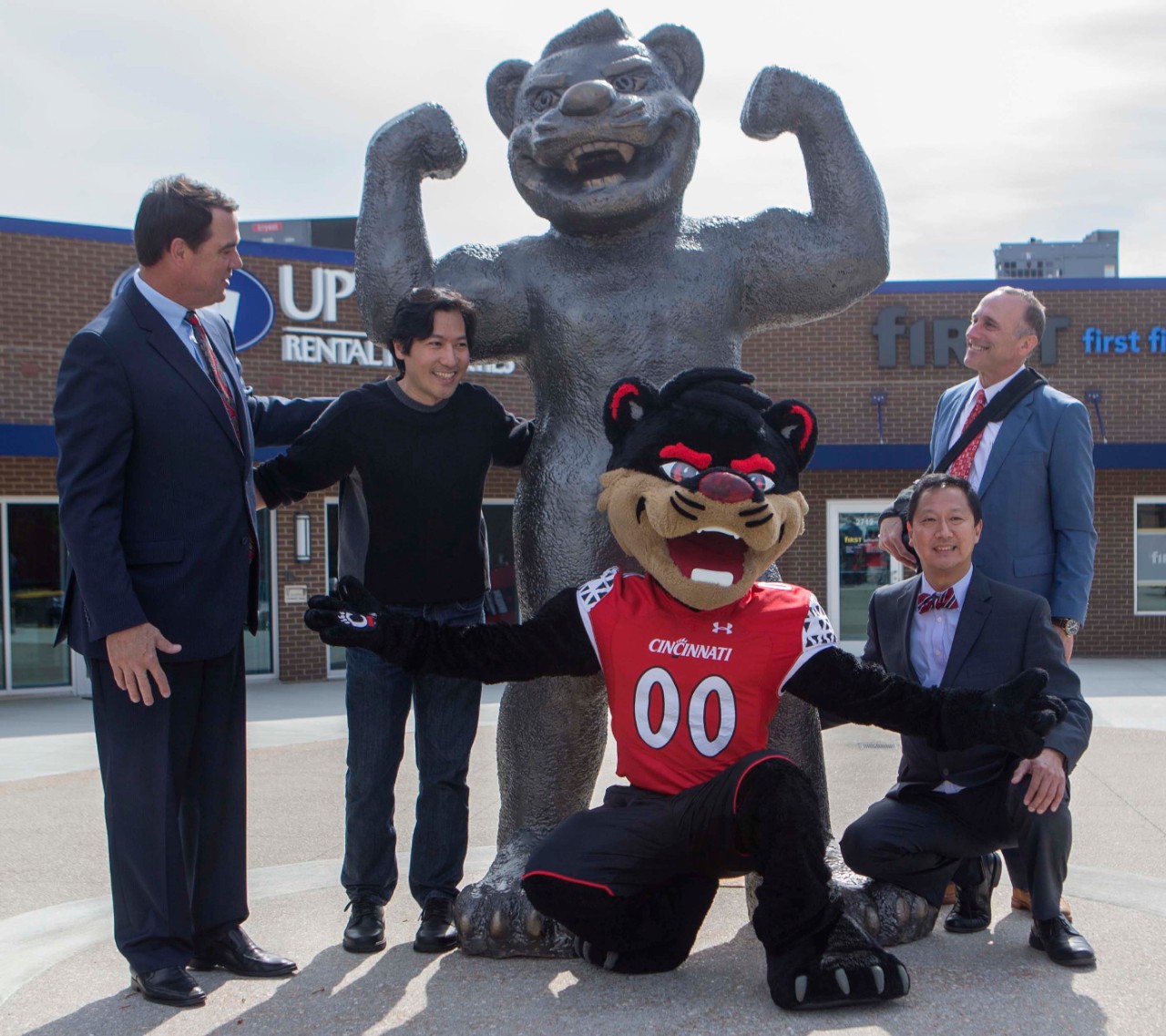 Just as Wright drew his inspiration from a Roman general, Tsuchiya's study of ancient Rome and Greece informs his work today. According to the artist, all of his sculptures — including those on the campuses of UC and Xavier University, as well as Lux Mundi, the towering statue of Jesus Christ outside of Solid Rock Church about 30 miles north of Cincinnati — are influenced by the artists of the Classical Era. During a recent visit to UC's College of Design, Architecture, Art, and Planning, Tsuchiya told students how important his education has been to his career. "I thought my classics classes were very, very valuable," he says, "especially for the kind of work I wanted to get into, doing public art. A lot of the great Greek and Roman monuments serve as my inspiration for what I do now."
Rick Walls, the executive director of the Reds Hall of Fame and Museum, has visited the league's other stadiums and seen the statues and monuments on their grounds. He's never seen anything like the 1869 Red Stockings Pavilion anywhere else, and he knows it's something special. "The way we look at the pavilion is that it does all three of the important things that we're trying to accomplish — celebrating greatness, preserving history, providing inspiration," says Walls. "Hopefully, visitors will come and know this is the place you have to go to in downtown Cincinnati. If you're at the ballpark, you can't come without seeing the pavilion and thinking of Cincinnati as the birthplace of professional baseball."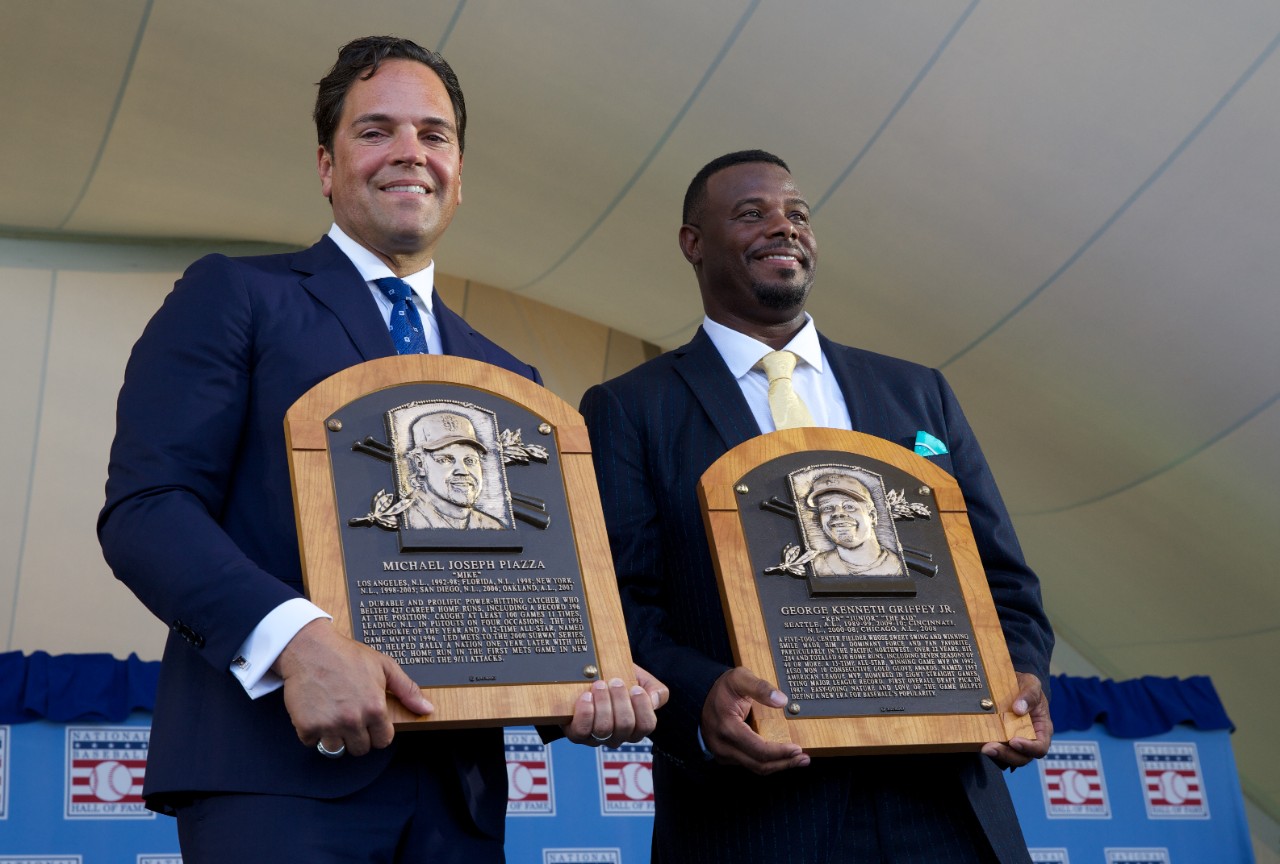 Tsuchiya continues to make his mark in his hometown, but his contributions to baseball reach far beyond the Queen City. In 2016, he took the reins as the National Baseball Hall of Fame's sculptor. Fun fact: Had his predecessor, Mindy Ellis, stepped down a month earlier, Tsuchiya's first plaque would have been of Will Ferrell, a gag prop made for the baseball mocumentary "Ferrell Takes the Field." Instead, Tsuchiya's first plaque was for none other than Ken Griffey Jr., who grew up in Cincinnati while his father played for the Big Red Machine.
"That's a very prestigious role," says Reds executive Walls. "What he does here is big, and I can imagine that these honors will just continue to grow for him as he continues to do more — maybe in other ballparks around the nation too."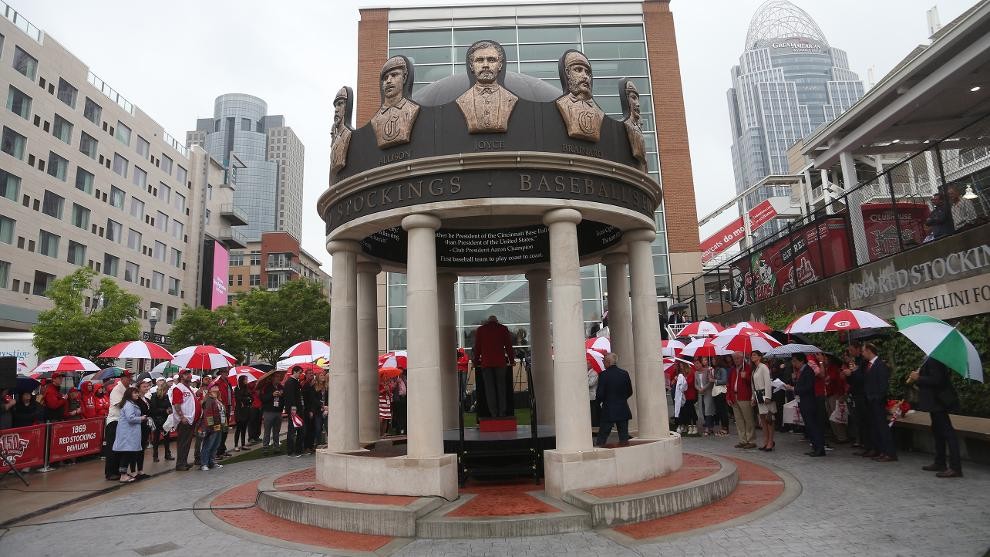 Tsuchiya is himself a hall of famer, of sorts: He was the recipient of the 2016 UC McMicken College of Arts and Sciences Distinguished Alumni Award. "His success is built upon a foundation that may seem outdated or even useless to some of our students: The study of ancient Greece and Rome," said classics professor Kathleen Lynch. "But in fact, his success demonstrates how vital humanities are to the world we live in. Without understanding our fellow humans, we cannot build bridges for them or heal them.
"Both Tom and [the college] share a passion for humanity. So, the next time someone says to you, 'What can you do with a classics major?' you can answer, "Be the sculptor of the Baseball Hall of Fame!'"
Featured image: Tom Tsuchiya works with a clay sculpture of one of the 1869 Red Stockings players. Photo/Joseph Fuqua II/UC Creative Services
Further action is required to make this video accessible
The below criteria must be satisfied:
Affirm Accessibility must be checked

AND

Kaltura or embed is selected, or YouTube or Vimeo is selected and a title is entered.
The video will not display on the live site until the issue above is resolved.
Leave your mark
Tom Tsuchiya has transformed the ballpark experience for everyone who attends a Cincinnati Reds game with his sculptures of some of the team's greatest and most memorable players. The University of Cincinnati is proud to be able to claim him as an alumnus and an example of what it means to be Boldly Bearcat. Learn more about how you can become a part of UC's game-changing community of thinkers, learners, and doers.
2
WVXU: Ron DeSantis 2024 run, the debt ceiling divide and more
May 25, 2023
For a full hour of all things political, David Niven, associate professor of political science in UC's School of Public and International Affairs, is a guest on WVXU's Cincinnati edition. The topics range from the debt ceiling negotiations to the 2024 presidential race.
3
UC, Children's to make local WIC enrollment easier for the...
May 24, 2023
Too many women and children in the Cincinnati region who qualify for federal nutrition benefits are missing out on receiving them — in many cases because of the application process and language barriers. Now a team led by Cincinnati Children's pediatrician Chidiogo Anyigbo, MD, MPH, and University of Cincinnati pediatric psychologist Cathleen Stough, PhD, has funding to do something about that.
Debug
Query for this