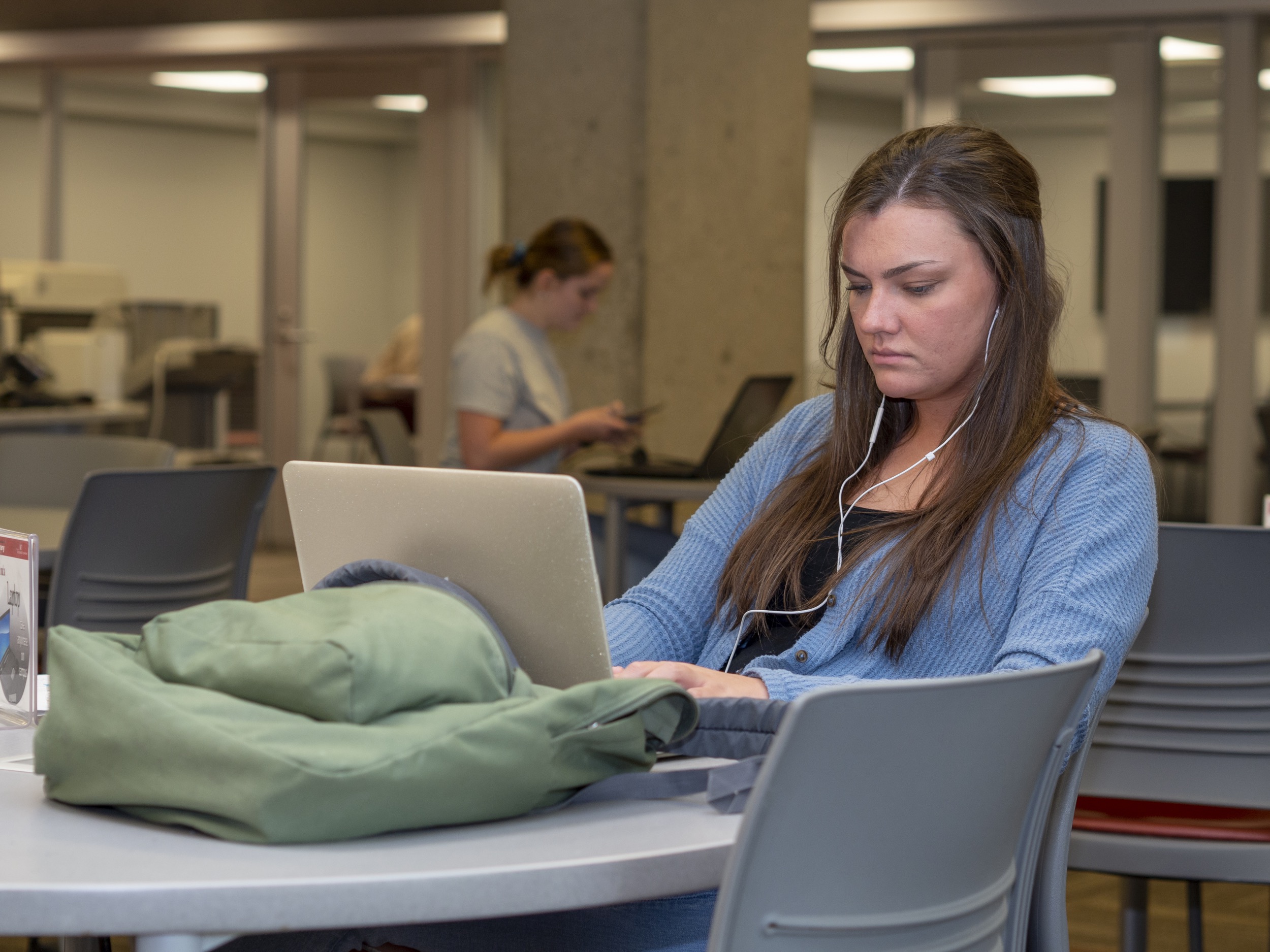 Article has no nextliveshere tags assigned
Article has no topics tags assigned
Article has no colleges tags assigned
Description is empty
Article has no audiences tags assigned
Article has no units tags assigned
Contacts are empty
These messages will display in edit mode only.
Open-source textbooks offer free alternative for UC Clermont students
Online texts save costs, increase access and flexibility
Some UC Clermont College students are avoiding paying hundreds of dollars for textbooks — and getting the content for free — thanks to online open-source textbooks, a growing trend among faculty at the college and throughout higher education.
UC Clermont Dean Jeff Bauer, who is also a professor of business, said the benefits of open textbooks are many. "All students have the book on the first day of class, it saves them a lot of money, and the information can be accessed anywhere, anytime, without carrying around a heavy textbook," Bauer said. "They don't need to visit the bookstore before or after each semester to buy or sell back books, either."
In 2015, as the use of open textbooks picked up steam on UC's Uptown Campus as part of the Textbook Affordability Initiative, former UC Clermont Library Director Katie Foran-Mulcahy invited a number of college faculty to try out the resources in their classes. One of those early adopters was Sharon Burns, associate professor of English.
"We're always looking at ways to cut costs for students," said Burns, who appreciates the broad range of open-source choices compared to what's available from traditional textbook publishers. "I love the ease of access to information. There are a lot of smart people writing great things you can't get anywhere else. Open textbooks are a wise, sustainable choice for all involved — students and faculty."
The dynamic nature of open textbooks — which UC Clermont students can access online through the college library — is especially apparent in their interactive advantages over traditional books, including links to video simulations and other websites within the text, said Heather Mitchell-Botts, instruction librarian at UC Clermont. It also offers faculty flexibility to create a course exactly as they want.
"Faculty can take chapters from different books and combine them for their unique class," Mitchell-Botts said. "It gives them a level of control they don't have with traditional textbooks."
And if nothing exists to fit their needs, faculty can write their own book, if they have credentials to publish on open-textbook platforms. Content quality is maintained by faculty peer review systems, and authors can make updates even after publication.
For all their advantages, though, open texts do present some drawbacks, said Noah MacKenzie, UC Clermont associate professor of psychology. MacKenzie uses open textbooks in his introductory psychology class and noted that while they work well in such general education courses, open-source information for more advanced, specialized courses is currently lacking. And for less experienced professors, the absence of ancillary materials — curriculum pieces, exam questions and student study guides — might pose a challenge.
Most important to MacKenzie, though, was that the quality of education his students received was not affected. He was reassured when grade distributions for his introduction to psychology class remained unchanged after he adopted an open-source textbook in fall 2018.
"My teaching hasn't changed. Grades haven't changed," said MacKenzie. "The only thing that has changed is the amount of money students are spending on textbooks."
MacKenzie said that while he believes there will always be a place for hardback textbooks in education, the current trend in textbook publishing is reminiscent of the evolution that occurred in other types of media, such as the move from physical videos and CDs to streaming services. Some textbook publishers, such as Cengage, are already offering faculty the ability to pay a flat fee for access to whole lines of digital content, similar to the Netflix model.
"The generation that is using open textbooks as students will work for publishers and change things," MacKenzie said. "The change will be slow, but there are new delivery methods and producers, and the way people use media is evolving."
At UC Clermont, Dean Bauer said he is encouraging even more faculty to consider open-source textbooks for their students, especially for hybrid and online classes. The library will continue to offer workshops and support for faculty using open sources as well.
"As time goes by, more and more open-source materials will be available, and the quality is rapidly increasing," Bauer said. "UC Clermont has always strived to provide a great value to our students, and open-source textbooks are simply an extension of that philosophy for the 21st-century learner."