UC Blue Ash professors earn prestigious honor and national leadership role
Two professors from the radiologic technology program at UC Blue Ash receive special acclaim from the national organization that serves their profession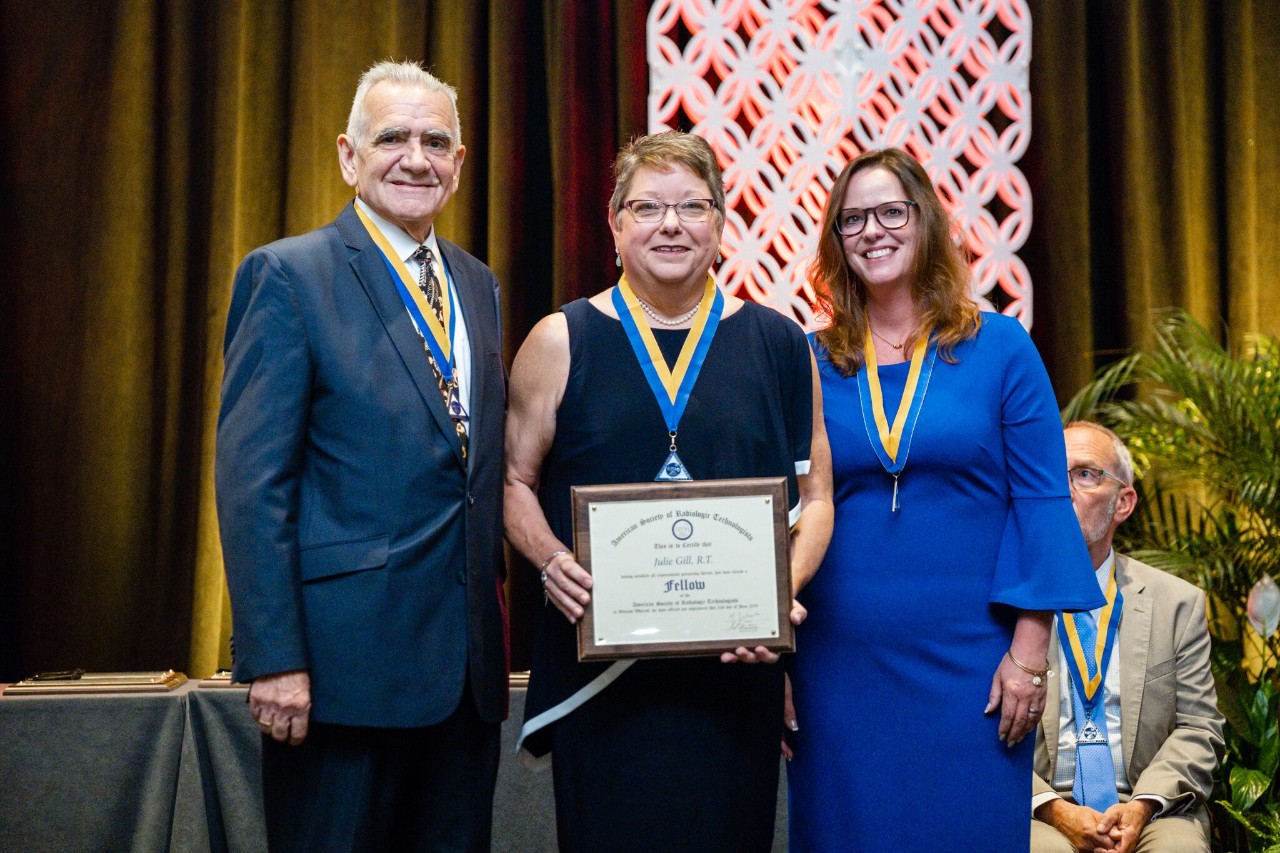 Julie Gill, chair of the Allied Health Department at the University of Cincinnati Blue Ash College, is the recipient of a prestigious honor and a grant from the American Society of Radiologic Technologists (ASRT), the world's largest radiologic science association. Heather Moore, associate professor and director of the Radiologic Technology Program at UC Blue Ash, is a newly elected board member and treasurer for the organization.
Gill was recently selected as an ASRT Fellow and was formally recognized with the honor at the ASRT annual meeting on June 23 in Orlando, Florida. This is very special recognition that has been granted to fewer than 200 members of the organization since it was created in 1956.
"Fellows have volunteered in leadership positions at the national and local levels, written articles for publication, presented at professional meetings and helped advance the radiologic technology profession," says Greg Crutcher, spokesman for the ASRT, which has more than 150,000 members. "They have met extensive, quantified criteria and have been selected by the Committee of Fellows."
Gill has been a member of the ASRT for more than 20 years and is a former board member and president of the organization.
"It is a tremendous honor to be elevated to the status of ASRT Fellow. The fact that this honor is the result of unanimous approval by my peers and the ASRT Board of Directors makes it even more exciting and rewarding," Gill says.
She is also one of only three recipients of the Siemens Education Journey Award, which is coordinated through the ASRT Foundation. The award provides $4,000 for the recipient to attend the educational or professional conference of their choice.
Moore was one of four ASRT members elected this spring to serve on the organization's Board of Directors. Her term as treasurer for the organization will go through June 2020. The appointment builds on Moore's extensive experience as a member of the Ohio Society of Radiologic Technologists, where she has served as a board member and was named the Technologist of the Year in 2016.
About UC Blue Ash College
UC Blue Ash College is a regional college within the University of Cincinnati. It offers one of the best values in higher education with access to a nationally recognized UC education in more than 50 degree and certificate programs, as well as tuition that is about half of most colleges and universities. The college is located on a scenic 135-acre wooded campus in the heart of Blue Ash, Ohio. To learn more, call 513-745-5600, visit us online, like us on Facebook or follow us on Twitter and Instagram.