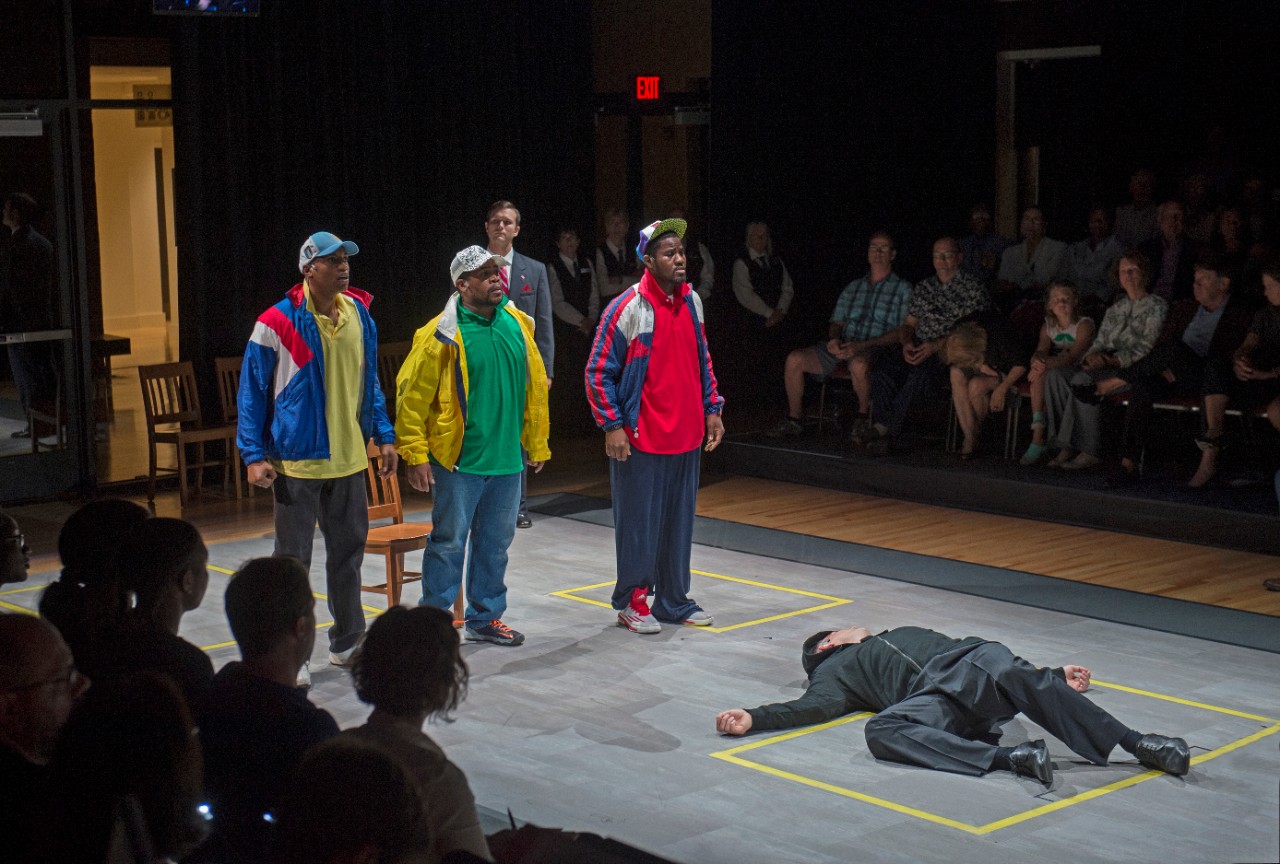 UC's 'Blind Injustice' opera premieres to acclaim, makes national news
The opera, based on the stories of six people freed with the help of UC's Ohio Innocence Project, met with acclaim when it premiered July 22-26 at Cincinnati's Music Hall
"Blind Injustice," an innovative opera drawing on the lives of six people freed through the work of the Ohio Innocence Project at the University of Cincinnati College of Law, premiered July 22 at the world-renowned Cincinnati Opera to national acclaim. The event was recognized by many in the Wall Street Journal and NPR, local media and the opera world.
The sold-out performances were a collaboration between the OIP, Cincinnati Opera, Young Professionals Choral Collective (YPCC) and the UC College-Conservatory of Music Opera Department.  The work was based on casework by the OIP and the book "Blind Injustice" by Cincinnati Law Professor and Innocence Project Director Mark Godsey, as well as interviews with the exonerees.
Not only was "Blind Injustice" an opportunity to communicate the exonerees' stories in a unique format, it was also a creative way to share the work of the innocence movement to new audiences.  Here's a look at some of the media coverage.

Blind Injustice in the news
1
WLWT: How one of Ohio's newest lawyers went from federal prison...
May 30, 2023
UC Law alum Damon Davis spoke with WLWT-TV about his journey from former federal prison inmate to accomplished attorney. Davis spent four-and-a-half years behind bars after being convicted of federal drug and gun charges in 2017. This month he took the Ohio Bar Admissions and is now a public defender in Hamilton County.
2
Newsweek: Conservative justices deal a blow to Ivermectin in...
May 29, 2023
The Wisconsin Supreme Court ruled earlier this month that hospitals can't be forced to issue Ivermectin to patients. It backed an earlier appeals court decision. Jennifer Bard, PhD, professor at the University of Cincinnati College of Law, weighed in on the decision during an interview with Newsweek.
3
WCPO: Asian American and Pacific Islander Heritage Month series
May 28, 2023
Two faculty members and one student have been profiled by WCPO-TV as part of a series celebrating May as Asian American and Pacific Islander Heritage Month (AAPI). These segments feature the stories of UC Law's Dr. Jenn Dye, CCM's Dr. Thomas Gamboa and fourth-year student Aashka Raval.
Debug
Query for this