UC celebrates growth in international enrollment
UC welcomes 3,405 students to campus this year representing an increase of 75 percent over the past decade
The University of Cincinnati welcomed 3,405 international students to campus in a program that has grown in nine of the last 10 years.
International enrollment has increased by 75 percent over the past decade.
"The growth is a direct result of the strategic work by our international admissions team as well as the academic offerings and student experience UC provides," said Kristi Nelson, executive vice president for academic affairs and provost. "International students have a wealth of knowledge and bring varying perspectives from all over the world enriching our diverse culture. We are delighted they are choosing UC."
UC's steady growth is the result of 10 years of concerted effort and planning to burnish UC's reputation overseas and establishing connections with international partners, said Jon Weller, UC's director of international admissions.
"I think the main thing that sets us apart is that we offer highly personalized service to our international undergraduate applicants," Weller said.
UC has recruitment staff posted in China, India and Vietnam. Weller said recruiters are looking for academically talented students who are motivated to succeed.
"We have done a great job of finding international students who are the right fit for UC. This is evident in their 90-percent-plus retention rate after their freshman year," he said.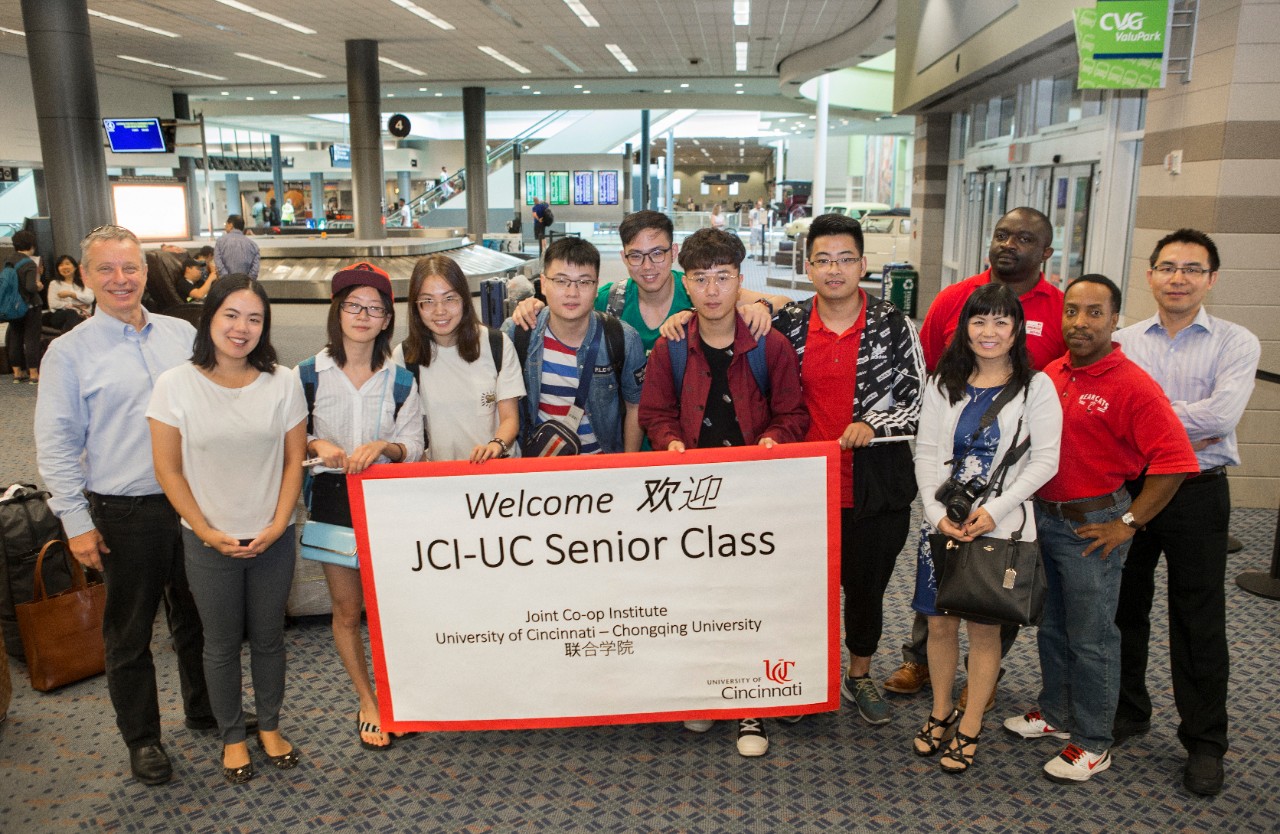 International students are attracted to UC because of our rising academic rankings.
Raj Mehta, Vice Provost for International Affairs
Admission to American universities fell about 6% from 2017-2018 and another 3% from 2018-2019, according to student visa data from U.S. Immigration and Customs Enforcement. China, which is traditionally responsible for the largest pool of international students, sent 2% fewer students to American universities this year. UC's numbers also fell slightly, from 3,557 last year to 3,405 in 2019.
A majority of these students come from India, China and South Korea, but dozens of countries are represented. Traditionally, about one-third of the students are undergraduates and the rest enroll in UC's Graduate School in any of 370 programs.
Likewise, UC provides opportunities for students to study abroad. During the 2018-19 school year, 1,760 UC students traveled overseas as part of their studies. UC International offers $800,000 in annual scholarships for study abroad. Most of these students participate in faculty-led programs.
"International students are attracted to UC because of our rising academic rankings. Moreover, we as a community are very open to drawing in people from all over the world so that we can all learn from one another," said Raj Mehta, vice provost for international affairs and director of UC's Honors Program.

"Just as important, our faculty and staff consistently demonstrate how much we care about all our students. In global surveys of international students studying outside their home countries, UC has been ranked as very welcoming by our international students," Mehta said. "The word has spread about the very supportive environment here."
UC also has unique relationships with places like Chongqing University. In a program called the Joint Cooperative Institute, UC faculty go to China to teach students who will spend their final year studying on UC's campus.
"Certainly, it makes us proud. We're seeing the cumulative effects of all the things we've been doing that have prepared us for this success," said Ronald Cushing, director of international services.
Cushing noted that UC offers more than 50 programs to help international students adjust to life on campus, prepare for the rigors of the classroom and have fun.
"Social and cultural adjustment is a major emphasis in our office," he said. "We have staff who help students feel welcome. They even take them on trips around the country."
American students also benefit from the opportunity to work with classmates with diverse backgrounds, Cushing said.
"What value can you place on sitting in a class with a student from Oman and learning about the Middle East?" he said. "You get perspectives you wouldn't have otherwise."
Graduate student Eric Sun came from China to study aerospace engineering in UC's College of Engineering and Applied Science. He worked as a software engineer for 10 years before deciding to continue his education.
"I thought I should take on some different challenges and I wanted to step out of my comfort zone," he said.
Sun said he wanted to study abroad to get international experience. He chose UC because of its long history history of cooperative education, in which students gain real-world experience working for companies in their chosen field for part of the school year.
"I got a chance to study robotics where I could use my experience in software engineering," Sun said. "I believe these combinations will make me unique in the employee market.
"Life is short. I will use my time to experience different cultures and different challenges," Sun said. "I know many young people are studying abroad. They realize the world is globalizing and changing rapidly. Having different experiences means more opportunities in the future."
Featured image at top: Students from China arrive at Cincinnati-Northern Kentucky International Airport to begin their studies at UC through UC's Joint Cooperative Institute. Photo/Joseph Fuqua II/UC Creative Services