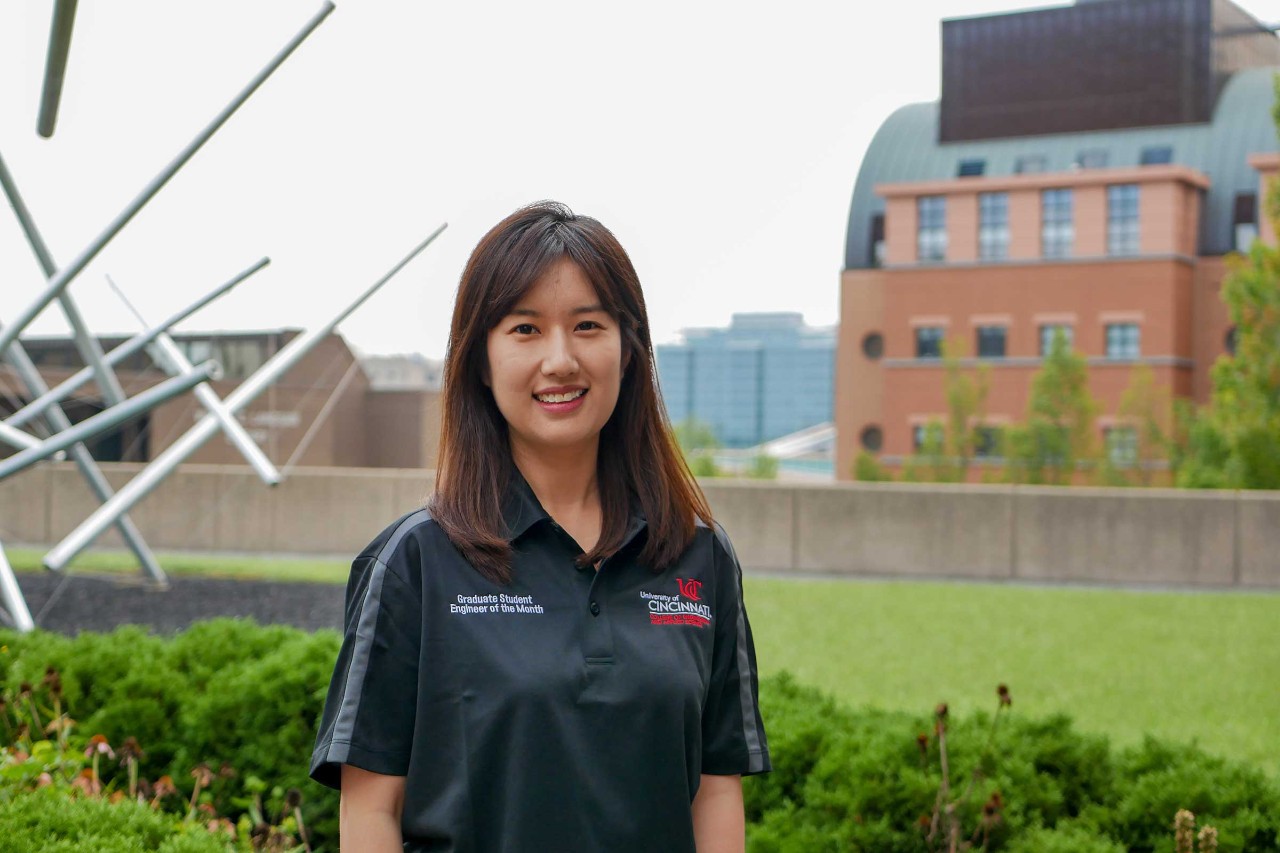 September Graduate Engineer of the Month excels in membrane separation research
Zishu Cao, a Ph.D. student in chemical engineering, earned the Graduate Engineer of the Month award from the College of Engineering and Applied Science for September 2019.
Cao researches membrane separation, a process used in environmental protection, energy recovery and medicine. Membrane separation has countless potential uses in the future. The fact that her research could improve the world is something that drives Cao.
"I like the fact that chemical engineering emphasizes solving real-world issues," said Cao. "Chemical engineering provides powerful toolsets that can be used to design and implement a lot of industrial processes."
Cao's Ph.D. supervisor, professor Junhang Dong, commented on Cao's accomplishments.
"During her graduate research in my group, she has demonstrated excellent skills in membrane fabrication and testing and showed deep understanding of the fundamentals of membranes," Dong said. "She has published 11 papers, many of which are in prestigious journals in the field of membrane science and technology, such as Science Advances and Journal of Membrane Science."
Cao thinks that curiosity and resilience are most important traits to engineering students.
"Curiosity triggers you to do things you are interested in," said Cao. "Resilience helps you deal with difficult situations and to try your best.
Following her graduation, Cao plans on taking a year to travel the world before settling on a research-related job, either in industry or at a university.
Next Lives Here
Discover UC's commitment to Next Lives Here, the strategic direction with designs on leading urban public universities into a new era of innovation and impact.
1
Biomedical engineer driven to create a better life for her sister
March 29, 2023
Dominique Tanner, a biomedical engineering doctoral candidate at the University of Cincinnati, finds motivation from her sister. Diagnosed with epilepsy at just a few months old, her sister has experienced seizures all her life. Tanner became determined to learn about the condition and dedicated herself to a career in helping her sister and others like her. She is the second black woman to receive a Ph.D. in biomedical engineering at UC and was named Graduate Student Engineer of the Month by the College of Engineering and Applied Science.
2
Aerospace engineer shares how co-op helped her discover her path
March 28, 2023
The "College Matters. Alma Matters." Podcast interviewed University of Cincinnati aerospace engineering Ph.D. candidate Lynn Pickering earlier this month. In the episode she discusses her undergraduate experience at UC, the importance of co-op and her research of fuzzy logic.
3
Inspiring others as a UC NEXT Innovation Scholar
March 23, 2023
A Latina student at University of Cincinnati is paving the way for future generations by breaking cycles. Being the first in her family to attend college came with a myriad of challenging experiences for Yulia Gimena Martinez, a student at the College of Engineering and Applied Sciences (CEAS).
Debug
Query for this