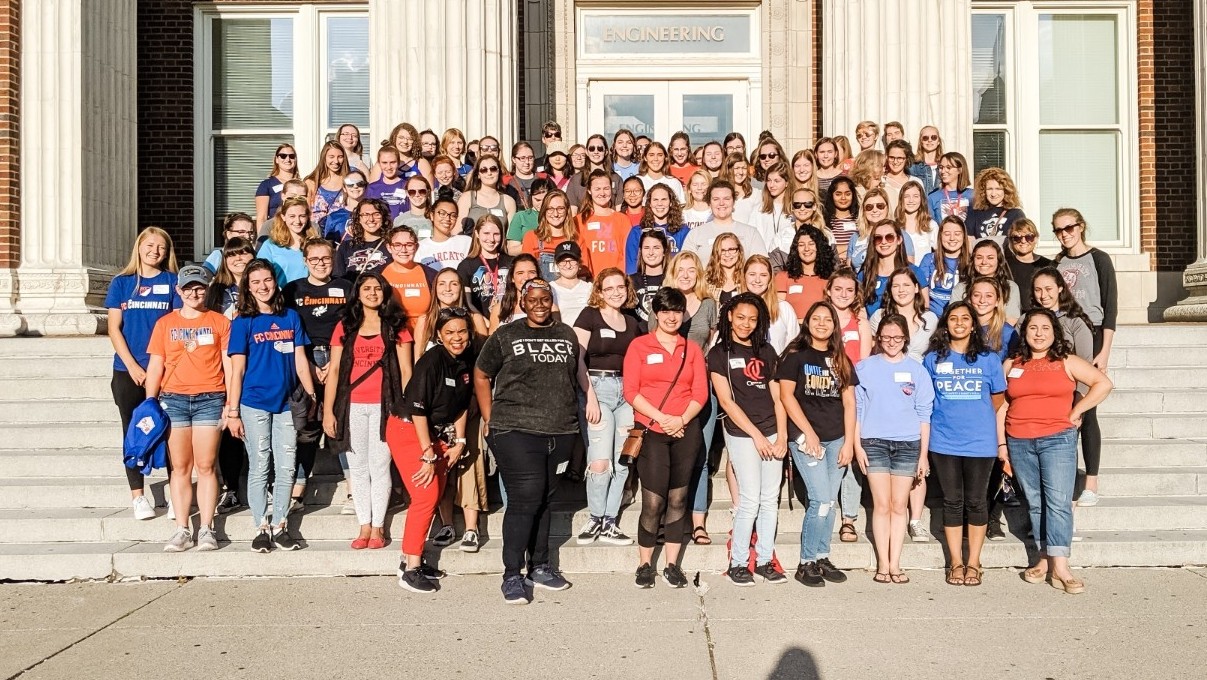 UC director of women in engineering announces fall programming for STEM students
All female, non-binary and non-cisgender students are welcomed to attend all events.
Paula Lampley, BS, EE, JD, Director of Women in Engineering for the Office of Inclusive Excellence and Community Engagement within the University of Cincinnati's (UC) College of Engineering and Applied Science, announced the fall program of events.
She and the college's undergraduate enrollment staff and the UC chapter of Society of Women Engineers are planning several upcoming events for students in STEM.
In celebration of students returning to campus, they cohosted last week's Welcome Back Kick-Off event on September 7.  Over 60 students attended an FC Cincinnati soccer game and ice cream social.
"As the Women in Engineering Director…I am excited to help recruit and support the next generation of Bearcat engineers," Lampley said. Lampley adds that all female, non-binary and non-cisgender students are welcomed to attend all events.
Alongside the College of Engineering and Applied Science Tribunal and the UC chapter of the Society of Women Engineers, Lampley and others are planning an "Evening with Industry" event on September 24. 
At this annual event, current female students in engineering and applied science meet with industry representatives before the annual career fall fair. Participants network with industry professionals, learn about different opportunities in their field of interest, review their resumes, and ask questions to in preparation for the career fair.
The coming months of Lampley's calendar are marked with dates to speak at local high schools and work with young students at the Cincinnati Museum Center, all in an effort to foster interest in STEM itself (as well as programs at UC).  She is also excited to welcome 125 junior and senior high school students to UC campus for Women in Engineering and Technology Day October 18.  

Lampley and her colleagues strive to empower individuals to transform their lives and achieve their highest potential by offering programs, services and scholarships that will enhance learning and lead to their success.
Moving forward, Lampley has initiatives in the works regarding the Rowe Center for Women in Engineering and a spring networking event with CEAS alumni and students.  
1
Cincinnati Edition: U.S. joins a growing number of governments...
March 24, 2023
TikTok has 1.5 million users in the United States, and is currently under review by the U.S. congress. The Chinese company has been accused of aggregating data for nefarious purposes, as it is ultimately controlled by the Chinese Communist Party. Cyber security expert Richard Harknett was a guest speaker on "Cincinnati Edition" to discuss measures that might be, or should be, taken to protect Americans privacy and national security
2
Inspiring others as a UC NEXT Innovation Scholar
March 23, 2023
A Latina student at University of Cincinnati is paving the way for future generations by breaking cycles. Being the first in her family to attend college came with a myriad of challenging experiences for Yulia Gimena Martinez, a student at the College of Engineering and Applied Sciences (CEAS).
Debug
Query for this