Pink: a color for fighters
In October, we wear pink, but everyday, UC fights cancer
Pink is such a cheerful color, but over the past few decades, it's become symbolic of so much more.
It's become a color for fighters. 
In October, the nation brings awareness to a condition that affects 1 in 8 women in the U.S.: breast cancer. But at UC, researchers and clinicians are fighting the good fight year-round through lab research and clinical trials that may help thousands of women win their battle with the disease:
Researchers like Georg Weber, a professor in the James L. Winkle College of Pharmacy, who is investigating a molecular diagnostic test to determine whether, after biopsy, someone is at high or low risk for actually developing malignant breast cancer.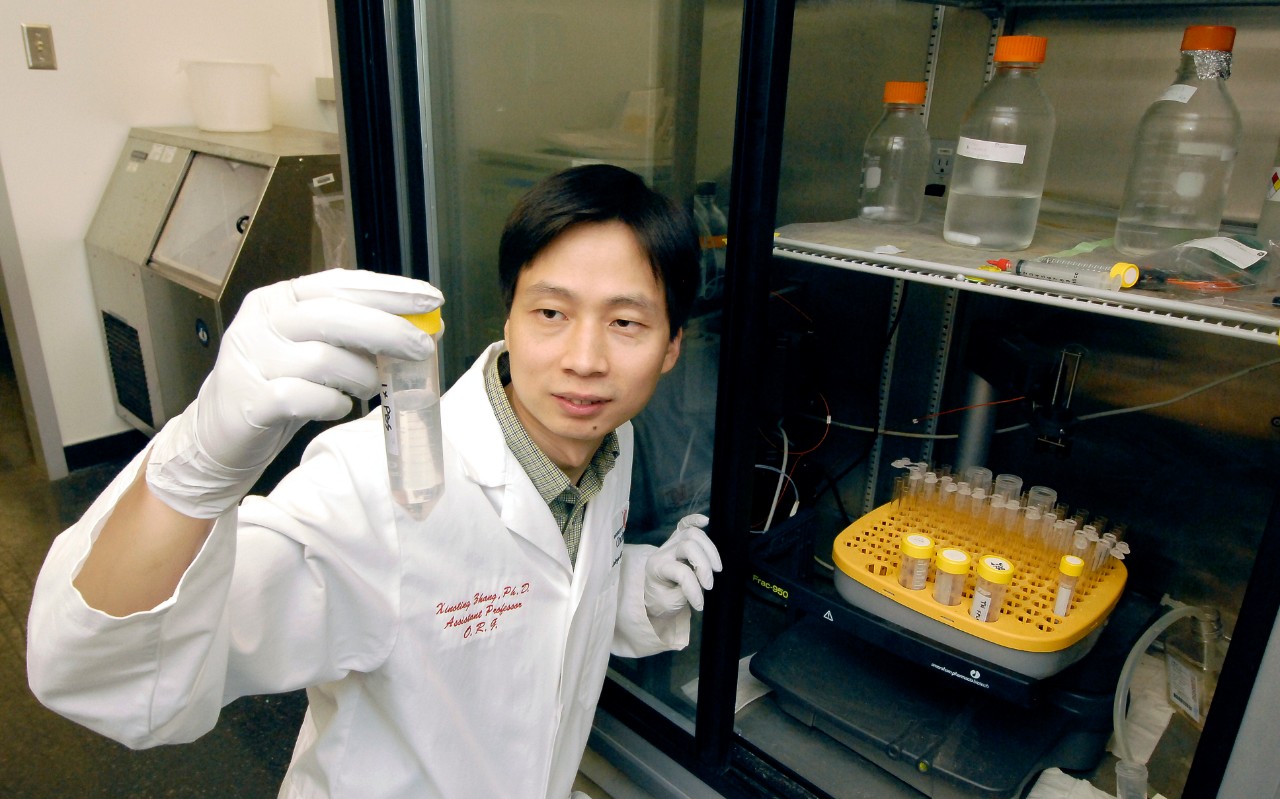 Nalinikanth Kotagiri, an assistant professor in the Winkle College of Pharmacy, is studying ways ultraviolet light can activate light-sensitive drugs to treat metastatic breast cancer.
And Xiaoting Zhang, professor of cancer biology, who "graduated" in September from the sixth UC Venture Lab pre-accelerator program, continues to study the use of nanoparticles in treating breast cancer that is resistant to standard therapy.

Recently, Zhang received federal funding, an R01 grant from the National Cancer Institute, to study certain genetic material, known as small RNAs, in breast cancer metastasis (or spread). RNAs serve as messengers, carrying instructions from DNA for controlling the function and production of proteins; recently, small non-coding RNAs have been found to be potential key treatment targets in certain cancers.
This is the second research grant of this level Zhang has received from the National Cancer Institute. Zhang's lab will use this funding to continue research examining molecular causes for treatment resistance and metastasis of ER-positive breast cancer, which makes up about 75% of breast cancers worldwide. ER-positive breast cancer means the cancer cells grow in response to the hormone estrogen. Zhang will look at the role of microRNAs in the production of a key breast cancer protein (MED1) and how it controls another type of small RNA called enhancer RNA in breast cancer. He will further use an RNA nanotechnology-based approach to target these small RNAs to combat breast cancer resistance and metastasis.
Zhang says he hopes that findings from this study will fill a knowledge gap in understanding small RNA function and how they impact the way cancer is treated and spreads. He adds that this could lead to a new and better treatment strategy for a patient population that doesn't have many choices.
Researchers who are also physicians at UC Health continue to conduct clinical trials to better understand the best ways to detect and treat the disease as well as help patients live a fuller, better life.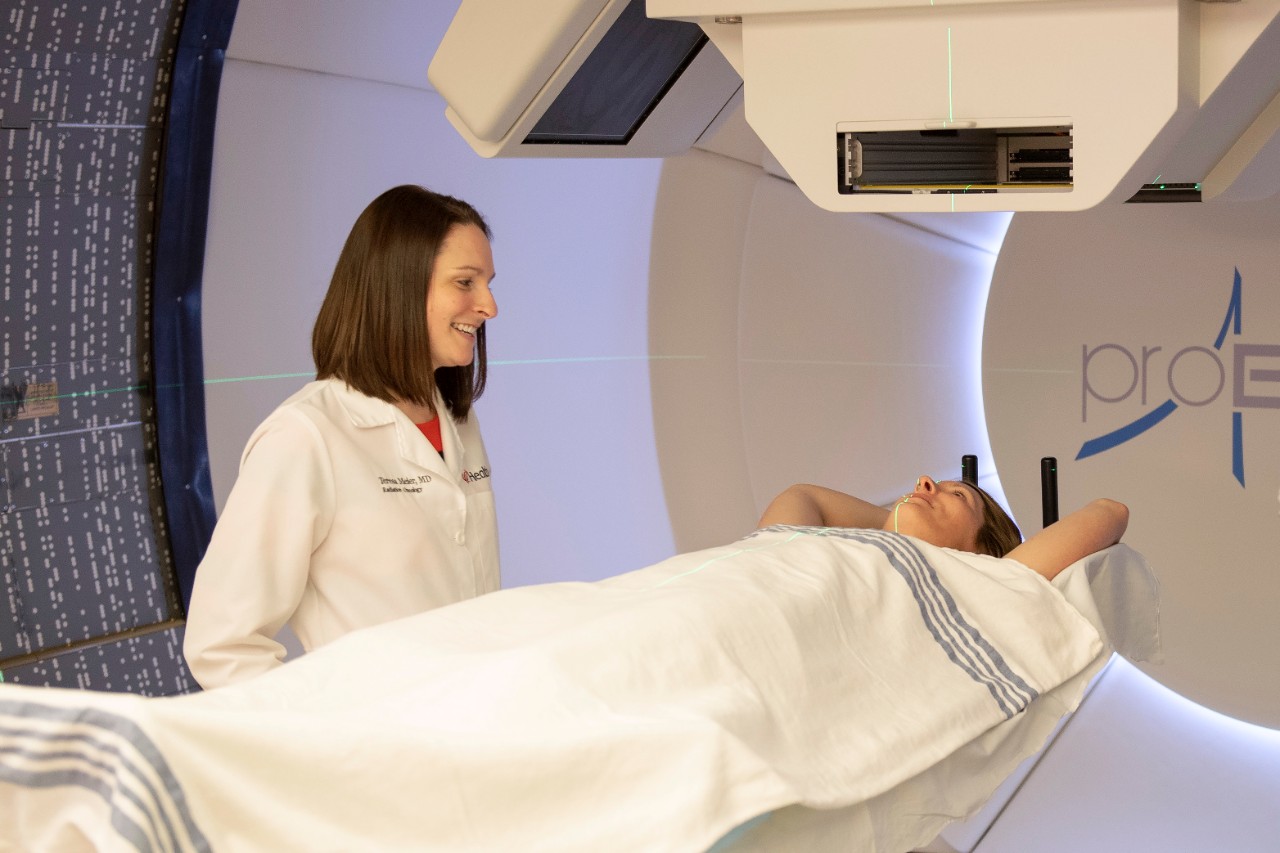 Dr. Lawrence Sobel, assistant professor in the Department of Radiology and director of breast imaging for UC Health, is leading a local trial comparing two types of digital mammography — 2D images versus 3D images — to determine which is most effective effective in the diagnosis of breast cancers.
Dr. Teresa Meier, assistant professor of radiation oncology and a UC Health radiation oncologist, is also leading a clinical trial, not being offered anywhere else, to determine how the use of proton radiotherapy can be used for patients with early stage breast cancer. It will evaluate efficacy and cosmetic outcome of this treatment option.

To learn more about these projects as well as other research and patient options only offered at UC, the UC Cancer Institute's Breast Cancer Center offers several educational events.
Beth Fairchild, medical tattooist, president of METAvivor and metastatic breast cancer patient, will present "Medical Tattooing and the Art of 3D Areola Nipple Tattoos" from 6-6:30 p.m.
Feature photo courtesy of Drew Hays/Unsplash
Next Lives Here
Powered by knowledge, ideas and minds, UC's strategic direction Next Lives Here amplifies the university's core missions of teaching, research and service — from preparing faculty to "teach tomorrow" to pioneering the next cure to solving human-centered problems in the far corners of the globe. Learn more.
2
College Matters. Alma Matters: UC grad and UC faculty featured...
September 29, 2023
College Matters. Alma Matters. podcast features molecular geneticist Dr. Anil Menon, associate dean of undergraduate education and director of the undergraduate program in biomedical sciences in the UC College of Medicine and Pateek Raj, graduate of SPIA.
3
Widespread naloxone distribution not enough to impact overdose...
September 28, 2023
The highest ever number of opioid-related overdose deaths in the United States was recorded in 2020 at 68,630, a 68% increase in just two years. Naloxone is a medicine that can rapidly reverse an opioid overdose, but a new study out of the University of Cincinnati finds that widespread community distribution of naloxone through a take-home naloxone program did not significantly impact the median monthly opioid overdose rates.
Debug
Query for this