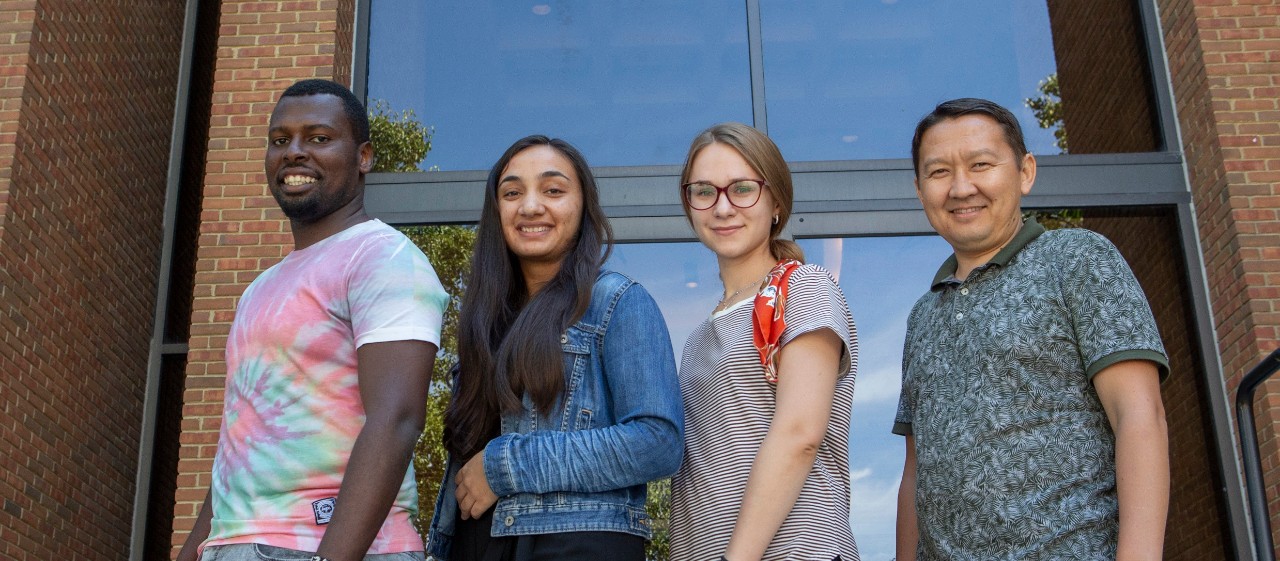 UC LLM Program welcomes four students from the Fulbright Foreign Student Program
Students from around the world bring diverse experience and interests to the UC Law community
The Fulbright Foreign Student Program enables exceptional students from 155 countries to visit the United States for one year of study at a wide variety of universities, including the University of Cincinnati. Fulbright scholarships are sponsored by the U.S. Department of State, with the aim of promoting peace and understanding through educational exchange between the people of the United States and the people of other countries. Since its founding in 1947, many Fulbright program alumni have gone on to become heads of state, Pulitzer Prize winners, and Nobel laureates.
UC College of Law is proud to have four Fulbright students in the 2020 LLM class: Stephen Mudibo of Kenya; Nurbek Sabirov of Kyrgyzstan; Zamira Saidi of Afghanistan; and Galina Seregina of Russia.
Students are selected by their home countries not only for academic achievement, but also for their civic contributions. After selection, the Institute of International Education (IIE) works to match students with universities that offer programs in their field of study.
Alex Barroca, academic placement advisor from the IIE, recently visited UC's campus to see firsthand how the students were getting on in Cincinnati, and to learn more about the opportunities available on UC's campus. He was particularly impressed with the experiential opportunities available through the college's Ohio Innocence Project, Entrepreneurship Clinic, new Domestic Violence Clinic and legal externships.
"We are grateful for the relationship with UC Law and pleased with the quality of the program of study provided here," Barroca said.
Prior to coming to Cincinnati, Stephen Mudibo worked on legal research, advising, and trademarking at Simba and Simba Law Firm in Kenya, which specializes in corporate law and intellectual property. Mudibo previously worked with UN Habitat, the United Nations program for promoting sustainable human settlements in urban areas. Mudibo is a graduate of the Kenya School of Law.
Nurbek Sabirov is a partner at Kalikov & Associates Law Firm in the Kyrgyz Republic, with extensive litigation and arbitration experience. Sabirov has also participated in working groups leading to changes in labor, business, tax, and civil procedure codes. Sabirov is a graduate of the Department of Law at Kyrgyz National University.
Zamira Saidi is a licensed defense attorney at Shajjan & Associates in Afghanistan and has coached and judged at international moot court competitions. In 2016, Saidi founded the Afghan Women Education and Empowerment Services Organization (AWEESO). Saidi is a graduate of Kabul University.
Galina Seregina has consulting experience in international tax law at the Offcy Trust House in Russia, and previously as a paralegal with Cliff Legal Services. In 2018, Seregina and her team advanced to the International Rounds of the Philip C. Jessup International Moot Court Competition after winning in the Qualifying Rounds in Moscow. Seregina is a graduate of the Kutafin Moscow State Law University (MSAL) with both Master's and Bachelor's degrees in International Law.
Seregina said she is happy to be at UC's LLM program because she "can concentrate [her] study on international law and look even at very familiar doctrines from a completely new point of view."
"Here, I get to do what I love: study law and spend time with highly motivated and supportive people," she added.
"It's a privilege to have students of this caliber in our LLM program. They are an integral part of our learning community, and we would be honored to have many more Fulbrighters following in their footsteps," said Assistant Dean Nora Burke Wagner.
Featured image: Fulbright students in the LLM program (L to R): Stephen Mudibo, Zamira Saidi, Galina Seregina, and Nurbek Sabirov
1
Patents 101: What inventors need to know
September 25, 2023
In the world of academia, innovation is often celebrated for its potential to reshape industries and improve lives. At the University of Cincinnati, this spirit of invention is acknowledged and actively nurtured through the Office of Technology Transfer. Jill Uhl, JD, senior licensing associate, works behind the scenes on groundbreaking inventions emerging from UC faculty and staff.
2
Achieving a lifelong goal: One student's shift to law school
September 24, 2023
Andrea Wujek Beck, '25, was well established in her life and career when the COVID-19 pandemic hit., which shifted her outlook. Law school was something she always wanted to do and was drawn to UC by the Ohio Innocence Project.
3
UC celebrates Marian Spencer Scholars
September 22, 2023
The University of Cincinnati celebrated the legacy of UC alumna Marian Spencer by recognizing 20 students awarded her namesake scholarship during a Sept. 9 induction ceremony. The Marian Spencer Scholars are all high-achieving graduates of the Cincinnati Public School system.
Debug
Query for this