UC Blue Ash, GE Aviation host new event for student veterans
Free Oct. 25 networking event open to all military veterans currently enrolled in a college or university, regardless of whether they are a UC student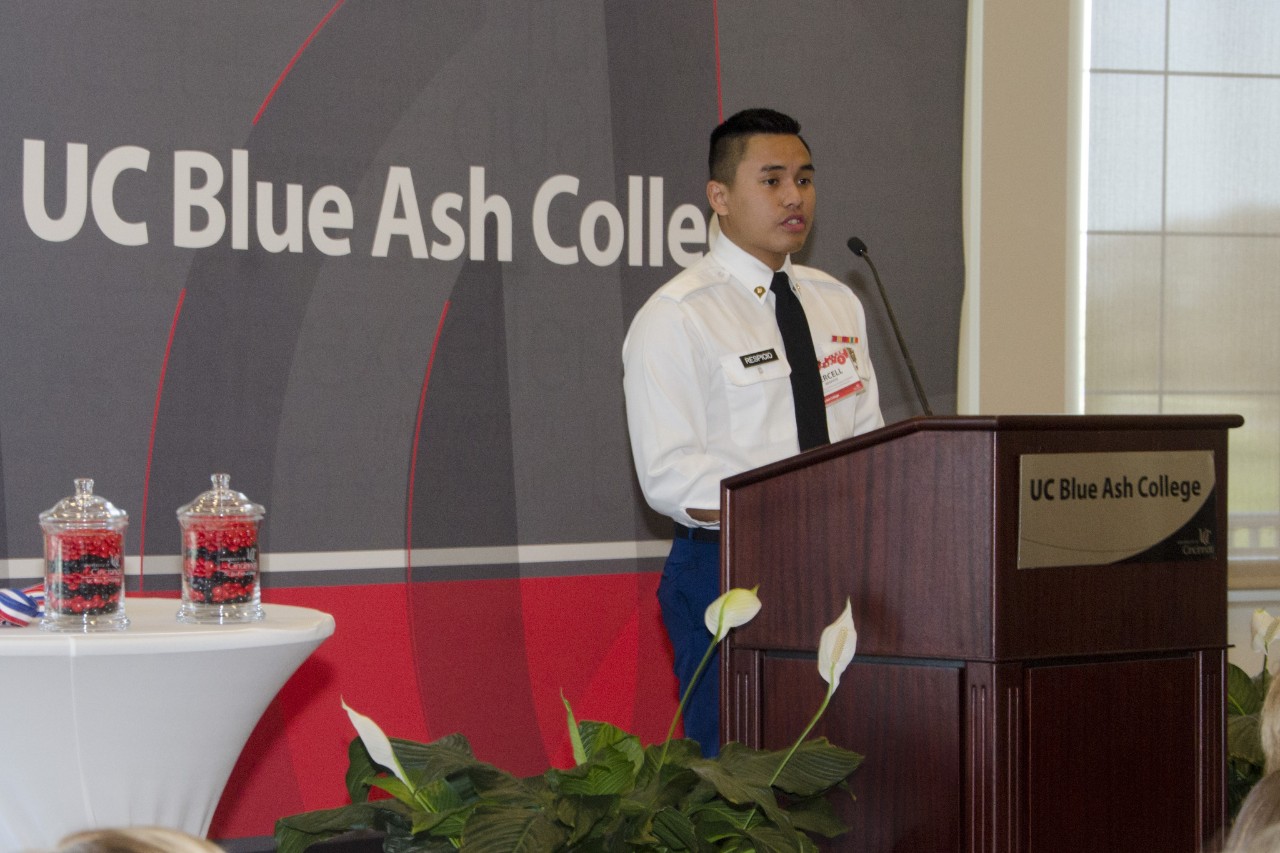 The University of Cincinnati Blue Ash College is teaming up with GE Aviation to host a new event designed to help military veterans take the next step in their professional careers.
The Veteran Networking with General Electric event will be held from 2-5 p.m. on Friday, Oct. 25, in Walters Hall, Room 100, on the UC Blue Ash campus. It is free and open to all military veterans who are currently enrolled in a college or university, regardless of whether they attend UC.
The event will include an opportunity for veterans to meet with members of the GE Aviation talent acquisition team, have their resume reviewed, and attend a presentation about filing claims with Veterans Affairs.
Josh Monson, veteran affairs coordinator for UC Blue Ash, says the goal is to help current veteran students make connections with a highly-respected organization like GE Aviation while learning more about how to network and interview for a job opening.
"We know that veterans provide a variety of the skills employers seek, but they often struggle to share that effectively on their resume, which may cause them to be overlooked," says Monson. "Companies like GE Aviation recognize this and are proactive in their efforts to seek out such talent."
This the first time the college has offered an event like this and opened it to student veterans outside UC. For GE Aviation, it's a perfect fit.
"This is a great opportunity to work with UC Blue Ash and help veterans currently attending college feel like the community is here to support them," says Mike Noel, strategic repair initiatives leader for GE Aviation. "College can be challenging enough as a veteran who may be returning to school for the first time in several years. We want to be there for them as they take that next step and plan for their professional career."
UC Blue Ash has just under 300 military veterans on its campus. They have access to a student veteran lounge and can receive guidance on taking advantage of the benefits from the GI Bill that they earned through their military service. The veteran students at UC Blue Ash are part of a growing military-connected population that includes 2,235 students across the University of Cincinnati.
Any veterans who are currently enrolled in a college or university and are interested in attending the event should register in advance online.  
About GE AVIATION
GE Aviation, an operating unit of GE (NYSE: GE), is a world-leading provider of jet and turboprop engines, components, integrated digital, avionics, electrical power and mechanical systems for commercial, military, business and general aviation aircraft. GE Aviation has a global service network to support these offerings and is part of the world's Digital Industrial Company with software-defined machines and solutions that are connected, responsive and predictive. For more information, visit us online. Follow GE Aviation on Twitter and YouTube .
About UC Blue Ash College
UC Blue Ash College is a regional college within the University of Cincinnati. It offers one of the best values in higher education with access to a nationally recognized UC education in more than 50 degree and certificate programs, as well as tuition that is about half of most colleges and universities. The college is located on a scenic 135-acre wooded campus in the heart of Blue Ash, Ohio. To learn more, call 513-745-5600, visit us online, like us on Facebook or follow us on Twitter and Instagram.
1
WVXU to re-broadcast CCM Radio Theatre plays on Tuesday, Dec. 27
December 6, 2022
Cincinnati Public Radio and the University of Cincinnati College-Conservatory of Music (CCM) have named UC alumnus Cedric Rose winner of the inaugural CCM Radio Theatre playwright competition. The top three winners will receive a cash prize for their work and have their play produced by CCM for broadcast on 91.7 WVXU-FM in spring 2022.
2
Forbes: Parents of color more hesitant to choose medication to...
December 6, 2022
Forbes highlighted research from the University of Cincinnati's Jeffrey Mills and Jeffrey Strawn examining factors behind the decision to begin or decline medication treatment for childhood anxiety disorders after cognitive behavioral therapy did not lead to improvement.
3
Nearly 1,000 overdoses reversed using naloxone distributed...
December 6, 2022
The University of Cincinnati's Daniel Arendt has published new research that shows a self-service vending machine filled with harm reduction supplies such as naloxone helped prevent overdoses and contributed to Hamilton County's overdose deaths decreasing in 2021.
Debug
Query for this