UC professor tackles heart disease in the lab and community
Red Saree reaches out to South Asian community to make a difference
It's no secret that genetics, family history and ethnicity can play a role in heart disease. Sakthivel Sadayappan, a professor at the University of Cincinnati's College of Medicine, has spent more than two decades examining that complex tie and discovering a genetic variant that predisposes people of South Asian descent to hypertrophic cardiomyopathy, commonly known as an enlarged heart.
He's been on a quest to advance our understanding of the role a protein in humans, variant myosin binding protein-C, plays in maintaining normal cardiac function and cardio protection during heart attacks, as well as the development of enlarged hearts and an injury which occurs when blood reenters tissues of the heart deprived of oxygen for a period of time, called ischemia-reperfusion.
While collecting saliva samples for genetic screening among South Asians, Sadayappan found more education and awareness about heart disease and self-care was needed, whether meeting communities in Boston, Chicago or Cincinnati. People of South Asian descent are typically from India, Pakistan, Sri Lanka, Bangladesh, Nepal and Bhutan.
"South Asians in the United States are four times more likely to develop cardiovascular disease than the general population," said Sadayappan. "As a scientist I began to ask, 'How can I promote this so they can be aware of the dangers of heart disease and can benefit through preventive action?'"
That concern led to the formation of Red Saree, a nonprofit organization founded by Sadayappan to advance a healthier lifestyle for South Asians in the U.S. and beyond through outreach activities. Red Saree holds training sessions on CPR, blood pressure measurements, yoga and meditation and group exercise along with hosting healthy cooking seminars. The organization also plans to host health care screenings for insulin-resistance diabetes, blood fat levels, obesity, hypertension and atherosclerosis. It will offer  electrocardiograms to test the electrical circuitry of the heart.
"We want to positively impact health care management, lifestyle choices and quality of life of South Asians," said Sadayappan, who is also director of the Heart Branch of the UC Heart, Lung and Vascular Institute.

Red Saree is celebrating its first year and now has chapters in other regions outside of the Queen City including Akron, Ohio; Birmingham, Alabama; Boston; Detroit and Chicago. Sadayappan's work demonstrates his commitment to community impact, an important pillar in UC's strategic direction Next Lives Here.

Sadayappan spearheaded the first Red Saree chapter here in Cincinnati and now he serves as a consultant, while Rama Kasturi is the organization's current president. Kasturi, a Clifton neighborhood resident, said Saddayappan's name choice for the organization has cultural significance.
"The color red in the South Asian world signifies happiness and celebration," said Kasturi. "Red is the color of marriage and the color of good health. A married woman whose husband is alive wears the vermilion or red mark on her forehead to signify this. In contrast, in old Indian, when a woman became a widow she wore white, the color of death."
Kasturi said women are often considered the gateway into a South Asian family. 
"The name Red Saree also connects and resonates with women being the keeper of the hearth. Women lay the foundation for a family's health and wellbeing by preparing the meals for the family," said Kasturi. "The way to an Indian man's heart and an Indian woman's family, it is said, is through their stomachs. Indian women play a key role in keeping the family going."
"As the health and wellness of a family typically rests in the hands of the mother, it is important to educate women," said Kasturi. "The mother is pivotal in a South Asian family when it comes to driving change, and you can educate and change the habits of the entire family through her."
Kasturi, a former professor of pharmacology at UC and a breast cancer survivor, says Red Saree has raised funds to further two pilot projects. One looks at creating a patient database that includes genetic samples, family history and other health information, while another pilot project will work with 20 families to examine a traditional South Asian diet to determine practices to improve health and prevent heart disease.
"Our goal is to allow whatever information is gathered here to be disseminated throughout the world to make life better for all South Asians," said Kasturi. "We have to start from somewhere. I am grateful for this opportunity to help improve the overall health of my community."
Sadayappan said Red Saree held an event in May that was well supported by the South Asian community in Greater Cincinnati. Cardiologists from area health systems, including physician-faculty at UC, offered their expertise about heart disease and its impact on the South Asian community.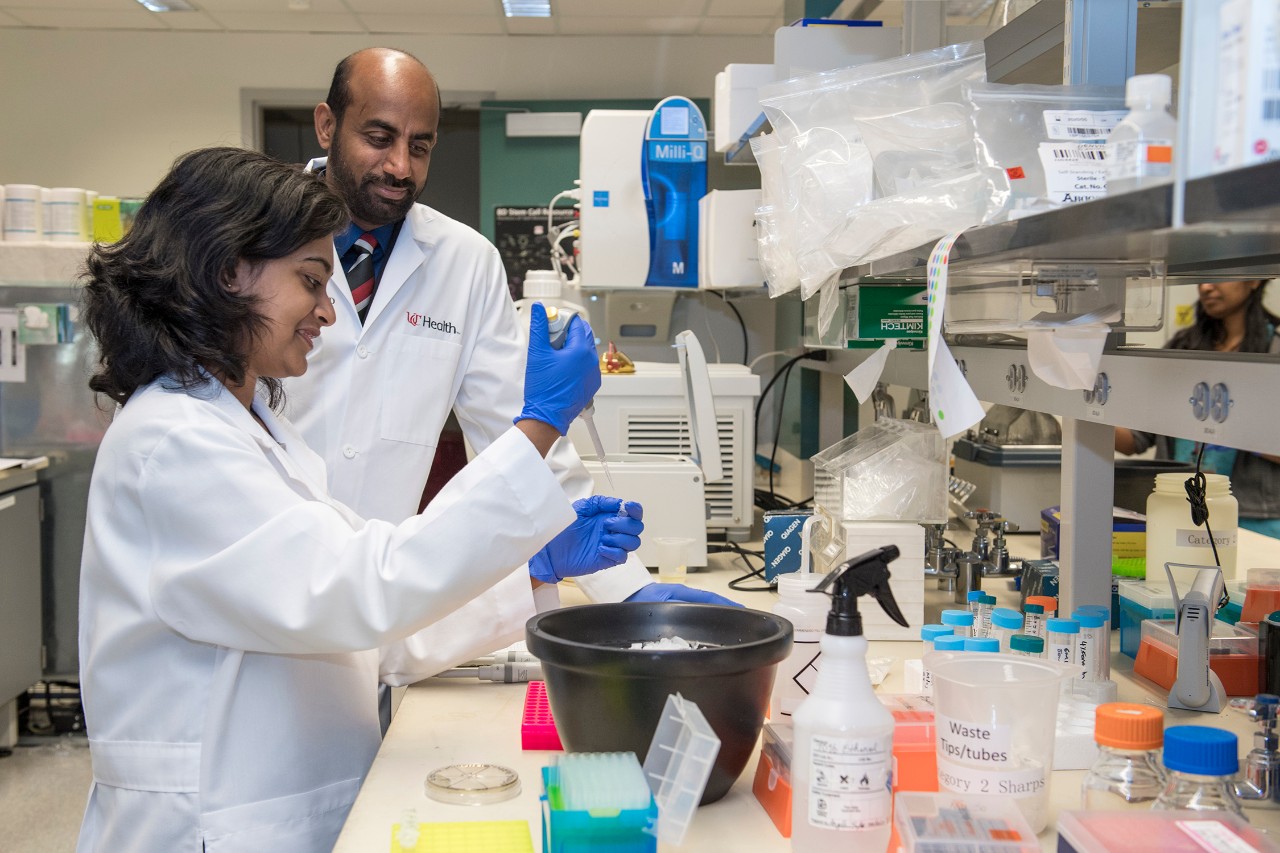 "I think Dr. Sadayappan's pioneering research will make a significant impact," said Dr. Deeptankar DeMazumder, assistant professor in the UC Division of Cardiovascular Health and Disease and UC Health cardiologist. "Very little is known about hypertrophic cardiomyopathy in general."
"The majority of studies have conventionally been done on Caucasian males, and much less is known about the impact of gender and race on disease development and progression," said DeMazumder. "We know that race is an important factor and we need studies like this to get this information out there. There are ways to more effectively treat or prevent cardiomyopathy when diagnosed early, but when causes are genetic, the effects can be variable and less apparent until you develop full blown disease."
"Certainly, we can not rigorously test everybody's hearts continuously," said DeMazumder. "By the time your heart is thick, you already have the disease and you don't really suspect it. What is it about being South Asian that predisposes you to this? That is the missing link, the information we don't have. I think this study will contribute important information in that regard while also increasing awareness in the community. In the future we can use that to screen people at high risk just as we do now for some of the other causes of heart failure or heart disease."
Sadayappan has spent more than 20 years unlocking the science behind hypertrophic cardiomyopathy, but his latest effort to reach the community seems just as important. 
"As a scientist at the end of the day I want to take whatever I do in my lab and benefit my community," said Sadayppan. "Otherwise, what I do is not valuable. This is translational research and Red Saree is what I am giving back to the community.  We have to give medicine, treatment, knowledge or consultation to make a difference."
Dr. Deepak Krishnan, associate professor of surgery at UC and part of an advisory board for Red Saree, offered kudos to Sadayappan for his work with Red Saree.

"What he has done is he has identified community leaders in Cincinnati who are from different regions of India, speak different languages and have different traditions, to take the message forward that we are at increased risk of cardiovascular-related death," said Krishnan, a UC Health surgeon. "We learn from him and we spread that knowledge."
The challenge is to keep that message from getting lost in the hussel and bussel of everyday life.
"Being an educator and a surgeon and care provider I feel I have the moral responsibility to spread the word to my peers," said Krishnan. "You have to make a lot of noise to be heard when so many are trying to live the immigrant life and succeed in an adopted community."
"The one thing I can't change is my genes," said Krishnan.  "In order to stay ahead of the game we have to adapt our lifestyles through exercise, diet and stress management."
Photo illustration features members of the group Red Saree as lead art. Presentation by Colleen Kelley/UC Creative Services. Shown in the photo illustration from left to right are Aradhana Valecha, Bhuvaneswari Sakthivel, Latha Samu, Rama Kasturi, Preeti Bansal Kshirsagar, Subhadra Suresh, Kani Palanikumar and Abitha Sukumaran. 

UC makes a difference in our community, nation and world

Faculty and students at the University of Cincinnati are leaders in scientific discovery and in ways to improve human health. As part of the university's strategic direction Next Lives Here, UC faculty and students maintain an innovation agenda and make an impact in urban areas and around the globe.
1
National media highlight newest US World Heritage site
November 28, 2023
For nearly two decades, professor emeritus John Hancock helped lead a team of archaeologists, historians and Native American scholars, including staff at the National Park Service and Ohio History Connection, to have the Hopewell earthworks recognized on par with other World Heritage sites such as the Great Wall of China and Stonehenge.
Debug
Query for this