International media: UC archaeology discovery in Greece goes global
Artifacts found in Bronze Age tombs could shed new light on ancient Greece
The discovery of two Bronze Age tombs by University of Cincinnati archaeologists in Pylos, Greece, is making international headlines.

Sharon Stocker and Jack Davis made the startling find last year while working near the tomb of the Griffin Warrior, a military leader who was buried with armor, weapons, jewelry and a plaque featuring the mythological griffin. Their 2015 discovery is considered one of the most significant finds of Mediterranean archaeology in two generations.
While continuing their investigation of the Griffin Warrior last year, they uncovered two gold-lined "princely" tombs that contain artifacts that promise to shed new light on daily life, politics and the economy of ancient Greece. They announced their discovery on Tuesday in Greece.
The U.S. Embassy in Athens, Greece, shared the news on Twitter as did the Greek Embassy in New York.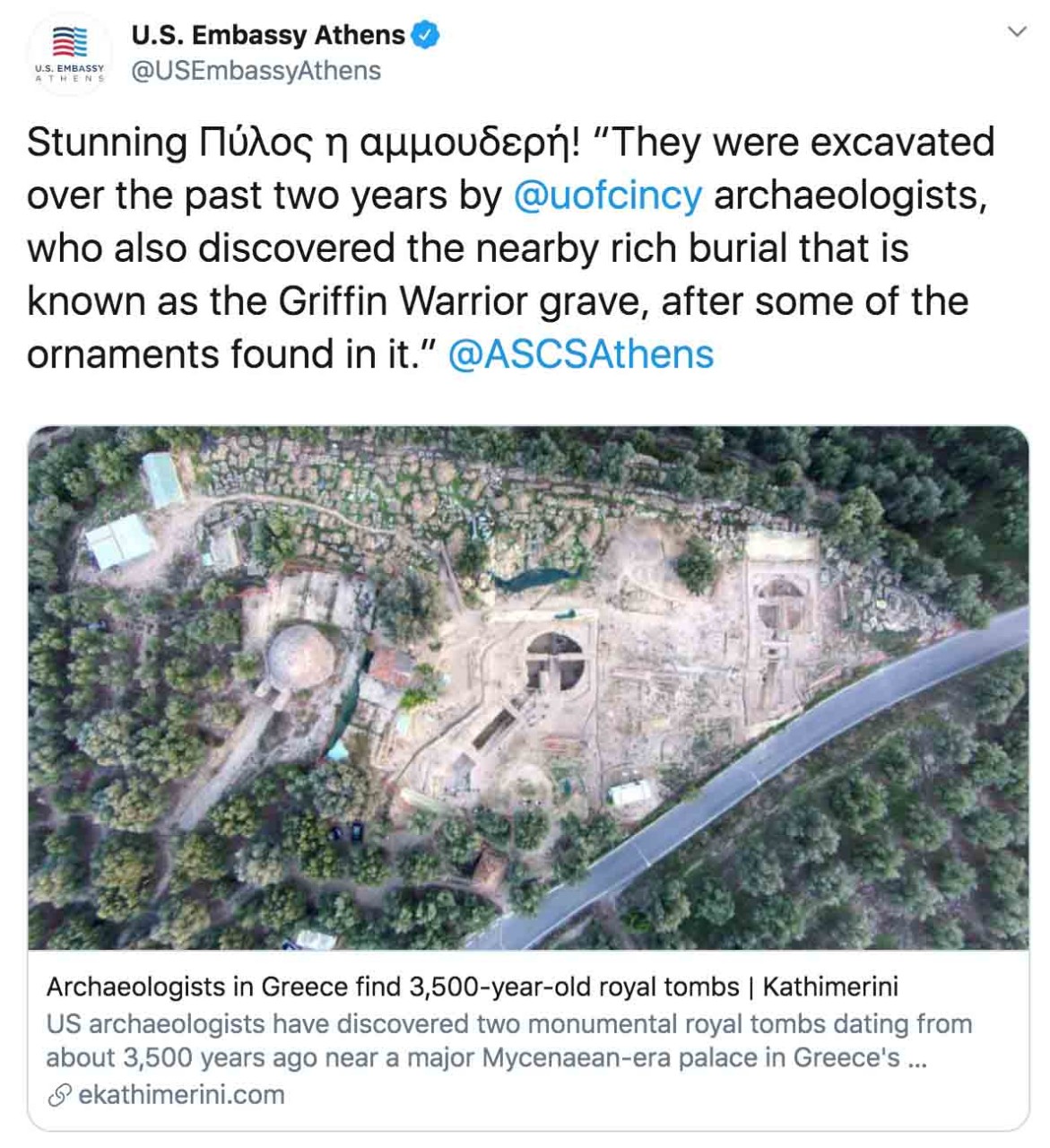 Stocker returned to UC this week from Greece where she spent 18 months supervising the arduous excavation. She spoke with Cincinnati's WKRC-Local 12 about the significance of the discovery.
"It's thrilling to uncover the past and think about the people who lived at the site, what they must have seen and felt. There are many things that are exciting about it," Stocker told Local 12.

The announcement of the discovery made big headlines around the world.
The New York Times wrote about the flakes of gold found in the tombs that suggest their floors were covered in gold leaf.

Smithsonian said the foreign treasures found in the tombs, including a gold pendant featuring the Egyptian goddess Hathor, "suggest the ancient residents of Pylos were more interconnected with other parts of the world, including Egypt and the Near East, than previously thought." 
CNN spoke about the wealth and status of the families in the tombs.
"It has been 50 years since any substantial tombs of this sort have been found at any Bronze Age palatial site. That makes this extraordinary," Davis, head of UC's Classics Department, told CNN.
Newsweek talked of the family tombs' connection to the Palace of Nestor and its association with Homer's "Iliad" and "Odyssey."
The Associated Press wrote of the significance of this period to world history and culture.
"The Mycenaean era, between roughly 1650-1100 B.C., provided the material for many of the myths and legends of ancient Greece, including that of the Trojan War," the AP wrote. "All three graves, together with another tholos tomb found nearby decades ago (by the late UC Classics professor Carl Blegen), were built earlier than the sprawling palace whose ruins lie close by, and which features in Homer's "Odyssey" as the seat of the wise King Nestor."
UC discovery makes international news
Featured image at top: UC archaeologists found a gold pendant in the family tombs at Pylos featuring the likeness of Hathor, an Egyptian goddess who was a protector of the dead. Photo/Vanessa Muro/UC Classics