UC Venture Lab's latest grads include Xavier students
The University of Cincinnati's accelerator program now has 16 startups moving forward
On the basketball court, Xavier University and the University of Cincinnati are bitter rivals. But when it comes to developing new business ideas, it's "all for one and one for all."
The XU undergraduate tandem of Michael Arens and David Constantine are the first non-UC team to graduate from UC's Venture Lab pre-accelerator program. Their business concept, the Ocean Rover Cleaning Apparatus (ORCA), is focused on solving the growing problem of oceanic plastic pollution. The ORCA prototype they built, an autonomous, solar-powered 60-by-60-by-20-foot boat with a trash-collecting conveyor belt built into the front, is designed to collect floating plastic debris.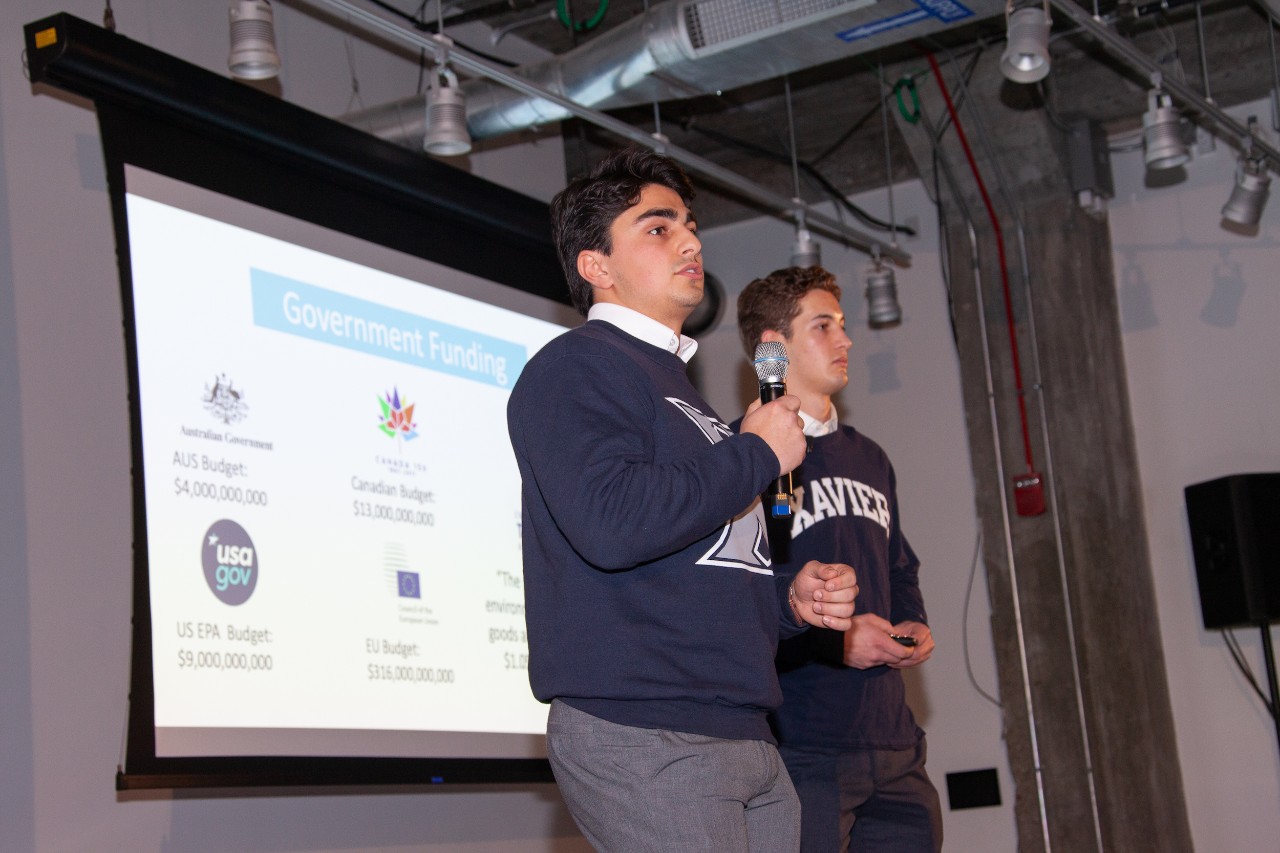 Last month in a joint release, UC, XU, the University of Dayton, Wright State Community College and Cincinnati State Technical and Community College announced a multi-university partnership in which UC's Venture Lab would open its doors to teams from its partner institutions. ORCA piloted the partnership in the pre-accelerator's eighth cohort.
"This is a really big deal for this region," said Jason Heikenfeld, vice president of operations with UC's Office of Innovation. 
The university's innovation agenda is a major component of its strategic direction, Next Lives Here.
UC saw a 400% increase in the number of startups being formed based on UC-owned intellectual property between Venture Lab's 2018 founding and the end of the UC fiscal year on June 30, 2019, and a 1,000% increase from then to present. Heikenfeld said the multi-university partnership would further accelerate Venture Lab's momentum. 
"It's going to build a density of startups that's going to attract more talent and capital than ever before," Heikenfeld said. 
The Venture Lab pre-accelerator's ninth cohort begins March 3, with graduation day set for April 21. 
The majority of Venture Lab pre-accelerator graduates are not yet startups, as they are still in need of resources and expertise to reach the phase where they're ready for the program's second-phase accelerator. The pre-accelerator's eighth cohort had one exception among its graduates: Bailout Systems.
Founded by Michael Ragsdale, a U.S. Navy veteran and graduate of the UC College of Design, Architecture, Art, and Planning, Bailout Systems draws inspiration from the 2005 Black Sunday incident in New York City, during which six firefighters were forced to jump from the fourth floor of a burning building. Only four survived, all of whom sustained life-altering injuries.
At about the size of a hockey puck, Ragsdale's product is billed as "the smallest hands-free vertical descent device ever created." Other devices take longer to use and require specialized gloves to control descent speed, he explained, describing the Bailout device as "Batman meets James Bond." 
Ragsdale says he's already got 4,000 orders for his device, which still must undergo certification testing. He's confident it will pass, though. And the interest isn't limited to the firefighting profession — Ragsdale will meet with U.S. Special Operations Command in the near future to discuss Bailout's military applications. 
Datirium, a scientific data analysis platform to accelerate the pace of science by shortening the time needed to generate experiment results;

MOX, a proprietary, wireless, portable container to heat foods or liquids to a comfortable temperature without need for wires, plugs or exothermic reactions;

Alinea IQ, an integrated billing software solution for hospitals and large healthcare providers; 

Noninvasive Exosome Cancer Biopsy Device, which reduces the required sample volume and detection time while enhancing sensitivity to early-stage cancer;

Video Event Software Platform, an automated system for the creation of video summaries that can create the highlight reel from a lengthy collection of raw video;

Metabolic Antidote Release, a proprietary Narcan release system which responds to an individual's metabolic rate to prevent over- and under-dosing of opioid antidote;

Ladder Outrigger Base Support, a ladder base for extension ladders that creates a stable level base for ladders regardless of surface or grade;

Digital EKG Monitor, which more efficiently and effectively identifies cardiovascular arrhythmias. 

Featured image: Tom Ries, a staff member with UC Facility Services, shows off a prototype of his Ladder Outrigger Base Support. Photo/Ravenna Rutledge/UC Creative Services
Innovation Lives Here
The University of Cincinnati, classified as a Research 1 institution by the Carnegie Commission, is ranked in the National Science Foundation's Top-40 public research universities and secured a spot on Reuter's World's Most Innovative Universities list. UC's students and faculty investigate problems and innovate solutions with real-world impact. Next Lives Here.