UC CECH honors namesake during Women's History Month
Unsung hero Elizabeth Dyer created history at the University of Cincinnati
In honor of Women's History Month, the College of Education, Criminal Justice, and Human Service honors the life of Elizabeth Dyer and all of her successes.
In 1922, Dyer attended Dickinson College, where she became a member of the Delta chapter of Chi Omega. She later attended Vassar College in Poughkeepsie, New York. While at Vassar, she served as the eighth national president of Chi Omega. Dyer was elected national vice-president of the National Achievement Award in 1936.
From 1952-1965, Dyer served as chairman of the National Panhellenic Conference (NPC). She shared many of her talents within her two years of leadership, such as her seeing conflicts through a bigger picture, and provided a strong sense of direction as well as being able to provide a grasp of complex situations.
"She knew how to navigate the turbulent times of the 1960s with dignity and grace."
Jean Mrasek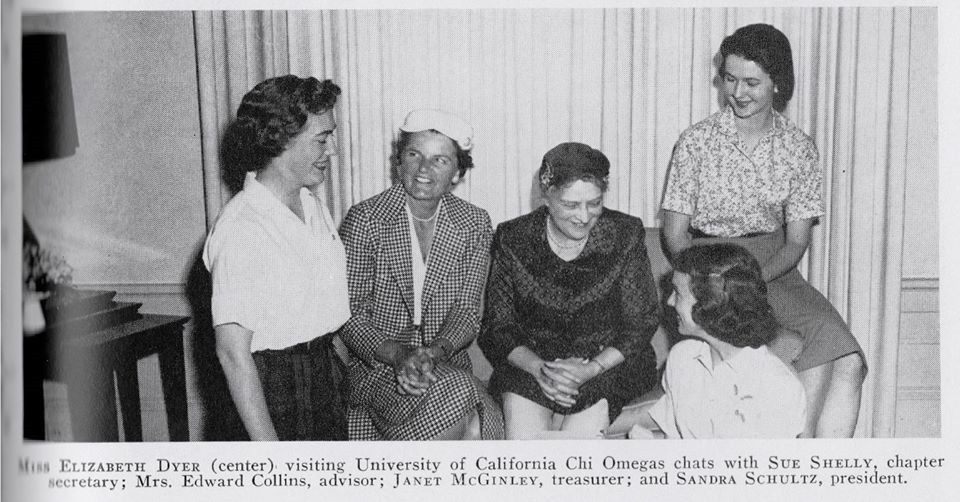 She then completed graduate work at Simmons College in Boston while completing personnel work at the Price School. Later, she became a professor at the Carnegie Institute of Technology and at New York University where she taught retail training. After her work at Carnegie, she founded the School of Household Administration at the University of Cincinnati. She was then named dean of the College of Home Economics, a position she held for 28 years.
Complementing her presidency, Dyer served as a leader from 1952-1970. Within her 18 years of leadership, she not only demonstrated respect for others, but others demonstrated respect for her. In 1953, she received an honorary degree of doctor of science from UC. The university designated the home economics building as Dyer Hall to further honor her accomplishments. In 1970, the "Elizabeth Dyer Scholarship" was created by the Consumer's Conference of Greater Cincinnati for UC students.
Aside from her efforts at UC, Dyer remained an active member of the Cincinnati community. She served on the Cincinnati Board of Education and the Board of Consumer Conference of Greater Cincinnati, worked as a chairman of the committee standards for the licensing code for day care centers and nursery groups, and was a member of the Citizens Advisory Committee and the Cincinnati Dietetics Association.
Although Dyer retired before the peak of the women's liberation movement, she always reminded herself of her goal to advocate for women. She believed that women could be successful on their own, in any career field, while still being able to provide for their families. She believed that women had a purpose beyond that of motherhood. 
"She was rather progressive in seeing that women could have their own lives." Margaret Lyon
Margaret Lyon
Serving as Chi Omega's president long before the political rage in the 1960s and early 1970s provided Dyer experience in handling women's issues decades in advance. Dyer's  leadership in Chi Omega was described early on as an expression of "radiant personal charm and intelligence." She strongly valued education for all women.  
Dyer was thoughtful, diplomatic and well respected was how she was viewed by many of her Chi Omega sisters. She is one of four Chi Omegas to have ever served as NPC Chairman alongside Jobelle Holcombe, Mary Love Collins, and Jean Mrasek. The four women and their husbands were invited to the 1964 Miss America Pageant.
In 1972, Dyer moved to the Marjorie P. Lee Retirement Community in Hyde Park. She died  on Wednesday, May 24, 1989, at the age of 98. UC's Teachers-Dyer Complex is named after her in honor of her work within the university.

Dyer's legacy of advocating for experiential education, as well as individual success and freedom for women, lives on not only through the university, but through many Chi Omega chapters across the nation.
Dyer's resilience and position of women being valued in the workplace, transcends throughout CECH to this day. The staff and faculty within CECH are composed of many backgrounds and ethnicities. The diversity extends into the leadership where women are often major players in college and university-wide life changing initiatives.
The women in leadership positions at CECH has created scholarships that serves the general student population such as the CECH Transfer Scholarship and the Forever Bearcat Scholarship. These groups champion CPS Strong, a key part of UC's strategic direction "Next Lives Here," by working with Cincinnati Public School officials to achieve educational transformation and positively impact the future of our university and our city.

CECH has been acknowledged for its award-winning Student Services Center that serves as a model for student advising, which is stewarded by a leadership team of men and women.
Dyer's education work and passion for young children can be seen through the Arlitt Center for Education, Research, & Sustainability, which is a five star "Step Up to Quality" learning center that is open to the residents of Cincinnati. The School of Education also reopened the Clifton Neighborhood School located on Clifton Avenue giving the Clifton neighborhood an official elementary school for grades K-2, adding an additional grade each year.
The tone and expectation that Dyer has created continues to thrive and remain relevant within the initiatives, programs, and strategies that UC staff and senior leadership continue to develop today and in the future.

2
UC Ground Floor Makerspace offers summer intensive for K-12...
June 2, 2023
The University of Cincinnati Ground Floor Makerspace and the Greater Cincinnati STEM Collaborative (GCSC) are piloting a professional development opportunity for K-12 STEAM teachers in the greater Cincinnati region. The Makerspace Intensive will take place June 5-16 weekdays in the 1819 Innovation Hub, 2900 Reading Road in Cincinnati.
3
WVXU: Companies are losing ground on DEI efforts
June 2, 2023
Littisha Bates is a featured guest on WVXU's Cincinnati Edition to discuss the topic of diversity, equity and inclusion (DEI) in the workplace. Bates is UC's associate dean for inclusive excellence and community partnerships.
Debug
Query for this