UC Faculty Awards 2020: David Askew
College of Medicine awardee honored with the A.B. Dolly Cohen Award for Excellence in Teaching
David Askew was described by one former student as "lively, chipper, cunning and playful" when making presentations before undergrads and grad students in the UC College of Medicine. The professor of pathology and laboratory medicine knows "how to read a room to use his deep personality to keep the room engaged, actively participating and alert," the student noted. "His charisma and intense effort allowed him to seamlessly connect to students half his age and create an environment where everyone felt heard, safe, accepted and accounted for."
It is no surprise that Askew is a standout for excellent teaching. During his 26-year tenure at UC, Askew has not only been named Graduate Teacher of the Year eight times, but he has also received the Richard Akeson Award for Excellence in Graduate Education and is a past recipient of the Optime Magistrum (best teacher) award for his work with medical students. Askew says he has a deep love for teaching and a willingness to constantly keep bringing new methods and styles into his classroom.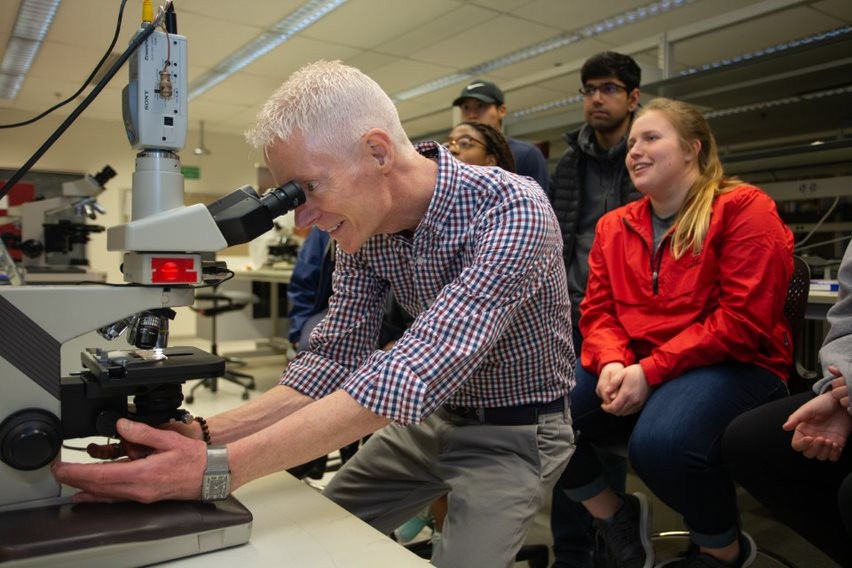 He draws inspiration from a term in biology known as "hybrid vigor." It is used to counter flaws that occur in animals that are inbred and become very homogeneous. "It is that combination of genes that provides variation and it strengthens the animal," explains Askew. "If you get a mutt that is crossed they tend to live longer and they are healthier. You have created genetic variation. In teaching there is a lot of emphasis on people subscribing to a specific teaching philosophy. 'This is the way it should be done or that is the way it should be done.' My philosophy is the hybrid approach is the best way. It brings in different ideas and it messes things up, but it keeps students engaged. They are not bored with monotony."
Askew says didactic lectures still have a place for his students, but so does "flipped learning," which allows students to learn material independently and then discuss and expand their findings in a classroom setting. Undergrads and grad students are seen as collaborators who bring their unique learning and teaching styles to Askew's classroom.
"If your approach is that they do have ideas that are relevant and they can help me improve, I think that is fantastic," says Askew. Teaching assistants in Askew's classroom are more than surrogate instructors: they evaluate their professor, offer thoughts about what worked and didn't and suggest alternative methods of learning. "It has helped me improve and the students learn," says Askew. "As long as you have the humility to accept that undergraduates and graduate students have really good ideas, it's a win for everyone."
Featured image at top: David Askew, professor in the UC Department of Pathology and Laboratory Medicine in the College of Medicine. Photo/Colleen Kelley/UC Creative + Brand.
UC Faculty Awards
UC is saluting the 16 winners of our 2020 All-University Faculty Awards in a three-part series in UC News weekly through April 22. Beginning April 23, all winners will also be showcased on the Faculty Awards website.