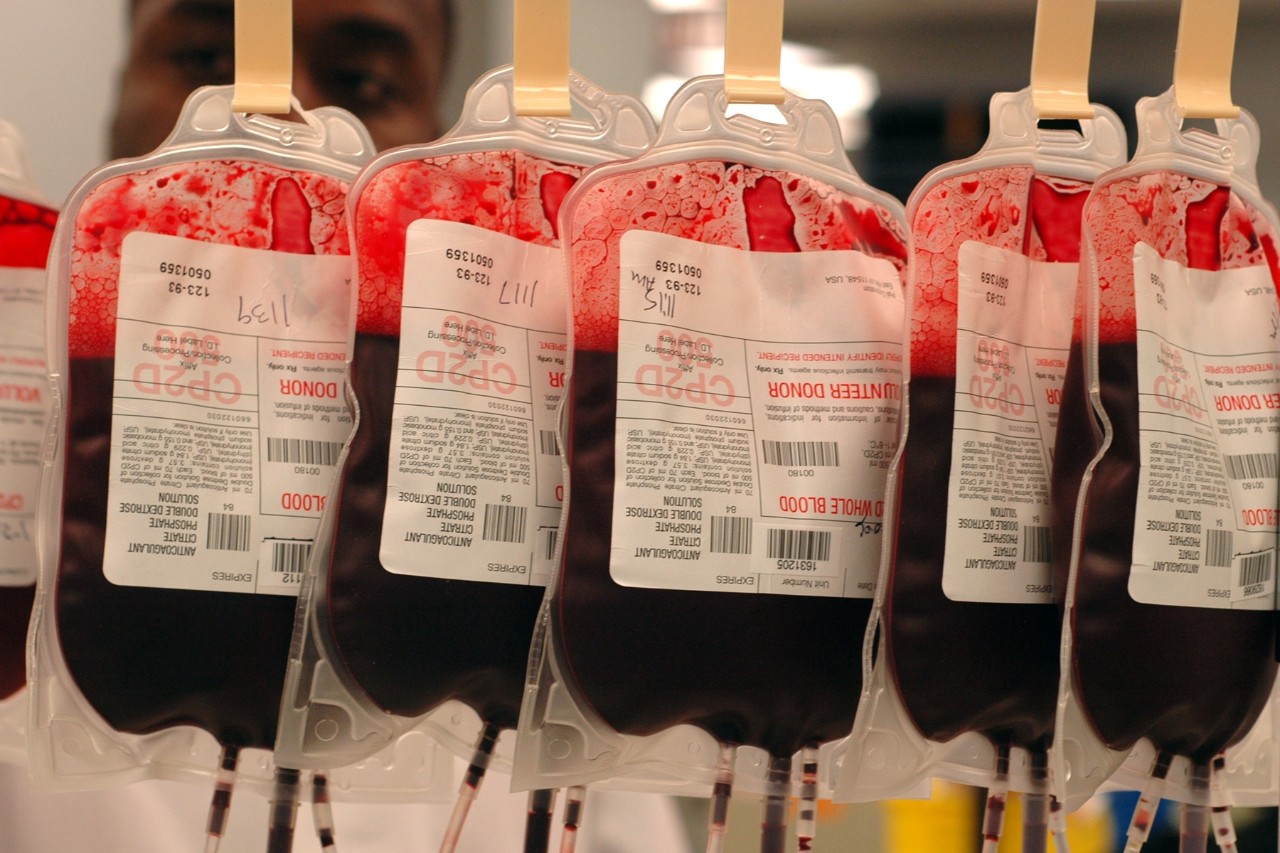 UC, UC Health to examine potential COVID-19 treatment
Protocol allows expanded access to convalescent plasma for the sickest patients
The University of Cincinnati College of Medicine and UC Health are continuing their efforts in fighting the spread of the coronavirus by activating as a site to follow a research protocol from the Mayo Clinic to take "convalescent plasma," or plasma obtained from those who have recovered from the virus, and administer it to the sickest patients with COVID-19.
On March 24, the U.S. Food and Drug Administration began allowing researchers to request emergency authorization for the use of convalescent plasma which shows potential as a treatment for the disease.
"In initial cases, patients with severe COVID-19 who have been treated with convalescent plasma have shown improvement, but more research is needed," says Dr. Moises Huaman, assistant professor in the Division of Infectious Diseases in the Department of Internal Medicine at the UC College of Medicine, a UC health physician and the local principal investigator on this protocol. "With no other approved treatment options currently available, this therapy is worth exploring, especially for the sickest COVID-19 patients."
Convalescent plasma is obtained from people who have recovered from COVID-19 and have been free of symptoms for 28 days. This program may allow access to that plasma for hospitalized patients infected with the novel coronavirus who have severe or life-threatening COVID-19, or who may be at high risk for progression to severe or life-threatening disease. Once they have registered and given informed consent, patients may receive one unit of convalescent plasma obtained from an individual who has recovered from a proven case of infection with the coronavirus.
The research is just one prime example of the university's commitment to urban impact, one of the pillars of UC's strategic direction, Next Lives Here.
UC and UC Health are among hundreds of universities and academic health systems across the nation to register with the research protocol from the Mayo Clinic, an American not-for-profit academic medical center based in Rochester, Minnesota. Working collaboratively with academic, government and industry partners, the Mayo Clinic is serving as the lead institution for the national program, called "Expanded Access to Convalescent Plasma for the Treatment of Patients with COVID-19," to collect and provide convalescent plasma to patients in need across the country. According to the Mayo Clinic, people who recover from COVID-19 do so, at least in part, because their blood contains antibodies which are capable of fighting the virus that causes the illness. Participating in a national, multicenter protocol will allow for analysis of many participants who receive plasma to help determine if this treatment is safe and effective, according to UC's Huaman.
He adds that the use of convalescent therapy dates back to the 1890s. Convalescent plasma has been used to prevent and/or treat a wide range of diseases including measles, SARS, Ebola, H1N1 flu and polio. Patients with COVID-19 may improve faster if they receive plasma from those who have recovered from COVID-19 because it may have the ability to fight the virus that causes it.
"UC and UC Health are at the forefront of finding solutions for this pandemic," says Dr. Brett Kissela, the Albert Barnes Voorheis chair and professor of the UC Department of Neurology and Rehabilitation Medicine, senior associate dean for clinical research at the UC College of Medicine and chief of research services for UC Health. "With the research and clinical expertise present at our academic health system, we are working to find and expedite treatments for this virus and improve lives of those who are affected in our community and beyond. This protocol is only one way we are making strides as we continue working together to find ways to eradicate this."

UC and UC Health are also part of the National COVID-19 Convalescent Plasma Project (CCPP19), a group of physicians and scientists from 57 institutions in 46 states who have self-organized for the purpose of investigating the use of convalescent plasma in the current COVID-19 pandemic.
Huaman also says participation in this process presents the potential for additional research opportunities around COVID-19.
"The length of this project will depend on other parallel clinical trials that are looking at whether this strategy or other strategies are effective or not," says Huaman. "As we gain more knowledge of what actually works, we will be able to determine the long-term usefulness of convalescent plasma. If in the future, through clinical trials, we find out that convalescent plasma or other treatments are beneficial, then they may become routine clinical practice for COVID-19 patients."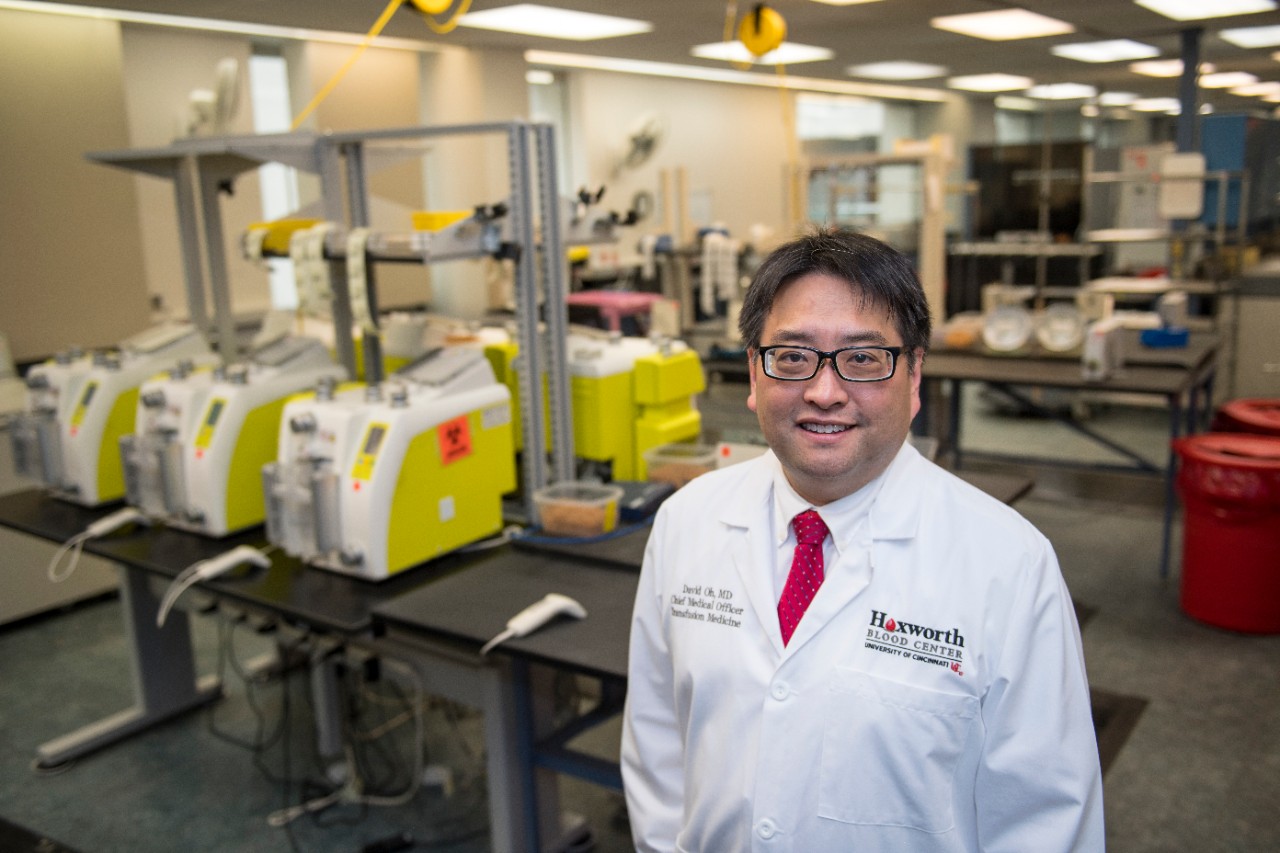 As part of the Mayo Clinic protocol, UC and UC Health will be working with Cincinnati's Hoxworth Blood Center to obtain the convalescent plasma from eligible donors. Access to it through this program will depend on the availability of convalescent plasma and donors.
"The mission of Hoxworth Blood Center is to save lives in the community," says Dr. David Oh, medical director for Hoxworth Blood Center. "The trial involving convalescent plasma therapy for critically ill COVID-19 patients is an extension of our mission."
Hoxworth Blood Center is seeking individuals who:
Have recovered from a documented infection of COVID-19 and have been symptom-free for at least 28 days.

Believe they had COVID-19. The product will be tested for antibodies following donation. If your plasma does not contain high levels of antibodies to COVID-19, it may be used to help save the lives of other patients.
If you tested positive for COVID-19, or believe you had COVID-19, and have been fully recovered for at least 28 days, please go to https://bit.ly/covid19plasma to fill out the eligibility form and get scheduled for a donation today. Appointments are required for donation.
If you are a physician, hospital representative or patient looking for more information, please email HoxCovid19@uc.edu.
Read more about Hoxworth's efforts around convalescent plasma here.
Media coverage of UC study
Impact Lives Here
The University of Cincinnati is leading public urban universities into a new era of innovation and impact. Our faculty, staff and students are saving lives, changing outcomes and bending the future in our city's direction. Next Lives Here.
Stay up on all UC's COVID-19 stories, read more #UCtheGood content, or take a UC virtual visit and begin picturing yourself at an institution that inspires incredible stories. 
1
Drugs.com: Lowering blood pressure after clot removal may not be...
September 22, 2023
Drugs.com and HealthDay highlighted University of Cincinnati research recently published in JAMA that found using blood pressure medications to lower the top number of blood pressure readings (systolic blood pressure) may not be safe or effective among people who have an acute ischemic stroke and undergo a successful mechanical clot removal.
2
UC and GE partner to introduce high schoolers to engineering
September 21, 2023
Rising 9th and 10th graders experienced a free, weeklong, immersive engineering camp at the University of Cincinnati as part of GE's Next Engineers program. Students completed hands-on engineering design challenges while being mentored by GE Aerospace volunteers, industry professionals and current College of Engineering and Applied Science (CEAS) students.
3
Know Stroke Podcast: UC expert discusses past, present and...
September 21, 2023
The University of Cincinnati's Joseph Broderick, MD, recently joined the Know Stroke Podcast to discuss the current state of stroke research, including the FASTEST trial he is leading to test a potential treatment for strokes caused by ruptured blood vessels in the brain.
Debug
Query for this