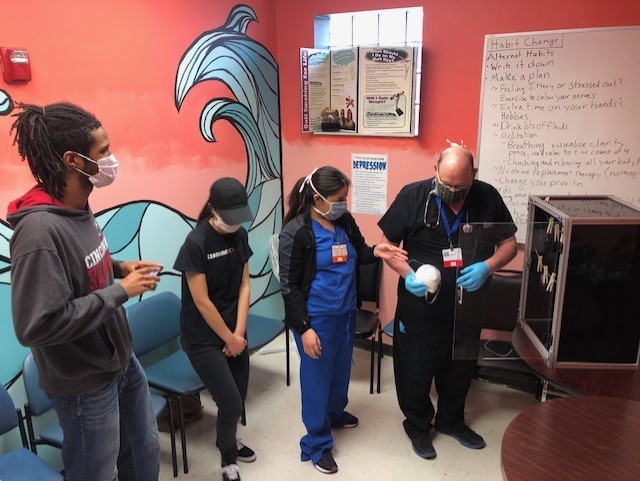 UC students create UV box to aid Crossroad Health Center in midst of COVID-19
Family medicine doctor reaches out to biomedical engineering professor and students
At first glance, it might be mistaken for a small wine cooler or dorm room refrigerator.
But Dis-Box is an ultraviolet box designed by a group of University of Cincinnati engineering students that may help extend use of personal protective equipment (PPE) for health care workers at Cincinnati's Crossroad Health Center.

Designed initially to help a community in Tanzania use a low-tech but effective means of disinfecting and maintaining medical devices, the UV box will now disinfect masks and N95 filtering facepiece respirators in short supply in the Tristate in the midst of the COVID-19 pandemic. It was created by three seniors, part of the UC Department of Biomedical Engineering's Medical Device Innovation & Entrepreneurship Program (MDIEP) — Allison-Joy Garbo, Kellen Crosby and Sepideh Shanehsaz.
The students worked on the project at the direction of Mary Beth Privitera, professor of biomedical engineering. Privitera holds a PhD in design from Loughborough University in the UK. She was contacted in late March by Dr. Christine O'Dea, associate professor of Family and Community Medicine at UC and medical director of Crossroad Health Center in Cincinnati, for assistance with ultraviolet light to decontaminate PPE. The connection was made, a promise was given and the MDIEP Bearcats delivered.

Crossroad Health Center has five locations including its headquarters in Over-the-Rhine and sees about 13,000 children and adults, largely serving a Medicaid population that struggles with access to health care. Privitera followed guidance from the University of Nebraska Medical Center and the Association for the Advancement of Medical Instrumentation (AAMI), which offered lots of technical advice, addressing questions such as whether ultraviolet light will degrade the surface of a medical mask. The University of Nebraska Medical Center recently got approval from the U.S. Food and Drug Administration to use this technique to extend the shelf life of PPE.

"Protecting health care workers, keeping them operations and functional in this time of need is of utmost importance," said Privitera. "In addition, the situation provided for opportune learning for MDIEP students."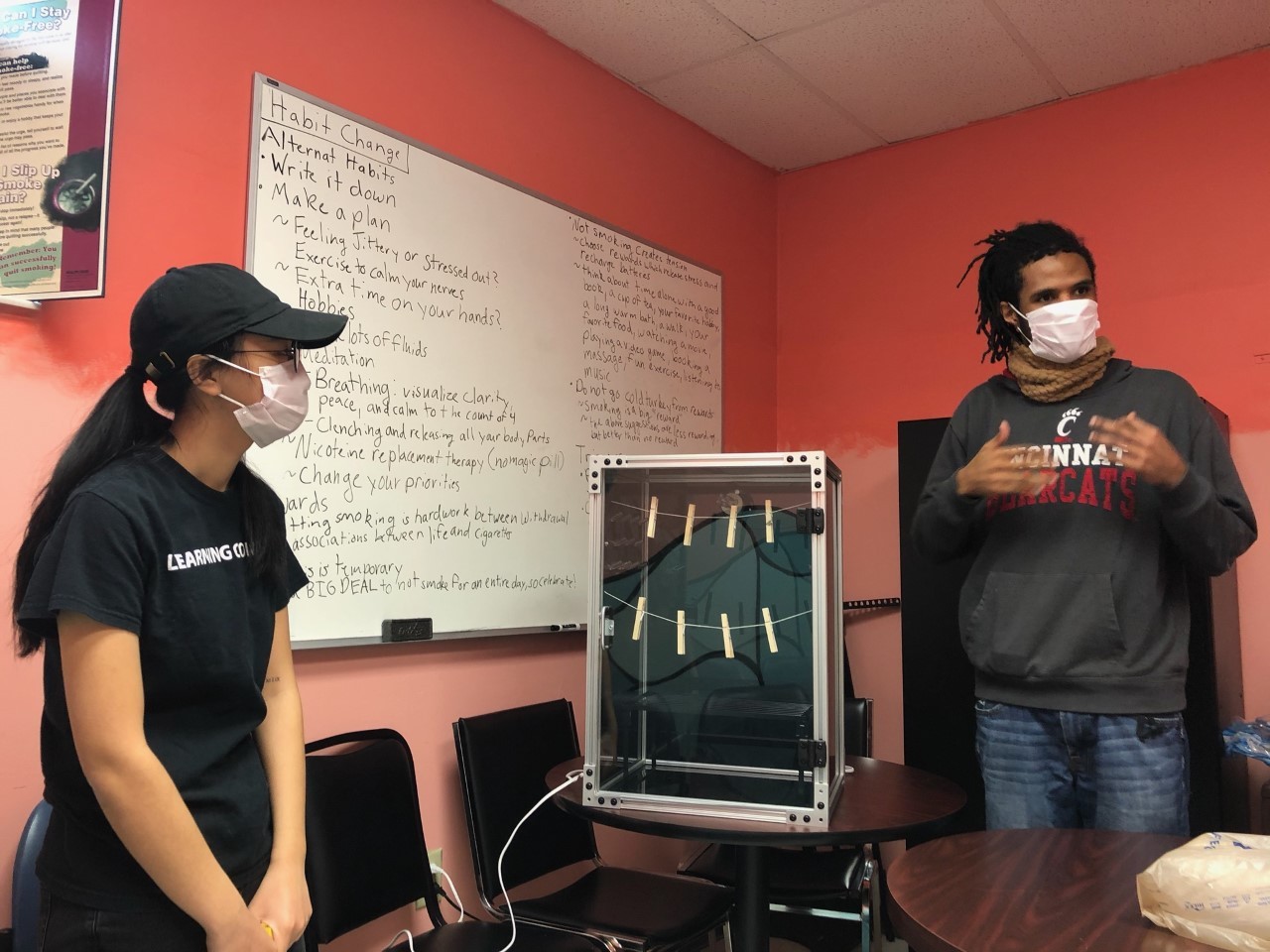 Her students designed a 3.8 cubic-foot UV box consisting of six walls of ¼ inch acrylic sheets, which were custom laser cut at the 1819 Innovation Hub. A T-slot framing system consists of aluminum while acrylic pegs adhered to side panels allow for easy hanging of N95 respirator masks in the UV box. A light bulb producing non-ozone UV-C light emits a wavelength of 254 nanometers, which works by destroying a microorganism's nucleic acid rendering bacteria and viruses inactive.
"Our specific UV Box can disinfect a surface in as little as 39 minutes," explains Garbo, one of the students who designed the structure. "The further an item is placed from the light, the longer it needs to be processed. With the N95 masks, they should be flipped after 39 minutes and processed again to ensure that all sides are disinfected."
Privitera said the students initially designed the UV box for Village Life Outreach to take to the Roche Health Center in rural Tanzania. That meant making sure the box could be readily assembled and disassembled and then shipped with ease. The Tanzanian community lacks many resources so every design detail was considered from the type of ultraviolet bulbs used to a detailed set of instructions for use.
"The size of the UV box was based on how Village Life Outreach stores medical devices in Tanzania," said Crosby, one of the students who created the UV box. "We designed panels so they are flat and used aluminum steel for framing to be deconstructed so they could be easily shipped like you were packing for a vacation."
This project arose out of the contextual inquiry research conducted by MDIEP students, Akiva Kirschner and Paige Sumser.  Their research expressed a need for better sterilization conditions at Roche Health Center upon returning from a trip there in August. Their firsthand experience provided essential context to the problem that helped their classmates design a realistic solution. Crosby, Garbo, and Shanehsaz had hoped to send their prototypes over with them on their next trip. However, with the COVID-19 pandemic in process international travel by UC faculty, students and staff was put on hold.  The Dis-box never made it on a plane.
With modifications that prototype was used to assist Crossroad Health Center with turnaround occurring within a week. Shanehsaz performed mathematical computations to ensure the ultraviolet light would be of sufficient strength by following guidelines from the University of Nebraska Medical Center and AAMI.
Instructions which use display pictures and simple text were adjusted so medical workers locally can assemble the UV box with ease.
"Our initial project was to store and maintain devices when they went through the sterilization process in Tanzania," said Privitera. "Their process was to boil the instruments and then lay them out on the ground and grass until they dry. Our solution was to create a box that used UV light that would maintain the decontamination properties they had when they went through the sterilization process. It would keep them clean until they are ready to use."
Privitera said the students won't forget there is still a need in Tanzania.
"We are proud to supply Crossroad with this ultraviolet box and we will build another for Roche Health Center," said Privitera. "Future MDIEP students will take on the challenge once travel bans are lifted."
Crossroad Health Center officials say the UV box will really make a difference.
"Our goals at Crossroad during this crisis are to serve our patients by maintaining access while also protecting our staff," said O'Dea. "When we looked at the inventory of masks, we were not sure we would have enough to keep our doors open, so we started looking for other options.  When I reached out to Professor Privitera, she called me back immediately and we talked about how her students could help us. She was so amazing. How fortunate and blessed we are that it was her that I sent that email to.
"The UV-C box allows us to decontaminate our masks regularly, so that we can continue to see patients who are sick but also protect our staff," said O'Dea. " It also means so much to us that there are so many out there that are supporting us as health care workers on the front line.  It is true that everyone has a part to play whether it is taking care of patients, answering the phones, or building a UV box. We all can really come together during this time."
Featured image at top: UC engineering students, Allison-Joy Garbo and Kellen Crosby, are shown with their UV box and staff at Crossroad Health Center. Photo/provided
Impact Lives Here
The University of Cincinnati is leading public urban universities into a new era of innovation and impact. Our faculty, staff and students are saving lives, changing outcomes and bending the future in our city's direction. Next Lives Here.
Stay up on all UC's COVID-19 stories, read more #UCtheGood content, or take a UC virtual visit and begin picturing yourself at an institution that inspires incredible stories. 
1
WVXU: Tech CEOs talk AI with lawmakers
September 22, 2023
Professor Richard Harknett is a guest speaker on WVXU's Cincinnati Edition on the topic of AI and the need, or lack thereof, for government regulations. Professor Harknett is the head of UC's School of Public and International Affairs and is an often sought out media resource on technology, cybersecurity and governmental affairs.
3
Drugs.com: Lowering blood pressure after clot removal may not be...
September 22, 2023
Drugs.com and HealthDay highlighted University of Cincinnati research recently published in JAMA that found using blood pressure medications to lower the top number of blood pressure readings (systolic blood pressure) may not be safe or effective among people who have an acute ischemic stroke and undergo a successful mechanical clot removal.
Debug
Query for this