UC alumnus deploys app to track virus hotspots
Electrical engineering grad works on COVID-19 prediction study during his Ph.D. research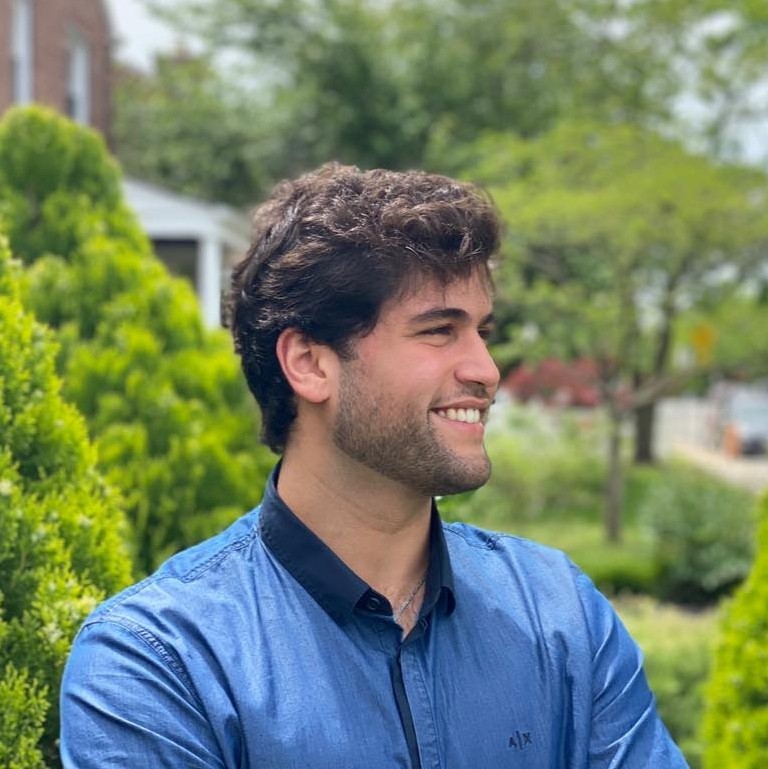 Khaled Aboumerhi, who earned his bachelor's in electrical engineering from the University of Cincinnati in 2018, is part of a research team that created the COVID Control app, a nationwide study designed to predict future outbreaks of the novel coronavirus. Aboumerhi helped deploy the system's development with colleagues at Johns Hopkins University, where he is earning his Ph.D. in electrical engineering. 
"Colleagues in my lab proposed an idea that we start tracking people's fever across the U.S," he said. "We saw that fever had close to an 88 percent correlation to COVID-19 patients that had been confirmed positive." 
The goal of the study is to get as many people as possible to download the COVID Control app and anonymously enter their temperature and a few other symptoms daily. Johns Hopkins University is often cited in news reports for its COVID Dashboard, which tracks coronavirus cases throughout the world. Instead of tracking existing known cases, the new COVID Control app captures data before people are getting tested or going to the hospital. If they can gather large amounts of information from across the country through the app, the researchers hope to identify locations of potential virus outbreaks.
In addition to working on the app, Aboumerhi is conducting research in the Computational-Sensory Motor Systems Lab at Johns Hopkins. The lab focuses on neuromorphic engineering and circuit design for biological applications. Aboumerhi's research work is centered on visual saliency and attention using silicon retinae circuits, or cameras designed to mimic the architecture of the mammalian eye to better understand human vision. Saliency, or the tendency to gaze toward an object, holds significant implications for improving a computer's recognition ability, which the human brain does easily.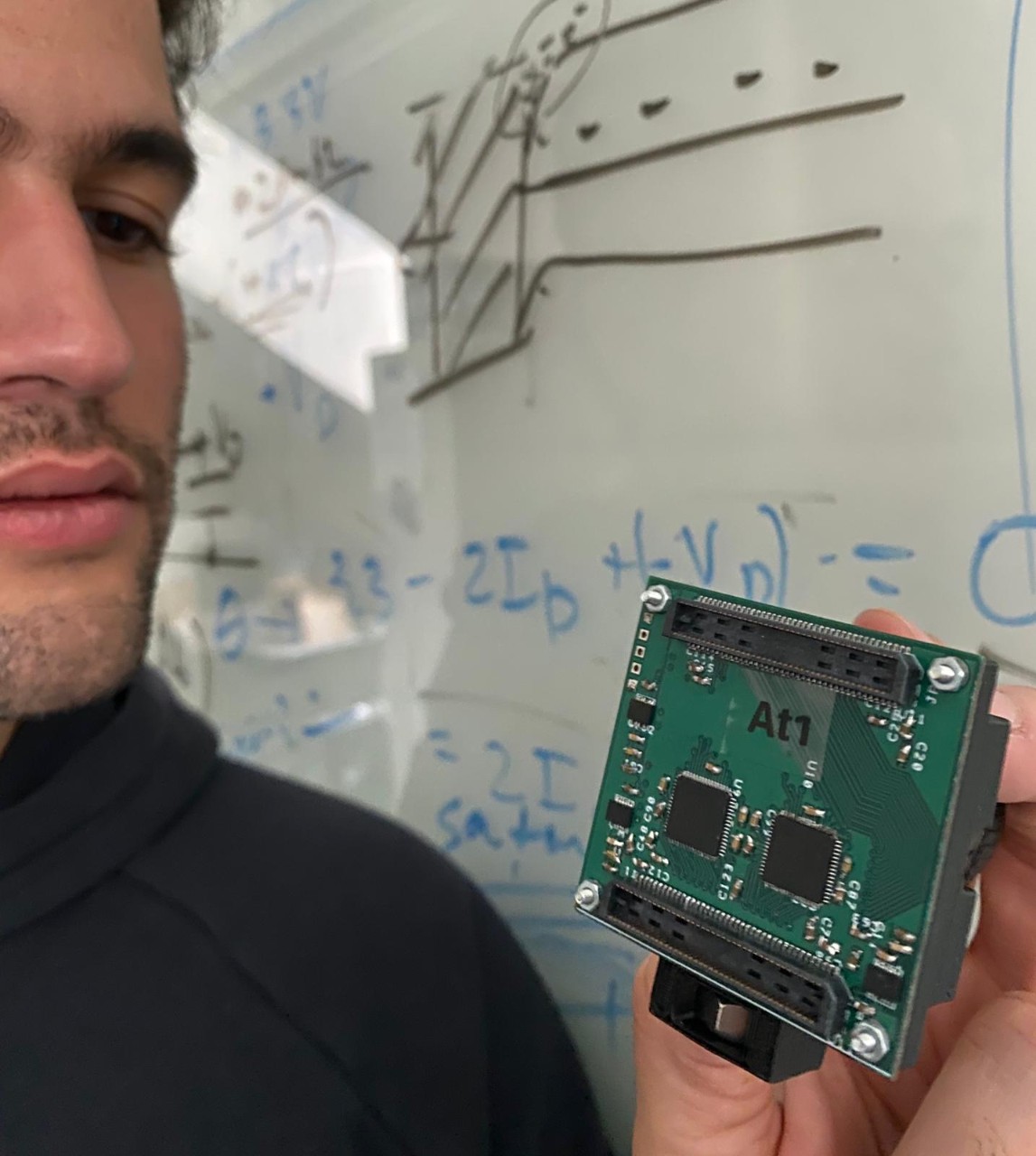 "Imagine as though we could map the human brain onto a chip, just as we did the silicone retinae. This can unlock an enormous potential for computing capabilities at remarkably low power consumption." Aboumerhi said.  
In the future, Aboumerhi hopes to utilize his lab's microbead neurostimulator, the smallest of its kind, to understand how the human body communicates through the nervous system. The end goal is to utilize the vagus nerve to deliver targeted treatments for a number of diseases, such as diabetes, epilepsy, or depression. 
"We are trying to unlock the neuronal coding, or neuronal language, as you will. We want to know how neurons really talk to each other, and how we can take part in that conversation," he added.
Although his passion for his research today is clear, Aboumerhi never actually intended to be an electrical engineer. His plan was to go to law school after college to become a patent attorney. 
"I originally started in electrical engineering to get a good basis of knowledge to protect the immense amount of technological innovations that will be coming through the next decades," he said. 
But as he continued through his undergraduate career at UC, he discovered how much he enjoyed electrical engineering classes and his co-op jobs, including an impactful experience working at Kinetic Vision in Cincinnati helping to create a biomedical device from concept to completion. 
He made valuable connections with his professors, including working on nano-scale device research with Marc Cahay, head of the Department of Electrical Engineering and Computer Science, whom Aboumerhi said was a mentor to him throughout his years at UC. Cahay was also instrumental in helping Aboumerhi nab a research co-op at the Network for Computational Nanotechnology at Purdue University.
He touts his co-op experiences as giving him a leg up in the work he is doing for his Ph.D. program. 
"You have no idea how valuable co-op was," he said. "There are things I know how to do strictly because I had a job that UC tailored to fit my schedule. That was paramount to my growth." 
While at UC, Aboumerhi was involved in student government as a CEAS Tribunal senator and various committees including those covering academic affairs and curriculum. He helped establish the student court, of which he was the first chief justice. He also was president of IEEE. 
Serving as a teaching assistant as an undergraduate at UC – and now as a graduate student at Johns Hopkins – has solidified Aboumerhi's plan to become a professor. The positive influence of his professors throughout his educational career had an impact. 
At the end of Aboumerhi's time at UC, Punit Boolchand, electrical engineering professor and a mentor of Aboumerhi's, asked his student to walk with him to the plaza outside of Zimmer Hall to share some final thoughts as Aboumerhi prepared for graduation in 2018. The pavement of the plaza outside Zimmer is designed in the shape of a nautilus, which is thought to express the perfect symmetry of nature. A central stone in the design is etched with a quote from Oliver Wendell Holmes, and provided the inspiration behind Boolchand's request to visit this spot with his pupil: 'One's mind, once stretched by a new idea, never regains its original dimensions.'
"I still remember that quote," Aboumerhi said. "He [Boolchand] said that he has been walking by that quote every single day and that it is motivation for a lot of his work. He knows that every day you learn and you change – and he wanted to remind me of that as I moved on from UC."
Featured image at top: A UC graduate contributed to a new app designed to track outbreaks of coronavirus. Photo/Yura Fresh/Unsplash.