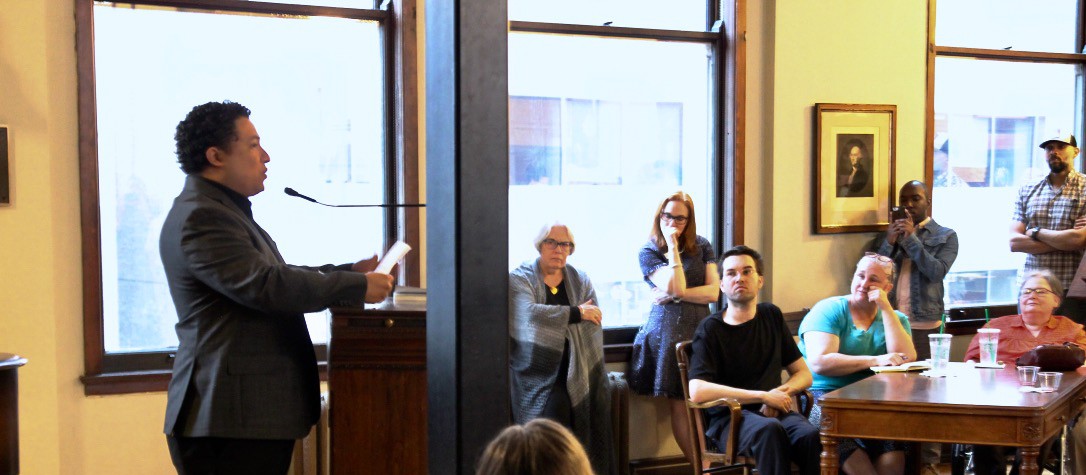 Business Courier: UC grad says poetry can help people cope
Cincinnati poet laureate Manuel Iris says people need poetry more than ever in pandemic
University of Cincinnati graduate Manuel Iris says people can turn to poetry to cope with the stresses of COVID-19, quarantines and the uncertain times. 
Iris spoke to The Business Courier about the role poetry can play in a crisis. In the profile, Iris 
"This is the moment for the arts," he told The Courier. "Our souls need to be fed."
Iris is Cincinnati's poet laureate and a graduate of UC's College of Art and Sciences, where he earned a doctorate in Romance Languages and Literature. He grew up in Mexico where he fostered an appreciation for creative writing. He teaches writing and literature at DePaul Cristo Rey High School near UC's campus and coaches a poetry slam team.

Featured image at top: UC graduate Manuel Iris gives a poetry reading at the Cincinnati Mercantile Library. Photo/Melanie Schefft
1
WVXU: Health benefits and risks to recreational marijuana
December 1, 2023
The University of Cincinnati's LaTrice Montgomery joined WVXU's Cincinnati Edition to discuss the potential health benefits and harms associated with expanded cannabis access after Ohio voters approved legalizing recreational marijuana in the November election.
2
Public gardens contribute to invasives problem
December 1, 2023
University of Cincinnati botanists found that plants at arboretums and public gardens inadvertently can seed wild areas with nonnative plants. Their study was published in the journal Ecological Restoration.
3
Local 12: New research could help treat cocaine use disorder by...
December 1, 2023
New research out of the University of Cincinnati takes a different approach to cocaine addiction. Local 12 produced a story on the study, interviewing lead researcher Andrew Norman, PhD, of the Department of Pharmacology and Systems Physiology at the UC College of Medicine.
Debug
Query for this