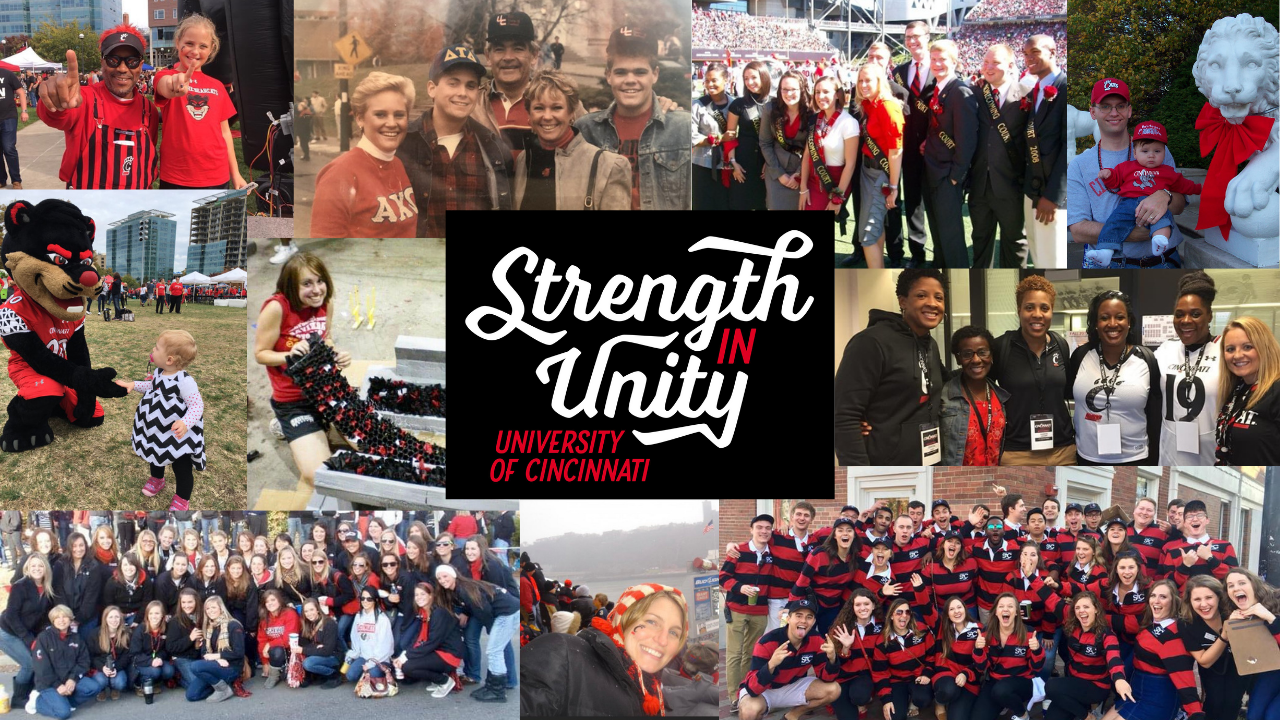 Celebrate the Spirit of Homecoming with #UCStrengthInUnity
The UC Alumni Association invites you to join a social media challenge
Since Homecoming activities have been virtualized in 2020, the UC Alumni Association is hosting a #UCStrengthInUnity social media challenge. The "Strenth in Unity" motto comes from the university seal originally created in 1904.
Throughout the month of October, we invite you to participate in a number of social media challenges – opportunities to show off your pride in the Bearcat community and be entered to win "Strength In Unity" shirts for your whole crew!
Strength In Unity, or "Juncta Juvant," is more than just the University of Cincinnati's motto. It's a way of life.
It describes how and why Bearcats can pull together, innovate and succeed in the face of challenges. Strength in Unity is our "secret sauce" because we have more fun, create more change, and make more of an impact when we do it together.
Here's what you do:

1. Share a UC memory using the hashtag #UCStrengthInUnity each Tuesday in October.
2. Tag @uofcincyalumni.
3. One lucky Bearcat will win shirts for his/her crew!
Victoria Kuhlman, A&S '15, '21
Director of Alumni & Donor Experience, Lindner College of Business and Regional Campuses
1
Bearcats give with heart on #GivingTuesday
November 21, 2023
The 2023 edition of #GivingTuesday will be Nov. 28, as the University of Cincinnati celebrates the many ways UC makes a global impact. In its tenth consecutive year participating in the international #GivingTuesday campaign, UC is highlighting some of the compelling work that positively influences the lives of our UC community members and others around the world.
2
Groundbreaking engineer honored with alumni award
November 17, 2023
University of Cincinnati alumnus Keith Boswell embarked on a remarkable career journey that spanned more than 38 years at Caterpillar, Inc. His enduring commitment to excellence and his contributions to the engineering industry and his community were recently celebrated by his alma mater. Boswell was presented with the 2023 Herman Schneider Distinguished Alumni Award by the University of Cincinnati Alumni Association and the UC College of Engineering and Applied Science.
3
Alumni Speaker Series highlights 'rock of truth'
November 15, 2023
The Lindner Alumni Council (LAC) partnered with Sigma Sigma men's honorary to welcome students, Lindner and University of Cincinnati alumni, and other guests to Carl H. Lindner Hall on Nov. 2 for LAC's annual Alumni Speaker Series program.
Debug
Query for this