CCMpower helps student scholar share her voice
Matilda Smolij's scholarship allows her to continue her studies on campus during the pandemic
UC sophomore Voice student Matilda Smolij became a CCMpower scholar this year when her family experienced financial challenges caused by the COVID-19 pandemic. In a thank you video to the fundraising group, she says the CCMpower scholarship made it possible for her to come to campus and continue her studies. Watch her performances online.
I feel so privileged and honored to be a CCMpower Scholar this year. And because of this scholarship, I am able to study with an incredible professor, work with fantastic colleagues and so much more.
Matilda Smolij
CCMpower is a volunteer group of fans, advocates and alumni dedicated to empowering students and igniting possibilities through scholarship opportunities and more. The fundraising group played a critical role in providing emergency support to students facing unforeseen challenges during the COVID-19 pandemic. Many students were hit hard by the crisis, needing immediate financial support for rent, food, tuition and basic supplies due to lost wages or parental support. CCMpower was able to help every student that applied for emergency funding, thanks to the generosity of dedicated donors.
Gifts to CCMpower are vital to providing the educational opportunities that make the CCM experience unique and continue the college's reputation of excellence.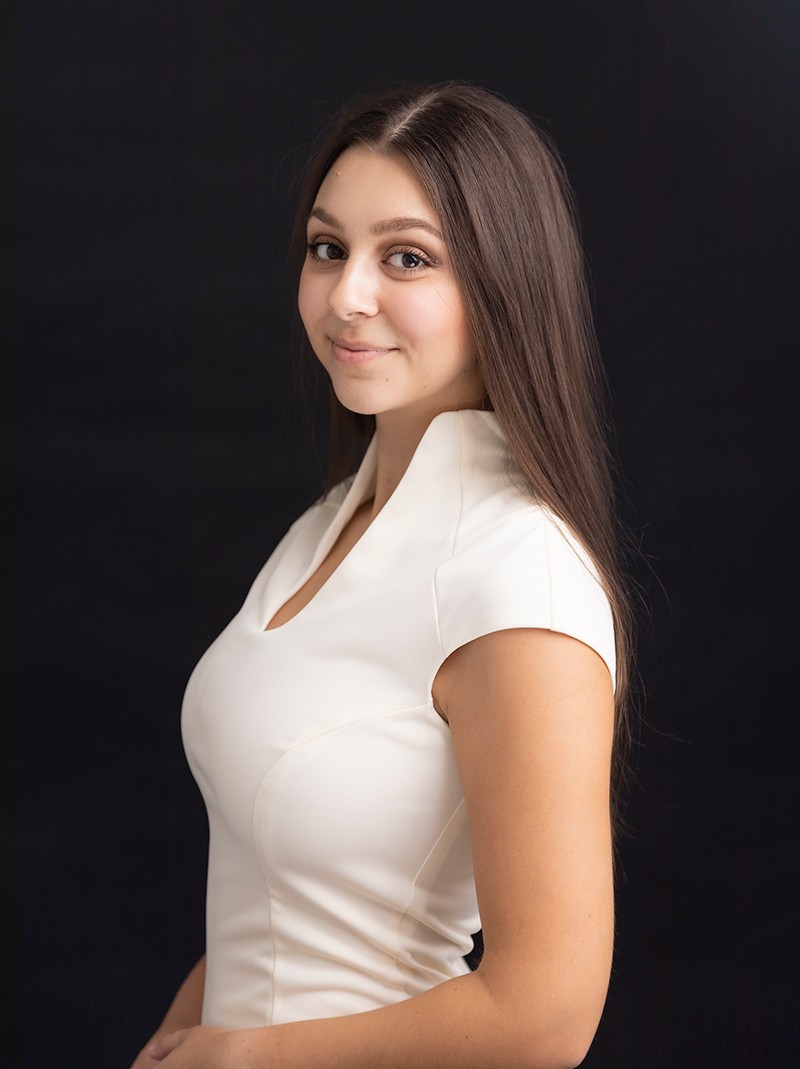 A native of Houston, Texas, Smolij is the daughter of two musicians who met in high school in Poland. Her mother, Kamila Wuwer-Smolij, played trumpet but eventually pursued a different career path and her father, Mariusz Smolij, studied violin and founded the Penderecki String Quartet. "At the time, Poland was experiencing the economic and social effects of socialism, but my dad was able to leave on a musician's visa with his quartet and began a new life for himself, my mother and my brother in America," Smolij says.

"After coming to America, he got his doctorate in conducting and has developed a career as an international conductor. My dad's story has been extremely inspirational to me."
This semester, Smolij is taking mostly online classes. She has three in-person voice lessons as well as a weekly studio class and piano lessons. Most of the mezzo-soprano's voice lessons with CCM Professor of Voice Gwendolyn Coleman are virtual, but she says that she has continued to grow and learn despite the circumstances.
At the start of the pandemic, Smolij had more time to immerse herself in her craft without the distractions and stress of day to day life, she says. She focused on honing her technique and developing habits that have carried into her life on campus. 
"This semester, I've been balancing a job as a nanny, singing in church choir, as well as academics, but with planning, structure and organization it's definitely all possible!"
During her time at CCM, she has performed on stage at the college as well as at Music Hall with the Cincinnati Symphony Orchestra. Her favorite performance was Ravel's L'enfant et les sortilèges with the CSO in February. The concert featured 10 student soloists and the CCM Chamber Choir, led by now-retired CCM Chair of Choral Studies Earl Rivers. The performance also featured Grammy-winning mezzo-soprano Isabel Leonard in the title role.
"This performance was so special because I was able to sing in the chorus of an opera featuring my favorite opera singer, Isabel Leonard," Smolij says. "The opportunity to sing in a professional opera with one of my biggest role models in the industry was such a privilege that CCM and the CSO made possible for us."
"My experience at CCM was so much more wonderful than anything I could have imagined," she adds. "I have been so amazed by my colleagues in every department and have received so much support from all of my professors. My work with Gwendolyn Coleman has been the most special to me. Having a professor who sees your potential and pushes you to be your best while also being a supportive mentor has been so impactful."
Polish American mezzo-soprano Matilda Smolij is a second-year undergraduate voice student at the University of Cincinnati College-Conservatory of Music under the tutelage of Dr. Gwendolyn Coleman. Smolij has been cast in the roles of Third Lady and Third Spirit in Mozart's Die Zauberflöte, Lolette in Puccini's La Rondine, and as a Spirit in Mendelssohn's A Midsummer Night's Dream. Her awards include Young Arts winner in voice 2020, Houston Saengerbund Competition winner, and HSPVA John E. Guida scholarship winner. Smolij has performed in the chorus of L'enfant et les sortilèges with the Cincinnati Symphony Orchestra, the chorus of Die Zauberflöte at CCM, as well as the children's chorus of both Tosca and Otello with Houston Grand Opera. This year, Smolij performed a solo fundraising recital to raise money for the Polish American Symphony Orchestra's youth music school in Chicago, Illinois. In previous years Smolij has been a part of "Oberlin in Italy" and the "International Summer Opera Festival of Morelia" in which she studied with Luis Ledesma.
Before they appear on the world stage, tomorrow's arts leaders and luminaries get their start on the CCM stage. Help our students achieve their dreams of success by joining CCMpower. 
CCMpower is a volunteer group of fans, advocates and alumni dedicated to empowering students and igniting possibilities through scholarship opportunities and so much more. The competitive scholarships CCMpower provides help attract and retain the best and brightest students, nurture professional development opportunities and, in turn, continue CCM's tradition of excellence for the next generation of student artists.
Whether your interest is in music, opera, musical theatre, drama, dance, or the media arts, your generosity will support the "stars of tomorrow" whose talents touch our hearts and stir our imaginations. Join CCMpower. 
Help fuel the future of the arts by donating to CCMpower this #GivingTuesday, Dec. 1. Your gift will empower our next leaders and enhance our community by helping students achieve academic and personal success. 
Ready to make your gift? There's no need to wait.
1
Cincinnati.com: COVID on the rise: Cincinnati doctors weigh in...
October 3, 2023
As cooler fall weather rolls into the Cincinnati region, COVID-19 cases are on the rise and we can expect to see the seasonal impact of the cold and flu season. The Enquirer interviewed Jennifer Forrester, MD, of the Division of Infectious Diseases at the UC College of Medicine, about wearing masks and getting the latest vaccines.
Debug
Query for this