UC's Health Sciences Building Receives National Recognition
Eco-friendly design receives two awards
Dean Tina Whalen, EdD, DPT, MPA, PT never thought she'd witness UC's College of Allied Health Sciences (CAHS) experience a major transformational building project during her professional career. A faculty member at UC since 1990 and Dean of CAHS since 2015, Whalen's longtime dream came true last spring, when construction on a brand new four-story, 110,000-square-foot Health Sciences Building was complete. The $55 million project has since garnered national recognition, with the building earning Gold LEED Certification as well as the 2020 Design Excellence Award from the American Institute of Architects Chicago.
Eco-friendly design elements that helped the building achieve Gold LEED status include large windows and skylights that utilize natural sunlight to reduce lighting costs and improve the health and productivity of faculty and students. A 1.5-acre greenspace named Eden Commons also allows occupants to enjoy fresh air and nature in an urban environment.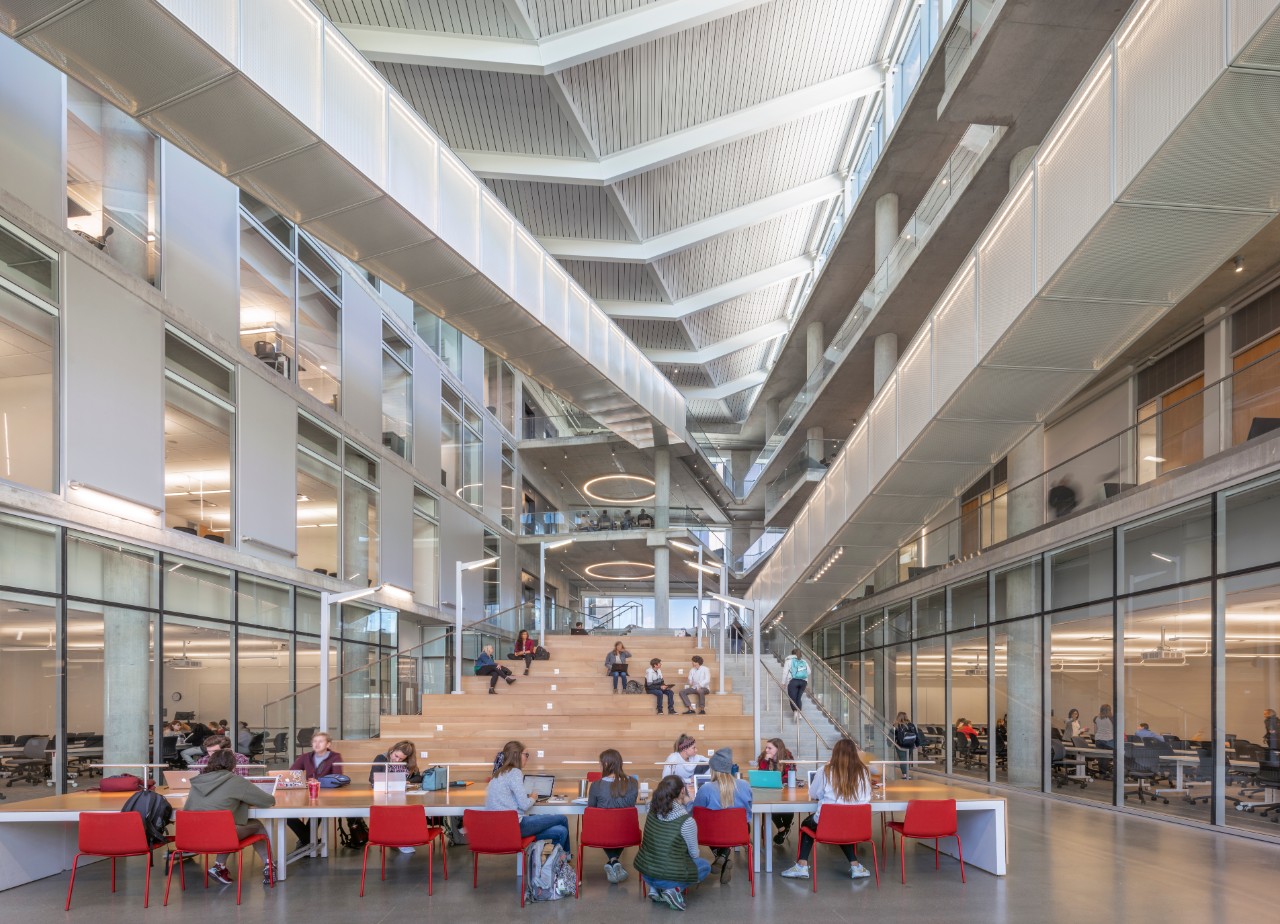 These awards "demonstrate the university's continued commitment to sustainability in the built environment," says UC's Interim Director of Renovations Dale Magoteaux, PE, who helped oversee the project.
I think students today are very aware of carbon emissions and making sure that we are environmentally friendly, so having a building that meets those Gold LEED requirements is really a feather in not only the College of Allied Health Sciences' cap but for the university at large.
Dean Tina Whalen
After outgrowing its previous 76,000-square-foot space, CAHS, which is home to 32 different academic programs, was put on the university's list of buildings to receive a capital improvement about 10 years ago, Whalen says. In 2014, with Gold LEED Certification in mind, the university tapped Chicago-based Perkins + Will as the Design Architect and Columbus-based Moody Nolan as the Architect of Record.
"When we designed the building, the things that were most important to me were that we had a lot of natural sunlight, multi-purpose spaces, and opportunities for formal and informal gathering because we are interprofessional by design," Whalen says. "I wanted a building that allowed us to be able to run into each other to have conversation and community."
Conversation and community are exactly what the building's design supports, with a large, open atrium at its center and furniture that isn't bolted to the floor so faculty and students can manipulate spaces for specific educational and extracurricular purposes. The expanded square footage also allows for all CAHS disciplines to be housed in the Health Sciences Building, which previously didn't have space for the faculty and students in UC's School of Social Work, which joined the college in 2010.
"That creates even more of a cohesive culture in the college, because now the social work students aren't across campus in a different building," Whalen says. "They're physically here now, which is helpful in building community."
Unfortunately, CAHS students were only able to enjoy the new Health Sciences Building for the fall 2019 semester and two-thirds of the 2020 spring semester, before UC transitioned to remote learning due to the coronavirus pandemic. The silver lining, however, was that the building's expansive square footage allowed faculty and students to spread out and continue safely conducting clinical lab classes on site.
"The students love the building. It's a big recruitment tool for us and a retention tool as well," Whalen says. "They just love the aesthetics, the vibe and the feeling of being in this open, airy place to learn. People want to be here." In fact, enrollment increased 6% this year, even despite the coronavirus interruption. Although only 15% of students were on campus this semester, Whalen looks forward to welcoming all students and faculty back as soon as it's safe to do so.
UC's College of Allied Health Sciences
The College of Allied Health Sciences educates and prepares future allied health and other health science professionals to provide high quality service in their respective fields. 
Learn more about our Health Sciences Building and the impact it has had on our students, faculty and staff.