ESPN+ streaming showcases CCM student work
E-Media students are gaining hands-on broadcast experience by sharing UC Athletic events
This year, students at UC's College-Conservatory of Music are producing live, multi-camera coverage of UC Athletic events for the new ESPN+ subscription-based streaming service. CCM E-Media students shared their first broadcast on Nov. 25, 2020, and have produced nine sports broadcasts in total so far.
The next E-Media student-produced broadcast is a UC Women's Volleyball match scheduled for Friday, Jan. 15. Then the students will work on the Jan. 20 UC Women's Basketball game and the Jan. 27 UC Men's Basketball game. To watch, viewers can visit plus.espn.com (subscription required to watch) or find direct links to the games at gobearcats.com.
This class is very hands-on, so what the students are experiencing is very close to what they would be experiencing if it were a professional production.
Joe Brackman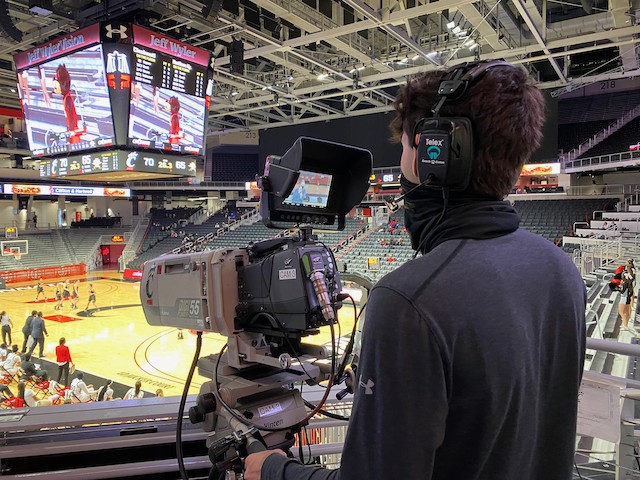 The broadcasts are part of E-Media's new classes in sports media production, led by Emmy award-winning Professor Joe Brackman as part of the division's track-based curriculum in Film and Television Production, Broadcast Media Production and Multimedia Production.
"This class is very hands-on, so what the students are experiencing is very close to what they would be experiencing if it were a professional production," Brackman says.
He teaches students that everything doesn't always go according to plan in live productions, so they must learn how to calmly react and respond. "They're constantly learning from these experiences to make them better to react and respond in the future and that will be no different once they graduate and go to work in the real-world," he says.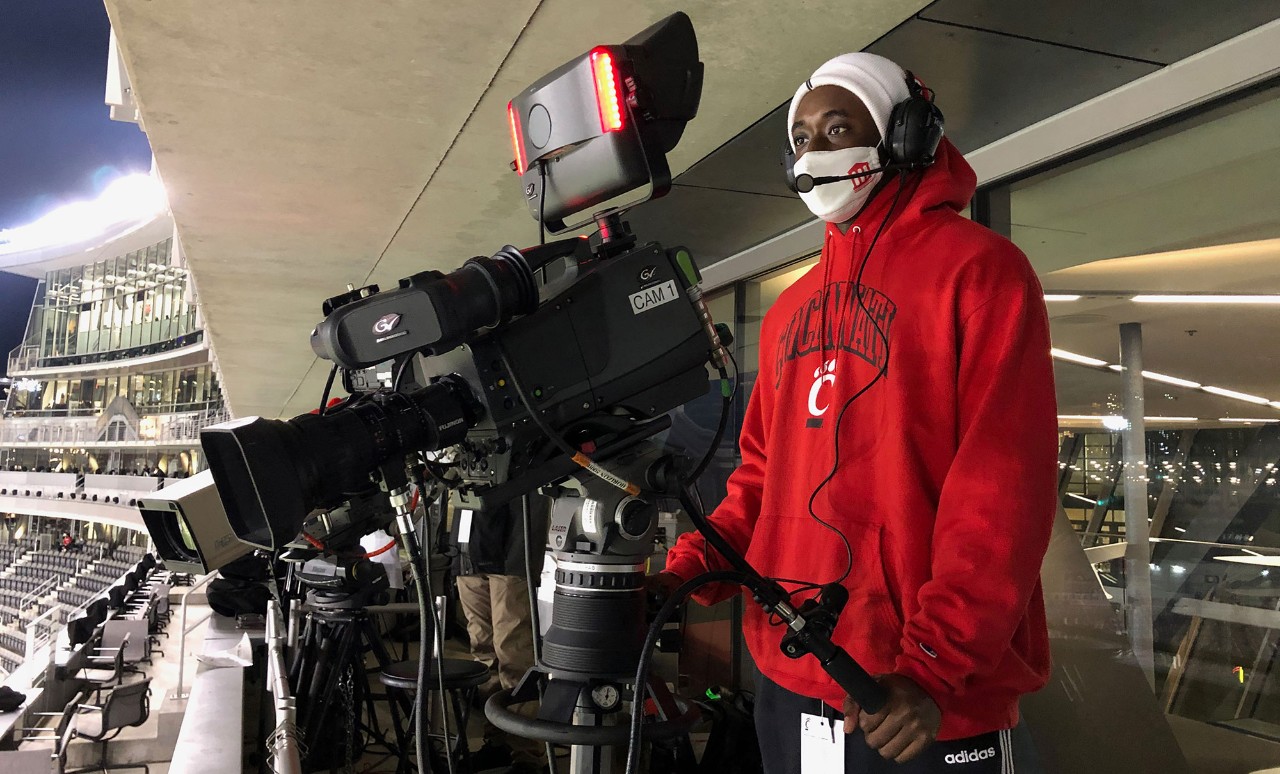 Some broadcasts students work on are more for practice, so the students can learn how to operate new equipment and test new techniques or methods of creating content, Brackman says. However, other events have a high number of viewers, so they are always focused on showcasing their skills in professional-quality presentations.
"Students will find that in the professional world, there is a fairly large crossover of people who work in all types of live event production because the fundamentals and tools are the same," Brackman says. "What differs is how you use them or apply them for the needs of the production."
There are certain aspects and elements of live production that are universal to any show, whether it's a sports broadcast, live theater production or even a live newscast or talk show, Brackman says. Students need to have certain amount of technical knowledge and know how to operate the video equipment, and they must also be familiar with the plan for the broadcast. They need to be able to find relevant shots, create graphics and create content like highlight packages to help tell the story.
"For live sports, we plan for situations more-so than a specific order of events," he adds. "So we practice and plan for how we'll handle a certain situation, like a football player scoring a touchdown, for instance. We would discuss what the assignments would be for each camera operator if a touchdown occurs. We would talk about how our replays would be handled in that situation, what graphics are appropriate to help tell the story after the touchdown occurred — and then when it happens, we try to execute that plan the best that we can."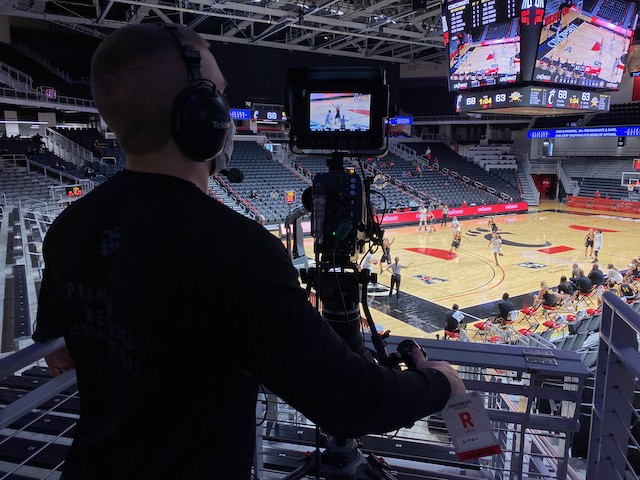 ESPN+ has worked with schools and conferences across the country to develop a model where schools can produce their own events for the streaming network. This established a support structure that helped the initiative launch with E-Media students.
"CCM's partner in this project has been UC Athletics and [Associate Athletic Director, Facilities and Technology] Bill Frigge and his team have led the way in installing the new equipment that was needed to make this a success," Brackman says.
"Bill is a CCM alum, and so he has a real passion for seeing this through. He gets what we're trying to do from an educational standpoint. The power and success of this partnership is dependent on the students' access to the equipment and tools needed to create content — and Bill has been extremely busy in the last few months helping to ensure we have what it takes to both teach the students and produce the broadcast."
During a time when live in-person events are often cancelled, postponed and/or closed to the public due to COVID-19, offering students the chance to gain hands-on broadcast experience has been especially challenging. They've had to think of alternative ways of capturing the action, including moving equipment and operators around and adjusting camera positions. They have also had to be flexible with the schedule due to last-minute cancellations and postponements. Despite the challenges, students in the first semester of Brackman's Sports Media production classes worked on many productions, including all six home UC football game videoboard shows.
"I hope we are preparing students who are well-versed in the methods of modern television production, but have the experience to lean on, and the wherewithal to think through, whatever challenge they are presented with in the future," Brackman says.
CCM's Division of E-Media offers an undergraduate BFA program designed to prepare students for the ever-changing media industry by teaching foundational skills in audio, video and web production, as well as media writing. CCM E-Media also offers an academic minor, which is student centered, professionally relevant and focused on creativity and development.
The BFA program emphasizes hands-on learning with required student internships at professional media companies and opportunities to develop award-winning works within and outside the classroom. In recent years, students have traveled to Alaska and California to produce acclaimed documentaries and have won Emmy awards for works made locally.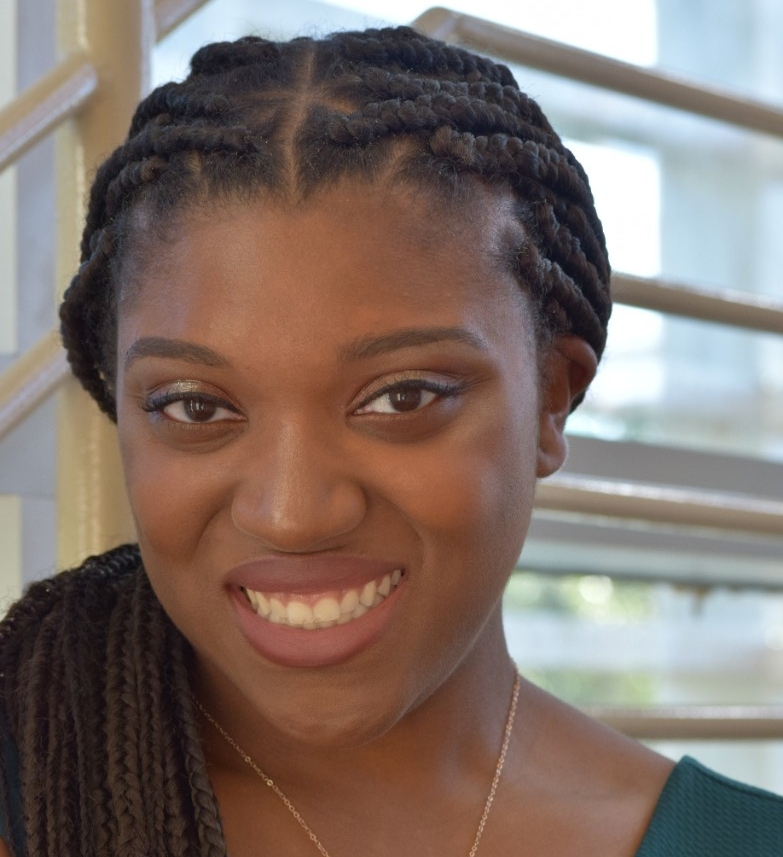 Kelly Barefield
CCM Graduate Assistant, Marketing + Communications
Kelly Barefield is pursuing her degree in Arts Administration at CCM. She currently interns at the Cincinnati Symphony Orchestra and hopes to continue to work at influential arts organizations in the future, where she can apply her passion for music.