UC students make app that prints custom face masks
Engineering students develop tech that scans your face for the perfect fit
Face masks are a daily part of life a year into the COVID-19 pandemic. But it seems no two masks are the same.
And the same mask can fit people differently and often poorly. 

Students at the University of Cincinnati have come up with a novel solution they think could help keep people safer from infection around the world. They are making a phone app that can scan your face to a 3D printer to build your own custom face mask.
A filter snaps into the front of the form-fitting plastic mask, ensuring a leak-proof seal, particularly around the cheeks and nose where air sometimes can escape from cloth masks.
"Most masks are one-size-fits-all, but they might not fit as well for some as others," said Sam Anand, professor of mechanical engineering in UC's College of Engineering and Applied Science.
The project demonstrates UC's commitment to research as described in its strategic direction called Next Lives Here.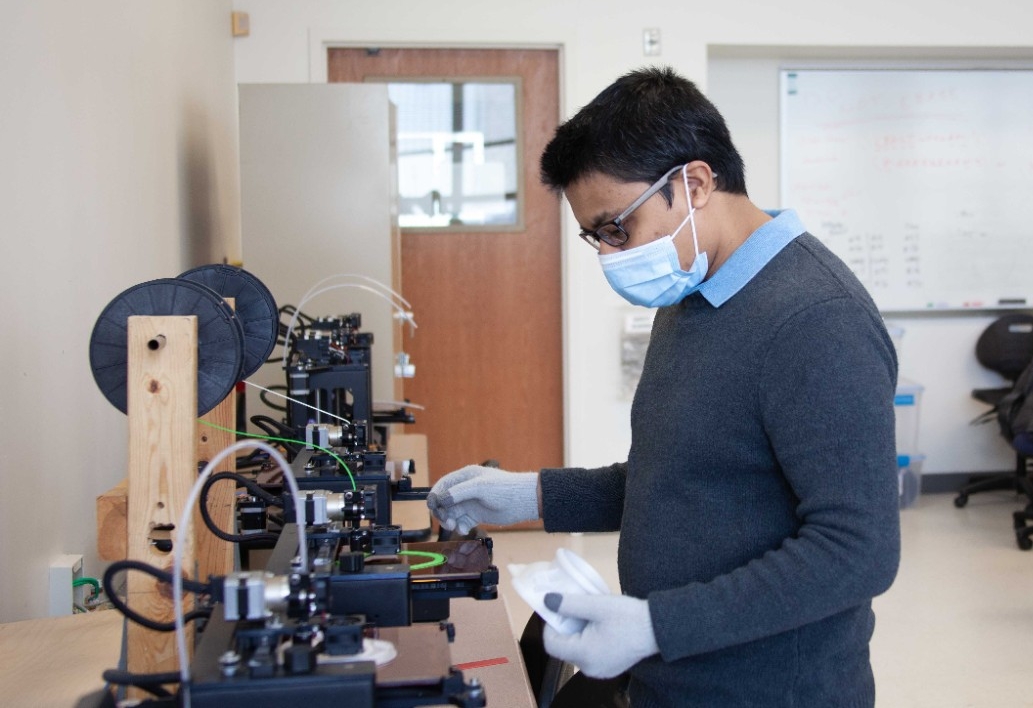 Anand runs UC's Siemens Simulation Technology Center, created through a grant from software company Siemens PLM, to use the latest in simulation and computing to tackle engineering problems outside the classroom.
Anand's engineering students took on the project to help make a difference in the world. They developed a custom phone app that converts a simple selfie into a three-dimensional model of your face using computational geometry and a custom algorithm UC students created. The app sends this computer mesh model of your face to a 3D printer to build a form-fitting custom face mask just for you.
Being an engineer, if I'm able to contribute and help someone be safer, that's a really good feeling.
Shriya Patil, UC engineering student
"It's actually more comfortable than the cloth masks I was wearing because the straps go around your head," UC graduate student Shriya Patil said. "Regular masks can pull on your ears. I can wear it for hours without noticing it."
Patil, a mechanical engineering student, said the pandemic has posed many challenges. When UC adopted distance learning last year, she briefly lost her campus job administering graduate tests. Back home in India, her grandmother was hospitalized from COVID-19. Fortunately, she recovered, but the experience was stressful for her family.
"It gave us a big scare. She's fine now," Patil said.
Perhaps the hardest part of the pandemic, she said, is struggling with the unknown while going about your daily routine.
"There's a constant, looming fear of getting COVID," she said.
That's why contributing to a project like the custom face mask is so gratifying, she said. Patil put her skills in mechanical engineering to work to improve the mask design in a string of refined prototypes.
"Doctors and medical staff are on the front lines," Patil said. "Being an engineer, if I'm able to contribute and help someone be safer, that's a really good feeling."
Professor Anand said the project was a natural fit for his students.
"The students were learning about computer-aided design models and how smart manufacturing works. Everyone was talking about masks. Siemens asked if we ever thought of making one," he said.
Students earned practical experience using teamwork to harness their collective skills to solve problems. That's how engineers collaborate in industry, Anand said.
While the N95 mask remains the gold standard for personal protective equipment, it is hard to get, even among medical professionals, a year into the pandemic. The Centers for Disease Control and Prevention recently advised people to double mask to improve prevention as more virulent strains of COVID-19 begin to spread globally.
The UC students' mask is washable, even with alcohol, and reusable. A fabric filter snaps in place with a little O-ring.
UC doctoral students Aditya Deshpande and Rumit Kumar work with sensors and cameras to develop semi-autonomous drones at UC. Deshpande said cameras that help a drone see the world in three dimensions can just as easily scan the contours of your face.
"The goal is to cover every part of your face so there are no gaps in the mask that could let air escape," Deshpande said. "So this custom mask accomplishes that."
Kumar said they used an Intel RealSense depth camera to create digital models of subjects' faces for their experiments. But most smartphones have similar abilities.
"It's the same technology that allows your iPhone to take measurements," Kumar said.
Also contributing to the project were UC students Oyindamola Omotuyi, Shriyanka Joshi and Abinash Patro. UC graduate Yaser Almusawy contributed to the early development of the project, fabricating the first masks and suggesting design improvements. He had the idea to use a second material to create a flexible seal around the wearer's face.
In UC's Digital Fabrication Lab, doctoral student Haozhi Zhang experimented with different materials for the face mask and its flexible seal. He is studying material science and engineering and works as an additive manufacturing technician in UC's Victory Parkway Campus lab operated by Sam Antoline.
Additive manufacturing is widely used across UC, from the College of Engineering and Applied Science and the College of Design, Architecture, Art, and Planning to the College of Medicine and the 1819 Innovation Hub, Antoline said.
"We've built a top-notch presence in additive manufacturing in our area," Antoline said.
Among other advantages, 3D printing can create more complex pieces than traditional manufacturing, Zhang said.
"In the right applications, additive manufacturing can produce a part with improved performance, complex geometries and simplified fabrication," Zhang said.
Students had a variety of materials from which to choose for the masks. Zhang said they quickly ruled out metals because of their weight as well as powder-based resins because of the inhalation risk. They also ruled out more expensive processes in favor of simple fused deposition modeling, the most common system used by hobbyists and most commercial 3D printers.
"This kind of printer is the most common, entry-level, desktop applied manufacturing machine on the market nowadays," Zhang said.
They chose the commonly used PETG printing filament for the face mask and a flexible material called TPU for the gasket or seal that touches the face. Both are easy to clean with alcohol or other sanitizer.
When it's ready, Anand said they will host the new app on his Siemens Lab website free of cost for noncommercial use.
"The masks could save lives," Anand said. "Our goal is not the U.S. market alone. There are hospitals around the world that are strapped for personal protective equipment. They can make an inexpensive, reusable custom mask."
Featured image at top: UC College of Engineering and Applied Science student Shriya Patil wears a custom 3D-printed face mask she designed. Photo/Ravenna Rutledge/UC Creative + Brand
Impact Lives Here
The University of Cincinnati is leading public urban universities into a new era of innovation and impact. Our faculty, staff and students are saving lives, changing outcomes and bending the future in our city's direction. Next Lives Here.

Follow all of UC's advanced related to the COVID-19 vaccine, or schedule a virtual visit to UC and begin picturing yourself at an institution that inspires incredible breakthroughs.