UC professor invents lab-on-a-chip device for early cancer detection
Electrokinetic device enables noninvasive point-of-care testing from biofluids
Leyla Esfandiari, University of Cincinnati assistant professor of electrical and biomedical engineering, has created a device for noninvasive, point-of-care cancer screening and early diagnosis using a small amount of a patient's body fluid such as saliva or blood. 
Current methods to detect cancer and other ailments require invasive biopsies or a large fluid sample, expensive equipment typically only found in hospitals, and a day or longer to get results. Esfandiari's patent-pending, lab-on-a-chip device allows for inexpensive testing of a small fluid sample that could be done right in the doctor's office with results in less than 30 minutes. 
Esfandiari said the key to the diagnostic is circulating biomarkers called exosomes. Exosomes, or cell-secreted nanoscale extracellular vesicles, contain important gene regulatory contents and are highly abundant in all body fluids. They carry with them RNA and protein markers that indicate cancer and other diseases. While it's easy to collect the body fluids, it's challenging to extract exosomes from the fluid to identify the biomarkers.
Exosomes are being researched widely for better understanding and applications to identify cancer, Alzheimer's, diabetes and many other diseases. But having to rely on a complicated, labor-intensive process that requires a large amount of liquid and bulky equipment, was slowing down this research.
Esfandiari and her research team in her Integrative Biosensing Laboratory at UC discovered a way to make that process faster, easier and more cost effective. Esfandiari frequently collaborates with colleagues from the UC College of Medicine and Cincinnati Children's Hospital Medical Center. Conversations with those in the medical profession led her to explore a better way to isolate exosomes from the body fluids utilizing a novel label-free electrokinetic device.
"My colleagues at UC Cancer Center told me that the bottleneck of exosome research is on the current time-consuming technique to extract exosomes with high yield and purity," Esfandiari said. "They also said that it would help them tremendously if I could come up with the technology that can extract exosomes more rapidly from biofluids." 
So, Esfandiari and her team came up with a way to take just a small amount of fluid, approximately 500 microliters, and separate exosomes using the electric field — specifically, a low-voltage dielectrophoretic tool that works with specialized nanopipettes.
Esfandiari's collaborations are paramount to her role as an engineer. Most of her project ideas come from working with physicians and others in the medical field. 
"By communicating with clinicians and biologists, you can understand what's needed and find a really good application for what you're developing in the lab and you can modify the design based on their needs to make a bigger impact," she said. "It's so important to bridge that gap between engineering and the medical field."
It's so important to bridge that gap between engineering and the medical field.
Leyla Esfandiari, UC assistant professor
Esfandiari's research on exosomes has garnered support through two National Science Foundation grants, including her recent NSF CAREER award. The project also is supported by a National Institutes of Health National Cancer Institution grant that was awarded in 2019. In early 2020, Esfandiari went through UC's Venture Lab business pre-accelerator and continues to be supported by the program to launch a startup in this field. 
Esfandiari said the discovery of their successful method to extract exosomes came out of what might initially appear as a failure of another research project. While working on nanopore sensing, the researchers were expecting one result based on physics and ended up getting the opposite result over and over again. By digging deeper into why they weren't seeing the expected results, they were able to discover and apply the method now being successfully used to extract exosomes.
"I always tell my students that even if you are getting negative data, it's still good data because it's telling you something. You cannot ignore it and you'll just have to dig deeper to understand the physical principle behind it," Esfandiari said. "I think that's the whole point of science. We shouldn't be biased, because we are exploring. So, if you are seeing unexpected results that you feel like 'oh, I shouldn't be seeing that,' but you are seeing it consistently, it's trying to communicate with you a story that you have to interpret and understand."

As UC graduate students, Leilei Shi, Yuqian Zhang and Ankit Rana worked extensively with Esfandiari on the project as part of their electrical engineering research work in the College of Engineering and Applied Science.
Zhang, who successfully defended her Ph.D. dissertation and graduated from UC in December 2020, said working in Esfandiari's lab inspired her to adapt and devote her skills as an engineer to make an impact in the healthcare field. Zhang is now working as a research fellow at the Mayo Clinic.
"By developing user-friendly and cost-effective devices, we could not only simplify the work in clinics, but also potentially integrate devices with personal electronics and bring early diagnosis and therapeutics to the home," Zhang said. 
Esfandiari, who joined the faculty at UC in 2015, has a bachelor's degree in electrical engineering. As a student, she discovered she wanted to apply her knowledge in electrical engineering to the medical field, so she went on to earn a master's in biomedical engineering at University of California Irvine and then a Ph.D. in bioengineering from UCLA. 
In addition to her dual appointments in UC's Department of Biomedical Engineering and Department of Electrical Engineering and Computer Science, Esfandiari is part of the faculty of the Medical Scientist Training Program at UC's College of Medicine. She is also a member of Cincinnati Children's Hospital Medical Center's Center for Stem Cell and Organoid Medicine and Cincinnati Cancer Center.
In addition to her work on liquid biopsy for early cancer diagnostics, her research also includes projects on smart, bioactive, piezoelectric materials for tissue engineering and regenerative medicine.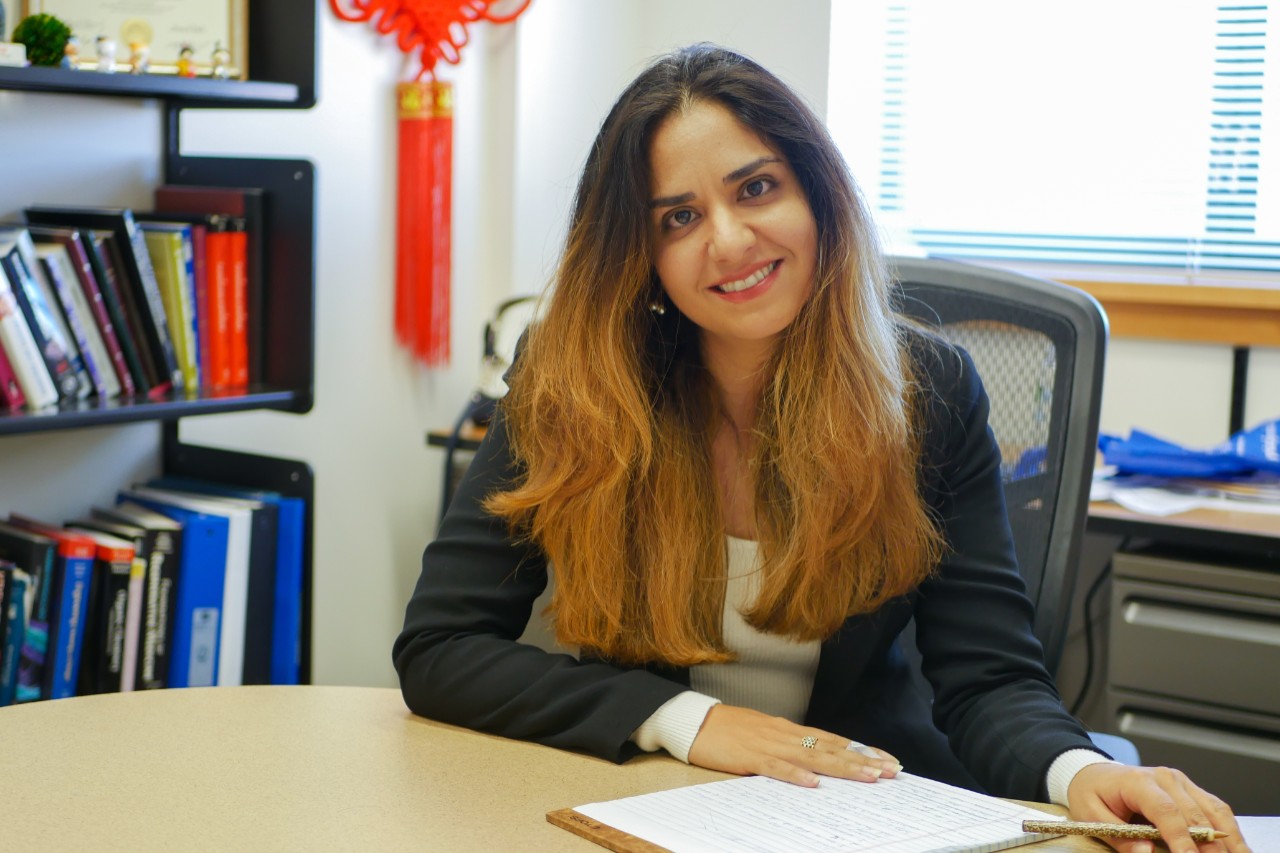 2
March is a month associated with both good and bad luck
March 20, 2023
The month of March holds space for both St. Patrick's Day and The Ides of March. These two events are associated with both good and bad luck, as explained by Rebecca Borah who researches popular culture and the traditions associated with myths, legends, lore and truths.
3
UC to celebrate Research + Innovation Week
March 16, 2023
With more than $300 million in research expenditures in the financial year 2022, University of Cincinnati researchers are "transforming society through the creation of game-changing knowledge and application of disruptive discoveries."
Debug
Query for this