CCM Dean's Medal Awardee Betty Glover is a trailblazer for women in music
As one of the first female trombonists in the US, she made her mark on the world of music
UC College-Conservatory of Music alumna Betty Glover (BM, '44) is no stranger to having the title of "first." As one of the first female trombonists in the country, she made her mark on the world of music and enjoyed an incredible career.
Glover is the recipient of the 2021 CCM Dean's Medal, which honors a graduate or former student whose outstanding leadership, professional accomplishments and dedication to their chosen field is exemplary. The award will be presented as part of CCM's Virtual Graduation Convocation Ceremony, which streams on Saturday, May 1, 2021.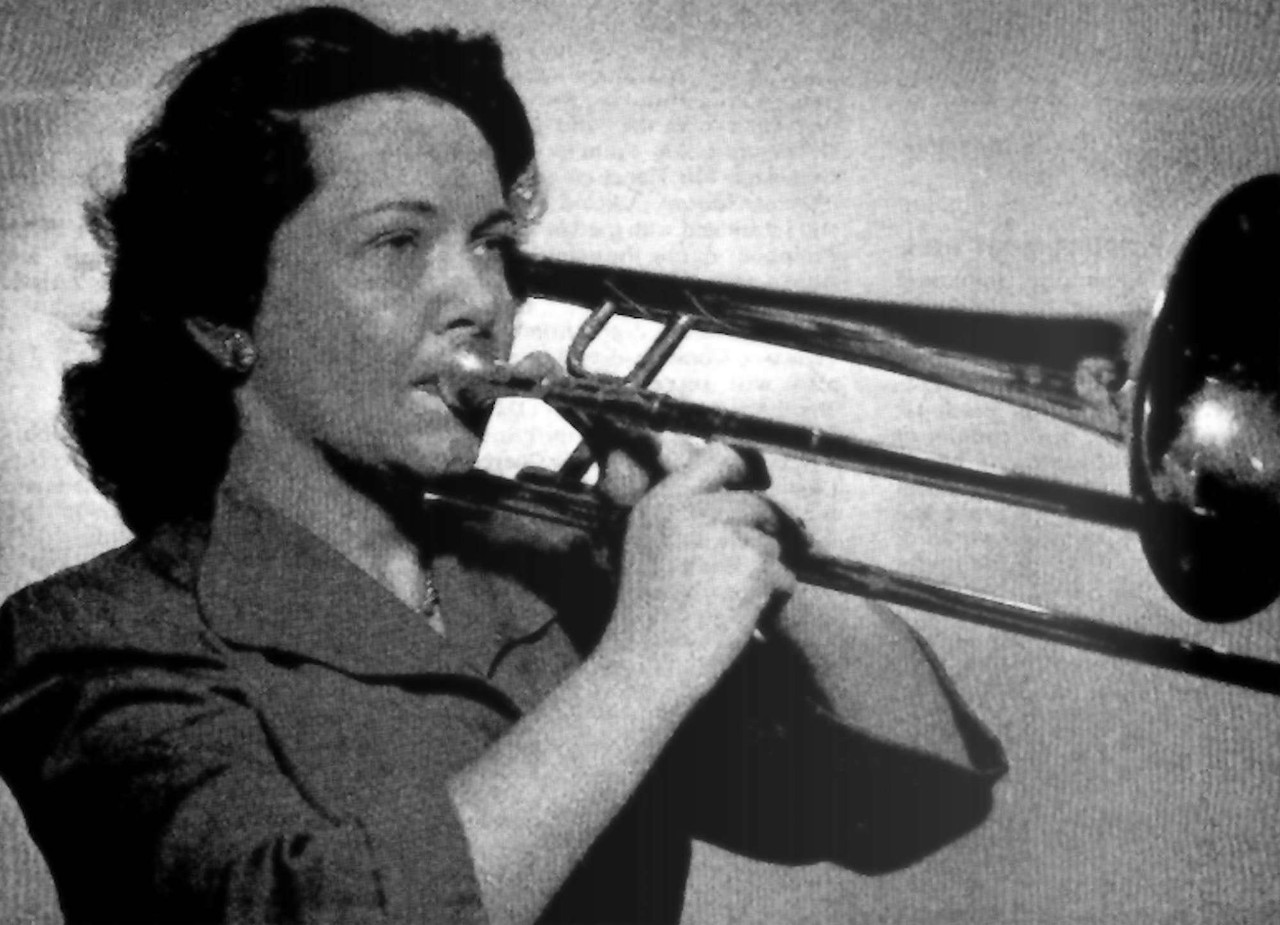 Glover studied at the Cincinnati Conservatory of Music before it merged with the College of Music and became part of the University of Cincinnati. Upon graduation, she played with the Kansas City Symphony, the Columbus Symphony and taught at Otterbein College. In 1952 she joined the Cincinnati Symphony Orchestra and became the first female bass trombonist in the country. She held the position for nearly 33-years — all while on faculty at CCM, where she conducted the Brass Choir.
A native of Springfield, Illinois, Glover's passion for brass instruments began in the fourth grade when she started playing the trumpet, which was quickly followed by the euphonium and trombone. Little did this young girl know that someday she would break glass ceilings to become a role model and mentor to hundreds of students.
Dr. Earl Rivers, CCM's former Director of Choral Studies, has a friendship that goes back decades. "When my CCM faculty colleague, Betty Glover, invited me and my CCM Choir to join her and the CCM Brass Choir for a Sunday afternoon concert at Covington's magnificent Cathedral Basilica in the late 1970's, I had no idea our partnership would last for 13 consecutive years at the Cathedral. One of America's leading trombonists and teachers, Betty conducted memorable concerts at the Cathedral with the CCM Brass Choir that inspired my CCM Choir and me to reach greater heights of music making. I am forever grateful for what Betty taught me and my students about making music." Rivers retired from CCM in 2020.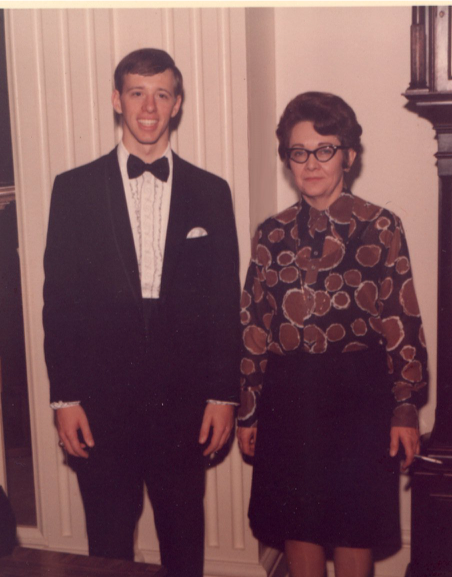 The UC Alumni Office heard from dozens of individuals who want to congratulate Glover and share the impact she had on their careers. Bob Coil (BM Bass Trombone, '71, MBA Management, '88) (pictured left with Betty at his Senior concert) was a bass trombone student of Glover's from 1967 to 1971 and said she was extremely influential in shaping his musical career. He planned a tribute concert to honor Glover but it was canceled due to the COVID-19 pandemic.
Now residing in Ménerbes, France, 97-year-old Glover still stays in touch with her former students, fellow musicians and fans of her work from around the world. Former student and CCM faculty Marie Speziale (BM Trumpet, '64) says, "It is so hard to put into words the significance of a nearly 60-year friendship with a person as enormously impressive as Betty Glover. I first met Betty in 1960, my freshman year at CCM. As a young female brass player with no women as role models at the time, I found her immense presence in the Cincinnati community of musicians extremely inspiring and impactful."
Through all of her accomplishments, Glover stays humble. In response to receiving the CCM Dean's Medal, Glover wrote in a letter, "Again, thank you. Never could I have dreamed of such an honor for my work. I simply thought that I was just doing my job." And a job well done it was.
Speziale concludes it best:
"Betty Glover: the performer, the educator, the conductor, the trailblazer, the consummate professional! How fortunate we are to have been in her orbit for so many years."
Jamie Muenzer
Associate Director of Alumni Relations, CCM and DAAP
1
WVXU: Health benefits and risks to recreational marijuana
December 1, 2023
The University of Cincinnati's LaTrice Montgomery joined WVXU's Cincinnati Edition to discuss the potential health benefits and harms associated with expanded cannabis access after Ohio voters approved legalizing recreational marijuana in the November election.
2
CCM Dance presents 'An American in Paris + Other Works' on Nov....
November 28, 2023
CCM Dance proudly presents An American in Paris + Other Works, a lively program featuring repertoire ranging from classical ballet to modern dance. The centerpiece of the program is An American in Paris, a one-act ballet set to George Gershwin's iconic music, choreographed by guest artist Peter Davison.
3
National media highlight newest US World Heritage site
November 28, 2023
For nearly two decades, professor emeritus John Hancock helped lead a team of archaeologists, historians and Native American scholars, including staff at the National Park Service and Ohio History Connection, to have the Hopewell earthworks recognized on par with other World Heritage sites such as the Great Wall of China and Stonehenge.
Debug
Query for this