Engineering student's roller coaster model serves as inspiration for kids
Jared Holladay created a model that replicates the real thing
For most people, waiting in a long line at an amusement park is a test of patience. For University of Cincinnati student Jared Holladay, it was an opportunity to discover his passion for engineering. 
Holladay grew up as a frequent visitor to Kings Island in Cincinnati's northern suburbs and it was there that he became curious how roller coasters functioned — particularly their electrical control systems. He started building increasingly complex model roller coasters and taking them to various STEM educational events to inspire others to share his interest in engineering or other STEM fields.
Jason Heyl, instrumentation specialist at UC's Department of Electrical Engineering and Computer Science, approached Holladay two years ago after seeing his earlier coaster models and asked him if he would make a model as his senior design project that could be used as an outreach tool. With support from Rockwell Automation, Holladay built the electrical system with donated equipment from Rockwell and he 3D printed many components and the track.   
When he graduates from UC this spring with his bachelor's degree in computer engineering, Holladay will leave behind a legacy — his most advanced roller coaster model that will be used by the university to continue to inspire.  
Here, Holladay answers some questions about his experience at UC and building the roller coaster model. Check out his video below to see how the amazing project came together. 
What inspired you to use your roller coaster models as an educational tool to inspire kids?
My passion for STEM education really started in high school when I began taking the models to different events in the Cincinnati area. Honestly, one of my favorite parts of making the model roller coasters is showing them to other students. I love when they get excited to see the model and interact with it. STEM topics can sometimes be hard to relate to students because as kids we don't all have experiences in how these technologies are applied.
I found my passion for engineering standing in line at Kings Island watching the rides run and trying to figure out how they worked. Building the models gave me the opportunity to figure out what part of the roller coaster design process interested me the most. I hope sharing my story and passion for the incredible engineering behind roller coasters through these models helps inspire the next generation of engineers to find and follow their own passions as well. I have been lucky enough to share my model roller coasters with students at Tech Olympics 2016, Loveland High School, Loveland Middle School, Cincinnati Museum Center and Kings Island.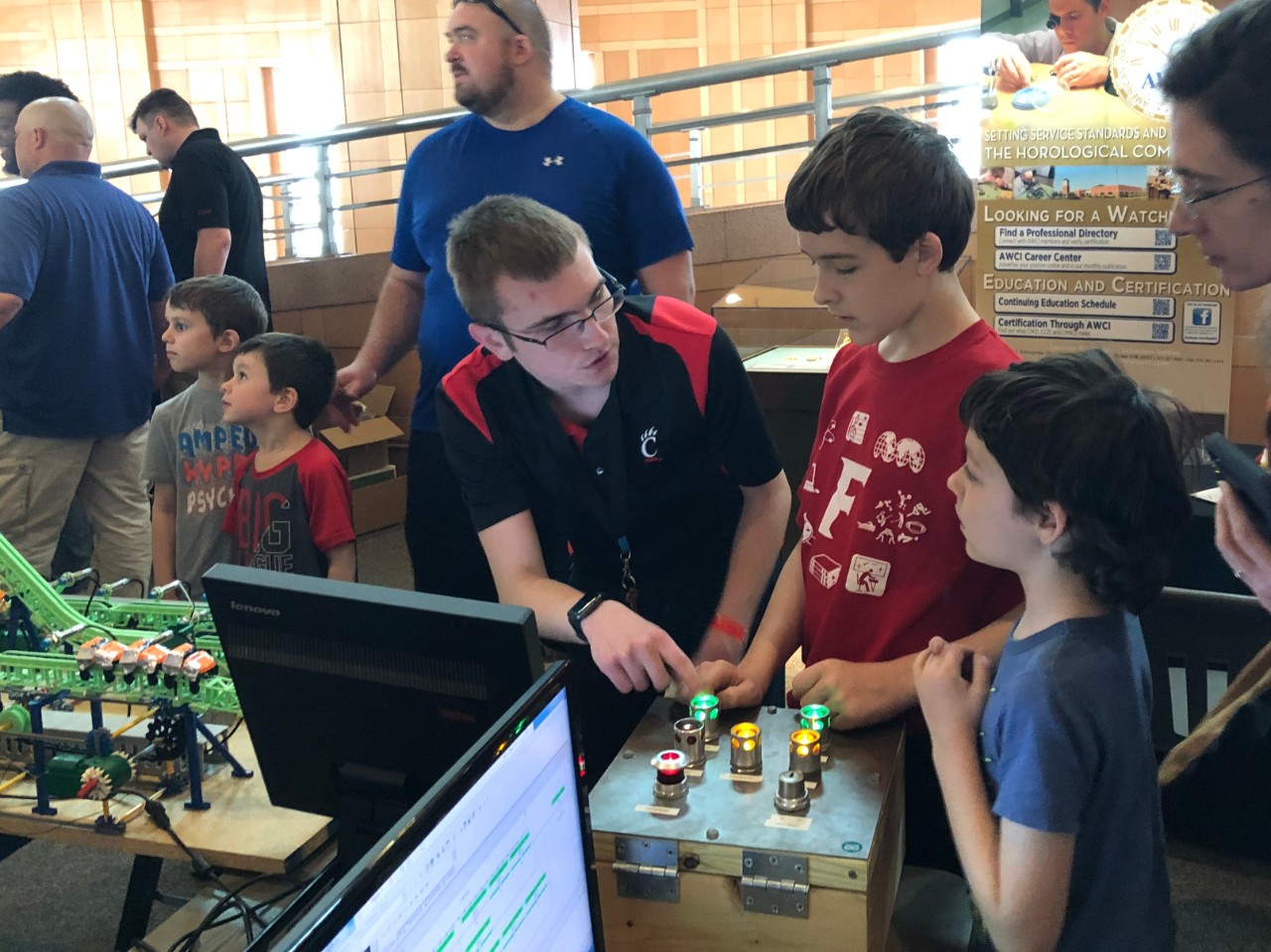 Did your co-op jobs further your interest in roller coasters and control systems?
When I entered college, I knew that I wanted to work with automated control systems and if I could work with them on theme park rides that would be even better. I'm fascinated by code that makes physical things move. I worked for two great companies during my cooperative education (co-op) terms at UC. 
I co-oped at E-Technologies Group in West Chester, Ohio [where I will be working full-time in factory automation control systems after graduation]. I gained a lot of experience programming all kinds of automation equipment used to monitor and automate industrial production lines. A little-known fact about roller coasters is that they use very similar technology to what runs an automated factory. 

When I went to the International Association of Amusement Parks and Attractions trade show in 2018 in Orlando, I had a lot of experience that could be directly applicable to controlling amusement park rides. There, I was able to talk with engineers who work on amusement rides. I learned a ton about ride systems and even made a connection that led to a co-op position at Walt Disney Imagineering (WDI). At WDI, I was part of their ride control software team. I worked on a brand-new ride that is soon to open at one of their parks. I am super excited to take a spin when it opens and be able to see how my little piece fits into the experience. 

When I was on co-op, I spent my evenings and weekends building the models. I wanted my models to be just like the real thing (including using the same technology), so I purchased similar equipment to what I was using at work from Ebay. I used the equipment to control my model roller coasters which not only satisfied my goal of making my models more realistic but also gave me a great setup to use and expand my knowledge of automation technology outside of the office.  

How will your latest model be used by UC and Rockwell Automation?
The model has multiple modes to help expand its audience to all kinds of people. Mode A is a demonstration guided by someone well versed in the concepts behind roller coaster controls and how those concepts can be seen on the model (ideal for maker fairs, classrooms, summer camps, etc.) Mode B acts more like a show piece and requires minimal interaction from users (ideal for tradeshow or museum display.)  
The cool part of this roller coaster project was that I got to follow the same steps of a real control system project lifecycle. That includes the handoff of the system to the client. After I graduate, Jason and the team at Rockwell will be taking the reins and using the model for demos at many different events. I hope to be a part of as many of these events as I can, but I will not be in charge of where it goes. Jason and I have been meeting with Rockwell regularly to coordinate future plans for the model and I don't see this partnership ending anytime soon. I have also been doing extensive accelerated life testing on the model's many subsystems. This has allowed me to develop procedures which will help the team maintain the model. I hope the model continues to inspire the next generation of engineers for many years to come.  

Video link: https://www.youtube.com/embed/iartGfOZwMk?rel=0