Lindner College of Business celebrates 2020-21 outstanding faculty, staff
Annual awards program recognizes college faculty, staff excellence at hybrid event
The University of Cincinnati Carl H. Lindner College of Business celebrated the college's outstanding faculty and staff for the 2020-21 academic school year at partially in-person, partially virtual event on Monday, April 26, 2021.
Many professors and staff members earn named awards and for excellence in service or research. Additionally, members of the college's adjunct faculty are selected across academic areas.
"I firmly believe we have transformed ourselves as we transformed our students, especially over the past year," said Lindner College of Business Dean Marianne Lewis, PhD. "We pride ourselves in providing an innovative and diverse environment for our students and guests, teaching and practicing ethics, analytic skills and inclusive excellence that we demonstrate every day."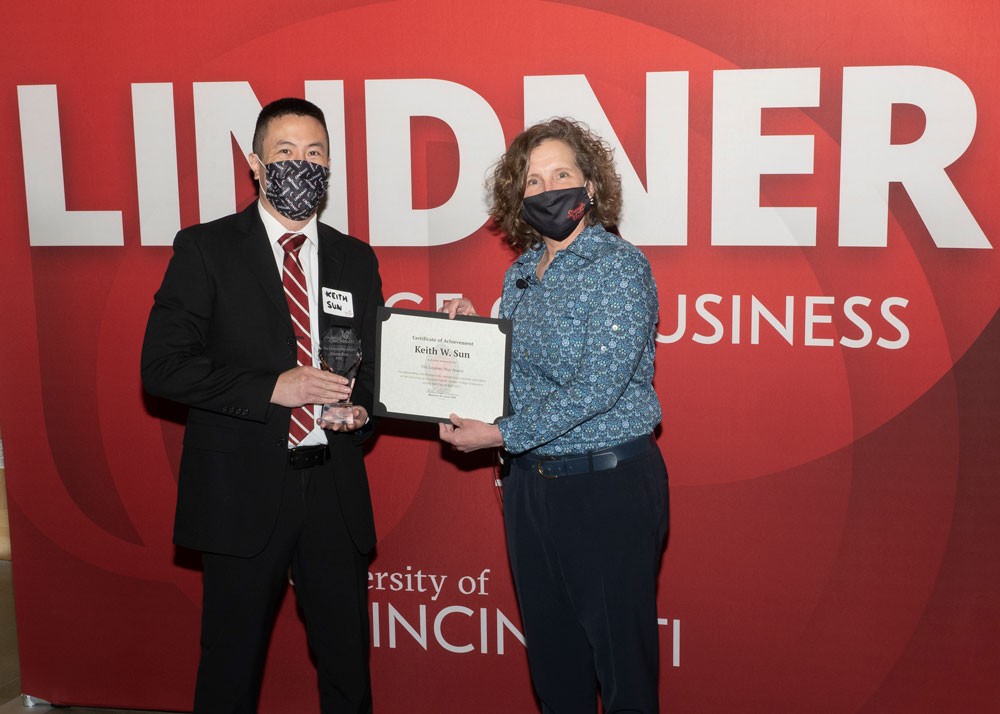 Congratulations to all recognized faculty and staff at Lindner! Thank you for your service and dedication to developing future business leaders. Read more about the awards, meet this year's recipients and view the ceremony video below.
Outstanding Adjunct Teaching by Academic Areas
Lindner is fortunate to have so many exceptional adjunct faculty members teaching, often on a part-time basis, as they are current or former professionals from the business community.  Their presence in the college has become increasingly impactful, since they share their valuable, real-world career experience with students in the classroom. 
Accounting – Javan Kline
Javan has been an inspiring presence in Lindner classrooms and online since 2014. He is a business law and tax law specialist who brings real-world experience from his practice to the classroom and informs students with his natural energy and enthusiasm. He currently holds an Of Counsel position at Graydon, Head and Richey, LLP. Javan teaches state and local taxation and IRS practice and procedure in Lindner's online MS Tax program. He teaches estate and gift tax planning for graduate and undergraduate students. Finally, he has taught corporate legal and social responsibility in the MBA program. In December, Javan participated as a presenter in the UC Income Tax Conference for the first time.
Economics – Laurent Rousaud 
Laurent has consistently demonstrated teaching excellence. His courses are rigorous and challenging yet accessible. His commitment to students was especially notable during the pandemic. When UC suddenly pivoted towards remote teaching in March 2020, he reached out personally to each of his students to communicate the transition plan. Overall, he is committed to his students' success to the highest degree.
Finance – Mi Youn Paek 
Mi Youn has been a caring and dedicated instructor at UC for several years, as reflected in numerous student comments on her teaching evaluations. She has cheerfully agreed to take on an extraordinary variety of courses as lead instructor. In addition, she has worked to help numerous other faculty deliver their courses as a co-instructor or facilitator. Mi Youn has demonstrated great flexibility and a positive attitude.
Management – Michael Sterling
Mike has taught organizational behavior for the management department for several years. He is seen by his students as caring, accessible and organized. Based on his many work and life experiences, he integrates real-world examples in the classes that he teaches, providing relevant content for his students.
Marketing – Daniel Peterson
Dan has mastered the art of teaching sales role-plays and providing effective feedback to students in a way that improves their skills without crushing their spirits. Dan also volunteers two hours every Monday evening to coach students on the Lindner Varsity Sales Team. In pre-COVID days, he attended the out-of-state sales competitions to provide student support, calm pre-competition nerves and build confidence. With his coaching, the team consistently places in top positions. Varsity Sales Team members have also secured employment at top sales organizations like Oracle, IBM, P&G and Cintas.
Operations, Business Analytics and Information Systems – Bill Nicholson, Jeffrey Shaffer
Bill has taught Lindner students since 2016 with a focus on developing applications using Java and Python. His students regularly comment on how much they learn and how rigorous his courses are. He sets high expectations and holds students to them, doing so in a way where students feel encouraged and supported. He is also an associate professor-educator at UC Clermont.
Jeff is a widely recognized authority on data visualization and information dashboarding. He designed and taught the graduate data visualization course to thousands of Lindner MS BANA, MS IS and graduate certificate students, Lindner undergraduates, and students from other colleges since 2012. His students regularly comment that his course is interesting, practical, useful and fun, all at the same time!
Drew and Wendy Boyd Breakthrough in Innovative Teaching Excellence Award
About the award: The Drew and Wendy Boyd Breakthrough in Innovative Teaching Excellence Award honors a faculty member who is consistently exceptional in training students to think differently, such as including breakthroughs in teaching into their curriculum as it could be applied to their discipline, using new instructional technology or leveraging new ways to engage and collaborate with students.
Melissa Newman, Associate Professor- Educator, Management
Melissa is an assistant professor-educator of management who continually embraces innovation in her teaching. She identified a need for Lindner students to apply business principles and concepts to the non-profit sector, so she developed an entirely new course, Leadership for Social Impact, in which students develop the skill of lateral thinking. Students are tasked with a consultancy project to help a non-profit agency solve an organizational design problem. Melissa also developed and raised funds that enabled her to take 20 Circle of Excellence students to San Francisco for a series of start-up company visits. Melissa served for many years as the Director of the Circle of Excellence program.
Binny Samuel, Associate Professor, OBAIS
Binny is an Associate Professor of OBAIS, and he truly exemplifies the qualities of this award.  Many of the analytics courses taught in Lindner have an emphasis on premise technologies for network and computing infrastructure. Binny completely revamped his courses to incorporate cloud computing architecture. He worked for nearly two years to finalize a partnership with Amazon to incorporate Amazon Web Services into his curriculum. Binny also possessed the foresight to anticipate the growing importance of the programming language Python in analytical applications, and introduced new course content to teach Python to students.
Harold J. Grilliot Award for Exemplary Service to Undergraduate Organizations
About the award: This award was created in memory of the late accounting professor, Harold Grilliot, who was known for his exemplary service to undergraduate student organizations and advancing student-faculty collaborations. Recipients of this award have demonstrated tremendous dedication to students and to enhancing their all-around Lindner experience.
Karen Manning, Annual Adjunct Assistant Professor, Marketing
Karen serves as the faculty advisor to the UC Chapter of the American Marketing Association. She has served as the faculty advisor to Lindner Women in Business (2015 - 2020) and the faculty advisor to the Sales Leadership Club (2013 - 2020). Students wrote the following in nominating her for this honor:
"Karen's greatest strength is her ability to uncover what makes each one of her students special and help them develop into the leaders they are meant to be."

"Karen goes above and beyond to find special opportunities for her students to grow."

"Karen has forged me into the leader I never thought I could be."
Michael L. Dean Excellence in Classroom Education & Learning Undergraduate Teaching
About the award: This award recognizes a professor's contributions within and beyond the classroom, including rigorously challenging students to meet high standards, master skills that will serve them well in professional endeavors and maintaining mentoring relationships even after the courses are completed.
Elliott Manzon, Associate Professor- Educator, Marketing

Elliot exemplifies the tradition created by Professor Dean. Students rave that his courses are engaging and applied, calling his Market Research and New Product Development courses "legendary." Even remote, students praised him for creating "an extremely positive virtual environment." "His class was the most fun to take virtually this semester, by far," said one student. "He had many breakout sessions and virtual activities for us to participate in throughout the semester." They also praised how he creates an active learning environment that gives students hands-on experience at applying textbook knowledge to actual workplace projects. One student noted that they "… acquired too many skills to type out! I can walk away saying I had hands-on experience for every single thing we learned in class and I have loved talking about my experience with class during interviews."
Michael L. Dean Excellence in Classroom Education & Learning Graduate Teaching Award
About the award: Michael Dean EXCEL Graduate Teaching Award to honors faculty who provide consistently exceptional graduate education in the ways similar as described for this award for undergraduate teaching.
Alexander Borisov, Thornburgh Associate Professor, Finance
Thornburgh Associate Professor of Finance Alexander Borisov has a strong commitment to his students and has excelled in graduate teaching. He applies certain tools and techniques across master's and doctoral classes with equal success. In their testimonials, students highlight that his stories, anecdotes and examples made them more interested in finance. Without compromising on rigor and quality, Alex's focus on engagement and student success make him the perfect candidate for this award.
Daniel J. Westerbeck Junior Faculty Graduate Teaching Award
About the award: In 1973, Mr. Daniel Westerbeck earned his MBA from UC. He firmly believed that the Lindner College of Business helped put him on the right track to a very successful business career. He showed his gratitude in 2006 by establishing the Daniel Westerbeck Junior Faculty Graduate Teaching Award to recognize excellence in graduate teaching for faculty early in their career. In addition to outstanding performance in the classroom, the winner of this award exhibits an advanced pedagogy that incorporates interdisciplinary collaboration to expose students to a variety of topics, projects, and cases.
Dungang Liu, Associate Professor, OBAIS
Dungang is an Associate Professor of operations, business analytics, and information systems (OBAIS). He impressed many with his ability to turn a field of study that often invokes fear in students into one that inspires them. A consistent theme in his students' testimonials is that he is able to break down statistical complexities into terms and examples that are accessible, even to students with little to no training in the area. In addition, Dungang successfully transferred his rapport in the physical classroom to a virtual environment, displaying substantial improvement and adaptation as he learned new online teaching techniques.  
Lindner Research Excellence Emerging Scholar Award
About the award: This award recognizes a tenure-track faculty member with an impressive and promising research record in the early years of their research.
Leonardo Lozano, Assistant Professor, OBAIS 
Leo is an assistant professor of marketing who earned his PhD from Clemson University in 2017. His research focuses on theory, methodology, and algorithms in combinatorial optimization, multi-level programming and network flows. He is interested in application areas such as vehicle routing, scheduling and homeland security. He has published more than ten papers in several of the most-demanding journals in his discipline, such as Operations Research, Mathematical Programming and INFORMS Journal on Computing.
Yinghao Zhang, Assistant Professor, OBAIS 
Yinghao is an assistant professor of operations, business analytics, and information systems, earning his PhD from the University of Minnesota in 2013. His research interests are in the area of supply chain management, with an emphasis on behavioral issues. He has consistently published in top leading operational management journals, such as Management Science, Production and Operations Management and Manufacturing & Service Operations Management, every single year since 2016. His most recent publication about workers' relocation decisions in on-demand platforms has won multiple best paper awards.
Excellence in Service to Research Award
About the award: The Excellence in Service to Research Award recognizes exceptional contributions in research-related service activities in any particular business discipline.
David Curry, Professor, Marketing
Dave has been a Professor of Marketing in since 1990. He earned his PhD from University of California, Berkeley. During his 30 years at Lindner, along with a very impressive research record, Dave has been a valued resource to the college, university, the marketing profession, as well as industry and government through his service to research. He has chaired 16 PhD dissertation committees and served on many more, both within Lindner and across campus. His research service includes: department of marketing PhD program coordinator, Lindner Research Excellence Committee and the University "Life of Mind" Committee, which is an annual lecture series that features interdisciplinary conversations with UC faculty. 
Lindner Research Excellence Award
About the award: This award recognizes the research contributions of a tenured faculty member with particular emphasis on their contributions over the previous five years.
Nan Zhou, Professor, Norwood and Marjorie Geis Chair of Accounting and Director of the Accounting PhD Program, Accounting
Nan is the Norwood and Marjorie Geis Chair of Accounting. Since joining UC in 2018, he has served as the director of the accounting PhD program. Nan earned his PhD from the University of Minnesota. His research interests are in financial reporting, corporate governance, auditing and accounting regulation. Over the past five years, he has published 13 peer-reviewed articles, four of which are in top-tier journals in his field. Furthermore, Nan's research papers have been cited over 2,000 times. Nan currently serves as an Associative Editor of Asian Review of Accounting and is on the editorial boards of the International Journal of Auditing and Journal of International Accounting, Auditing, and Taxation. Nan is also the first accounting professor to be recognized with this award.
Phyllis Trosper Service Excellence Award
About the award: Named for Phyllis Trosper retired from Lindner in 1999, this award was created to recognize one staff member each year who demonstrates high levels of customer service, creates cooperative and positive interactions with the college's constituents and carries out his or her job duties in ways that far exceed standard expectations.

Rachel Bednar, Building Manager
As Lindner's building manager since 2014, Rachel has shown true dedication and leadership as she guided the college through the planning, construction and move to the new Lindner Hall. She navigated the many requests for office blinds, new furniture and equipment, and anti-fatigue mats for classrooms. She also worked closely with contractors to complete the renovation of the Kautz Attic. During the pandemic, she prepared Lindner Hall for a safe return – physically relocated furniture, measured spaces for social distancing, printed and displayed signs and decals and worked closely with University and Lindner leadership to enforce health and safety guidelines.
About the award: This award honors one staff member for outstanding contributions to the overall vision of the Lindner College through internally and/or externally focused strategic initiatives that cultivate a premier academic institution for education, talent and business knowledge. The selection committee seeks a nominee for this award who exemplifies the values of the College, known as "The Lindner Way."

Keith Sun, Assistant Director, Lindner Career Services
Keith became Assistant Director of Career Services in 2017. He helped his team win the 2019 Best Practices Award from the Cooperative Education & Internship Association. During the pandemic, he successfully provided three amazing virtual networking events with top employers and professionals. Keith regularly serves as a guest speaker at different Lindner student organizations, and served as an adjunct instructor for the BA3080 course. He raised awareness in Silicon Valley of the quality of our Lindner students and the possibilities for recruiting at UC, and brought helpful attention to the career opportunities and barriers for Asians and Asian-American students. He has given diversity presentations within and across campus.  H has a friendly and engaging demeanor, a positive attitude, and the desire to never stop learning.
Julie Menchen Distinguished Service Award
About the award: Established a few years ago by Julie Menchen's colleagues, the Julie Menchen Award recognizes a staff member who has worked at least ten or more years for the Lindner College of Business and who has consistently performed well beyond the expectations of their role during their time here. The unique eligibility criteria for this award limits the frequency of its presentation by recognizing only the most highly qualified nominees.

Mary Ann Lorenzen, Manager, Unit Operations, Marketing and Finance
Mary Ann has worked as the Manager of Unit Operations for the Marketing and Finance Departments for ten years. She is the ultimate professional, and goes above and beyond supporting her professors, colleagues and students' wellbeing all the time. She played a pivotal role with the college's successful Community Service Project with the Taft Elementary School. She recently stepped up to support the Business Office, providing valuable input into key college processes, from new employee searches to process improvements, all while maintaining her terrific support of her two departments. Mary Ann is extremely helpful, profoundly kind and compassionate, with a strength of character to all those in need.
University Awards & Recognition
A number Lindner faculty earned awards at the University level this past year, and we are proud to acknowledge them!
Eli Awtrey, Assistant Professor, Management, was awarded a second round 2021 URC Faculty Scholars Research Grant. 
David Brasington, Professor, Economics, was awarded a Taft Faculty Release Fellowship for 2021-22. 
Michael Fry, Professor, OBAIS, and Michael Wagner, Assistant Professor- Educator, Management, both have been awarded the 2021 Faculty Excellence Award by the Provost's Office. 
Michael Jones, Associate Professor- Educator, Economics, was awarded the 2021 Faculty Core Values Award by the Office of Research. 
Marianne Lewis, Dean and Professor, Management, has been inducted as a 2021 University of Cincinnati Graduate Fellow. 
Jane Sojka, Professor-Educator, Marketing, was awarded the 2021 University Distinguished Teaching Professor Award.
It is an honor just to be nominated for certain prestigious awards. A number of Lindner faculty and staff were university- level nominees for awards.
Nicholas Castro, Executive Director, Inclusive Excellence, was nominated for the 2021 Marian Spencer Equity Ambassador Award. 
Roger Chiang, Professor, OBAIS, was nominated for the 2021 Distinguished Faculty Research Award. 
Michael Fry, Professor, OBAIS, was nominated for a 2021 Faculty Senate University Service Award. 
Elaine Hollensbe, Head and Professor, Management, was nominated for the 2021 Outstanding Academic Unit Head/ Leader Award. 
The following staff were nominated for the 2021 UC Staff Excellence Award: 
Suzanne Buzek, Associate Director of Marketing and Publications, Marketing and Communications 
Brian Fanelli, Assistant Director, Career Services
Marilyn Kump, Executive Staff Assistant, Center for Business Analytics 
Keith Sun, Assistant Director, Career Services
Outgoing members of the Lindner Inclusive Excellence Council
Many thanks to the following individuals who served on the Lindner Inclusive Excellence Council, who are completing their term:
Lee Armstrong, Director, International Programs 
Gema Bahns, Assistant Professor- Educator, Management 
Holli Deems, Human Resources Manager 
Nadia Ibrahim-Taney, Assistant Director, Career Services 
Pierre James, Director, Undergraduate Programs 
Ashley McFarland, Associate Director, Student Recruitment, Undergraduate Programs 
Debashis Pal, David Sinton Professor of Economics, Economics 
Jim Pross, Information & Computer Analyst 
Ric Sweeney, Associate Professor- Educator, Marketing 
John Wang, Associate Professor, Accounting
As time passes, members of our college family complete their academic and professional careers and prepare for the next phase of their lives. Lindner has two members retiring this academic year. These remarkable people have brought a wealth of knowledge, hard work and commitment to Lindner. The college is truly grateful for their many contributions in making the Lindner College of Business so great.
Mary Gorman, Associate Professor-Educator, Management, 25 years of service
Mary started at UC in 1996 and is retiring as Associate Professor-Educator in the Department of Management. She earned her bachelor's degree from the University of Oregon and an MBA from the University of Arizona. Mary has taught thousands of freshmen in the Introduction to Business course, taking the lead in the Fast Track Program. She received the Michael Dean Excellence in Undergraduate Teaching Award in 2002 and the Harold Grilliot Award for Exemplary Service to Undergraduate Student Organizations in 2004. For the past seven years, Mary has been a Darwin Turner Scholar honoree recognized at their annual Breakfast of Champions.
Julie Menchen, Director, Dean's Office, 45 years of service
Julie Menchen worked as the secretary in the Management Department for 17 years before becoming the Director of the Dean's Office. She has set up at least a million meetings for 8 different Deans and Interim Deans over the last 28 years. She was awarded the Trosper Award in 2002, and had a staff award named in her honor in 2017. She has led the Staff Development Team, managed the Sunshine Fund, and organized lots of fun events.
Featured image: Julie Menchen, who is retiring after 45 years of service at UC, fist bumps Dean Lewis upon her recognition at the April 26 Faculty & Staff Awards event. Photo courtesy Jay Yocis