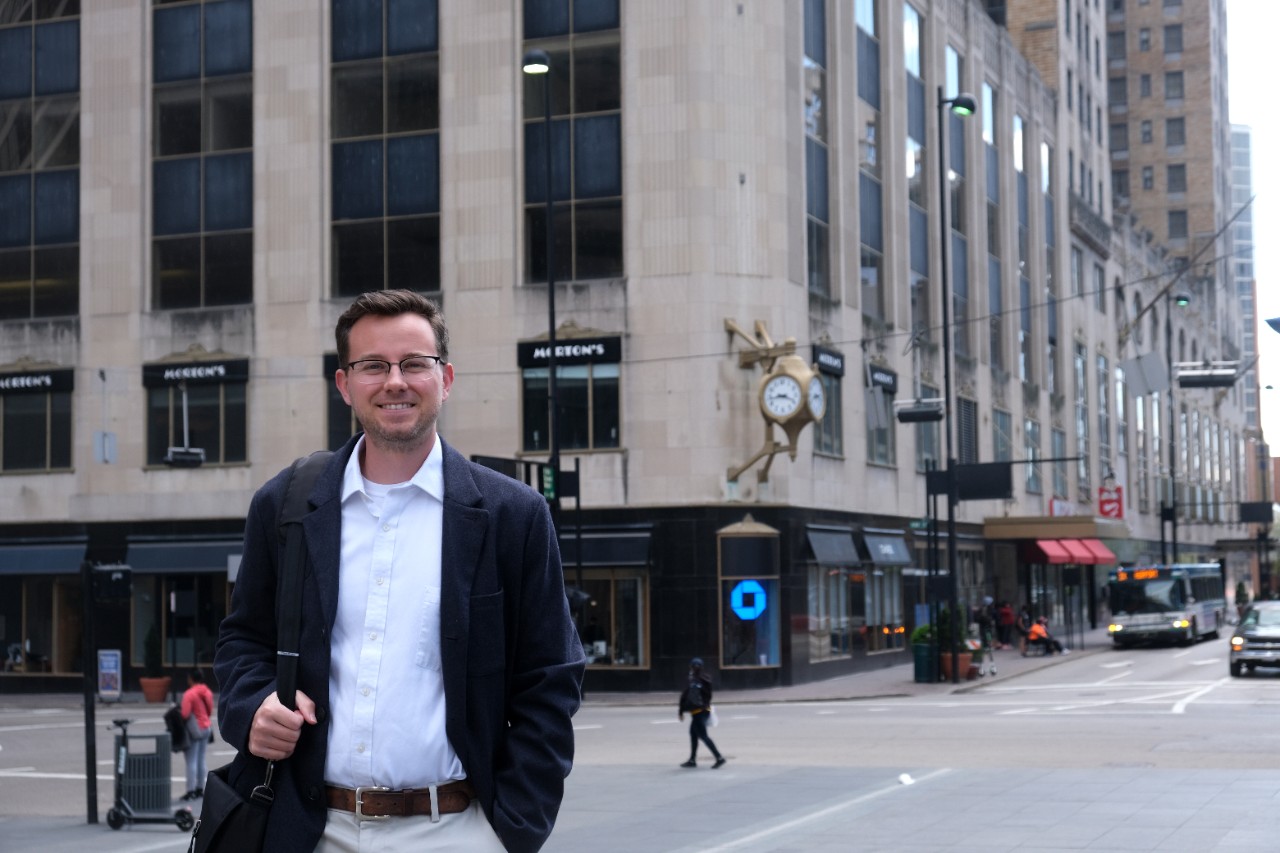 Senior reporter at Cincinnati Business Courier credits A&S for success
Journalism grad Tom Demeropolis has paved his path to a fulfilling career
By Haley Parnell
"I think the biggest thing that I learned at the University of Cincinnati was, it's really important to go do," says Tom Demeropolis, a 2007 graduate of UC's journalism program and a senior reporter with the Cincinnati Business Courier.

"You've got to be able to show potential employers that you can do the work," he says.  
The journalism program in UC's College of Arts and Sciences encourages students like Demeropolis to apply classroom learning to hands-on experience like writing for The News Record, UC's student-run media organization. This kind of training helps prepare students for internships, professional networking and later, career success.
Initiatives such as this support UC's Bearcat Promise — part of the university's strategic direction Next Lives Here — which supports student success during college and beyond to help ensure that students graduate with a degree and a career plan.
Demeropolis started his journalism career as a contributing reporter for the independent student newspaper, writing movie reviews. Watching movies and writing about them was "the best job ever," he says. From that point on, he was hooked on journalism. He became the newspaper's entertainment editor, then a chief reporter. Eventually, he climbed his way to managing editor, the second-to-the-top position in the newsroom.
Demeropolis says these positions helped get his foot in the door at internships with the Cincinnati Post and the Cincinnati Business Courier. He stayed in contact with his editor at the Courier, which ultimately led to a job there.
"I would pitch story ideas or send them what I was working on for The News Record to let them know about things that were going on at UC," Demeropolis says. "I just continued to stay in touch with them on a regular basis to let them know that I loved what I did there."
When a position opened up with the Business Courier's parent company in Dayton, Demeropolis applied and landed a job there.
He transferred to the Cincinnati Business Courier in 2010. He covers commercial real estate and development, writing stories about new buildings, industrial parks, apartment buildings and the companies filling those spaces.
Young Alumni Award honoree
After celebrating his 10th anniversary with the Courier in November, Demeropolis says he loves his beat and doesn't see himself branching off to do anything else.
"I'm really proud of and really enjoy what the Business Journal does for its readers," he says. "We provide information that is so important for them to help grow their business, accelerate their careers, or simplify their business life. It's just a great niche that we have, and I always see a need for that type of information."
In 2019 Demeropolis was recognized among the Department of Journalism's first class of "Young Alumni Award" honorees. The award recognized UC Journalism alumni whose news media careers are on the rise with notable achievements approximately 10 years after graduation. 
During his time in the A&S program, Demeropolis credits the faculty and staff for helping him become successful. "I had a lot of great instructors and mentors that I still talk to today. Jon Hughes (emeritus professor of English and journalism) in particular, I can't say enough about what he's done for me in my career. Just a wonderful person. I'm so glad I connected with him."
He also acknowledges the English and Communications departments in A&S for teaching him essential skills for the post-graduation world. Demeropolis says his English courses taught him how to express complex ideas in simple and understandable ways, and his communication courses like public speaking benefited his interviewing skills.
Demeropolis gives this advice to journalism students: "Get as much reporting and writing experience as you can. Freelance, work for the student newspaper or other publications. Try to get as many bylines as you can. Also, read the type of work that you want to do so you can see what will be expected of you when you join the workforce."
This profile is one of a series exploring the career paths of graduates from UC's College of Arts and Sciences. Student Haley Parnell wrote this story for educator associate professor Bob Jonason's Journalism capstone class at UC.
Featured image at top: A&S Journalism grad and senior reporter for the Cincinnati Business Courier Tom Demeropolis. Photo/Alex Martin
1
Ongoing quest for justice a life-changer for all parties
December 7, 2023
The Ohio Innocence Project and its student fellows, past and present, recently marked 20 years working to exonerate the wrongfully convicted. OIP co-founder and director Mark Godsey, as well as past OIP fellows and Cincinnati Law alumni, Eric Eckes, Law '08, and Simar Khera, Law '15, spoke about their shared experience and its life-changing impact.
3
Lindner student named to Schwarzman Scholars class of 2024-25
December 7, 2023
Carl H. Lindner College of Business student Lance Entsuah, BA '24, recently earned admission to the prestigious Schwarzman Scholars program that offers a one-year, fully funded master's degree program in global affairs from Tsinghua University's Schwarzman College in Beijing, China.
Debug
Query for this