UC refines animal-inspired robotics program
Biology Meets Engineering offers cross-training for students pursuing STEM careers
The Biology Meets Engineering course at the University of Cincinnati combines animal biology with robotics engineering to understand universal rules and tricks that both can use to guide their movements.
The UC team created this program as part of a three-year National Science Foundation grant to develop and demonstrate a new transdisciplinary curriculum drawing from both fields. Both UC students and high school students take the class through UC Forward/College Credit Plus. The team also offers a three-week summer program to introduce the Biology Meets Engineering concept to high school students and K-12 teachers.
Both experiences offer unique cross-disciplinary training to help prepare students to pursue careers in STEM fields — science, technology, engineering, or math.
UC College of Arts and Sciences biology professor Stephanie Rollmann is the principal investigator on the NSF grant and is joined by colleagues John Layne, Dieter Vanderelst, Anna DeJarnette, Kathie Maynard, and Anna Hutchinson.
This program brings biology and engineering together to show how they can mutually inspire each other, Rollmann said. "How can we understand biology through robotics? How can we have robots perform better based on what we learn from animals?"
The summer program, in particular, can benefit high school students who are unsure about their career objectives, Rollmann said.
"You might get some students saying, 'I'm not quite sure what I want to do.' This course can help them tease apart how much they're interested in biology or engineering and how they could integrate that into a career," Rollmann said.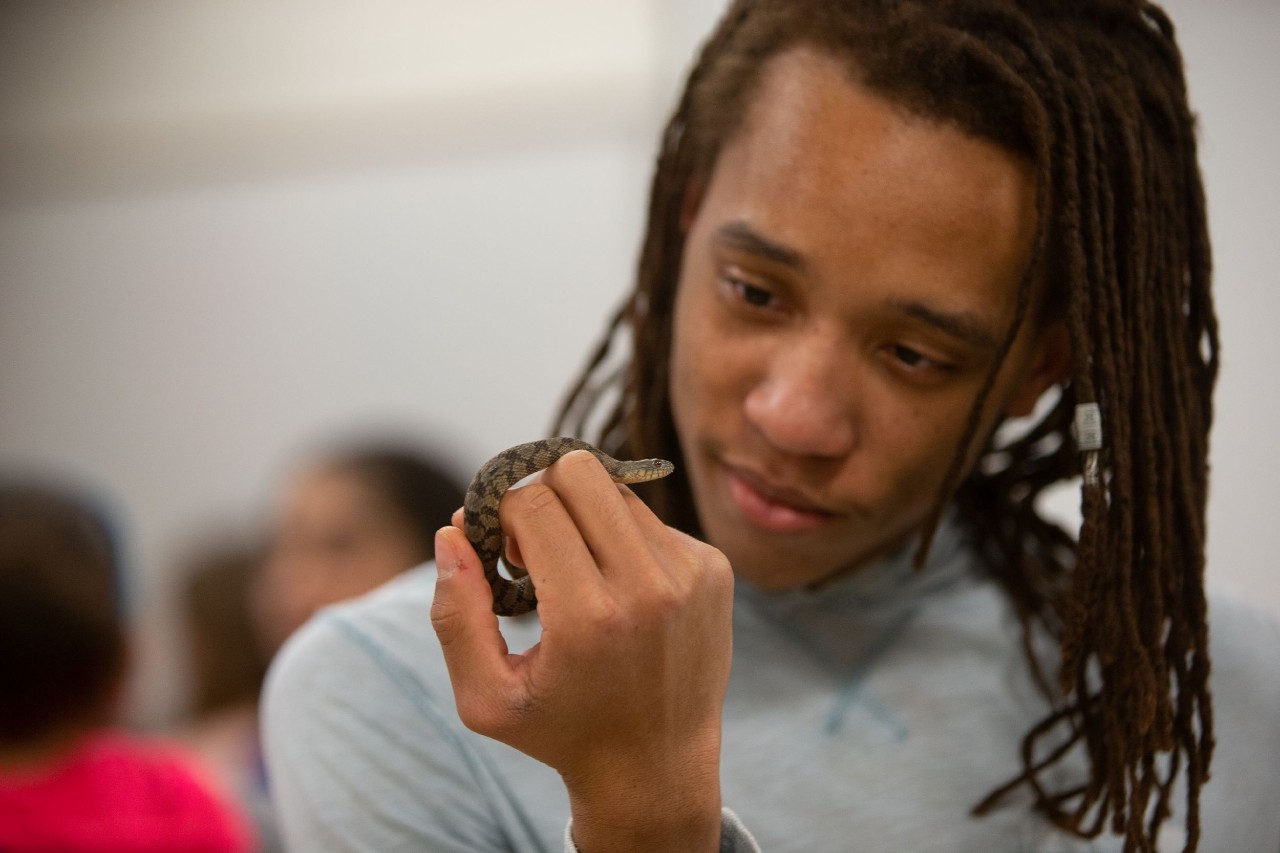 In one class exercise in UC's Armory Fieldhouse, students donned VR headsets to learn how vision affects spatial orientation.
"We're trying to introduce students to the idea that biology and engineering have a lot to learn from each other," said Vanderelst, an assistant professor with joint appointments at UC in psychology, biology, mechanical engineering, and electrical engineering.
His lab has explored topics such as bat echolocation to improve drone navigation in low-light situations.
"We have a lot of bio-inspired robotics and people who use technology to investigate biology. We're trying to see if it's possible to teach students these things at the same time in a meaningful way," he said.
UC students who take the class learn about animal senses to understand better how these concepts can be applied to robots with sensors that mimic animal abilities. The students studied the visual acuity of fiddler crabs and how termites follow scent trails to navigate their complex world. The former is the research topic of UC's Layne, associate professor in biological sciences, who studies spatial navigation and color vision.
We want to offer them a glimpse of what it means to be a scientist and hopefully they'll keep an open mind as they move on to college.
John Layne, UC Associate Professor
Carrie Dietz is a biomedical engineering student at UC's College of Engineering and Applied Science. When she graduates, she wants to design better medical devices.
"It's been a lot of fun to work on this and see the overlap of disciplines. We build our technology based on human life to make things easier for us," she said. "It's really important to work with people from different backgrounds. One person will not know everything or be good at everything. So having a diverse group of people offers more opportunities to learn from each other and build on each other's strengths."
Biomedical engineering student Amanda Lehmkuhl is pursuing a minor in biomedical electronics and computing. She and the other students learned the programming language Python to program the robots.
"I would definitely recommend the class to other students. It would have helped me earlier in my second or third year to understand a programming language and get that biology and engineering background right off the bat," she said.
After graduation, Lehmkuhl has a job lined up supervising clinical trials for a pharmaceutical company.
"My major has consisted of a lot of engineering courses or breadth-of-knowledge courses," she said. "Having a combination of biology and engineering has been a breath of fresh air to get both sides."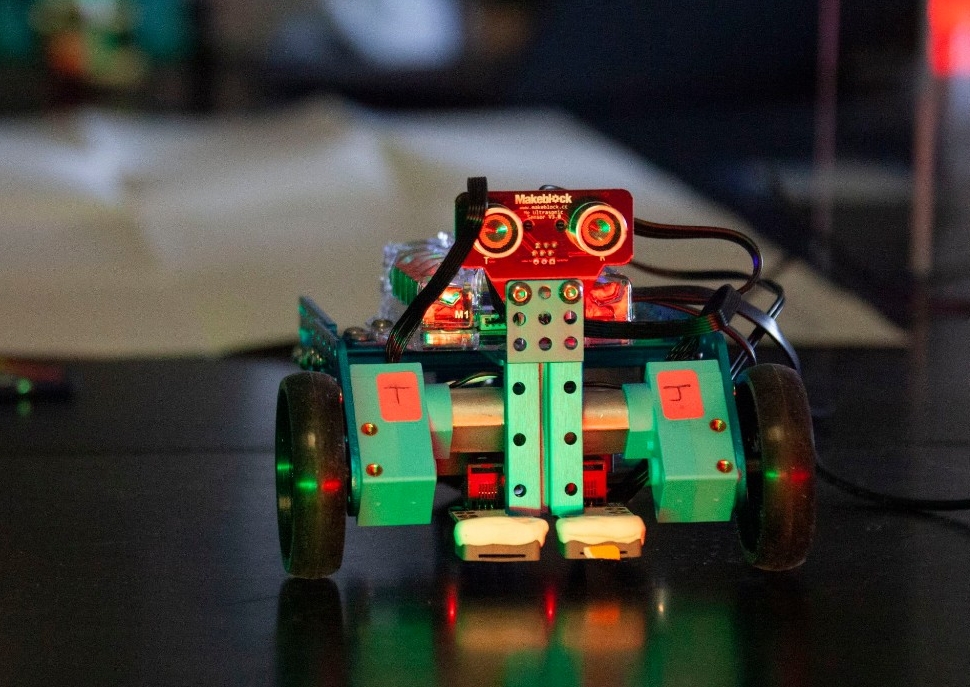 Katelyn White, a mechanical engineering student, has an internship lined up at NASA this year.
"This class caught my attention for the interdisciplinary nature of it," she said. "A lot of the courses I take are mainly engineering. I thought it would be interesting to get more of the biology side. It's nice to branch out."
For the final project, students program a robot to navigate using sensors that mimic animal senses. They give public demonstrations of their robots along with an oral presentation as they would at a research conference.
UC's faculty launched this year's sequence with the 3-week summer program for Greater Cincinnati high school students and K-12 teachers.
Pamela Hanson teaches science and STEM at Woodland Middle School in Kentucky. She took part in the summer program to see how she might incorporate similar concepts in her classes.
"My background is in biology, but through my teaching career, I got into robotics. I really liked the idea of combining the two, bringing a little robotics into my science classes and bringing biology into the robotics I teach," Hanson said.
She plans to incorporate some of the ideas in a new 10-day unit she rewrote for her eighth-grade science class. The labs give students lots of hands-on activities to help them understand the concepts they learn.
"Some students struggle with traditional classroom instruction. Their brain works better with 3D physical examples than words on a page. Suddenly, they soar," Hanson said. "They see themselves as smarter, and their peers realize they're smart as well. It can really help students who struggle with pen and paper."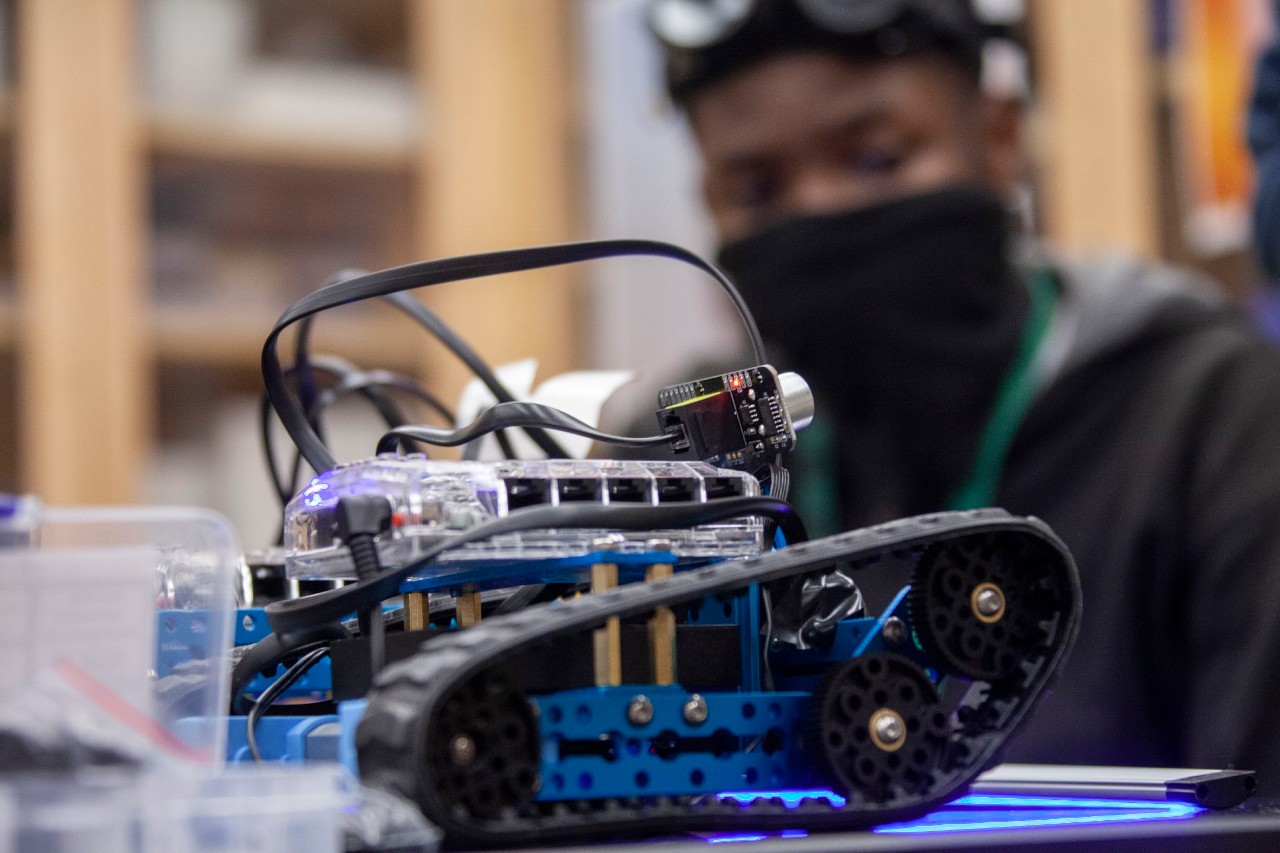 UC's Police Department gave a K9 demonstration showing how keen a dog's sense of smell is.
"The dog was able to find the decoy really quickly," said Jalen Tucker, a senior at Shroder High School. "There is no technology that can outperform a dog. Their sense of smell is really powerful."
"It's been really fun. We've been studying animal senses and trying to replicate them with robotics," Walnut Hills High School senior Mary Sullivan said.
Students took a field trip to the Cincinnati Zoo & Botanical Garden, where they competed in a scavenger hunt and learned more about animal sensory abilities.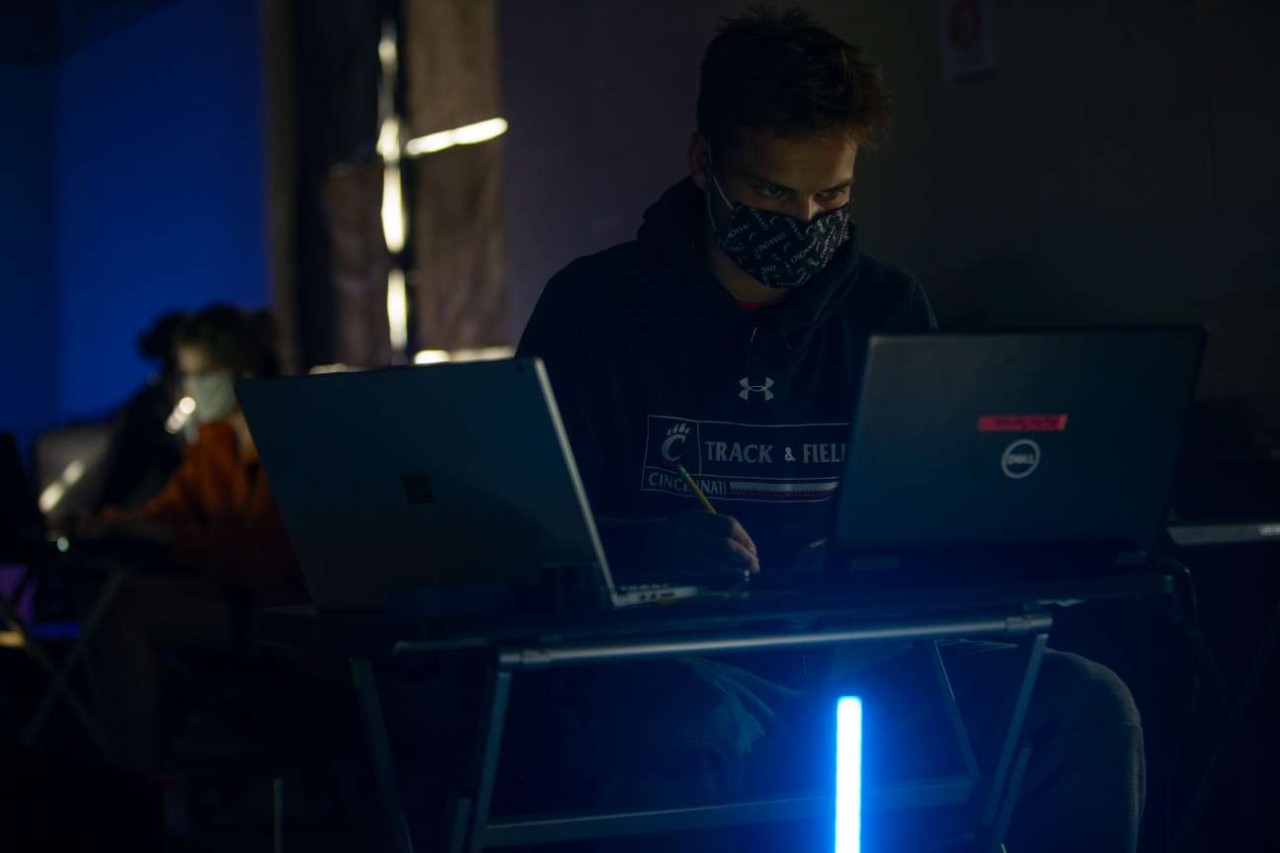 Gamble Montessori High School junior Chandlar Burks said she was surprised to see how subjects so seemingly different can influence each other.
"I would never have thought biology and engineering would go hand in hand, but they do," she said.
"The most challenging part for me was doing coding for the robots, but I was able to overcome it," Burks said. "I think it will help me be a better student because I'll be better at problem solving."
In Layne's biology lab, the students learned about the fascinating vision of fiddler crabs, which have panoramic vision — all the better to scan the exposed mudflats when they emerge from the safety of their burrows. Since many birds and bigger animals eat fiddler crabs, they are especially attuned to moving objects higher than their eye stalks while ignoring objects lower than them, such as other crabs.
Due to their poor vision fiddler crabs don't really distinguish between moving objects since almost anything they see is a potential threat if it is above them. That explains why fiddler crabs retreat into their burrows simultaneously when anything comes near them.
"It was cool seeing how they interacted in a natural habitat," she said.
Sullivan also got an introduction to computer programming she needed to program her robot.

"During our first challenge, I was a mess. I didn't know anything," she said. "But I figured out how to do some cool things I would never have been able to do in the beginning. I went in so scared of the coding and programming and came out more confident."
Sullivan said she liked collaborating with students with skills different from her own.
"Some people only knew biology and others only knew programming," she said. "So to be able to help each other was fun. This whole experience has made me look forward to college so much."
Layne keeps fiddler crabs in saltwater tanks that flood and drain in cycles mimicking the tides.

"It's very easy to think of a task you want a robot to do and test your code to see if your robot will perform the task," Layne said. "It's much more difficult to find an animal that will do something reliably that demonstrates a valuable concept."
Layne said some students are first drawn to biology because of their curiosity about animals.
"My job is to show students what it means to study animals. For some students that might light a spark of curiosity," Layne said. "We want to offer them a glimpse of what it means to be a scientist and hopefully they'll keep an open mind as they move on to college and consider being a biology major. We need more diverse, curious minds in the field. It's essential."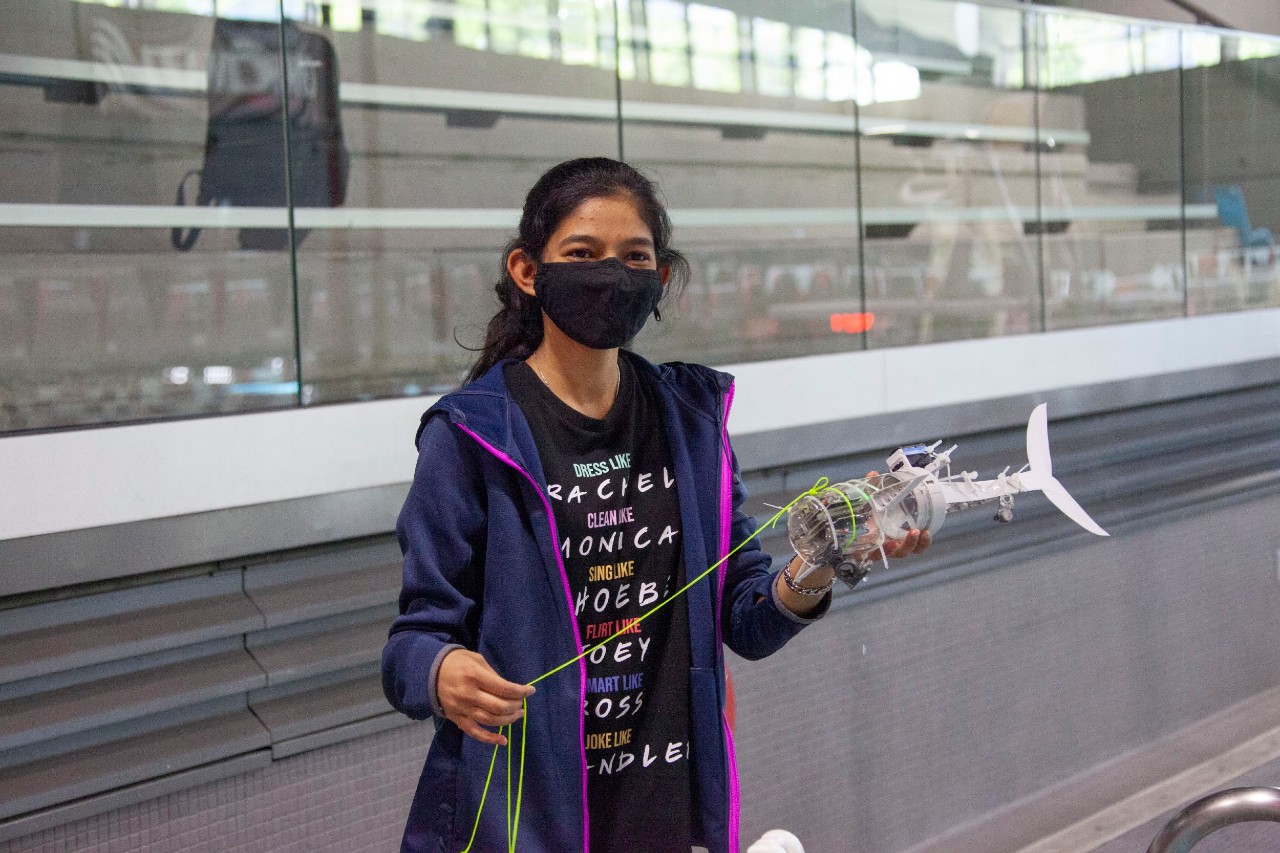 Mitchell Walsh, a senior at William Mason High School, said he enjoyed problem-solving with the robots to get them to follow their programming.
"I learned a lot of it is trial and error. It wasn't easy to get the robots to do exactly what you wanted them to do," he said.
Walsh said he would recommend the class to people interested in studying either subject.
"I thought it was a good way to see different pathways in biology," he said. "It's not just being a biologist. You could be a biological engineer. There isn't just one strict path."

Featured image at top: Associate professor Anna DeJarnette in UC's College of Education, Criminal Justice and Human Services talks to students in the Biology Meets Engineering program. Andrew Higley/UC Creative + Brand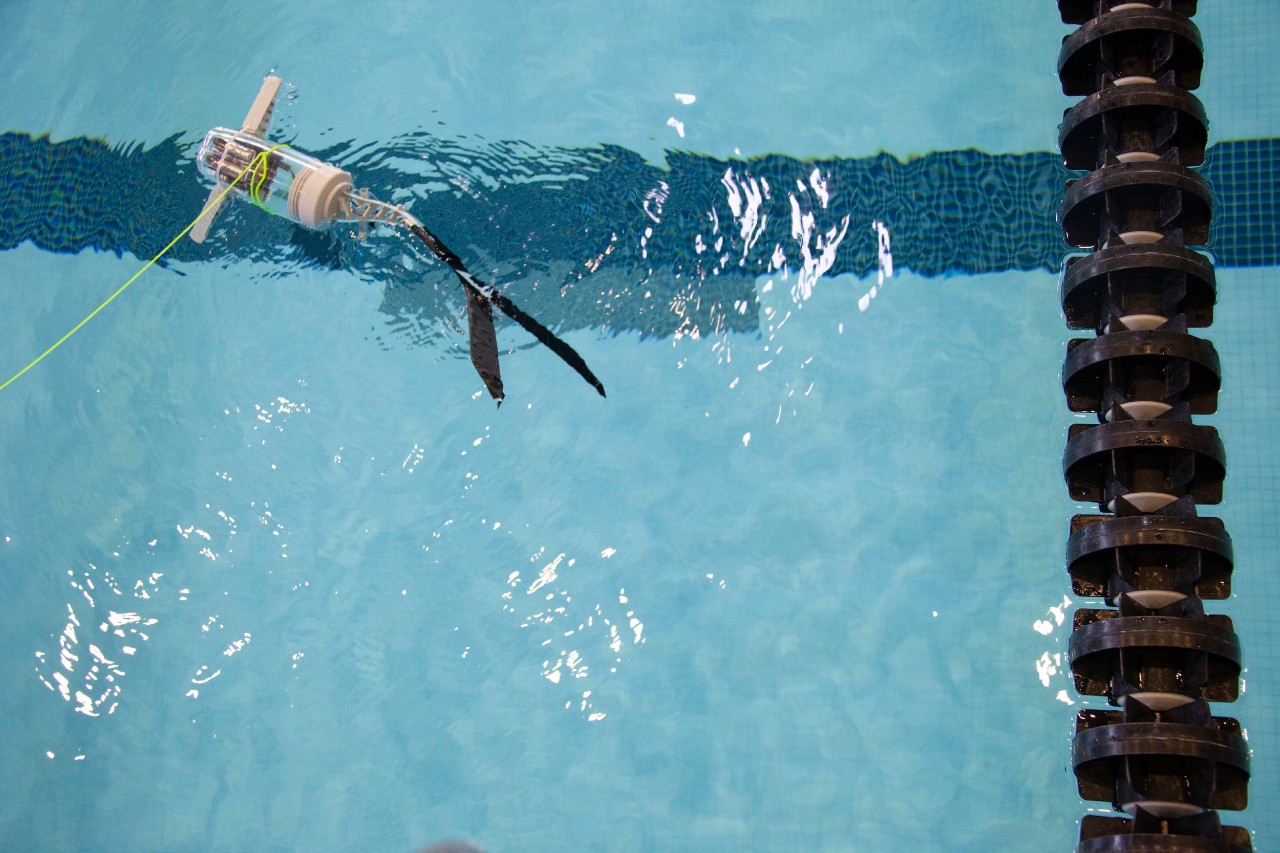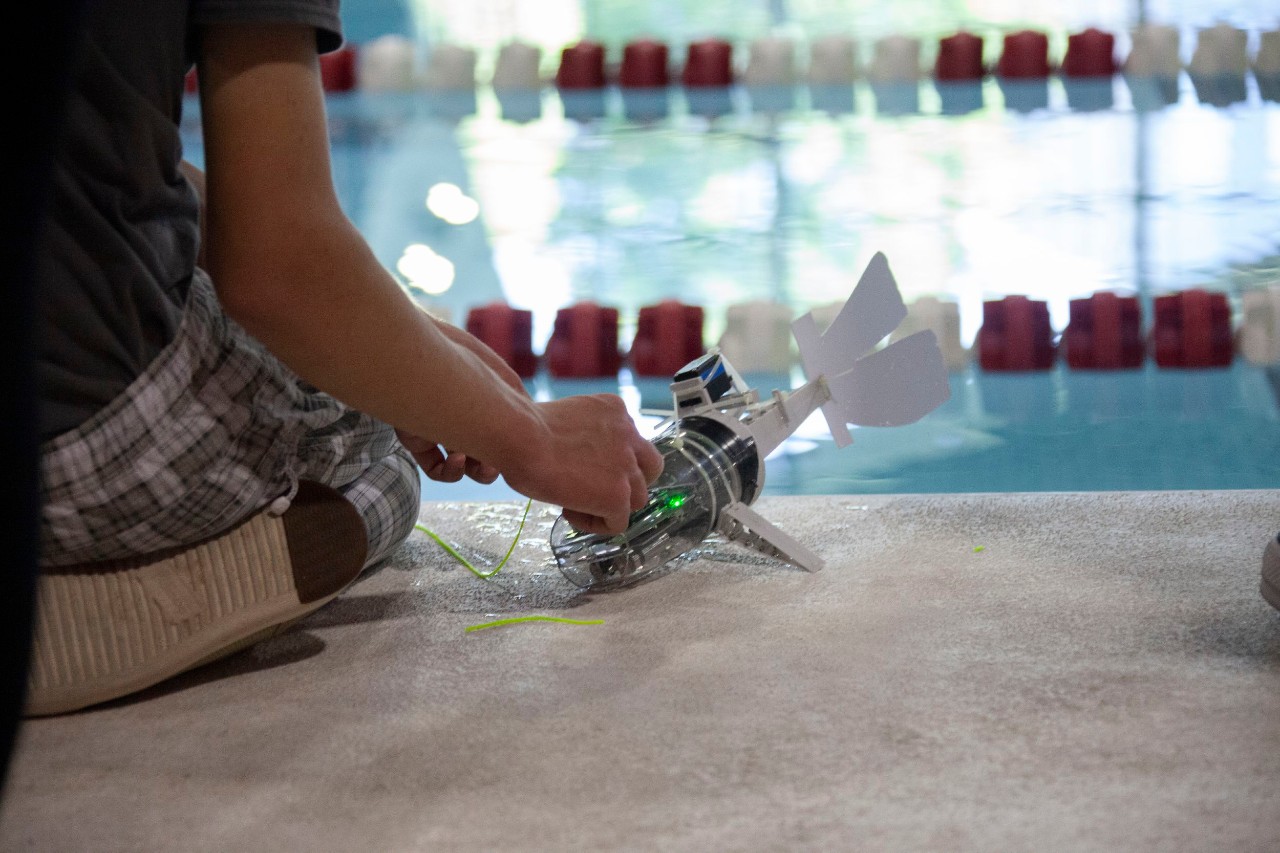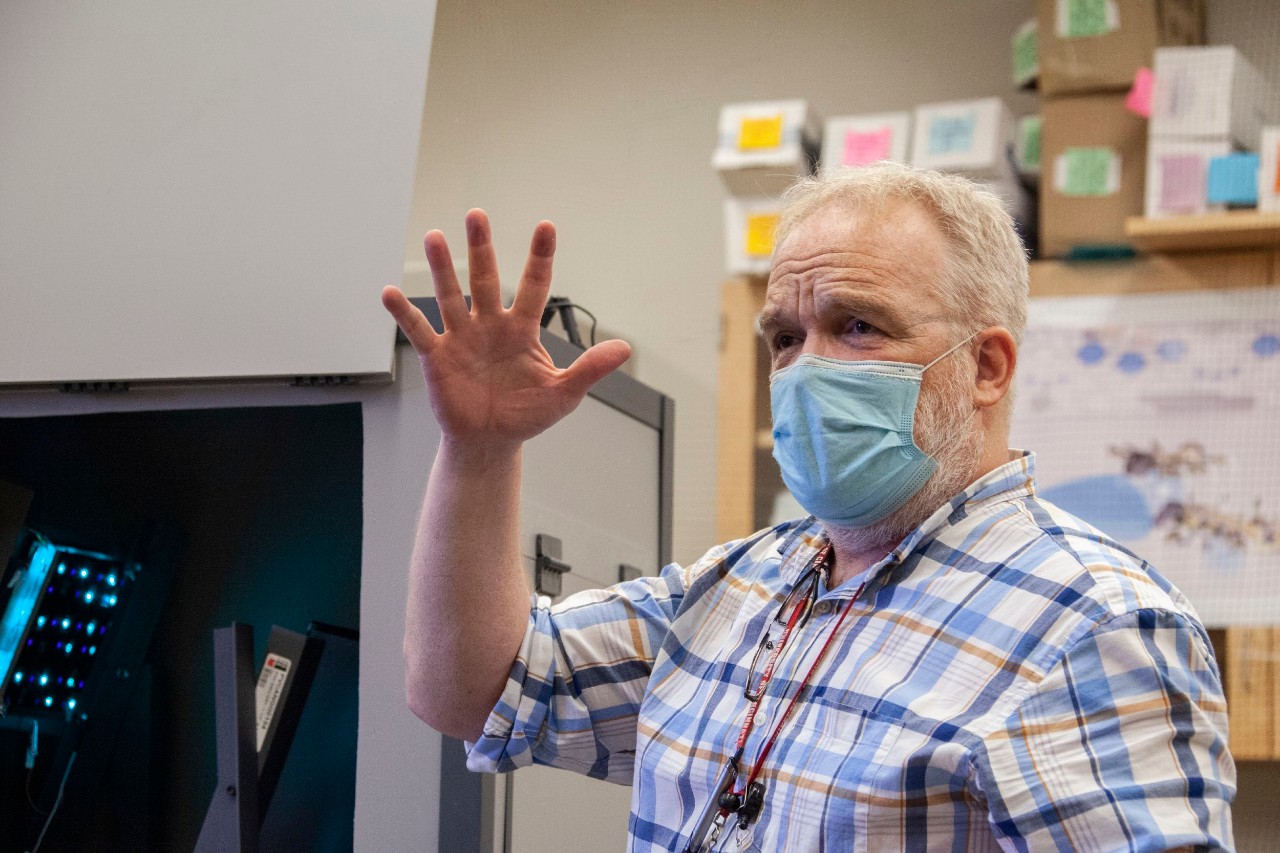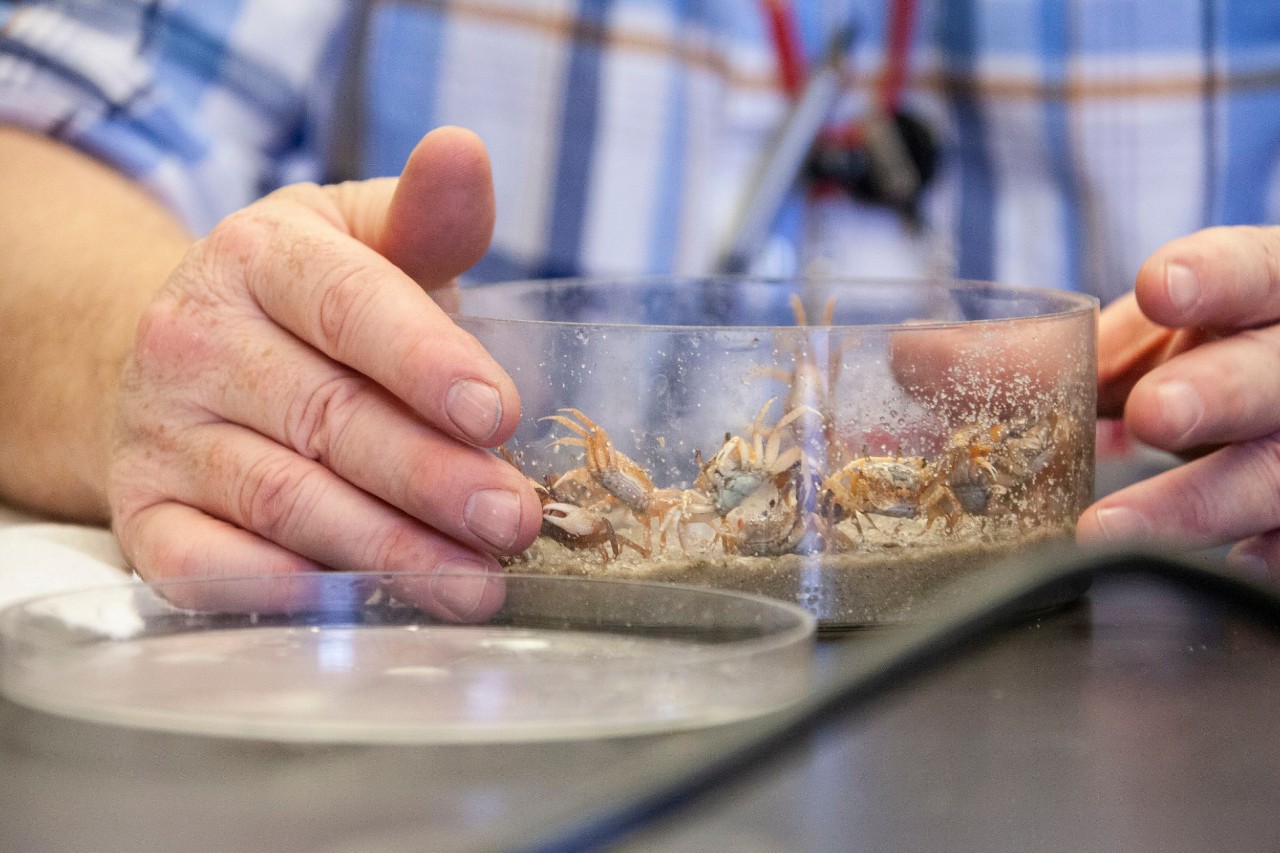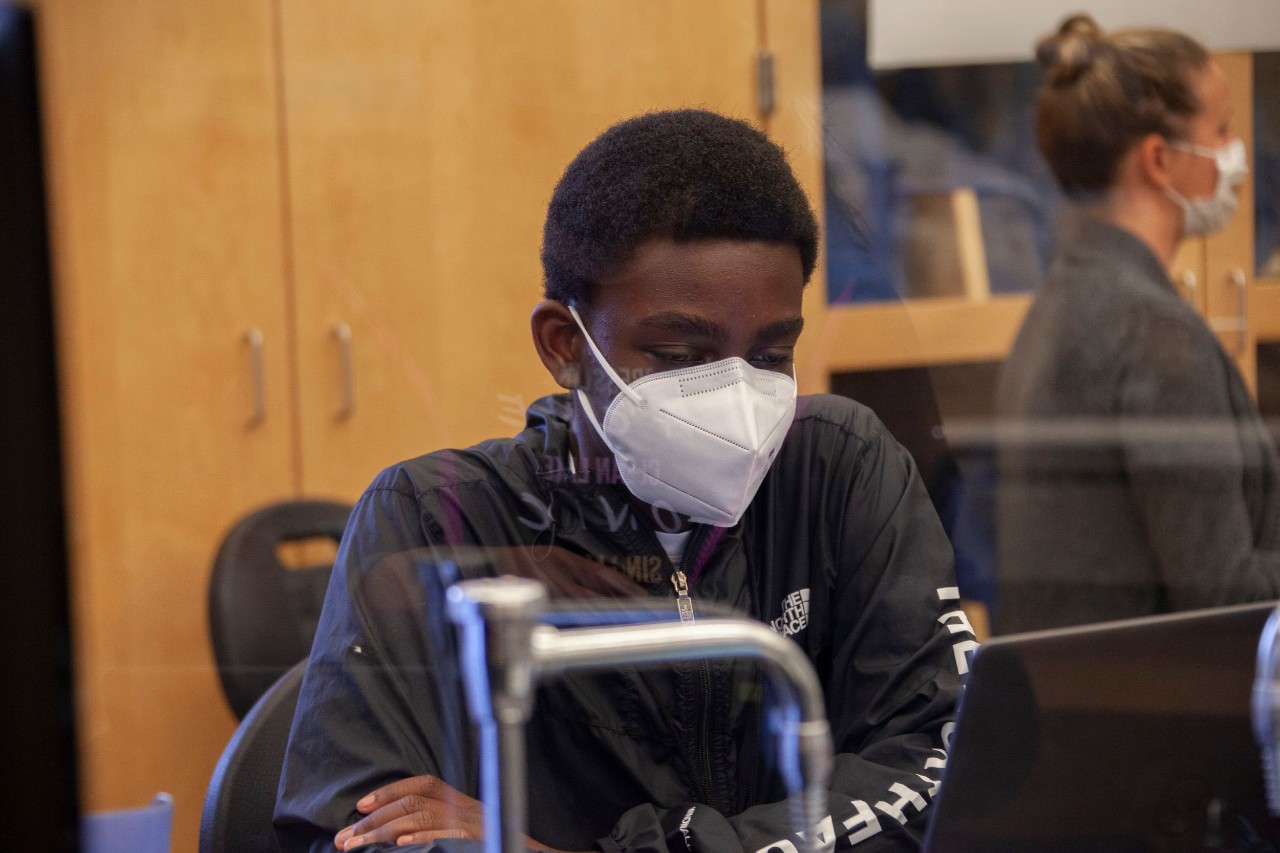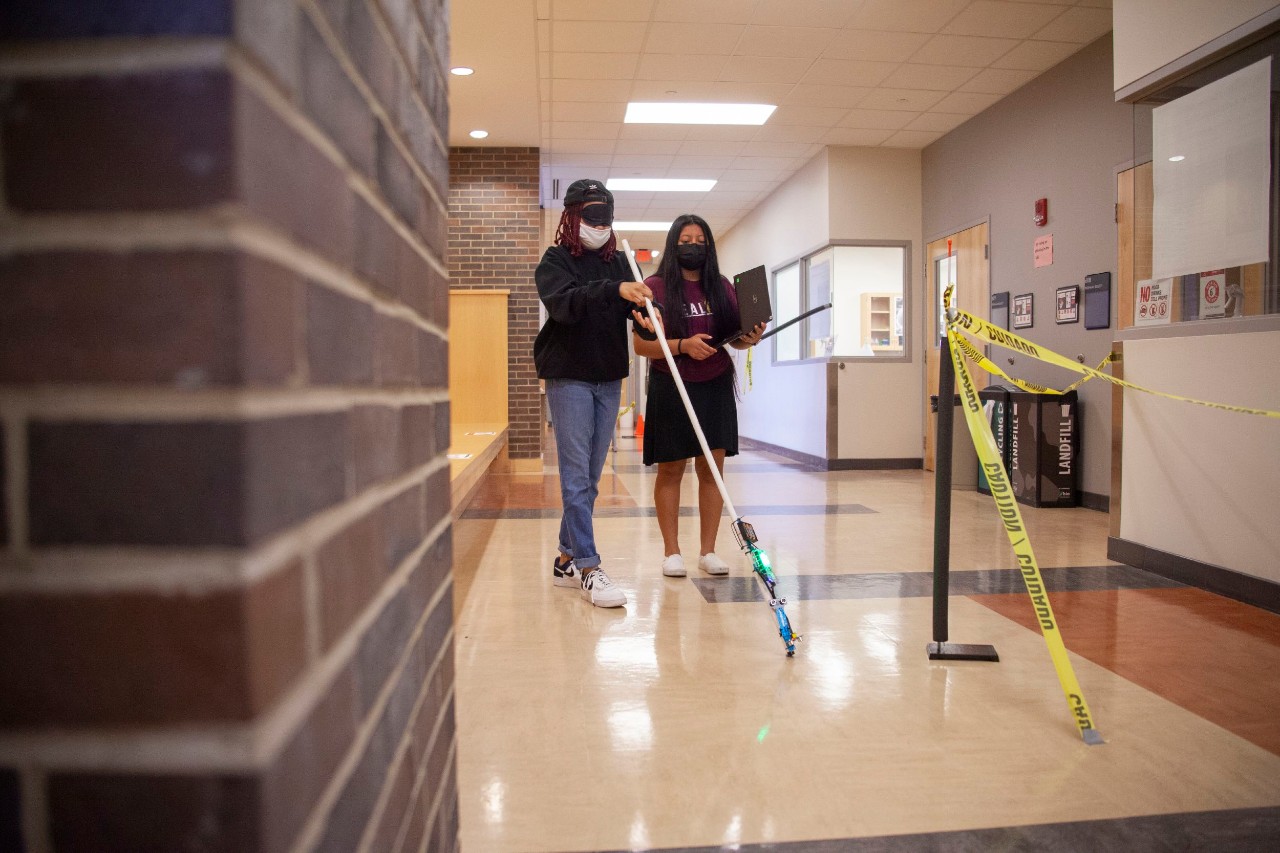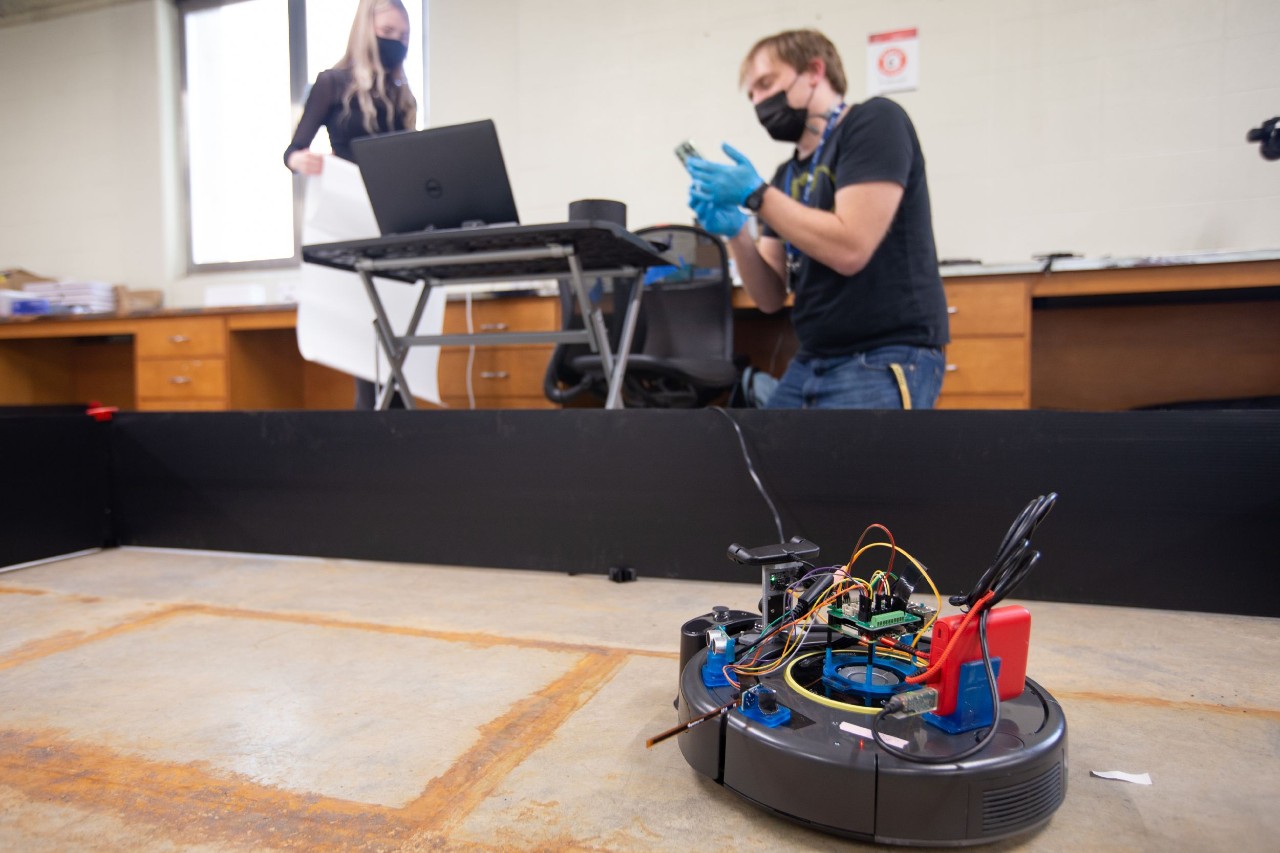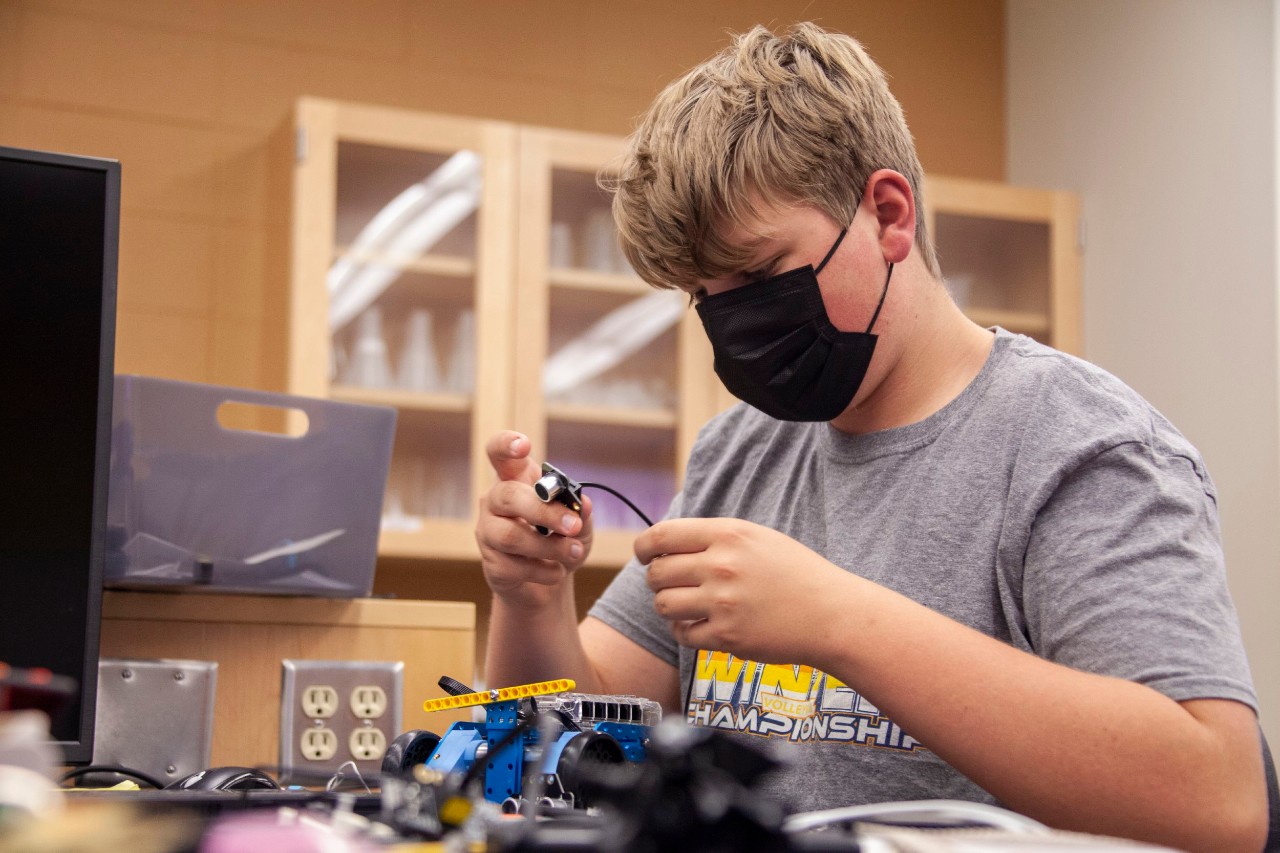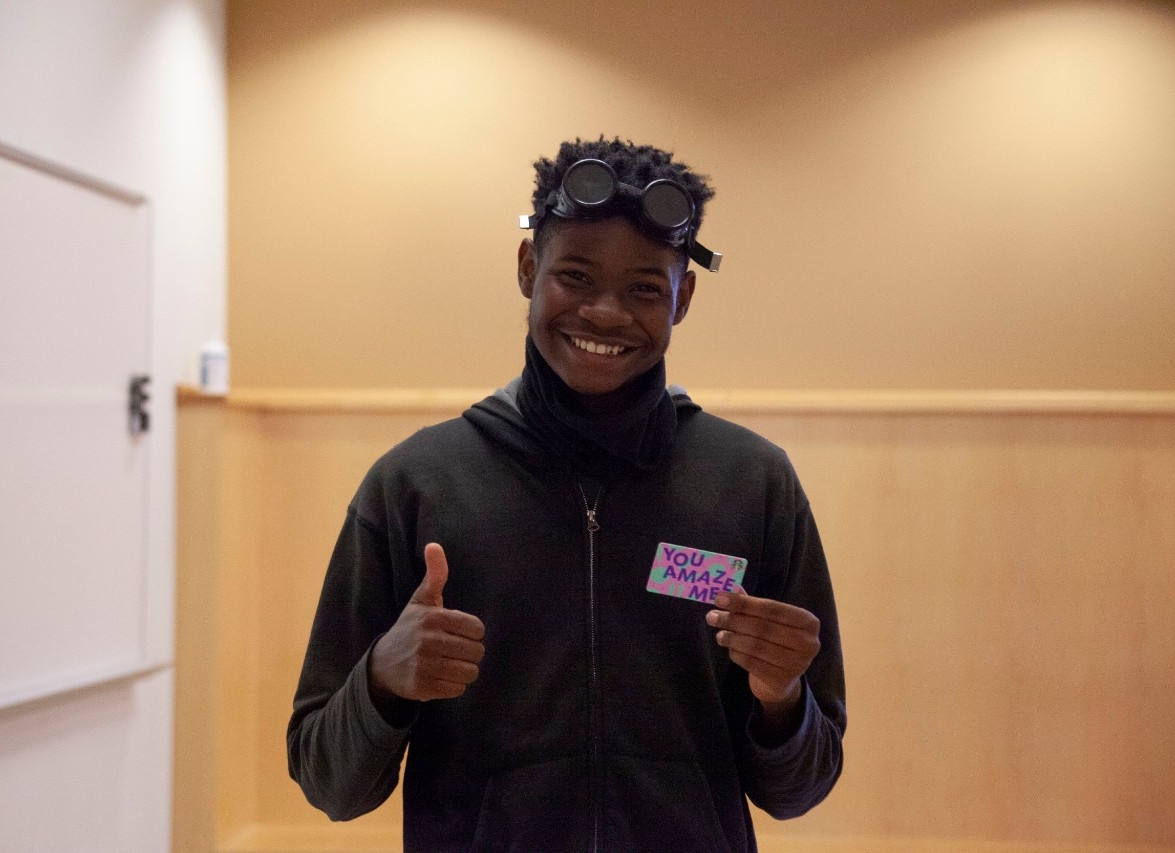 Impact Lives Here
The University of Cincinnati is leading public urban universities into a new era of innovation and impact. Our faculty, staff and students are saving lives, changing outcomes and bending the future in our city's direction. Next Lives Here.

Stay up to date on all UC's COVID-19 stories, or take a UC virtual visit and begin picturing yourself at an institution that inspires incredible stories.