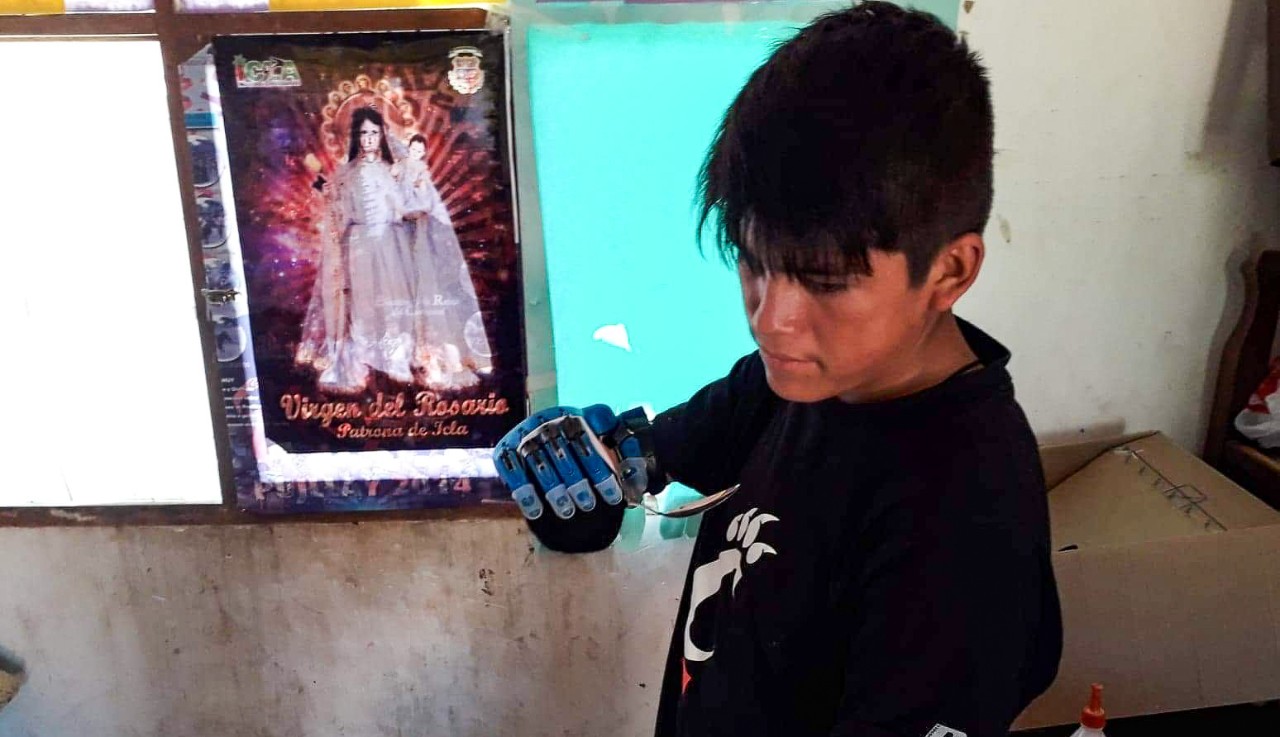 UC student group opens world of possibilities
Students make inexpensive 3D-printed prosthetics to help improve accessibility for children
Clisver Barrientos Mendez was a happy, energetic 11-year-old in Bolivia when he lost both of his arms below the elbow in a dynamite explosion.
Among countless everyday tasks, he lost the ability to feed himself, hold his shepherding staff, brush his teeth or write. What once was effortless became difficult or even impossible.
Now 15, Clisver became depressed and never smiled, according to his parents, Alberto Barrientos and Juana Mendez.
Simple mobility is often overlooked and underappreciated until one loses it.
Last year, family acquaintances Jorge Elias and Sonia Maria reached out to EnableUC, a student-run organization at the University of Cincinnati that provides low-cost custom prosthetics manufactured largely with 3D printers. I serve as the group's treasurer.
UC students, including myself, considered the prosthetics options. 
As the project lead, I was anxious about the task. While we had provided prosthetics for many other children, we had never before attempted such an extensive project — dual prosthetics actuated by the elbow. The task was complicated by its international circumstances in helping someone from another country.
I gathered my team of UC students Josie Masters, Maddox Linneman, Anna King, Jackson Romelli, Lillie Orians, Joseph Froehlich, and Olivia Olorunto and we got straight to work.
To create the prosthetic arms, we needed to obtain measurements of Clisver's badly injured ones. His mother emailed meticulous measurements, along with Clisver's favorite color — blue.
She walked five hours to and from their home in Icla to get access to the internet to share the measurements. The love she has for her son is not quantifiable.
The family friends were eager to deliver the new arms to Clisver, giving our team little time to prepare. After many late nights in the lab, countless group runs to the hardware store and nights watching movies while assembling and printing parts, my persistent team accomplished what we initially feared was impossible.
Days before Bolivia's lockdown due to COVID-19, we sent off a pair of bright blue prosthetic arms along with a UC Bearcats T-shirt. We included videos and manuals in both Spanish and English on how to apply and adjust the arms and their extensions.
In April, Clisver finally got the new blue prosthetics. By then he had moved out to a boarding school and was living alone. His mother walked five hours each way to feed him, brush his teeth, and help him perform everyday tasks.
Elias was determined to make the devices work as well as possible for Clisver. After many back and forth text messages and calls, Elias and I were able to troubleshoot adjustments using supplies at hand.
After even more adjustments, Elias returned to give Clisver the customized prosthetics. Clisver was anxious about putting them on again, but after conveying to him through the phone call that he was "muy fuerte" (very strong) and "una inspiration para mi equipo" (an inspiration to my team), he put them on.
Minutes later, Clisver was grasping a bottle, feeding himself with a spoon and even holding hands with his family for the first time in four years.
But more importantly, he smiled.
Clisver and his devoted and caring mother will continue to inspire me and my team at EnableUC throughout the rest of our lives.
We are so grateful for Sonia Maria, Jorge Elias, and our donors that helped us make the impossible possible.
Impact Lives Here
The University of Cincinnati is leading public urban universities into a new era of innovation and impact. Our faculty, staff and students are saving lives, changing outcomes and bending the future in our city's direction. Next Lives Here.

Stay up to date on all UC's COVID-19 stories, or take a UC virtual visit and begin picturing yourself at an institution that inspires incredible stories.
1
WVXU: Tech CEOs talk AI with lawmakers
September 22, 2023
Professor Richard Harknett is a guest speaker on WVXU's Cincinnati Edition on the topic of AI and the need, or lack thereof, for government regulations. Professor Harknett is the head of UC's School of Public and International Affairs and is an often sought out media resource on technology, cybersecurity and governmental affairs.
2
UC celebrates Marian Spencer Scholars
September 22, 2023
The University of Cincinnati celebrated the legacy of UC alumna Marian Spencer by recognizing 20 students awarded her namesake scholarship during a Sept. 9 induction ceremony. The Marian Spencer Scholars are all high-achieving graduates of the Cincinnati Public School system.
3
UC and GE partner to introduce high schoolers to engineering
September 21, 2023
Rising 9th and 10th graders experienced a free, weeklong, immersive engineering camp at the University of Cincinnati as part of GE's Next Engineers program. Students completed hands-on engineering design challenges while being mentored by GE Aerospace volunteers, industry professionals and current College of Engineering and Applied Science (CEAS) students.
Debug
Query for this