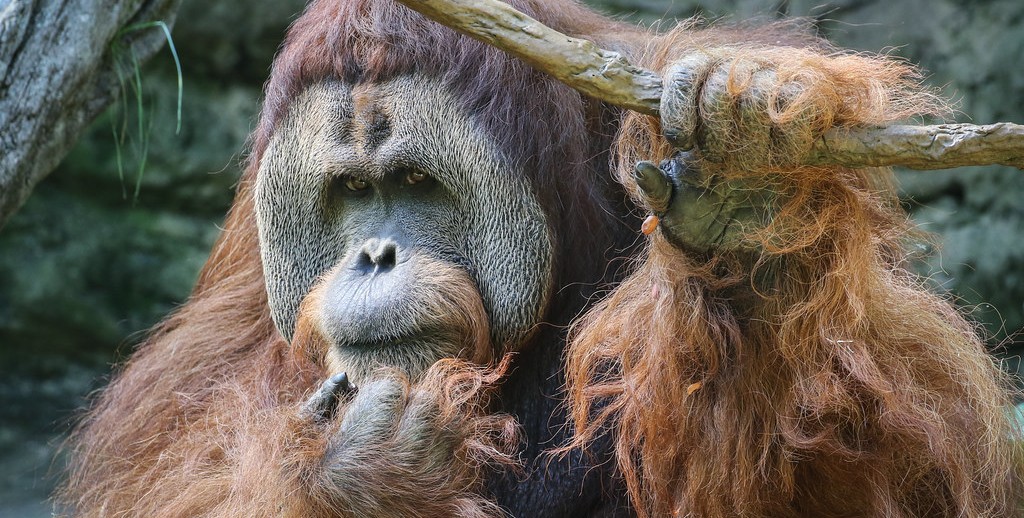 UC students help orangutans stay heart healthy
Students design and build adapter for blood pressure cuff
As some of our closest ancestors, orangutans are prone to similar ailments such as heart disease.
But it's not easy giving a physical to an animal that's stronger than four NFL linebackers. Staff at the Cincinnati Zoo & Botanical Garden always keep a barrier between themselves and the great apes for safety.
To check vital statistics, zookeepers conditioned western lowland gorillas to slip their arms into a blood pressure cuff in a custom machine enclosed in a sleeve. But the machine was designed for the burly arms of a silverback gorilla, not the skinny, lanky ones of an orangutan. So the zoo turned to engineering and industrial design majors at the University of Cincinnati for a solution.
Students used measurements of the zoo's great apes to build custom 3D-printed inserts tailored to the arm sizes of the orangutans, bonobos and smaller juvenile gorillas.
"Great apes suffer from similar ailments as we do along with unique ones," primate zookeeper Theresa Clyatt-Larson said. "Like humans, male gorillas and orangutans are at risk of heart disease."
Cardiovascular illness is a concern for zoos around the country so partner zoos created the Great Ape Heart Project, a collaboration of veterinarians, pathologists and researchers who are studying disease and treatments to improve the health and welfare of animals.
The Cincinnati Zoo monitors the apes' blood pressure to look for early warning signs. Many other zoos take blood pressure readings while animals are under anaesthesia.
"You don't get a true picture of how the heart performs under anesthesia," Clyatt-Larson said. "That's why we started doing these procedures voluntarily — getting the gorillas and orangutans to participate in their own health care."
Keepers patiently work with each primate to get them comfortable putting their arm into the blood-pressure sleeve. Inside is the cuff that quietly and gently inflates. Clyatt-Larson said it's the orangutan-proof version of blood pressure self-testing machines at pharmacies.
"You introduce them to the components and get them used to sliding their arm into the sleeve and feeling it around their arm. Then you turn on the machine. Get them used to the sound," she said.
It can take just just a few sessions or months of patient conditioning to get an animal comfortable enough to sit through the painless minute-long procedure.
Clyatt-Larson said the adapter that UC students designed is crucial because a snug-fitting cuff doesn't need to be inflated as much, making it more comfortable for the animals and providing more accurate results.
For the orangutan project, Jack Buehler and Andie Ticknor, both industrial design graduates in UC's College of Design, Architecture, Art, and Planning, teamed up with UC mechanical engineering graduate Ben Merk in UC's College of Engineering and Applied Science.

The UC students had some experience working for an unusual target audience. Previously, they were tasked with designing animal enrichment, such as toys or games, for the zoo's giraffes as part of an interdisciplinary UC Forward class. Students learn more about the animals from the experts and design, produce and test prototypes in coordination with the zoo.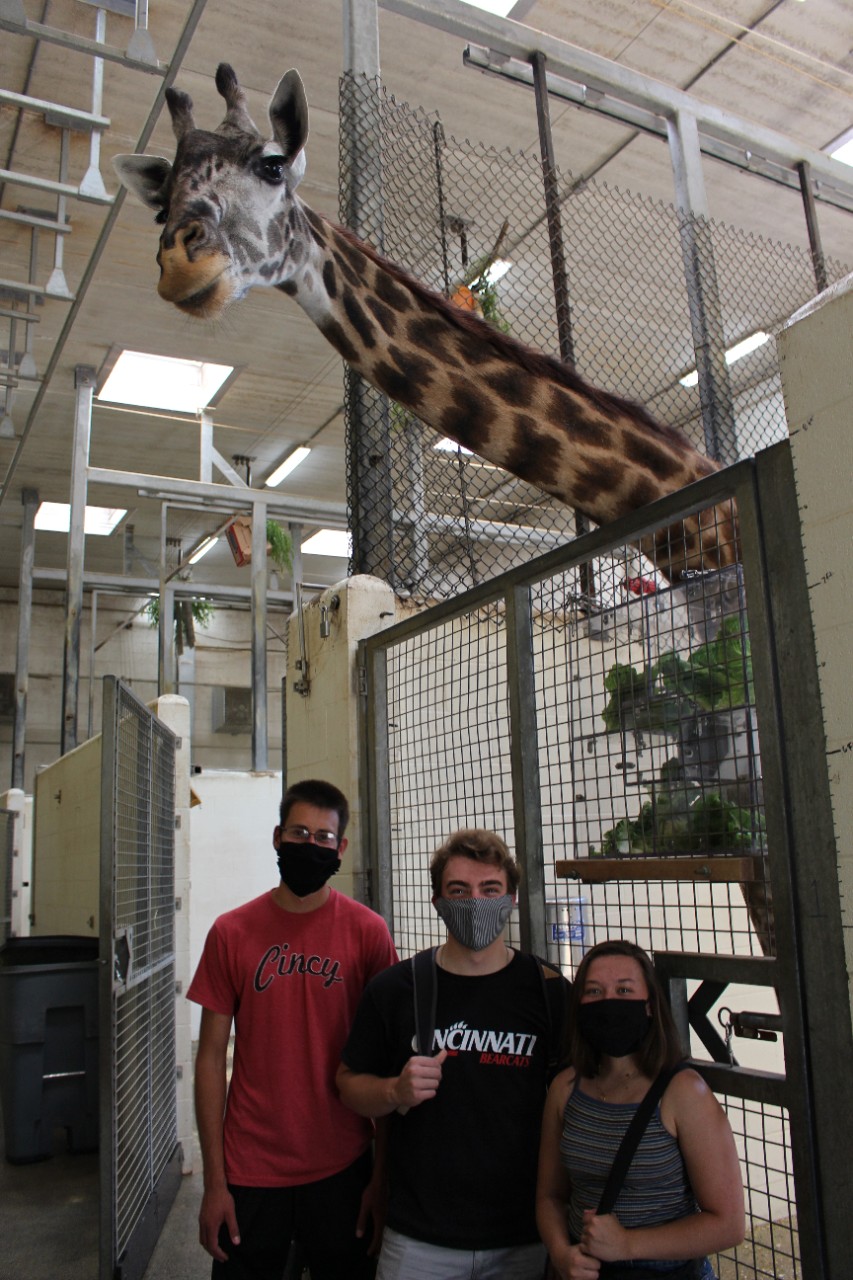 "Participating in the class is a transformative experience that makes students producers and not just consumers in the classroom," DAAP associate professor Francis Russell said.

He teaches the course and serves as director of UC Forward, a program that pairs students with experts and members of the community to solve real-world problems.
"Students are challenged to be adaptive, working with students of other disciplines to build effective teams and project manage for work in subject matter that may be foreign to them," Russell said. "Students leave the experience knowing that they have had an impact on what we call 'wicked' real-world problems."
The UC students worked with the zoo to design and build a clear plastic feeder box with holes barely big enough for the giraffes to reach their sticky, 20-inch-long prehensile tongues inside to grab a piece of lettuce. Adding to the difficulty, a motor closes and opens different compartments so the giraffes have to investigate different holes.
Merk said the team applied similar methods used in other design and engineering projects.
"The UC-zoo collaboration was a great opportunity to use the ideas and concepts I had been learning in my other classes," Merk said. "I got to work on a team with students from a different major which made the project more fun and helped me to look at things from a different perspective. On top of that, we got to work with the Cincinnati Zoo which was an exciting experience."
After graduating, Merk accepted a job as a mechanical engineering at the firm Cincinnati Incorporated.
"While working with the Cincinnati Zoo, I was continually impressed by the effort and ingenuity the zoo applies to ensure a world-class experience for both the animals and the visitors," he said. "Collaborating with the Cincinnati Zoo is just one example of the strong relationships that UC has built with many community and industry partners in the area. These relationships create so many opportunities, just like this one, for students to test out their skills and learn on real projects."
DAAP grad Buehler has been going to the Cincinnati Zoo since he was a child. The design class project was similar to industrial design co-ops Buehler had at UC in that the goal is making the client happy. But in this case, they had to consider multiple audiences, he said.
"The primary user is the animal, which is different from most clients because you can't ask them questions. The other person you're designing for is the zookeeper. You want the device to be easy to use and maintain," he said.
And with the giraffe project, the third group they considered were zoo visitors. The students used clear acrylic so visitors could see the giraffe's amazing tongue at work through the viewing windows of the giraffe barn, Buehler said.
"It's fulfilling to see an idea you brainstormed with your friends in your apartment become a real product that can help giraffes and orangutans," Buehler said. 
At UC, Buehler had internships at toy company Fisher-Price and games, puzzles and teaching tools company PlayMonster. Students in co-op go to classes part of the year and work part of the year to get on-the-job experience in their field.
"That's the awesome part of DAAP's co-op program. It's cool to work on real-world projects in co-op," Buehler said. "We have so many different connections around the city. I can be introduced to a nontraditional project like with the zoo."
Today, Buehler is pursuing a career in toy design, adding to UC's reputation in the field. UC alumnus Mark Boudreaux, another industrial design major in DAAP, designed "Star Wars" toys, including the Millennium Falcon, in his 40 years with Kenner and Hasbro.
"With toy design, you might have a bad day at work, but you're still designing rocket ships," Buehler said.
Featured image at top: An orangutan at the Cincinnati Zoo & Botanical Garden. Photo/DJJAM Photo/Cincinnati Zoo
More Cincinnati Zoo collaborations
Next Lives Here
The University of Cincinnati is leading public urban universities into a new era of innovation and impact. Our faculty, staff and students are saving lives, changing outcomes and bending the future in our city's direction. Next Lives Here.

Stay up to date on all UC's COVID-19 stories, or take a UC virtual visit and begin picturing yourself at an institution that inspires incredible stories.
1
Clean Earth Rovers cofounders named to Forbes 30 Under 30 list
November 30, 2023
A pair of graduates of the University of Cincinnati's Venture Lab program were recognized as being among the top entrepreneurs in North America as part of the 2024 Forbes 30 Under 30 list. Clean Earth Rovers cofounders Michael Arens and David Constantine were named to the 13th annual Forbes 30 Under 30 list in the energy category.
2
CNN Business: Best Buy's simple strategy for beating shoplifting
November 30, 2023
The Best Buy approach to thwart shoplifting is to increase staffing. It's a move that UC criminologist John Eck says, in a CNN Business article, that makes perfect sense. It's also a different approach at a time when most retailers are reducing staff.
3
UC Learning Lab inspires College of Medicine to SIT
November 29, 2023
In a convergence of academic integration, the University of Cincinnati's renowned colleges — Design, Architecture, Art, and Planning, Lindner College of Business, College of Engineering and Applied Sciences and College of Medicine — recently joined forces at the 1819 Innovation Hub for an ideation session that exemplifies the institution's commitment to interdisciplinary collaboration.
Debug
Query for this