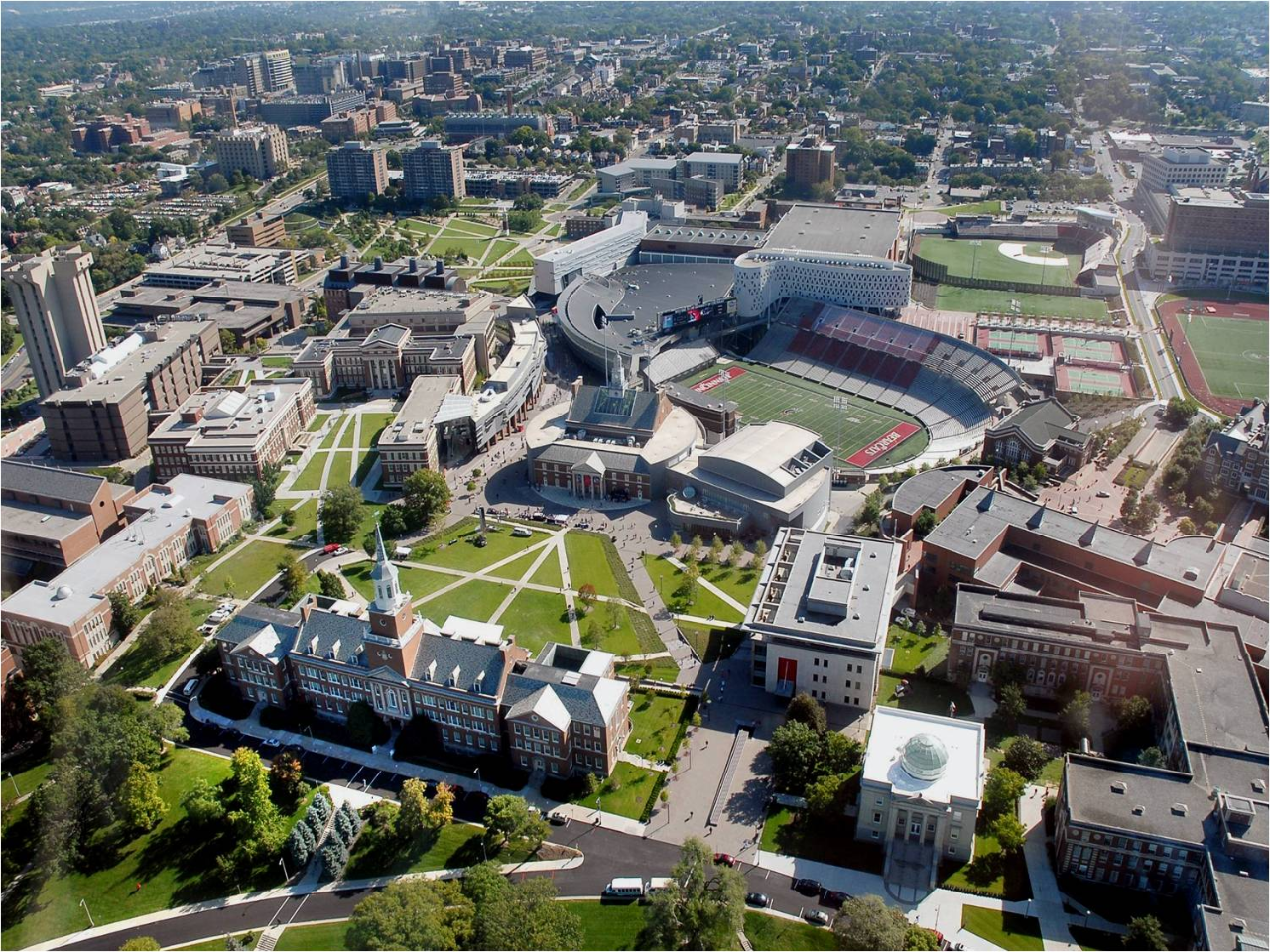 UC student body leaders use platform to empower others
By Bryn Dippold
Since the beginning of fall semester, University of Cincinnati students April Gable and Taylor Allgood have taken on a full slate of undergraduate activities, including classes, studies, Bearcats games and leading student government. 

President and vice president of student government respectively, Gable and Allgood set to work on their platform of diversity and inclusion, sustainability, campus spirit, mental health and accessibility. Initiatives so far include a Mental Health Advocacy Week, a career-ready clothing drive and civil discourse training.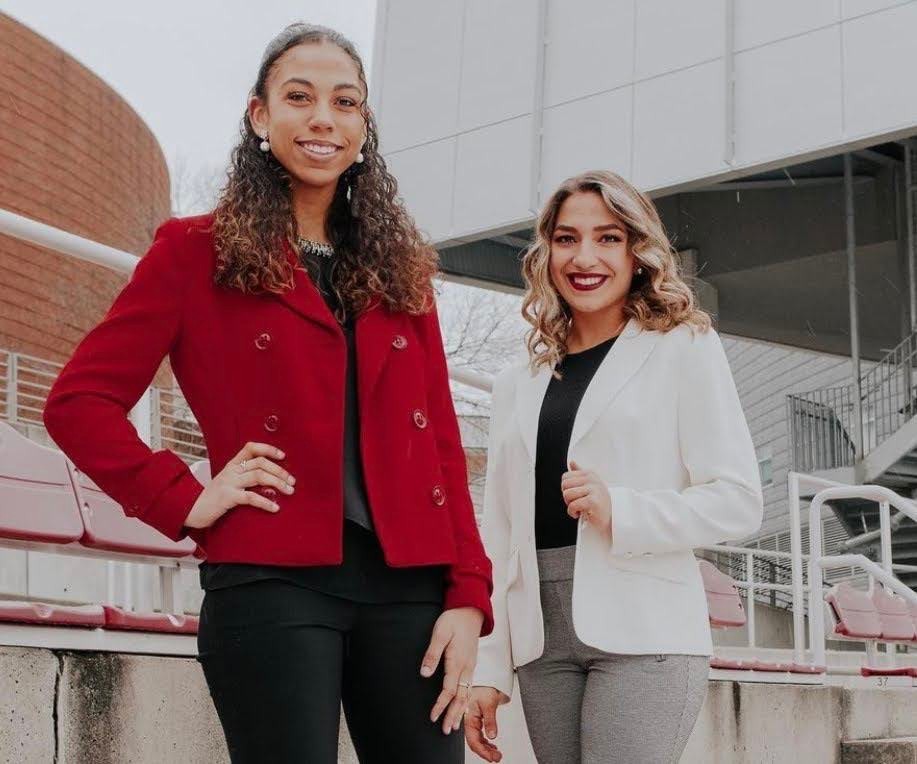 Gable and Allgood been working a minimum of 30 hours a week since their election. Both say they wouldn't have it any other way.
"Student government was aligned with what I want to do in my career, so I knew for my first year that it was what I wanted to focus a lot of my energy on," Allgood said. 
Both Allgood and Gable are studying in UC's College of Arts and Sciences.
Allgood, 20, is a third-year student double-majoring in political science and international affairs with a double minor in French and women's, gender and sexuality studies. She is also a Darwin T. Turner Scholar and is pursuing a career as an international human rights lawyer.
Gable, 21, is a fourth-year student working towards a double major in communications and interdisciplinary studies focusing on women's, gender and sexuality studies and political science with an organizational leadership certificate. She is also a feature twirler with the UC Bearcat Bands. 

While on the college hunt after high school graduation, Allgood and Gable were both looking for strengths in their education. One non-negotiable that they both needed was a strong student government. 
Allgood immediately got involved with the student government after moving onto UC's campus. Her journey started with the Student Government Mentorship Program, aimed at undergraduate students who have an interest in student government or would like to improve leadership skills and abilities. 

"Student government was aligned with what I want to do in my career, so I knew for my first year that it was what I wanted to focus a lot of my energy on," Allgood said. 

Gable came to UC ready to join student government after being student body president at her high school and elementary school. She applied to the mentorship program in the spring of her freshman year.

"I got super involved," Gable said. "I was immediately fixated on wanting to run for president or prepare to do so."

Gable cites her A&S education and support that has been shown to her by A&S faculty, specifically Kristin Ford, the current director of Student Activities and Leadership Development, as catalysts for her success. When Gable first met Ford, Ford was the leader of her Bearcat Leadership learning community. 
"I chose to pick up the organizational leadership certificate because I said I was interested in student government and wanted to be president, and Kristin said 'Okay, I'm going to support you,'" Gable says. "Having that support from day one, like it was just a thought that was in my head, and she said, 'Nope, let's do it.'" 

When Gable and Allgood began their campaign in fall 2020, they were working 15-17-hour days. Both women agree that A&S was pivotal in earning their positions because if they didn't have flexible professors, they don't think they would be where they are now. 

"I made it a priority to develop good relationships with my professors so that they would know me on a first-name basis, and I would be able to go to them for anything I needed," Allgood said. 
Now, halfway through their term, Gable and Allgood share that the position has changed their attitudes and confidence for the better. "It's definitely been everything and more," Gable says. "I never knew the power of my voice before stepping into this role." 
Allgood says that though she had self-doubt in the beginning, the role has helped her grow. "I think the biggest takeaway has been finding my voice and realizing that I do have that ability and that power, and a big part of it comes from confidence," Allgood says.  

"When I go into these meetings now, instead of saying 'Is this the right decision?' I say that this is the right decision because I know what the students need because they elected me for this position." 
Featured image at top: Aerial view of UC's Uptown campus.
1
UC's College of Arts and Sciences honors outstanding alumni
March 20, 2023
Five graduates of UC's College of Arts and Sciences were recognized with alumni awards during the A Night with A&S annual ceremony earlier this month. As community leaders, philanthropists and professional pioneers, the impact of these alumni can be felt at the college, university, state and national levels. Also at the event A&S scholarship recipients were celebrated, and had the opportunity to meet with the donors whose contributions helped make their college experience possible. Meet the 2023 UC College of Arts and Sciences Outstanding Alumni:
2
March is a month associated with both good and bad luck
March 20, 2023
The month of March holds space for both St. Patrick's Day and The Ides of March. These two events are associated with both good and bad luck, as explained by Rebecca Borah who researches popular culture and the traditions associated with myths, legends, lore and truths.
Debug
Query for this