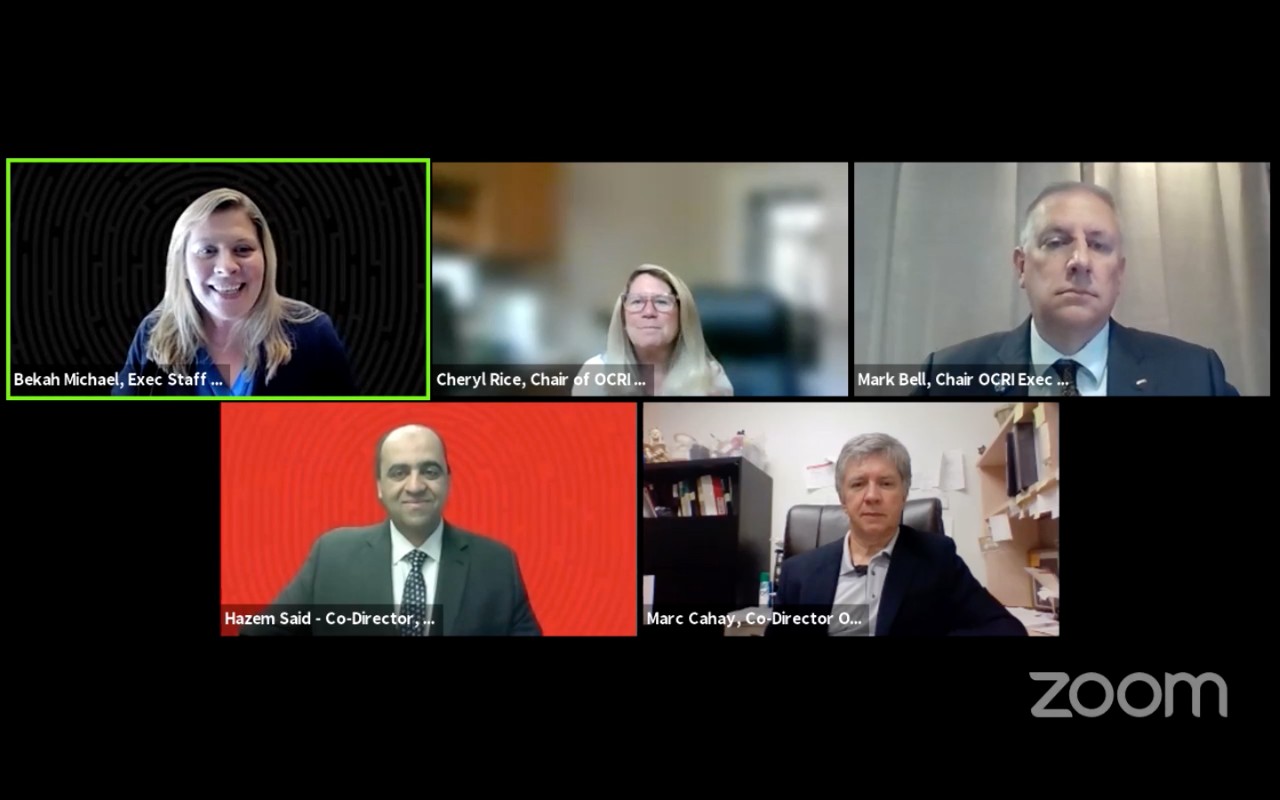 UC hosts third annual Cybersecurity Education Symposium
Leaders say everyone plays role in nation's defense
Every American is a vital piece of the nation's cybersecurity defense, leaders with the Ohio Cyber Range Institute (OCRI) said during the third annual Cybersecurity Education Symposium, held virtually Oct. 13 and hosted by the University of Cincinnati.
"Sometimes as Americans we tend to think of conflict as war or peace, and I will tell you our adversaries don't think of it that way; they are always in a level of competition," Ohio Adjutant General John C. Harris, Jr. said. "We have to realize that we are also in that area of competition, and cyber is one of the places that our adversaries exploit on a daily basis. Every single Ohioan, every single American is an actor in that competition, and many don't even realize it."
Harris, Ohio Lt. Gov. Jon Husted, UC Provost Valerio Ferme and Randy Gardner, chancellor of the Ohio Department of Higher Education, were among the featured speakers at the symposium.
"When we're talking about cybersecurity, we're really talking about how we, together, organize ourselves in a world that is increasingly moving into a digital sphere," Ferme said. "In this context, I think the university is really trying to take a leadership role."
The OCRI is a partnership sponsored by the Ohio Department of Higher Education and Ohio Adjutant General's Department office of the Ohio National Guard and is headquartered at UC. The goal of the OCRI is to advance an integrated approach to cybersecurity education, workforce and economic development in cyber-related fields throughout the state.
"It takes a community to achieve these outcomes, and OCRI is quickly growing as a statewide collaborative community," said OCRI co-director Hazem Said, director of the School of Information Technology in the UC College of Education, Criminal Justice, and Human Services. "There's a fast evolution taking place with more partners joining the ecosystem all the time. We're covering over 50% of the state."
During the symposium, seven new Regional Programming Centers were dedicated into the OCRI ecosystem, bringing the total of RPCs throughout the state to 15.
The new RPCs include:
Stark State College
Rio Grande Community College
Cleveland State University and Case Western Reserve University and their IoT Collaborative
Eastern Gateway Community College
PAST Foundation
Owens Community College
Tiffin University and partners including the University of Findlay, Findlay City Schools and CentraComm
"One thing I'm so impressed about the institute and the leadership over the last number of years since I've been chancellor and the governor's been in office is the number of partners throughout the state," Gardner said.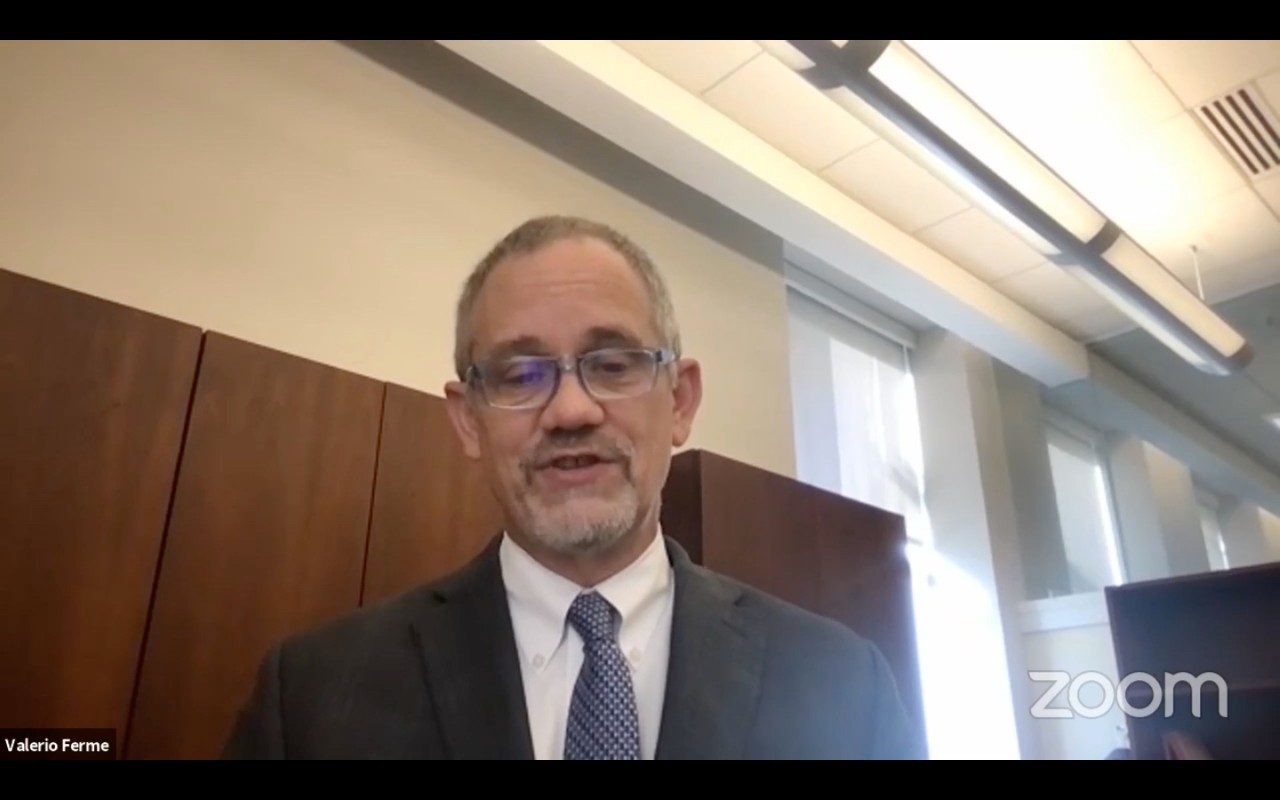 The efforts of the OCRI are of great importance, Husted said, as the nation increasingly relies on online services while threats and attacks increase.
"A person's individual data is more exposed than ever," the lieutenant governor said. "We continue to research, use online services and purchase items online through computers, phones and tablets on a daily basis. This information is collected by our mobile operators, internet service providers, device manufacturers and apps, and they use it for their own purposes to sell to other businesses. And each time that data is exchanged, it is potentially exposed.
"Data and personal information that if misused, mishandled or inadequately protected can potentially result in identity theft, financial fraud and other problems, which in turn puts the burden on consumers to sort out and in many instances pay for."
The symposium also featured breakout sessions to discuss the OCRI's ongoing initiatives in K-12 education, higher education, workforce and economic development, industry engagement and innovative research.
"What's happening here is not just a great idea and an important initiative to make Ohio a leader in cybersecurity, but it's critical," Harris said. "It's critical for the security of our nation and the security of this state."
Featured image: Clockwise from top-left are Rebekah Michael, assistant professor educator in the UC School of Information Technology and executive staff director of the OCRI; Cheryl Rice, vice chancellor of higher education workforce alignment at the Ohio Department of Higher Education; Mark Bell, cybersecurity outreach coordinator at the Adjutant General's Department of Ohio; Marc Cahay, department head of Electrical Engineering and Computer Science at UC and co-director of the OCRI; and Hazem Said, director of the UC School of Information Technology and co-director of the OCRI. Photo/Provided by UC School of Information Technology.
About the Ohio Cyber Range Institute (OCRI)
Established in March 2020, the OCRI is an interdisciplinary partnership between UC's Department of Electrical Engineering and Computer Science, Department of Political Science, and School of Information Technology that collaborates on behalf of UC with six state agencies, including the State's Adjutant General's office, the Department of Higher Education, the Department of Education, the Department of Administrative Services, the Department of Public Safety and Innovate Ohio.
2
UC hosts aerospace conference on AI
May 31, 2023
Aerospace experts from across North America are coming to the University of Cincinnati this week for a conference on artificial intelligence.
3
UC engineer makes an impact with nanomaterials
May 31, 2023
University of Cincinnati doctoral student Vamsi Krishna Reddy Kondapalli has studied nanomaterials, specifically graphene, since he was an undergraduate student at a university in India. He chose UC for his graduate degrees due to the state-of-the-art facilities and the support for innovation. Kondapalli was named Graduate Student Engineer of the Month from UC's College of Engineering and Applied Science.
Debug
Query for this