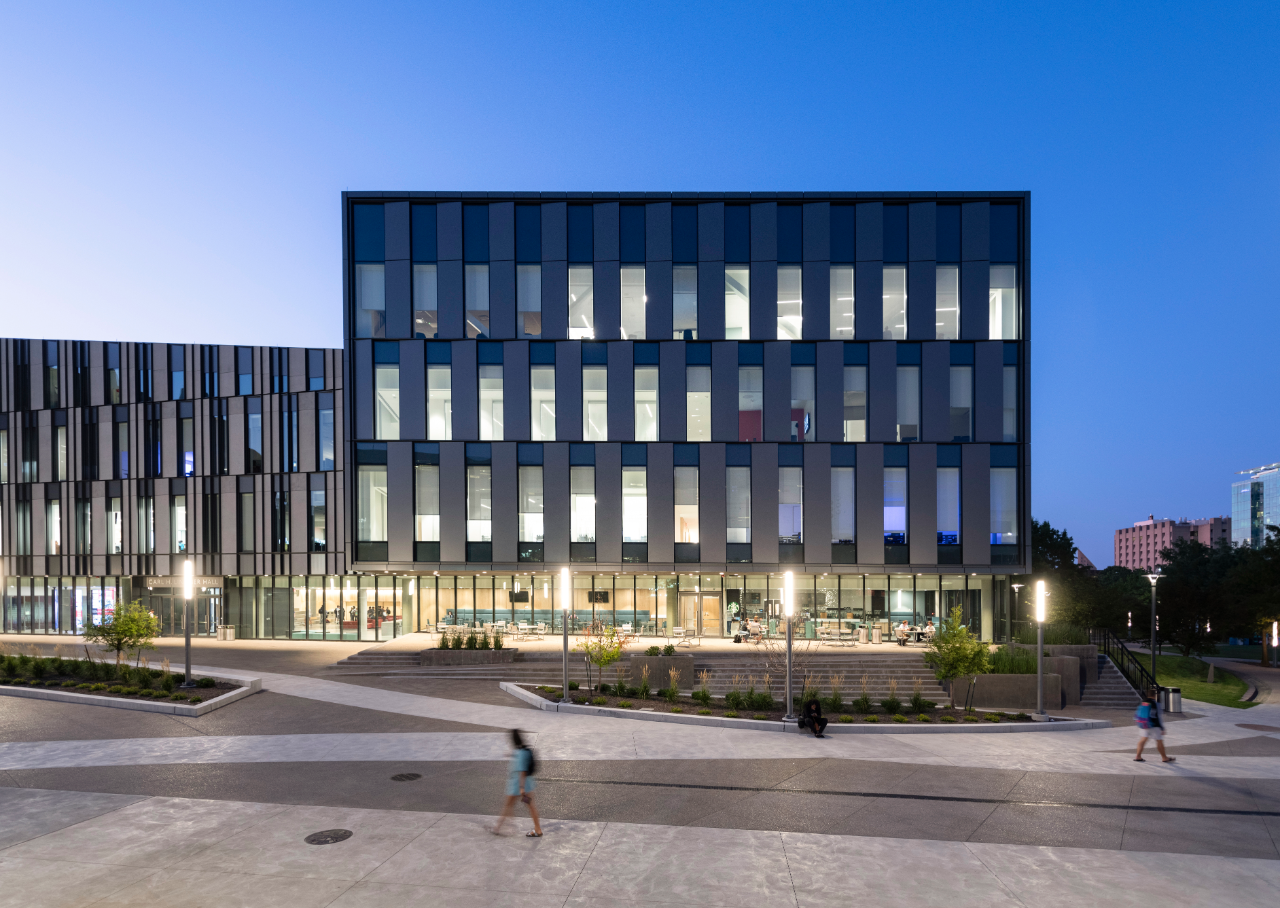 Lindner College of Business receives 2021 American Architecture Award from the Chicago Athenaeum
Honor depicted as the 'nation's highest public award for new architecture and urban planning'
The University of Cincinnati Carl H. Lindner College of Business recently garnered a 2021 American Architecture Award from the Chicago Athenaeum, an international museum of architecture and design.
Described as the "nation's highest public award for new architecture and urban planning," winners are recognized as the foremost new architecture designed and constructed by American architects and by international architects with offices in the U.S.
In its profile of Carl H. Lindner Hall, the Chicago Athenaeum wrote that the "design resonates with and reinforces the University of Cincinnati's masterplan, and aims to create a central meeting place and an open and inviting hub on campus — for students, faculty, and visitors alike."

The "new" Lindner Hall — designed by internationally renowned Henning Larsen Architects, with Cincinnati-based KZF Design as the architect of record and Turner Construction Co. overseeing construction — officially opened in September 2019. This is another award for Lindner, which achieved Gold LEED (Leadership in Energy and Environmental Design) recognition from the U.S. Green Building Council earlier this year.
Read more at chi-athenaeum.org.
Featured image: Lindner Hall at night. Photo by Alex Fradkin.
Empowering business problem solvers to tackle the world's challenges
For 115 years, our students and graduates have achieved great success in business and service, our academic programs have earned national acclaim, and our faculty and subject matter experts have sparked innovation and insights through cutting-edge research. What's next starts now. Learn more.
1
Why we still need Black History Month
January 26, 2023
While Black History Month is an opportunity for all Americans to consider concepts central to the founding of the nation — democracy, freedom and equality — the University of Cincinnati propels the diversity, equity and equality momentum by honoring Black Americans' extraordinary impact through engaging lectures, open classes, food, galas and off-campus activities.
3
Fifth Third partners with 1819 Innovation Hub to launch...
January 25, 2023
Corporate partner at the 1819 Innovation Hub, Fifth Third Bank, recognizes that employees are at the heart of the digital revolution. It takes more than just assembling a star-studded dream squad to succeed in business. It involves upskilling, training and transforming current personnel into superstars.
Debug
Query for this