'College Tour' spotlight: Camryn Morrow
Amazon Prime series features University of Cincinnati in upcoming season
Camryn Morrow says she found her community at UC in the university's identity-based centers, offices and student organizations.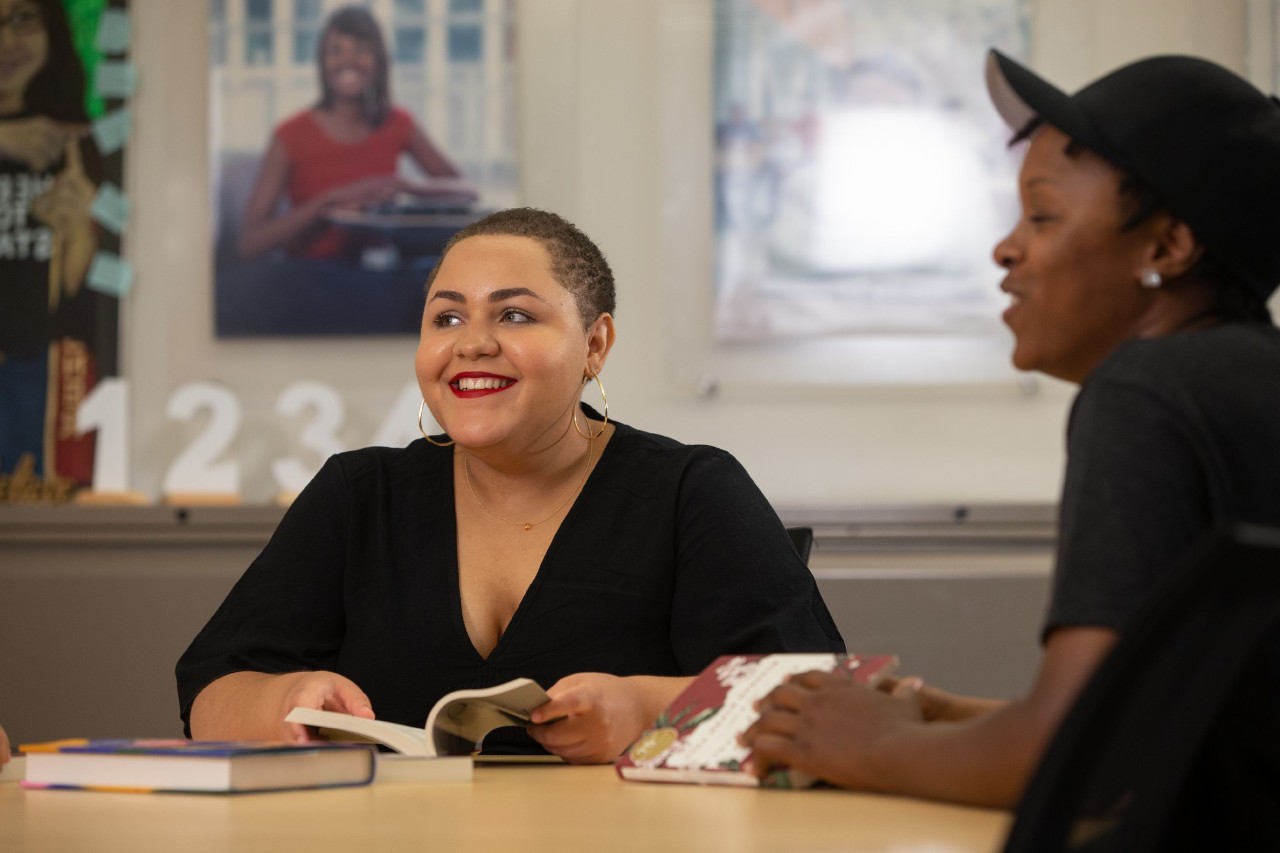 UC's African American Cultural & Resource Center (AACRC) and Office of Ethnic Programs and Services are two special spaces for Camryn, a Darwin T. Turner Scholar majoring in human development and community engagement.
"The pride I feel when I walk into these places and can say, 'This is my home,' is indescribable."
Camryn is one of 10 students and alumni featured in UC's episode of "The College Tour," an Amazon Prime series that features universities from across the country. 

Camryn shares her experience shooting "The College Tour" episode and what being a Bearcat means to her.
Describe being part of "The College Tour."
I was so excited to be a part of "The College Tour" and have the opportunity to showcase some of the aspects of UC that mean the most to me. When filming, I got to highlight spaces like the AACRC and Office of Ethnic Programs and Services, which have been vital spaces for me and so many students throughout my college journey, and I'm glad I got to share that in the episode.
I also loved having the opportunity to share a little about my book club, Sister Outsiders, and to bring some of my friends along for the filming process, too.
What do you want students to know about UC?
Find your community! UC has so many ways to get involved and find your people on campus, whether through your major or student clubs and organizations. This is a time to explore and UC's identity-based offices and cultural student organizations are a great place to start if you are looking for passionate and like-minded peers.
Is there a special moment at UC that stands out to you?
When I look back on my four years on campus, I can't believe how far I have come and how fast it has gone. I am so thankful for my time in the African American Cultural and Resource Center and Office of Ethnic Programs and Services and for how much I have grown since I entered as a shy first-year student. 
My favorite memory by far has to be my induction as a Darwin T. Turner Scholar, which I am forever in gratitude for and caught me completely in shock. I was surrounded by the staff of these centers and my mentors, which was such a happy moment.
What kinds of hands-on learning opportunities did you experience at UC?
I am a part of the Human Development and Community Engagement program in the School of Education, which offers students the opportunity to tailor the program to their specific interests and gain hands-on and practical experience with nonprofit organizations. Throughout my time in the program, I have had the opportunity to intern at five nonprofit organizations" the Cincinnati Symphony Orchestra, the Grunin Foundation, the Wyoming Fine Arts Center, the Clifton Cultural Arts Center and Breakthrough Cincinnati.

Most recently, I completed the Diversity in Arts Leadership Internship Program, hosted through Americans for the Arts, where I interned with the Grunin Foundation, an arts organization in New Jersey, to support my goal of becoming an arts administrator.
Did you encounter any challenges on your road to becoming a Bearcat? How did you overcome them?
As a graduating high school senior, I had no clue what I wanted to do or even where to go to college. When I arrived at UC, I saw this as a new chapter and a chance to start pursuing my passions. I was very excited to take classes that mattered to me, like courses in adolescence development and school environments, and to then have an opportunity to work with those students that I loved. This helped me find that excitement and that joy that I had missed in school when I was younger, and that is what has made me love UC and my program and involvements so much.
After graduation in the spring of 2022, I plan to pursue graduate school before entering the arts and culture nonprofit sector.
2
Touchdown for sustainability
October 2, 2023
In an ongoing pursuit to maintain an eco-friendlier campus and stadium, UC Sustainability is rallying as much fan support as possible to properly dispose of the mass of bottle and can recyclables too often left behind inside and around Nippert Stadium.
3
Ledger donates digital asset security to the University of...
October 2, 2023
A recent gift from Ledger, a global platform for digital assets, will benefit students and research at the University of Cincinnati. Ledger has donated the use of its Enterprise Platform, a cutting-edge digital asset security solution that will enhance the university's technological capabilities in the cryptoeconomics area. This generous donation supports student learning at the Kautz-Uible Cryptoeconomics Lab at the Digital Futures building.
Debug
Query for this