Bearcats Landing intranet gains national attention
Higher education representatives from around the country participated in a virtual demonstration of Bearcats Landing to learn more about the internal communication platform used by UC faculty and staff. 
UC's Bearcats Landing intranet is catching the attention of representatives from higher education institutions across the country. The team was invited by the Educause IT Communications Community Group to lead a demo following an overwhelming response to their discussion board posting for "potential platforms that can be leveraged to improve internal communication."
About 80 representatives from 40 institutions across the country—including 15 R1 universities—joined the Bearcats Landing team's January webinar "UC SharePoint Modern Intranet Demo (Bearcats Landing)." 
The interactive one-hour session led by the Bearcats Landing team demonstrated UC's innovative use of SharePoint Modern, part of the Office 365 suite, to create UC's first employee intranet.
Michele Ralston, director of communications for the Office of the Provost and project sponsor, kicked off the virtual online seminar by sharing the vision and communication needed for the project.

 "Bearcats Landing is a digital workspace. It moves internal-facing tools and content away from the university's public website to create a central hub for UC employees so they can access resources and information needed throughout their workday. Bearcats Landing also creates a sense of place and belonging for all UC employees, regardless of their campus or college location or if they are on-line or in-person. They can log on and discover what's happening around the university."
Andrea Rahtz, web communication manager, who leads the day-to-day operations of Bearcats Landing, provided a general overview of the project build process and gave a guided virtual tour of the site.  

"We had really great participation from the attendees," Rahtz said. "They found it helpful to learn more about the process of creating the sites and rolling it out to the university. We received a lot of positive feedback about the build process and all the useful information our employees can find on our intranet."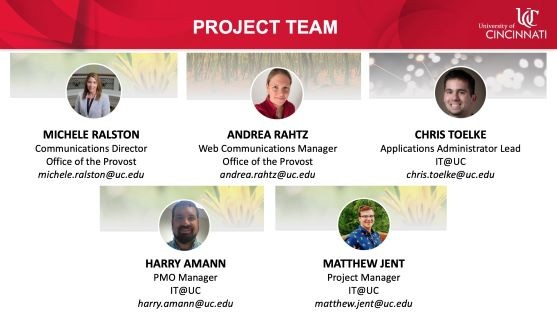 The team's presentation covered topics such as how the intranet was founded in our university's strategic direction, adoption and education obstacles, and technical implementation details.

"Our audience had some great questions–everything from site structure strategies, to features, to tagging and file organization," added Chris Toelke, applications administrator lead and Bearcats Landing technical partner in IT@UC. "It seemed to help them better understand how they were going to tackle their own projects."

At the end of the demo, Carla Herling, IT communications manager with Drake University and co-chair of the IT Communications Community Group, recognized the team for the presentation.
"On behalf of the Educause ITCOMM CG leadership, thank you so much for this demo. Really fantastic!" she said.

If you are interested in viewing a recording of the demo, please reach out to Andrea Rahtz at andrea.rahtz@uc.edu.
The Bearcats Landing project was launched in 2019 in support of UC's Next Lives Here strategic direction and was designed with input gathered from numerous listening sessions with colleges and business units.
UC's intranet now has more than 90 sites representing UC colleges, business units and organizational groups from around the university. It is accessible by UC faculty, staff, emeritus, affiliates, and student workers (including graduate assistants) via a secure log in with their UC credentials. 
"We are proud of all the sites and content added to Bearcats Landing," says Valerio Ferme, executive vice president for academic affairs and provost.
"By centralizing all communications into the intranet, we hope to bring increased transparency and empower UC faculty and staff to collaborate in a virtual workspace."​​​​​​​​​​​​​​
"Bearcats Landing is growing as UC's primary resource for business processes, which in turn will encourage streamlined best practices and increased internal efficiencies," added Pat Kowalski, acting senior vice president for administration and finance.
Did you know?
Bearcats Landing averages more than 7,000 employee users each month and each user typically visits the site daily.


From the homepage of Bearcats Landing at my.uc.edu, UC employees can quickly and conveniently access all the links and tools needed for their job; the navigation at the top is full of helpful links and resources that can be accessed from any site.
Instead of bookmarking various sites, searching for information on a personal drive, contacting several people in a row to find information, or being inundated with emails, employees can now start their day with my.uc.edu along with their area's homepage to catch up with the latest in communications related to their job at the university.

UC Faculty and staff can bookmark the Bearcats Landing homepage at my.uc.edu in their browser, or look for the link in the footer of uc.edu for access to the latest news and business tools all in one place.  

For questions or more information, visit the employee page on the University of Cincinnati's website, or contact Michele Ralston at michele.ralston@uc.edu. 
Featured image at top: UC gave a demonstration of its Bearcat Landing Page to information technology representatives from institutions across the country. Photo/Andrew Higley/UC Creative + Brand
1
Spectrum News: Rover developed at UC helps clean waterways
September 25, 2023
A University of Cincinnati Venture Lab-backed startup has developed a robot that can clean garbage, an oil spill or fish kill from waterways in a way that's safer and more effective than doing it manually, Spectrum News 1 reported.
2
How one UC med student plans to make a difference
September 25, 2023
In her heart, Keirsten White '26, knew she wanted to become a doctor. She was attracted to UC in part because of its family medicine psychiatry program, which she said will help enable her to provide whole-person healthcare to individuals who are homeless and underserved.
3
Patents 101: What inventors need to know
September 25, 2023
In the world of academia, innovation is often celebrated for its potential to reshape industries and improve lives. At the University of Cincinnati, this spirit of invention is acknowledged and actively nurtured through the Office of Technology Transfer. Jill Uhl, JD, senior licensing associate, works behind the scenes on groundbreaking inventions emerging from UC faculty and staff.
Debug
Query for this