Explore the UC program, discover 'the English major of the 21st century"
By Erinn Sweet
If you're thinking about majoring in English as a college undergraduate, you may be wondering about the benefits of studying a language you already know. Regardless of your professional goals, there is no doubt most careers require refined reading, writing and critical thinking skills.
The University of Cincinnati's Department of English, in the College of Arts and Sciences, offers academic routes that align with students' career goals and personal interests. Whether you want to become an educator, author or enter the corporate or non-profit worlds, students in the English program learn the necessary skills that help them stand out in the job market.
English is an interdisciplinary field that combines scholarly and creative work, in additional to tracks with professional applications. Students are given the liberty to pursue various academic routes. Lisa Beckelhimer, director of undergraduate studies, explains that the program was revised about three years ago to better suit the professional and creative needs of students.
I got some quality work and projects out of it that I put in my portfolio, and that I've submitted for jobs.
Leah Boehner, UC English major
"I've heard from some faculty that the revised major seems to be the English major of the 21st century, so I really do think that the English major has changed and evolved," Beckelhimer says. Through its evolution, the program has grown to offer tracks that span from the literary to the professional.
Through the creative writing track, students can combine fiction, creative nonfiction, drama, or poetry with the study of literature. The English education track trains students to enter the teaching profession at the secondary level. The literary and cultural studies track applies a critical approach of analyzing texts for their historical significance. Through the professional writing track, students establish a theoretical framework for practical applications in the field. And the rhetoric and composition track combines theory, media studies, research methods, and public writing.
"Our professional writing faculty are really well known in the business community," says Beckelhimer, adding that each faculty member in the department is a published author. "They have partnerships with a lot of businesses and nonprofits where they'll have classes do real-world work for particular clients. A lot of our professors have teaching awards under their belts as well."
Professors understand the importance of service learning and creating opportunities for students inside and outside the classroom. They also understand the importance of building community relationships between the university and local businesses and nonprofits.
Leah Boehner is a senior English major focusing on rhetoric and professional writing with a minor in marketing and a copyediting and publishing certification.
"I'd say my favorite class that I've taken was called Social Media and Society. It was with Laura Wilson. The class took a deep dive into not only how we use social media, but how people interact with it and how it's kind of formed a new society," she says. "It was just a really cool class, and I got some really quality work and projects out of it that I put on my portfolio and that I've submitted for jobs."
Each track has its own set of required courses and electives; however, every student—regardless of focus area—must take the five core classes before they get into their track. Beckelhimer explains that these core classes are opportunities for English students to explore different fields of study before locking in their track. These core classes include:
Reading & Research
Writing Foundations
Culture & Diversity
Literary Traditions
Fields of English
Some courses really stand out and are popular among students. These courses include:
Identity, Politics and Literature
Black Women Writers
The Magic of Harry Potter
Creative Writing and Social Change
Environment in Literature and Film
Career and graduate study possibilities
There are many assumptions about what English majors can do with their degree. While some go on to become teachers and professors, others use their talents in corporate or nonprofit sectors. Because UC's English program integrates real-world experiences, students are granted the benefit of networking with companies and community partners throughout the city.
This hands-on learning style is proven to be advantageous for students who are seeking careers after graduation. Leah Boehner explains that the copyediting certificate requires the student to complete an internship in the field. She completed her internship last semester with Cincinnati Cares.
"When I submitted my application, they asked for examples of my work. I submitted the pieces that I had written in the Social Media and Society class. In the first interview, they started referring to me as 'skilled' and how professional the portfolio was."
Students may also choose to pursue graduate studies. UC offers doctoral, masters, and certificate graduate programs in the following areas of study:
Creative Writing
Literary and Cultural Studies
Professional Writing
Rhetoric and Composition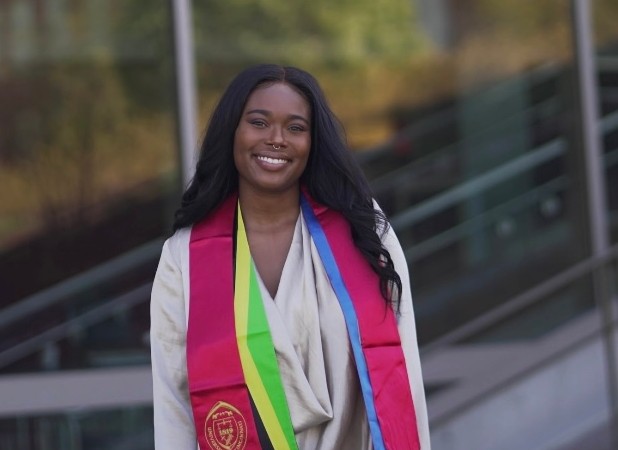 Angelique Kennedy-Chavannes graduated from UC's English program in spring 2021. She started her undergraduate studies as an international affairs major. As a dual citizen of the U.S. and U.K., travel has always been part of her life. She took interest in UC's study abroad programs where she traveled to Prague and Ghana. She soon realized international affairs was not the major for her and switched to exploratory studies where she found her passion for creative writing. She now lives in New York City and works for a travel agency.
"Travel has just always been a part of my life, and writing just was a part of what I did for a profession. I did a travel writing internship and then I ended up landing a job at Fodor's Travel where I am an editor for print travel guides. It's kind of crazy what I do, and that I get to travel for free and go to all these really fun events in the city."
Featured image at top: Person studying. Credit/Thought Catalog for Unsplash.