A&S Black alumni, faculty honored at Onyx & Ruby Gala
UC's annual awards gala highlights achievements, celebrates accomplished careers
By Bryn Dippold
UC alumni, faculty, staff and students gathered in February to honor outstanding African American leaders and achievers from throughout the university for excellence at the 2022 Onyx & Ruby Gala.
Awardees from the College of Arts & Sciences included alumni N. John Bey and Maurice Stewart, and professor of English LaVerne Summerlin, who recently marked her 50th anniversary on faculty at UC.
Summerlin received the Tower of Strength award, which recognizes a UC faculty or staff member for shaping students' personal and professional development. Summerlin, who has been at UC since 1970, has received over 20 educational and teaching awards, including the A.B. Dolly Cohen Award for Excellence in Teaching.
When she was informed of the nomination, Summerlin says she thought of "Ode to Joy," the melody of Beethoven's Ninth Symphony.
"That joy was central to the ambiance in the room the night of the Onyx & Ruby Gala," Summerlin said. "For me, it was an honor to share the stage with those outstanding African American alumni on an evening when Black excellence was celebrated.

"It was also joyful to experience the exhilaration of so many who have believed in and supported me through the years. They have been, and still are, my towers of strength."
It was an honor to share the stage with outstanding African American alumni on an evening when Black excellence was celebrated.
LaVerne Summerlin, UC professor of English and Onyx & Ruby honoree
Stewart, who graduated from UC in 2016, received the Emerging Leader Award for contributions that promote underserved communities. Stewart earned a bachelor of arts in organizational leadership and currently serves as program director at UpSpring, a Cincinnati nonprofit serving educational and enrichment needs of children experiencing homelessness.
He also has worked with area youth through Cincinnati Youth Collaborative, and Lighthouse Youth and Family Services, and is currently an adjunct instructor In organizational leadership.

In response to his win, Stewart said, "This award means a lot to me. To be honored as the Emerging Leader Awardee reinforces my commitment to the community and this university."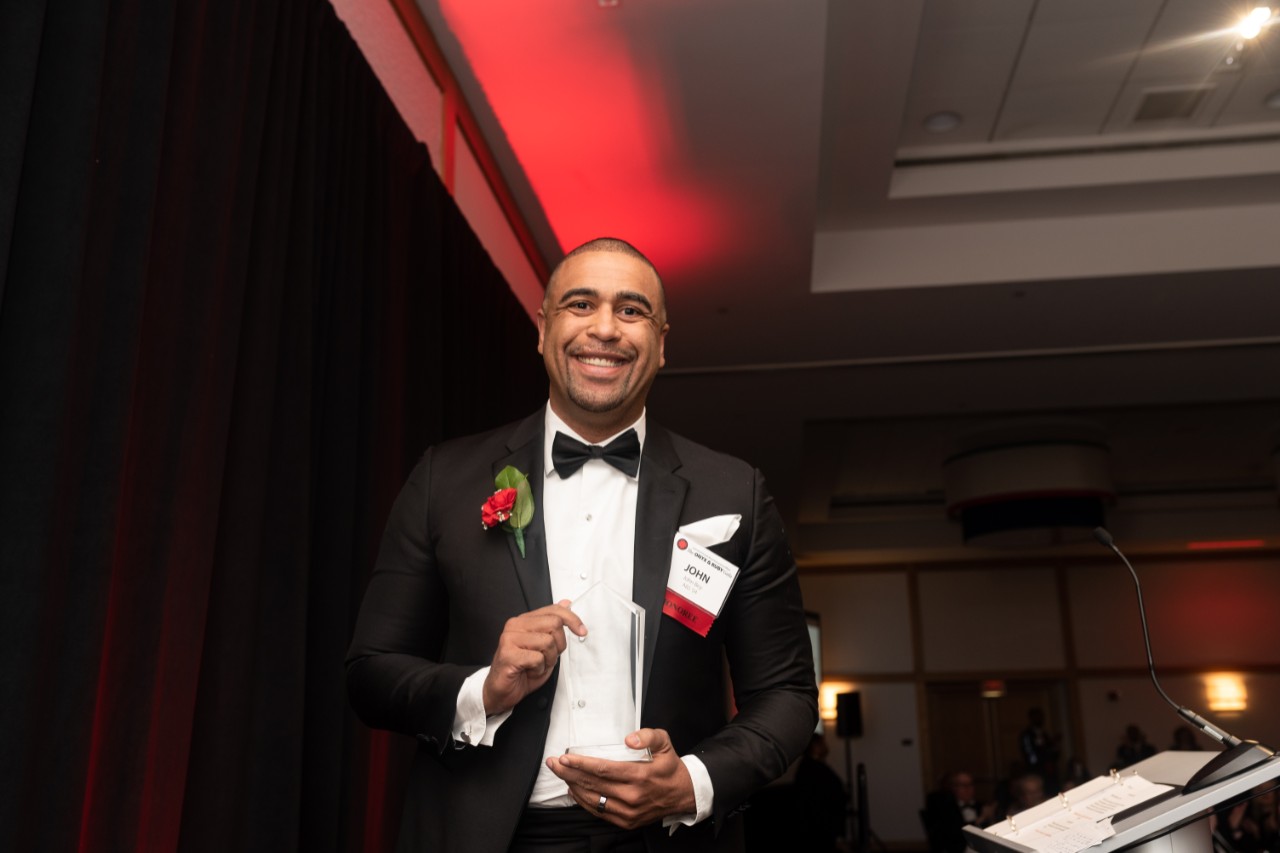 Bey, a 2004 A&S graduate, received the Linda Bates Parker Legend Award. He founded the Atlanta-based law firm Bey & Associates and uses his success to support rising leaders in the legal field through mentorship and professional development. Bey attributes his experiences at UC as the force to help him succeed.
The gala, which was held at The Graduate Cincinnati Hotel, was created in 2007, and since then has become one of the largest alumni-driven events for the UC Alumni Association. The main goals of the gala are to recognize excellence, provide opportunities and celebrate UC.
Featured image at top: Attendees the 2022 UC Onyx & Ruby Awards Gala. Credit/UC Alumni Association