Cheering from the stands and the stacks
Kretschmers give to their UC passions
Attend a Cincinnati Bearcats Women's Basketball, Lacrosse or Volleyball game and that cheering you hear from the stands may likely be retired University of Cincinnati professors Laura and Richard Kretschmer.
Loyal fans, the couple have been rooting for UC's female student-athletes since the 1970s. This devotion doesn't end with the season.
Through philanthropic gifts, the Kretschmers support the college experience of student-athletes, knowing this will lead to bright futures. Their generosity includes a point guard scholarship for the women's basketball team.
They are just as steadfast and generous in their support of UC Libraries. While the thread between their passions may not be obvious, the two educators share that they've always worked to lift populations and causes not in the mainstream. 
"In our professional lives, we've always focused on supporting minorities, not to the detriment of the majority, but to enhance the minority voice," says Richard, professor emeritus in the College of Education, Criminal Justice, and Human Services, with a focus on deaf studies.
He admits he wasn't interested in sports until he started attending UC games with Laura. He concluded that female student-athletes deserved more attention and assistance.
"I'm very much for the underdog," he says.
"I remember going to basketball games and there would only be 15 of us in the stands," adds Laura, professor emerita in audiology in the College of Allied Health Sciences. 
Laura and Richard define what it means to be a Bearcat. My players know this special couple is always in the stands, cheering them on.
Head Coach Michelle Clark-Heard Cincinnati Bearcats Women's Basketball
Attendance has grown significantly since those games in the 1970s. What has not changed is the dedication of the Kretschmers. As educators, they take great pride in the emphasis UC athletics places on academics. They communicate regularly with head coaches Michelle Clark-Heard, women's basketball, and Molly Alvey, women's volleyball.
 "Laura and Richard define what it means to be a Bearcat," says Clark-Heard. "They consistently elevate female student-athletes, present and future. Not only are they loyal fans, but they also named the women's locker room and support our students through scholarships. My players know this special couple is always in the stands, cheering them on."
The recently named Drs. Laura and Richard Kretschmer Women's Locker Room is one of many examples of their generosity.
Coach Alvey says the Kretschmers' presence at every match is the ultimate gift to her student-athletes.   
"They are our most loyal, generous fans and we count them to be an essential part of our program," she says. "They also support our athletes through a scholarship fund, allowing females to compete at a university like UC, build character, relationships and prepare for success in the world.   We're honored to have the Kretschmers in our corner and can't thank them enough for their support."

Lending support and expertise to UC Libraries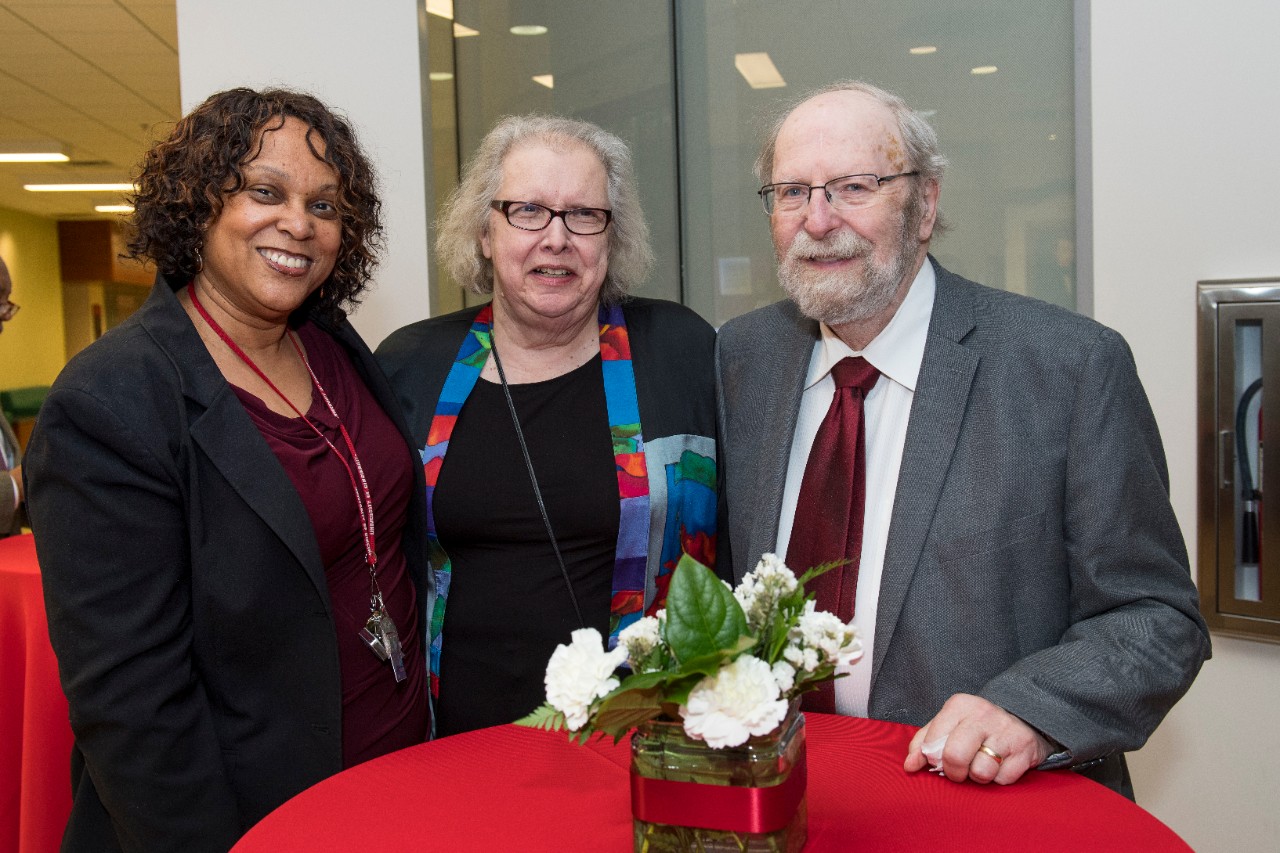 The Kretschmers spent much of their academic careers involved in UC Libraries and remain connected. Richard is a member of the UC Libraries Advisory Board and Laura is a member of the Henry R. Winkler Center for History of the Health Professionals Advisory Board.
Their values and broad interests are reflected in a future gift benefiting both UC Libraries and women's athletics. This includes the creation of an endowed scholarship fund supporting female student-athletes in basketball, soccer, lacrosse and volleyball, making it the largest gift to women's student-athlete scholarships in UC's history.
Three funds at UC Libraries will educate future generations and ensure that the libraries are used as a tool for discovery.
Lori Harris, assistant dean and director of the Donald C. Harrison Health Sciences Library and Henry R. Winkler Center for the History of the Health Professions, recalls that Richard and Laura were a welcoming presence during her early days at the university.
She adds that their expertise regarding Native American literature was an asset when the Winkler Center was chosen to host a traveling exhibit on Native American voices.
"The Kretschmers' knowledge, respect and commitment to supporting this area of collection and history, speaks to their continued support and acknowledgment of how Native American peoples' histories and pathways play an integral role not only in our communities but throughout our teaching and learning institutions," she says.
The future gift will endow a collection of Native American children's literature the Kretschmers previously established. A second fund creates the first dedicated collection at the Henry R. Winkler Center for the History of the Health Professions; a third provides unrestricted support for the libraries.
"I admire how humble they are," Harris says. "They don't want recognition or accolades. I recall a quote that truly generous people are those who give quietly, without looking for reward or praise. I believe this highlights the core foundation of the Kretschmers' giving."
Who will you empower NEXT?
Scholarships, fellowships and enrichment programs provide opportunities for students to attend, grow and graduate from UC. You can empower our next leaders through support for scholarships and signature programs in career-based education, co-op or professional development. Learn more at nextnow.uc.edu.
2
Joe Burrow Foundation awards grant to UC service-learning co-op...
December 7, 2023
UC's service-learning co-op program has received a "Do Good Grant" from The Joe Burrow Foundation. The funding will provide stipends to UC students pursuing degrees in social work for their meaningful, service-oriented work in the mental health field.
3
Construction management alumna honored for impact in her field
December 5, 2023
Gloria Samuel entered the construction industry more than 20 years ago as a University of Cincinnati co-op student and never looked back. Since then, she has earned both undergraduate and graduate degrees at UC and has taken great pride in giving back to the college by sharing her education and experiences with others as an adjunct faculty and serving on numerous community boards and committees. Currently, she is the Senior Vice President and Director of Construction Program and Project Management for Fifth Third Bank.
Debug
Query for this