Neurosurgery alumnus donates toward purchase of virtual reality surgical simulation goggles
Equipment allows surgeons to virtually practice before a procedure
"When you drink water, think of the source," says Tong Ong, MD, reciting a Chinese proverb as the reason for his donation to the University of Cincinnati Department of Neurosurgery. 
"What it boils down to is that Cincinnati gave me the opportunity to be a neurosurgeon, and they made me a good one," he says, "I'll always appreciate that." 
Ong completed his neurosurgical training in Cincinnati in 1979 and is now a retired neurosurgeon living in Hawaii. He donated $10,000 to the department specifically for the purposes of resident education.
"When you're young and you're studying there, and everything is being taken care of, you never think of who is sponsoring these things," explains Ong, "But it is there, and I want it to continue to be there." 
Ong remembers his residency days in Cincinnati as difficult, yet productive.
"When you talk about residency in neurosurgery, it's always about the hardship. We had John Tew to please. He's not an easy man to please," he said with a smile.
But, while Tew, UC's former neurosurgery chairman, was visiting Hawaii, he met up with Ong, and the conversation that transpired inspired Ong to donate to the program.
"It's this point in life you start to remember where you came from," says Ong. 
Jonathan Forbes, MD, assistant clinical professor in the UC College of Medicine and neurosurgical resident program director, said the donation will be used to purchase two sets of Magic Leap reality goggles.
"These goggles can be coupled with a system that we use for looking at MRIs," Forbes said. With this technology, the residents will be able to take what is now a two-dimensional image and explore it through three dimensions.
"The faculty can review more salient portions of the neuroanatomy and can provide guidance on how the surgical anatomy will be encountered during the procedure," Forbes said.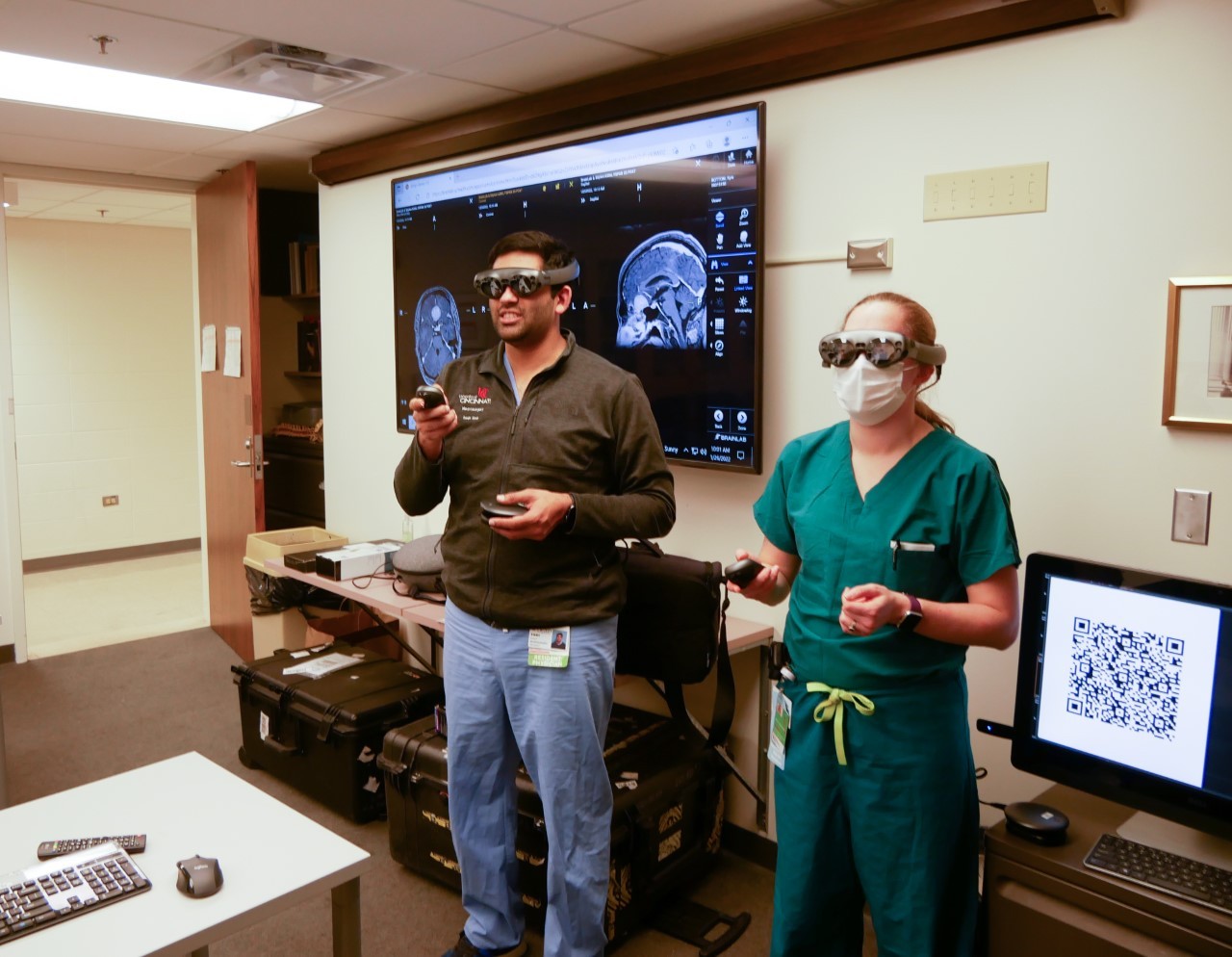 The residents first tried the goggles at a demonstration put on by the company in the spring of 2022. The representatives from Brain Lab said that while the goggles can be used for training and education, patients can also use them to visualize their surgery, and surgeons can take them into the operating room to pair the 3-D MRI with the patient's body.
Forbes said for now, the emphasis will be on teaching the residents how to prepare for what they'll see in the operating room.
"Most importantly," he said, "residents will be able to create a mind's eye of the anatomy that will be encountered before surgery." 
And, Dr. Ong's thoughts about the use of his donation on the technology?
"I'm an old man," he said through laughter, "so I don't know how it works, but it sounds to be a very good way of learning." 
Featured image at top courtesy of magicleap.com.