Living in Cincinnati: What we love about life in the Queen City

The city of Cincinnati is not like other midwestern cities.
Our urban identity is at the core of who we are and why we matter. Our city is home and so much more — it's our source for professional opportunities, artistic inspiration and social energy.
With a regional population of more than 2.2 million people, Cincinnati, Ohio, boasts big-city amenities — professional sports, arts, museums and cultural attractions — along with plenty of Midwest charm and family-friendly attractions.
Working at the University of Cincinnati means calling the "Queen City" home, and there are many reasons Cincinnati is a great place to live. From its affordability and vibran, walkable downtown to a thriving sports and entertainment scene, see what Cincinnati, Ohio, has to offer.
Midwest affordability, high quality of life
Living in Cincinnati means getting more bang for your buck, without sacrificing on quality of life. U.S. News & World Report ranks Cincinnati as No. 13 on their list of Best Affordable Places to Live in the U.S. in 2021-22. With a median home price of $168,000, planting roots in the Queen City is shockingly affordable compared to other cities across the country.
Cost of living: 8% lower than national average
Cost of housing: 24% lower than national average
No. 1 most affordable city for solo renters (SmartAsset)
On top of getting more for your money, Cincinnati residents don't sacrifice on quality of life. Cincinnati is home to outstanding hospital systems. In addition to UC Health, Cincinnati Children's Hospital is ranked No. 3 in the nation for Best Children's Hospitals.
Cincinnati is home to a great public school system, as well as numerous private schools. According to the U.S. News & World Report, more than 60 area schools are listed in its top high rankings. The report also ranks Cincinnati high schoolers as more prepared for college than students in similar cities.
Endless entertainment: flourishing arts, professional sports and more
Life in Cincinnati isn't all work and no play. In 2018, the New York Times listed Cincinnati as #8 on its 52 Places to Go list. One of the main reasons? The flourishing arts scene. Between theaters, murals, galleries, museums,and ballet, you'll have endless options.
ArtWorks Cincinnati: Take a walk down any street downtown and you'll likely come across a larger-than-life mural. ArtWorks is an award-winning nonprofit that has been bringing our city to life through creativity. Their team has completed more than 14,000 public and private art projects, including over 200 permanent outdoor murals.
Music Hall: Built in 1878 and designated a National Historic Landmark, Cincinnati's Music Hall is among the city's most iconic buildings. Located in Over-the-Rhine, Music Hall is home to the Cincinnati Opera, Cincinnati Symphony Orchestra and the Cincinnati Ballet.
Cincinnati Art Museum: Located in scenic Eden Park, this free museum features a diverse, encyclopedic art collection of more than 67,000 works spanning 6,000 years. Parenting magazine ranked it a "Top Art Museum for Families."
Beyond the arts, there are a number of other entertainment options for you to explore in the city. For sports fans, Cincinnati is an incredible sports town. In addition to our Bearcats athletics programs, Cincinnati is also home to four professional sports franchises: Cincinnati Bengals (football), Cincinnati Reds (baseball), FC Cincinnati (soccer) and Cincinnati Cyclones (hockey).
Hungry? According to a 2021 study from WalletHub, Cincinnati ranks among the best foodie cities in America. Our city offers a wide range of locally-owned restaurants, markets and cafes, not to mention our rich beer brewing history. Best known for Cincinnati-style chili (yes, we put chili on spaghetti. You will learn to love it), Cincinnati is also home to several award-winning chefs and restaurants that offer incredible fine dining, one of the top food markets in the world (Findlay Market), and over 50 local breweries which help celebrate the city's German heritage at the largest Oktoberfest in the U.S. every fall.
70+ unique neighborhoods = something for everyone
The Cincinnati region has many distinct neighborhoods, each with their own history and personality.
Downtown & Over-the-Rhine
Just south of the University of Cincinnati's Uptown campus is Cincinnati's urban core. Downtown consists of four neighborhoods: Over-The-Rhine Historic District (OTR), Central Business District, Pendleton and the West End. OTR is among the largest, most intact urban historic districts in the United States. Its architectural significance has been compared to Greenwich Village in New York and the French Quarter in New Orleans. These neighborhoods are where you'll find the heart of Cincinnati's award-winning restaurants, artistic scene and entertainment options.
The East side of Cincinnati is home to some of the city's most upscale neighborhoods, including Hyde Park, Mariemont, Mount Adams and Indian Hill. Here you'll find hills, the Little Miami Scenic River, town squares and an amusement park.
"The West side is the best side." It's a phrase you'll hear from a lot of residents who call the West side of Cincinnati home. From unbeatable views of downtown from Mount Echo Park to historic family homes and a 1,500-acre forest, there are plenty of reasons to choose the West side. Neighborhoods in this area include Price Hill, Delhi, Cheviot and Westwood.
Cross over the Ohio River to experience Kentucky cities like Covington, Newport, Bellevue, Fort Thomas and Florence, just minutes from downtown Cincinnati. These northern Kentucky communities offer more great places for faculty and staff to live, with charming residential historic districts, walkable riverfront neighborhoods and amazing views of the Cincinnati skyline. Northern Kentucky is also home to the Newport Aquarium, and the official gateway to the Kentucky Bourbon Trail.
This is just a quick preview of some of the Queen City's neighborhoods. To learn more about what these unique areas (and more) have to offer, check out this playlist from the Cincinnati Experience.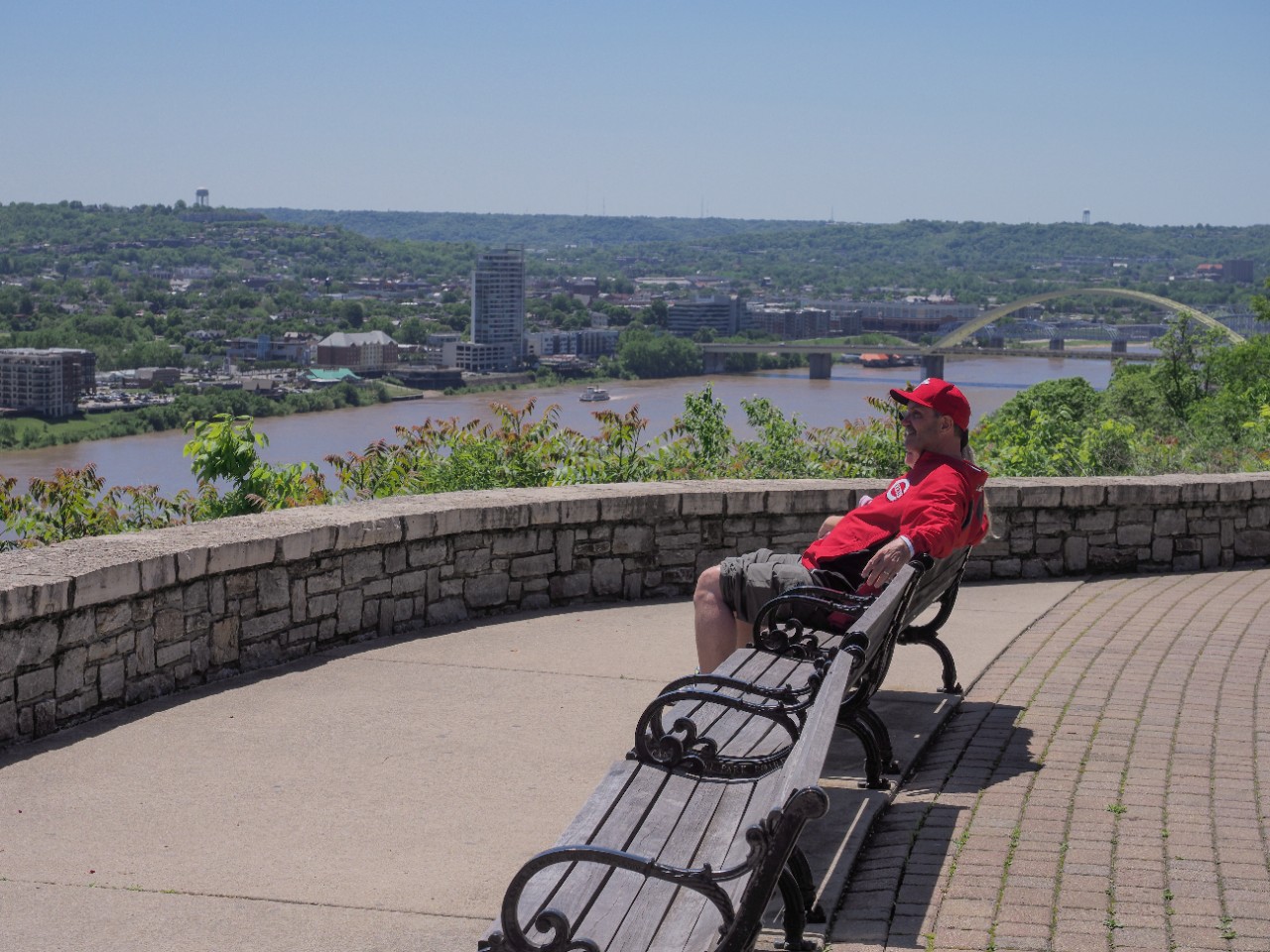 Life in the city doesn't mean saying goodbye to nature. Cincinnati is home to an extensive public park system. In fact, the city ranks No. 8 in the nation for best parks, according to the Trust for Public Land. The annual study, which ranks 100 cities in the U.S., found that 87% of Cincinnati residents live within a 10-minute walk to a park.
A few of our favorites:
Smale Riverfront Park downtown offers incredible views of the Ohio River and features bench swings and an interactive water fountain for kids. This riverfront park also offers great walking and running trails.
Eden Park's 186 acres are home to the Cincinnati Art Museum, Cincinnati Playhouse in the Park and the Krohn Conservatory. This popular park showcases a number of stunning overlooks with views of the Ohio River valley. Eden Park also features two lakes and a 60-foot geyser.
Washington Park, a six-acre green space in the heart of the Over-the-Rhine historic district, isn't your typical public park. Less than two miles from campus, this neighborhood park always has an event going on. From hosting the City Flea market to summer movie nights or morning yoga sessions, Washington Park is always a popular destination.
For those looking for more wilderness, you won't have to look far. Located less than 15 minutes from our urban campus, Mount Airy Forest offers nearly 1,500 acres of nature, which include miles of hiking trails, horseback trails, a dog park and specialty gardens, gazebos and a lake.
Just as the University of Cincinnati's momentum has never been stronger, the city of Cincinnati is also on a rise to new heights. With a revitalized and vibrant urban core, endless entertainment options and a high quality of life for the whole family, we are dedicated to attracting the best and brightest faculty and staff to the city of Cincinnati.
Join our team
Ready to make Cincinnati your home? Join our team at the leading Research 1 university in the region and help us continue to lead urban public universities into a new era of innovation and impact.
We're about engaging people and ideas — and transforming the world.