The Toast celebrates Business Fellows graduates, award winners
Annual event honors aspiring minority business professionals
The University of Cincinnati Carl H. Lindner College of Business and its supporters recognized the impressive accomplishments of the Business Fellows during The Toast last week at the Graduate Cincinnati.
Established in 2011, Business Fellows' mission is to empower historically underrepresented students to excel as future business leaders by creating an inclusive community and by providing opportunity and access. The Toast, held in-person for the first time since 2019 due to the COVID-19 pandemic, is an annual celebration featuring a networking reception, dinner, live music, a keynote address, awards presentation and, of course, a toast.
The 2022 Toast was emceed by Raven Richard, weather reporter for WCPO-TV. Lindner speakers included Nick Castro, JD, assistant dean, Office of Inclusive Excellence; Marianne Lewis, PhD, Lindner Dean and professor of management; and Victoria Regan, assistant director, Office of Inclusive Excellence. Michael D. Thomas, executive vice president, corporate and institutional banking and co-head, PNC Real Estate, delivered the keynote address.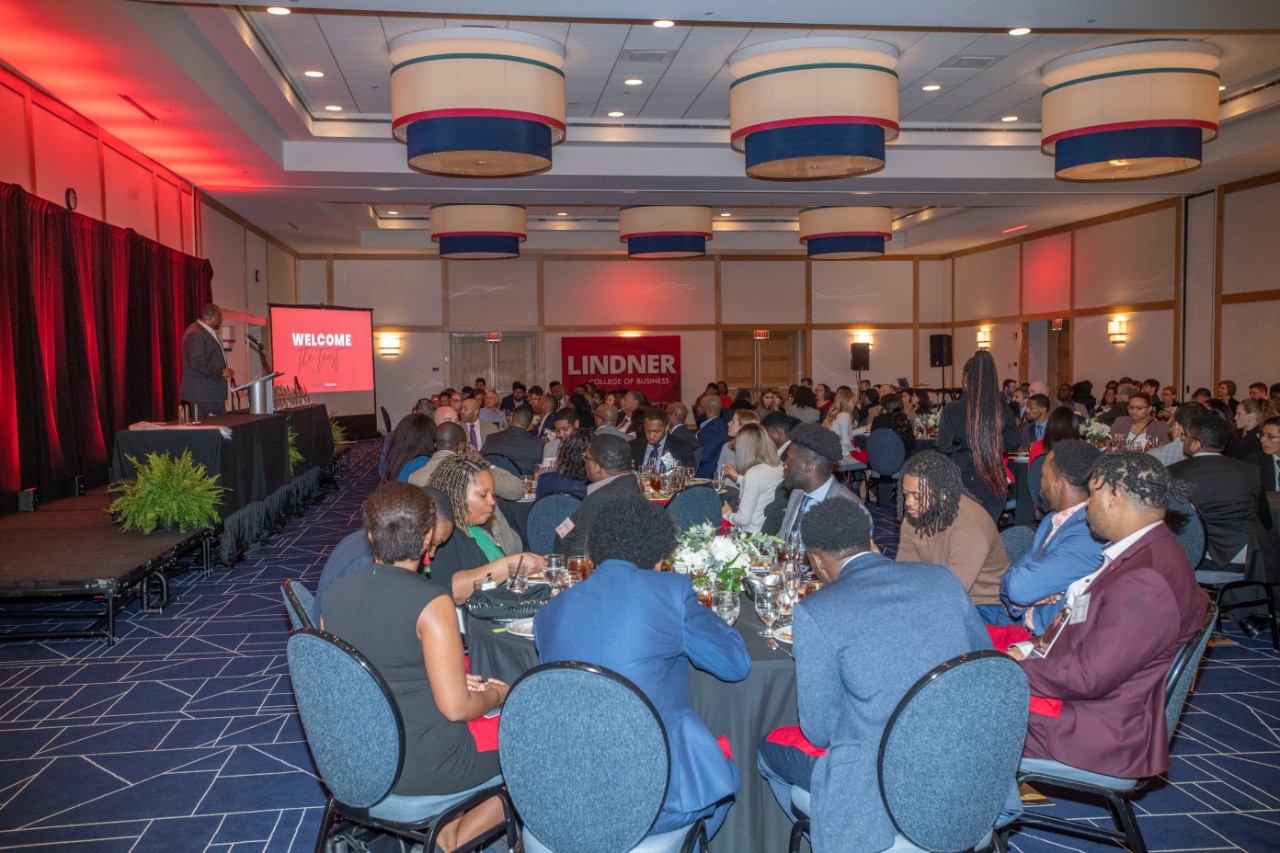 In his opening remarks, Castro revealed that he had been looking forward to this night since he joined Lindner in 2019. He also explained to attendees how Lindner has elevated its inclusion efforts "to the next level."
"We're providing faculty and staff tools to provide inclusive spaces. And we're eliminating roadblocks for diverse students looking to become business problem solvers," Castro said. "And we're doing it with the support of all of you here."
Lewis followed with a speech expressing pride in this year's graduates.
"You truly set the stage," she said. "It's the paradox of rising expectations; the more you do, the higher the bar rises, and we will continue to rise with it." 
Richard took over for the awards presentation, which began by honoring Business Fellows' Outstanding Students. This award is given to one first-, second-, third- and fourth-year student who has passionately embraced the Business Fellows community and leverages its access to a network of resources and opportunities to be successful. This year's winners were:
First year: Nicole Patricio-Agosto, BBA '25
Second year: Noura Ata, BBA '24
Third year: Alexia Thomas, BBA '23
Fourth year: Jordan Drye, BBA '22
The next award was for Fellows Impacting Fellows, an honor bestowed upon Lance Entsuah, BBA '23. This decoration is given to a student who has had a significant impact on other Business Fellows, going above and beyond in mentoring students throughout Business Fellows, and developing meaningful relationships with their peers.
Gwen Roemer, associate director, Lindner International Programs, took home Ally of the Year, reserved for a self-identified advocate for the Business Fellows program who selflessly invests his or her time, energy and resources to its success.
A dinner break followed before Thomas took to the stage. Thomas touched on a variety of subjects during his address, including his business career, mentorship, building relationships and his top three learnings from the industry: "be water, be yourself and be a wrestler."
"Be water — flow to those opportunities and go around the obstacles. Be open to the things that come your way," Thomas said. "Be yourself — be comfortable in your own skin. You'll be much happier that way. And be a wrestler — stick in the fight. Figure out a way to make your community better, because it's going to help you and those around you."
Richard returned to announce the PACE (Professionalism, Academics, Character and Engagement) honorees. The PACE awards are given to Business Fellows who exemplify the ideals of PACE and serve as role models to their peers. This year's winners are:
Professional: Francis Christian, BBA '25 
Academics: Ana Lucia Gehner, BBA '25
Character: Azaria Blair, BBA '23 
Engagement: Elizabeth Piper, BBA '23
Sixteen seniors who either graduated after the fall 2021 semester, are graduating following the current spring semester or will graduate in fall 2022 were honored with a plaque and stole:
Odafe Abisina, BS '22
Kenneth Alexis, BS '22
Ciara Clark, BBA '22
Jordan Drye, BS, BBA '22
Evan Eskilson, BBA '22
Jillian Fields, BBA '22
Howard Foster IV, BBA '22
Victor Garcia, BS '22
Dominique Jones, BBA '22
Nana Obeng Mensah, BBA '22
William Okine, BBA '22
Nonso Okonji, BBA '22
Alec Rezelj, BS, BBA, '21
Cole Rico, BBA '22
Riley Rosado, BBA '22
Anis Toubaline, BS '22.
Regan ended the festivities with the toast, citing the various twists and turns the graduates experienced during their journeys at Lindner and UC, as well as Business Fellows' culture of togetherness.
"I've had the pleasure of seeing each one of you grow as a student, a leader and a professional, and I'm so proud of you. You've tackled virtual learning, hybrid learning and virtual engagement with such ease. With each new adventure, you have made sure your community was right there with you," Regan said. "When people ask me what makes Business Fellows so special, I immediately think of the community. Students are so willing to help one another with classes, campus life or just someone to have a meal with. You all have each other's backs. As you move into your next step, your community will always be here for you."
Thank you to the sponsors of The Toast:
Title Sponsor

Community Sponsors
Elliott Management Group
Ernst & Young
RiskVersity
Friendship Sponsor
2022 Business Fellows Executive Board
Holly Giese, president
Noura Ata, vice president of mentoring
Azaria Blair, vice president of membership 
Julian Hill, vice president of recruitment
Alexia Thomas, vice president of marketing
Featured image: Business Fellows graduates and award winners. All photos by Joseph Fuqua II.
Interested in Business Fellows?
Since 2011, Business Fellows have found a strong sense of community and have benefited from the curricular, scholarship and professional development opportunities offered at Lindner and UC. Business Fellows support one another as they grow into rising business leaders and develop into empowered problem solvers. For more information on the program, email Victoria Regan at reganva@ucmail.uc.edu.