UC startup makes advancements in 'green' chemistry
Venture Lab-backed company develops method to reduce waste
A University of Cincinnati Venture Lab-backed startup is developing a new method of chemistry that could make a wide range of products including agrichemicals, pharmaceuticals and plastics more environmentally friendly.
Cinthesis, whose facilities are based at UC, is working in the emerging field of mechanochemistry. This discipline is a way to perform chemistry without solvents, which could reduce waste and reduce the need for volatile organic compounds that can be harmful to the environment.
"We looked at it as a way to do 'green' chemistry or reduce the total amount of solvent waste in chemistry," said James Mack, PhD, a UC professor of chemistry and Cinthesis' soon-to-be chief executive officer. "The whole gambit the chemical industry can offer can be done via this process."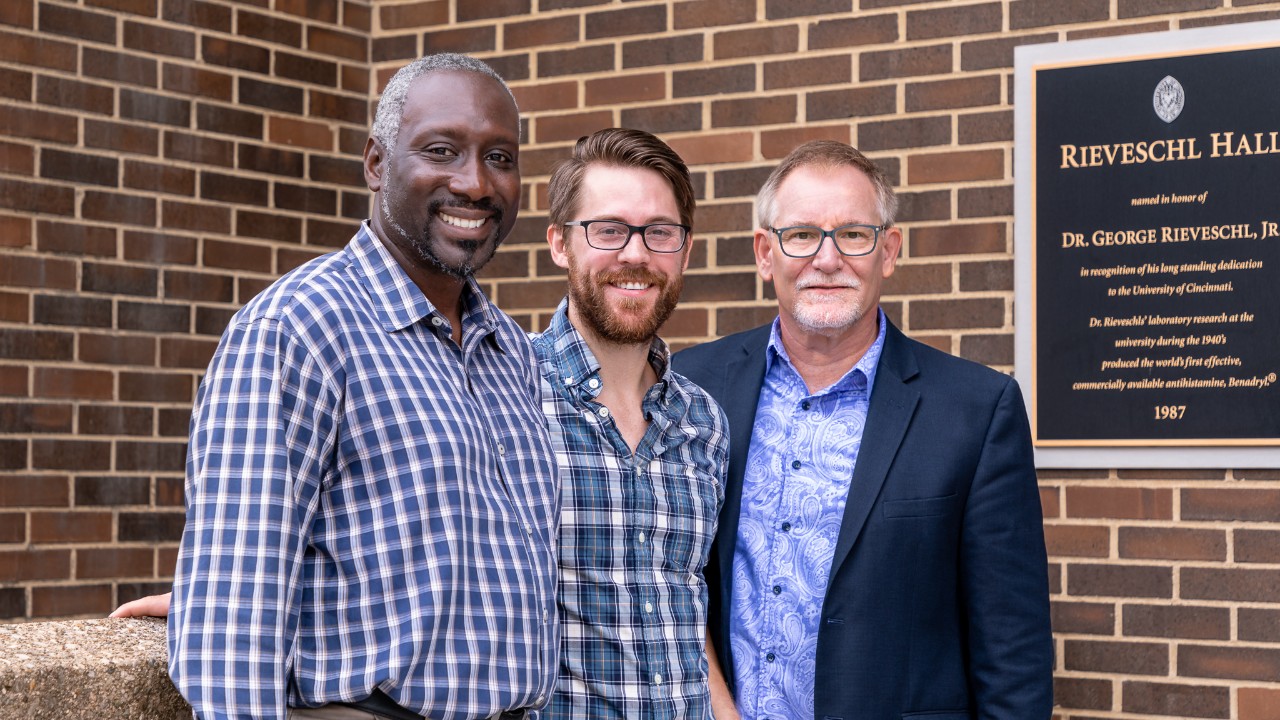 Cinthesis is one of the startups that have come out of the Venture Lab at UC and received seed funding through the program.

UC's Venture Lab, located in the 1819 Innovation Hub in the Cincinnati Innovation District, accelerates and simplifies the process of creating a new company from scratch. The Venture Lab connects entrepreneurs to talent and funding to help launch new companies.
"I really liked my time going through it. They have a really good operation. I learned a whole lot from that process," said Mack, who participated in the Venture Lab with one of his students, Joel Andersen, PhD, who now is Cinthesis' chief technology officer.
The traditional method to perform chemistry is to mix a reagent, a substance or compound used to cause a chemical reaction, and a solvent, a liquid that is used to dissolve the reagent and aid in creating that reaction.
A problem with that traditional method is the solvents tend to be volatile organic compounds, chemicals that vaporize into air and dissolve in water. The waste from the volatile organic compounds can end up polluting air, water or soil.
When you say we're doing chemistry without a solvent, that's not something that's typical. That's like saying, 'We're drinking coffee, but there's no water. It's just coffee beans.' Most people would think that's not possible, so you have to show them what you mean.
James Mack Cinthesis technical adviser
Mechanochemistry aims to reduce or even eliminate the need for solvents, thus eliminating the need for volatile organic compounds. Instead of mixing the reagents and solvents, Cinthesis uses a reagent, a ball bearing and a modified commercial mixer mill to create a chemical reaction.
"We just found a way that you can pulverize everything together to do the same type of chemical reaction without all the added liquid," Mack said. "If you can reduce the total amount of solvent, you could significantly reduce the total amount of waste that's produced, so then you would have a much greener process."
Environmental regulations and public consciousness are pushing companies to seek out new manufacturing processes. Cinthesis' new approach could help, but one of the big challenges has been getting people to understand how mechanochemistry works.
"When you say we're doing chemistry without a solvent, that's not something that's typical," Mack said. "That's like saying, 'We're drinking coffee, but there's no water. It's just coffee beans.' Most people would think that's not possible, so you have to show them what you mean."
Mack has studied mechanochemistry since he joined UC in 2003. There was a breakthrough in the work when Andersen, who at the time was working toward his doctorate, made a modification to the mixer mill that completely changed the group's view on how chemistry worked.
"Once we figured that piece out, then we knew we had something that we could compete with industries worldwide," Mack said.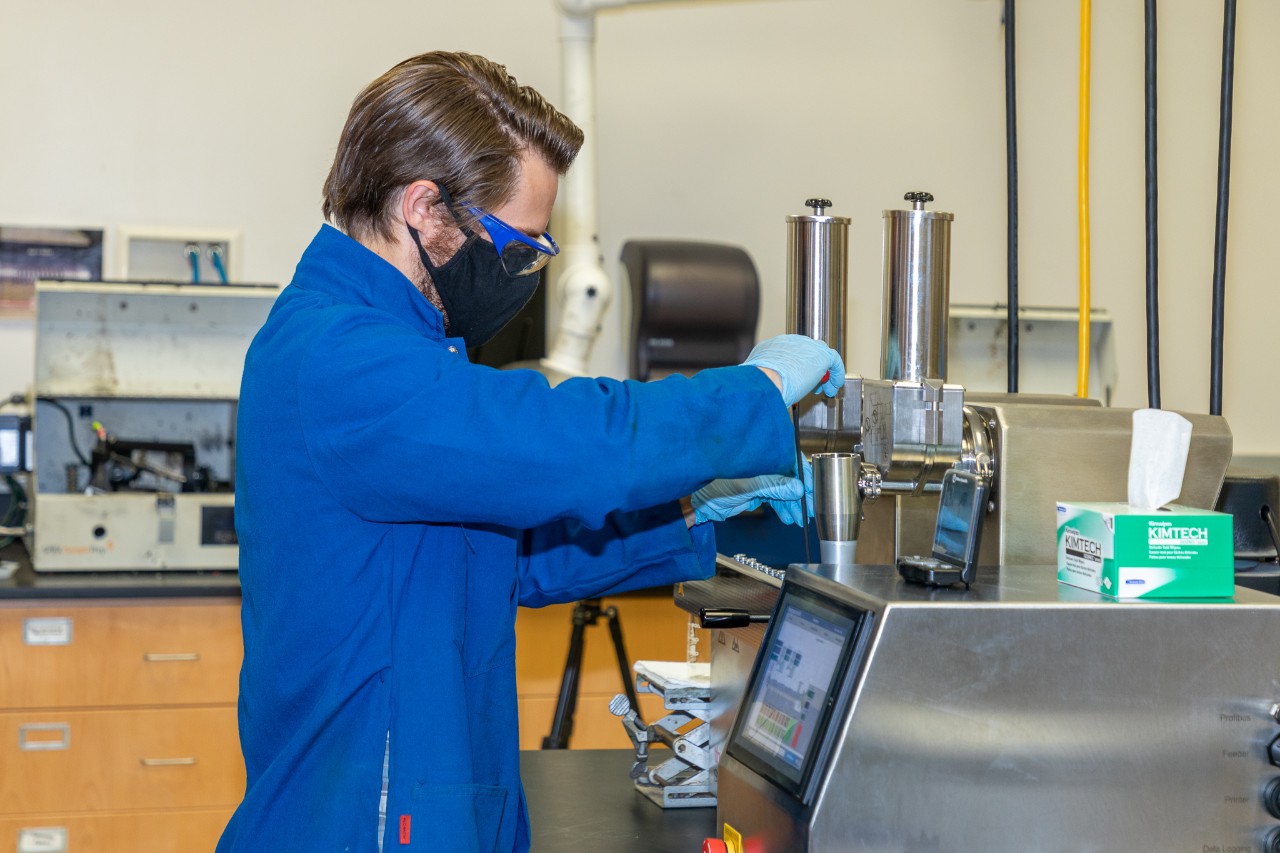 Sensing the potential of their breakthrough, Andersen and Mack went through UC's Venture Lab to gain business knowledge that could help them develop their startup.
"It's the way that you look at a business and try to understand all the facets of business — what your customer base is like, how do you acquire a customer, your expectation in terms of how many people would be interested in this kind of thing," Mack said of the lessons he learned from the Venture Lab.
Along with gaining funding through the Venture Lab, Andersen and Mack joined together with Edward Sawicki, who was an entrepreneur-in-residence for the program and became Cinthesis' CEO.
Entrepreneurs-in-residence are accomplished founders and industry experts with a wide range of experience who are looking to build their next startup by finding exciting opportunities at UC. They serve as experienced guides, helping form companies, a go-to-market plan, a roadmap for product development and a funding plan.
Sawicki has helped Cinthesis connect with potential customers around the world. He's planning to step aside soon and is helping Mack transition to CEO.
Featured image at top: A Thermo Fisher twin screw extruder, key equipment to produce materials via mechanochemistry on a continuous basis, is used by Cinthesis. Photo/Cinthesis
About UC Venture Lab
A leading model for urban-centered universities, the UC Venture Lab activates a high density of rapidly curated startup opportunities that attract outside entrepreneurial talent and investors. We connect university students, faculty, staff, and alumni to talent and funding to help launch new companies. Our team includes Office of Innovation staff as well as Entrepreneurs-in-Residence (EIRs), coaches, curated service providers, and subject matter experts.
About the Cincinnati Innovation District
The Cincinnati Innovation District® is a unique and thriving ecosystem that attracts, produces, retains and develops talent by co-locating and collaborating with organizations. Unveiled in 2020 by Ohio Governor Mike DeWine and Lt. Governor Jon Husted along with JobsOhio and innovation district leadership, the district envelops myriad innovation assets and access to some of the world's leading academic and research centers, organizations and talent pools. Powered by the University of Cincinnati, the CID includes the world-renowned Cincinnati Children's Hospital Medical Center and other national research centers. The district's mission is to become a globally recognized talent hub and lead a transformational movement. The combination of industry engagement, unique experiential platforms and accessible research expertise — working at the pace of change — will become a model nationwide. For more information on the Cincinnati Innovation District, visit www.cincyid.com.
1
Venture Lab, Center for Entrepreneurship merge to boost...
December 1, 2022
The UC Venture Lab and the UC Center for Entrepreneurship will merge into a single unit. The newly integrated team will be led by Kate Harmon, executive director of the Center for Entrepreneurship and the El and Elaine Bourgraf Director of Entrepreneurship.
2
UC research seeks to protect athletes from brain injuries
December 1, 2022
Former football players worry about the effects of concussions suffered during their playing careers and hope research from the University of Cincinnati will help them and future generations avoid the worst consequences of brain injuries. UC's Office of Research hosted a panel discussion in the Flashpoint Series, "Brain Injuries in Sports: How we can help our athletes," which addressed the effects of brain injuries and how research aims to develop solutions to protect athletes.
Debug
Query for this