UC to celebrate record-breaking class at spring commencement
More than 7,000 graduates will take the stage at Fifth Third Arena
The University of Cincinnati will recognize a record 7,080 graduates at its spring commencement during four ceremonies on Friday and Saturday at Fifth Third Arena.
UC will host its doctoral hooding and master's degree recognition ceremony at 9 a.m. Friday followed by the first of three ceremonies recognizing undergraduates by college.
A second ceremony at 2 p.m. Friday will recognize undergraduate students in the College of Allied Health Sciences, the College of Engineering and Applied Science, the College of Medicine and the College of Nursing.
On Saturday, UC will continue to recognize undergraduates by college in two ceremonies at 9 a.m. and 2 p.m. The 9 a.m. ceremony will honor students in the Carl H. Lindner College of Business, the College-Conservatory of Music, the College of Education, Criminal Justice, and Human Services, and UC Clermont College.
The 2 p.m. ceremony will recognize students in the College of Arts and Sciences, the College of Design, Architecture, Art, and Planning and UC Blue Ash College.
Doors at Fifth Third Arena open 90 minutes before each ceremony. Tickets are required.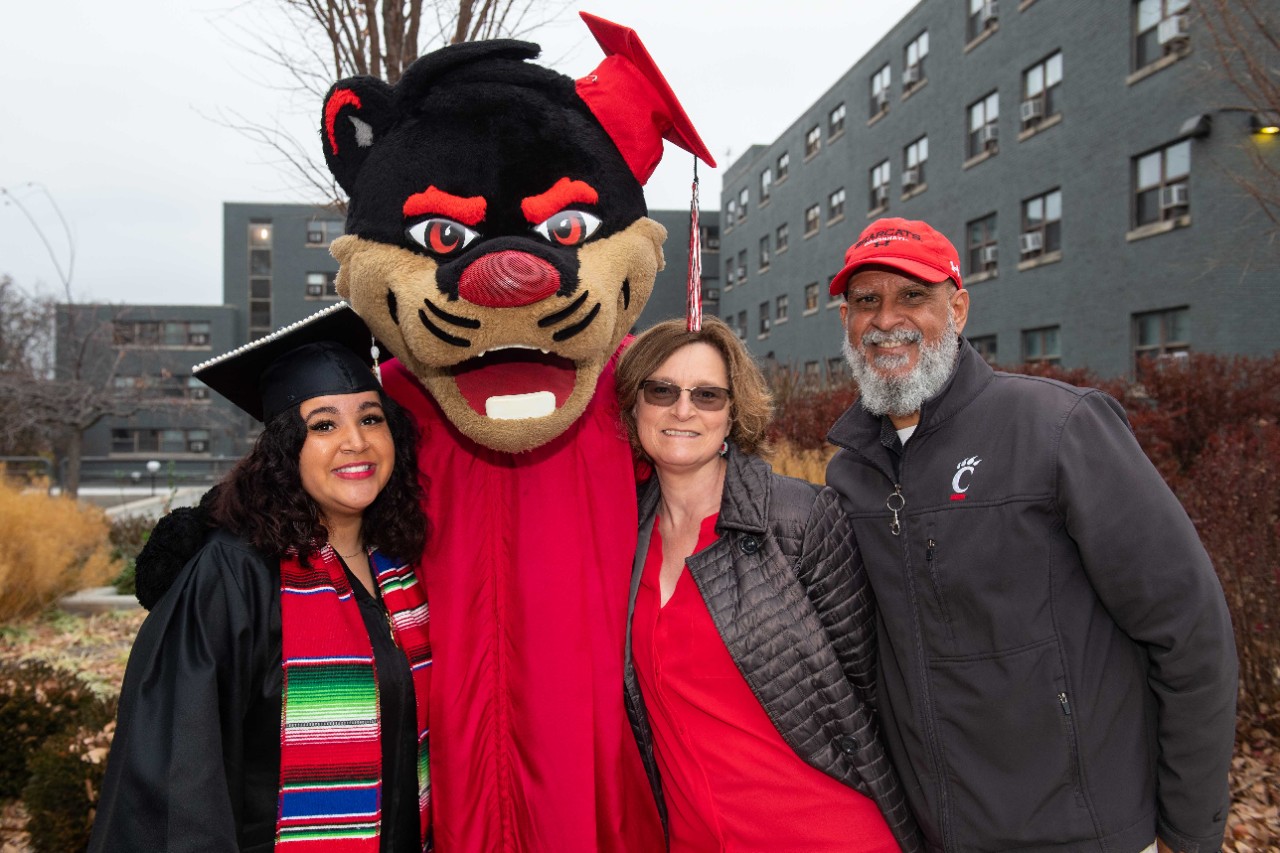 About the spring class of 2022
UC will confer 7,188 degrees to 7,080 graduates, based on preliminary applications. (Some grads have earned multiple degrees.) UC will present 541 associate degrees; 4,600 bachelor's degrees; 1,477 master's degrees; 270 doctoral degrees and 300 professional degrees.
UC also will recognize a record 1,201 first-generation college graduates. About 17% of this year's class are the first in their families to graduate from college. Another 14% transferred from another university. UC also celebrates a record number of online degrees awarded at 894.
Graduates hail from 83 countries across six continents. The spring class features students from all 50 states. But 71% of UC's 2022 graduates are from Ohio. The class represents 78 of Ohio's 88 counties.
The youngest student grad, earning an associate degree, is 17. The oldest is 66.
The average age of a student earning a bachelor's degree this year is 23. About 58% of spring graduates are women. And 195 students are U.S. military veterans or the dependents of veterans. The spring class includes 190 students who graduated from Cincinnati Public Schools.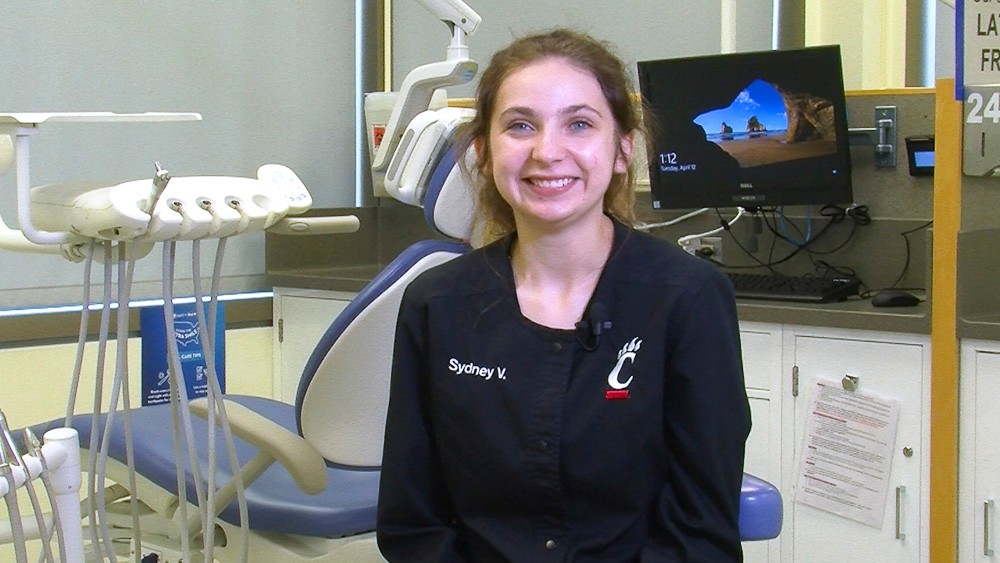 Graduate Sydney Velazco earned a degree in UC Blue Ash College's competitive dental hygiene program while managing cystic fibrosis, a rare, progressive disease that shortens expected lifespan as it affects the lungs and other organs.
Cystic fibrosis can block airways and cause lung damage. Velazco says her lung capacity has decreased over time, especially after her teenage years. She is still active and able to get around, but many patients eventually need a lung transplant.
"My everyday therapies are a lot," she says. "It takes up a lot of time and sometimes I have to sacrifice studying or sacrifice not doing a treatment or something else that I need to do."

I want to be able to inspire others like me. I think sometimes having a terminal illness, you think that you can't do normal things in life. I want to show that I am doing that. You have the opportunity to do that too.
Sydney Velazco, UC graduate
Velazco has been admitted to the hospital while in the UC program, but she still found ways to participate in class activities.

"What impresses me most about Sydney is her perseverance and resilience," says UC Blue Ash Dental Hygiene Program Director Luke Burroughs. "I have never had a student with such a significant chronic illness, and all the while she has shown such determination and strength, caring for her patients while being a cystic fibrosis patient herself."
Velazco already has a job offer as a dental hygienist and will begin her career after she passes the national licensing exam. She wants to save enough money to open her own dental practice.
Velazco said she wants to share her story to help others with serious health conditions realize they can still pursue their life's goals.
"I want to be able to inspire others like me," she says. "I think sometimes having a terminal illness, you think that you can't do normal things in life. I want to show that I am doing that. You have the opportunity to do that too."
Getting a jump on college
Jenna McMullen, a student in UC's Clermont College, is getting her associate degree in manufacturing engineering technology.
"I have been lucky to find a passion for computer-aided design through this program, so I plan to attend college for a double major in fashion design and graphic design," McMullen said.
McMullen enrolled in UC's College Credit Plus program while she was still in high school to earn credit toward her degree. College Credit Plus is Ohio's dual enrollment program that provides students in grades 7-12 the opportunity to earn college and high school credits simultaneously by taking courses from Ohio colleges or universities.
"The College Credit Plus program has helped me both academically and financially because it challenged me, set me ahead and saved me money," McMullen said. "Through College Credit Plus, I have been fortunate enough to receive my associate degree at no cost."
McMullen took classes at the Grant Career Center, a technical school for high school juniors and seniors and adults in Bethel, Ohio. She credits UC adjunct instructor Tobin Huebner with helping her discover her passion for design.
"I would recommend UC for students who are thinking about going to college because there are so many opportunities," she said. "The professors truly care about your success and they work hard to help you better yourself.
"UC has helped me figure out my next step in life and I'm grateful for that."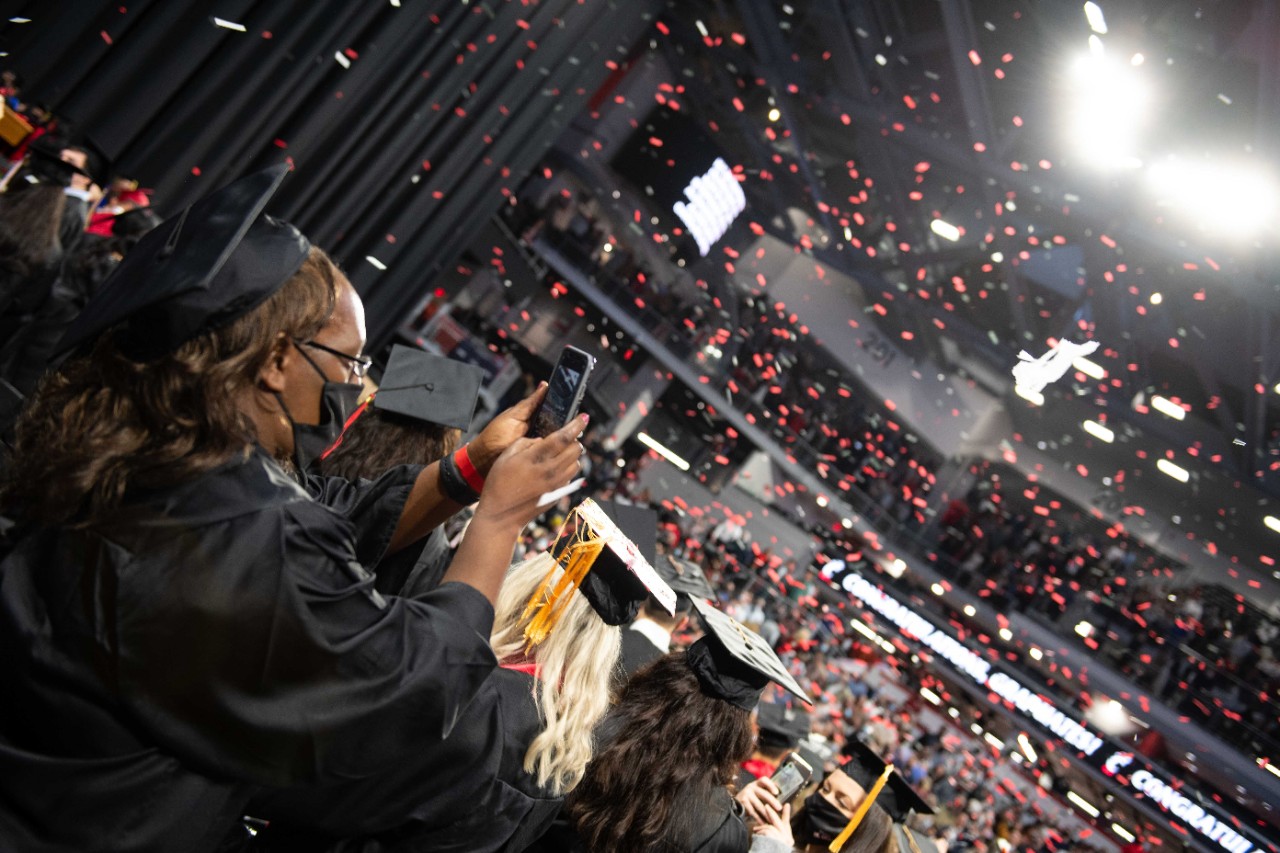 Jade Jacobs is getting a Bachelor of Science degree in public health in UC's College of Education, Criminal Justice, and Human Services. Jacobs plans to study epidemiology in graduate school.
"My UC experience has been very positive. I have learned so much over the past four years," she said.
"I really love the public health program at UC," she said. "I've taken classes on every area of public health, including global health, women's and minority health and program planning."
Jacobs said the internship programs were most helpful in giving her real-world experience. She interned at TriHealth, a Cincinnati-area health care system.
"I have learned so much from my courses, but the internship requirement for our program has been the best part of my experience at UC," she said. "The skills and knowledge I gained from that experience is something I will use forever and will be very important to my career in public health."
Jacobs said she took advantage of UC programs designed to help students academically and professionally such as the Learning Commons, which provides academic support, and the Bearcat Promise Career Studio, which provides help with resumes, interviewing and networking.
"I would definitely encourage students to further their education at UC," Jacobs said. "Going to UC has completely prepared me for my career and future."
UC Blue Ash Director of Marketing Peter Gemmer contributed to this story.
Featured image at top: UC President Neville Pinto will preside over UC's spring commencement, which features a record-breaking class of 2022. Photo/Andrew Higley/UC Creative + Brand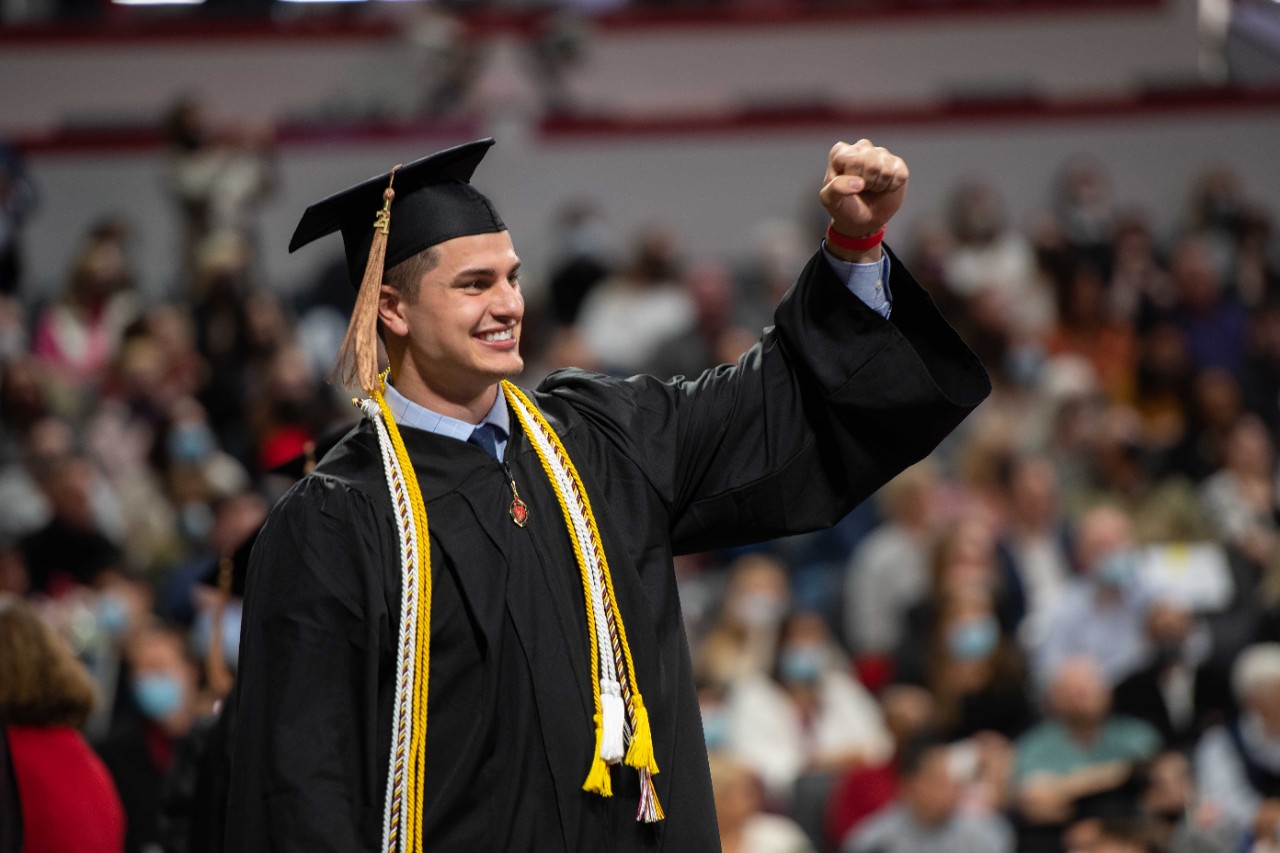 Next Lives Here
The University of Cincinnati is leading public urban universities into a new era of innovation and impact. Our faculty, staff and students are saving lives, changing outcomes and bending the future in our city's direction. Next Lives Here.
1
Venture Lab, Center for Entrepreneurship merge to boost...
December 1, 2022
The UC Venture Lab and the UC Center for Entrepreneurship will merge into a single unit. The newly integrated team will be led by Kate Harmon, executive director of the Center for Entrepreneurship and the El and Elaine Bourgraf Director of Entrepreneurship.
2
UC research seeks to protect athletes from brain injuries
December 1, 2022
Former football players worry about the effects of concussions suffered during their playing careers and hope research from the University of Cincinnati will help them and future generations avoid the worst consequences of brain injuries. UC's Office of Research hosted a panel discussion in the Flashpoint Series, "Brain Injuries in Sports: How we can help our athletes," which addressed the effects of brain injuries and how research aims to develop solutions to protect athletes.
3
The future of work: How can employers engage employees?
December 1, 2022
With unemployment rates throughout the United States near 50-year lows, American companies have reported difficulties in hiring and retaining employees. Three professors and a staff member from the University of Cincinnati's Carl H. Lindner College of Business discuss how employees can attract potential employees, how they can keep their current employees engaged with their work and shifts in employee engagement trends.
Debug
Query for this